This year's WonderCon took place at the Los Angeles Convention Center March 25-27, 2016. Read on as Violet and Josh tell you about their Saturday at WonderCon! In Part 1 of their Saturday Report, Violet chronicles the journey on the Metrolink, and recaps The Last Ship panel, then Josh reports on the Wayward Pines panel.
WonderCon 2016 – The Saturday Report Part 1
If you missed Part 1 of our Friday Report, click here!
Click here for Part 2 of our Friday Report!
Click here to go back to The Friday Report Part 3!
Metrolink
A couple of months ago, we received a flyer in the mail from Metrolink with an offer for 2 free roundtrip tickets. I (Violet) already have a monthly Metrolink pass between Fullerton and Los Angeles, which I use to commute to work on a daily basis, so this wouldn't be useful for me. However, I realized something it would be very useful for: Josh to take the Metrolink to WonderCon instead of drive. Even if we hadn't gotten that flyer, taking the Metrolink would have been a more logical option for us, considering that a roundtrip Metrolink ticket on Saturdays and Sundays runs at a flat fee of $10, which is already much cheaper than paying for parking at or around the Los Angeles Convention Center, not to mention a lot less stressful than driving in. After Josh's frustrating experience with driving to WonderCon on Friday evening, he was all too ready to try out Metrolink.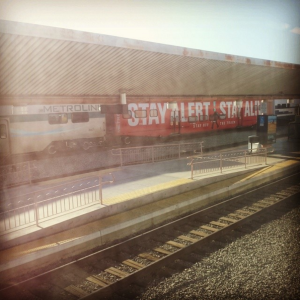 Unfortunately, the Metrolink doesn't run as many trains on the weekend as it does during the week, so we had limited options: 8:29am or 9:29am. We decided to take the earlier train. However, when we arrived at the train station, less than a 5 minute drive from our house in Fullerton, we were already cutting it close. We went to a ticket machine and punched in our promo code for Josh's free ticket – but the machine wasn't able to print the ticket. Then we had to walk all the way to the other end of the platform to get to the other ticket machine — which had a long line. So we crossed over the bridge to the other side of the train tracks to yet another ticket machine, which luckily had no line. Then we rushed back over the bridge with only a minute or two to spare before the train was scheduled to arrive. But it turned out to be for naught, because a message had popped up on the message board that the train was delayed due to "police activity," whatever that means. I looked up Metrolink updates on my phone and found out that the train was stuck in Riverside still — which meant it would be at least another 30 minutes before the train arrived. We had been planning on getting food when we got to LA, but considering the additional wait time, and the fact that we were hungry, we decided to go ahead and get some food at the cafe next to the train station while we waited.
While we sat in the cafe and ate our food, there was a news report on the TV there — which was about the delayed train. Apparently there was a "suspicious package" at the train station in Riverside, so they were securing the area, in light of recent events in Belgium, and in fact this had also happened just a couple days earlier at the Norwalk Metrolink station. I checked on Metrolink's site for an update, and it said that the train was not canceled, but would be delayed at least 90 minutes. The next Metrolink train, scheduled to arrive in Fullerton at 9:29am, was coming from Orange County rather than from Riverside, so luckily it wasn't affected by the suspicious package, though it did arrive about 10 minutes behind schedule. Needless to say, Josh wasn't having a very good first experience taking the train, considering that we departed from the train station over an hour later than planned, in which time we could have driven to LA.
Robby the Robot's Retirement Party
We ended up arriving at WonderCon around 10:40am, at which point we went straight to Room 408AB, where we would be remaining all day. We were able to walk right into the panel room and snag a seat in the second row, as the previous panel, Robby the Robot's Retirement Party, was wrapping up. I'm not familiar with Robby the Robot, but apparently he is in the 1956 film Forbidden Planet. The panelists asked if there was anyone in the room who had actually seen the movie when it was in theaters back then, and there were actually 3 or 4 people who raised their hands, including the man sitting next to us.
TNT's The Last Ship: A First Look at Season 3
The next panel, which we were actually interested in, started at 11:00am. The Last Ship has been at WonderCon every year, and I've always wanted to attend, but it always conflicted with the big movie panel in the main room. This year, it was an hour before that, but we weren't interested in the movies being promoted in the Microsoft Theater anyway, The Conjuring 2 and Lights Out, so it worked out for us.
For those who don't know, The Last Ship is about a deadly virus that wipes out most of the world's population while a U.S. Navy ship, the USS Nathan James, is at sea. The show airs during the summer on TNT. To start off the panel, we watched the trailer for Season 3, which gave a recap of the previous seasons, as well as a peek into what's to come in Season 3. You can watch the Season 3 trailer below:
Then the panelists were brought out on stage: Executive Producers Steven Kane and Hank Steinberg, and actors Adam Baldwin (better known as Jayne on Firefly), Bridget Regan (you may know her as Dottie on Agent Carter), Travis Van Winkle, Marissa Neitling, and Jocko Sims.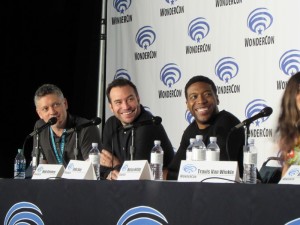 The moderator asked the executive producers what happened to Dr. Scott (Spoiler Alert: she was shot at the end of Season 2), but they said we would have to watch and find out. Steinberg did reveal that when the season begins, we would be picking up in a different place – Asia, and would be dealing with global conflict and figuring out how to repair the world. Kane commented that this season answers questions such as how the world looks now, how it's organized, how food is distributed, and how the cure gets around the world. We also learned that the virus mutates in Japan.
Adam Baldwin, who plays XO Mike Slattery, said that the action picks up this season, as the USS Nathan James continues its mission of distributing the cure around the world — but then they run into bad guys who want what they have. He also revealed that there are some promotions this season, and his character is promoted to Captain.
Bridget Regan plays a new character, Sasha Cooper, who is a diplomat in Asia, and is very skilled, in terms of tactical, weapons, and languages. We learned that Sasha and Captain Chandler have a past and are reunited in China. Regan said that Sasha knows Chandler in a way that no one else on the ship does. Sasha challenges him, and calls him "Tom" instead of "Captain," even in front of the crew. Regan commented that she likes to play characters with conflict.
Steinberg updated us about where Chandler stands in the upcoming season, telling us that Sasha brings out a different side of him, and that Sasha is the "wild girl" he dated right before settling down with his wife. He revealed that Chandler will be promoted to the Chief of Naval Operations, so he will no longer be on the ship, which is what prompts Slattery's promotion to Captain. When the ship goes to other countries, they are greeted as heroes — which also makes them a bigger target.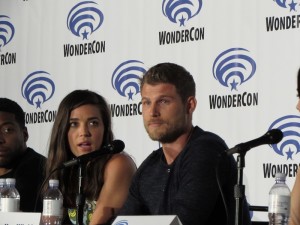 Moving on to Marissa Neitling, she spoke about Cara's promotion to Deputy Chief of Staff, which is a position in the White House as a senior military advisor to the President, and said that we get to see more of what Cara is like at home. However, Marissa says that Cara misses the ship. Marissa and Travis Van Winkle speak a little about Cara and Danny being parents this season, and Van Winkle talks about the challenges Danny faces of having to be away on a mission, which means being away from his family.
Jocko Sims talked a little about Burke's journey this season. He mentioned that Burke is newly single. We also learned that Burke's brother, Cameron, is on the ship this season and takes over Cara's position. Jocko joked that one of them is not going to survive this season, because he knows "how these things go," and that he's not going to answer any calls from the producers, because then that means he's getting killed off! Steinberg elaborated a little more about the brotherly relationship, pointing out that Burke's brother is older, and Burke and the other crew members already have trust in each other, so it's an interesting dynamic with the older brother trying to prove himself to the younger brother. But at the same time, Cameron points out that he was able to survive without the cure.
Kane talked about how they pick up a new character, played by Dichen Lachman (you may remember her as Jiaying on Agents of SHIELD) in Asia, who can fly helicopters. As for returning characters, he joked that Bren Foster beats up every guest character that comes on the show, and that his character, Wolf, becomes very integral to the show. He also mentioned that Valerie comes back. For those wondering about Tex, Steinberg said that he will make an appearance this season as well.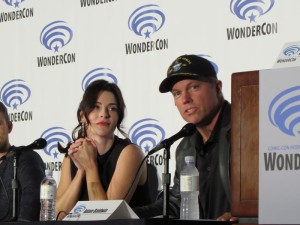 The moderator then brought up the special relationship that The Last Ship has with the Navy, about what sort of access the Navy gives them. Steinberg said that they shot on the USS Pinckney destroyer, and that the Navy has given them access to airbases and other vessels, as well as to knowledge, their database and their culture. The Navy has also shared real Navy strategy. He commented that he even got an email from the Secretary of the Navy one time asking, "How's my show doing?" and "Thanks for getting the Navy right." Apparently, the Secretary of the Navy has done a cameo on the show, and has expressed interest in coming back for another cameo, but the producers don't want to tell him that his character would likely be dead. Adam Baldwin chimed in, talking about the Navy challenge coins he's been given, and educating the audience about the tradition of the challenge coins.
It was then opened up for audience questions. A girl wearing a Jayne hat asked Baldwin what it was like to be in a real, relevant role. Baldwin replied that it was "humbling" and spoke about how they try to get it right and live up to Navy standards. He praised the art department, saying that the sets make it feel like living aboard a Navy ship, and brought up the attention to detail that the show provides. Additionally, he pointed out that his family has a military history, as his father served in World War II.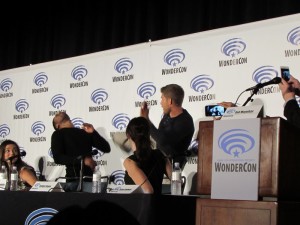 A little boy asked if someone could show him a karate move. Travis Van Winkle stepped up to the plate, and volunteered Jocko Sims as his victim….er, partner. Then he did a high kick, pretending to kick Sims in the head, and Sims acted like he had actually been kicked.
Another audience member asked if we would get to see what happened to the Koreas. Kane explained that the idea of nation states are out of date in this world, in that an area either becomes powerful, or tribal. He also revealed that Asia had nuked certain areas of the continent in an effort to stop the virus from spreading.
One woman half jokingly asked Sims if he was personally single. But then she asked her real question, which was about the inspirations for the characters in the show, praising how they feel real, and not generic. The producers talked about the casting process, and pointed to the Navy as an inspriation, which is already diverse. When they were finished answering the question, the woman pointed out that Sims had never answered her question about being single — he confirmed that he is.
The panel wrapped up with a short teaser of Baldwin's character, Slattery, on the deck of the USS Nathan James, enjoying his new promotion to Captain.
Season 3 of The Last Ship premieres June 12.
I'll hand it over to Josh to tell you about the Wayward Pines panel.
Wayward Pines
The second panel we saw on Saturday was Wayward Pines. For those unfamiliar with this show, the first reason revolved around a cop, played by Matt Dillon, winding up in a car accident, and when he comes to, he is in a hospital in the small town of Wayward Pines. Things aren't as they seem in this town, and the season plays out with Matt Dillon's character attempting to figure out what is going on here. I won't spoil the ending of the first season, but I am surprised to see that there is a second season on the way.
Wayward Pines Season 2 is a 10 episode mini-series set to premiere May 25th.
The first thing we see is a trailer, which recaps what happened last season. Then some producers come on and explain the aftermath of Season 1, and introduce what happens in Season 2. In Season 2, the Abbies (the monsters that are living outside of Wayward Pines) are asleep in hibernation, and Jason from the Academy (the kid that seems to be the leader at the school Ben attended) has taken over as leader. You can watch this "first look" trailer below:
After the trailer ends, the panelists are brought out, which includes the author of the Wayward Pines novels, Blake Crouch, Executive Producers M. Night Shyamalan (director of movies like The Visit, The Sixth Sense), Donald De Line, and Ashwin Rajan, and actors Jason Patric (from The Lost Boys, Narc, Speed 2) and Djimon Hounsou (from various movies like Blood Diamond and Guardians of the Galaxy). M. Night Shyamalan is the first to begin the conversation at the panel and says they want to tell a compelling story for Season 2 of Wayward Pines, and not simply make a Season 2 for the sake of doing it.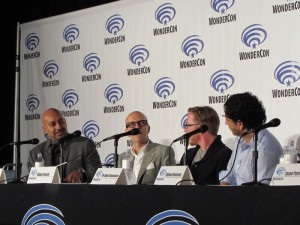 We learn a little bit about the story for Season 2: a doctor, Dr. Theo Yedlin, who is in the middle of a fight with his wife, ends up in a car accident and he winds up in Wayward Pines. Wayward Pines is in the midst of turmoil though, where martial law is in effect, with the children in the academy trying to rule the older parents who know how the world really is now. We also learn that Djimon is playing a character known as the "Duster" who knows the ins and outs of the town, Shyamalan says. We also learn a lot of characters from Season 1 will be back–Ben, his mother Theresa, Megan Fisher, and Kate.
The moderator discusses with Shyamalan about working on TV and Shyamalan explains that he likes to work with stories about characters, and TV gives more time to work on characters, using full episodes to focus on a character.
The producers also discuss the reason for a Season 2, Since season 1 was a closed story. They discussed that they felt there was more to say about this world, and said that they felt the end of Season 1 is not the end of the story, and decided to go to the networks to see if they could finish what they thought was a bigger story, with another season to the show.
The producers then talk more about how this season is going to be about the first generation of kids, who only know this world, conflicting with the older generation who knows both worlds.
Djimon talks about being introduced to this world, and thinks that this world is a crazy roller coaster. Jason also talks about this, saying that he decided to not watch the first season so he would be acting as his character would, being just newly introduced to the town of Wayward Pines. Both actors seem to be pretty excited about the new season.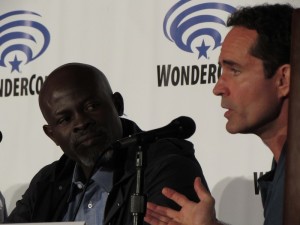 Djimon also talks about what his character, CJ, is doing this season, and he says CJ feels humanity is doomed. He also says that he hasn't learned much about his character yet, as scripts seemed to be kept close to the vest so the big reveals are kept a secret as much as possible.
Shyamalan talks about Terrence Howard refusing to know what the secret of Wayward Pines is, which was funny because his character was supposed to know. It was also revealed that Terrence Howard would be back this season.
Shyamalan also talks about what characters would be funny to wake up in Wayward Pines, which he brought up Ludacris. That seemed like an odd choice! Jason Patric also talks a little more about playing his character, who is trying to figure out what is going on, and what is real in the world Wayward Pines has set up. We also learn that they have only finished two episodes so far, and that Jason Patric doesn't know much as he is only given scripts a couple weeks in advance.
Shyamalan reveals that Jason was woken up purposefully, and it sounds like it might be because of his surgeon capabilities.
The moderator then asks if there is a "time jump" from Season 1 to 2, and it is revealed that Season 2 picks up a couple months after the end of Season 1.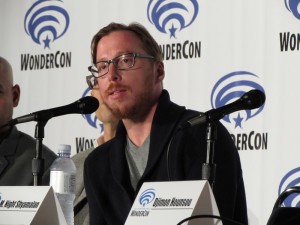 Talking more about how the idea of Season 2 came up, Blake Crouch, the author of the book, says that his ideas came from discussions with Shyamalan. He says that some characters from Season 1 will be coming back in Season 2 and have a bigger role. He says that he is pretty certain he won't be writing anymore books in this world, but enjoys seeing it play out on TV.
Shyamalan talks about his movie making process as being lonely and frustrating, but this show has been much more collaborative of an effort, as he talks with writers and directors of the show. Shyamalan also discusses camera uses and how using "A" and "B" cameras works, and how particular he feels when the B camera is used. He seemed to really want to convey that this show is being filmed "cinematically," trying to make it feel like a very long "independent film." It actually got pretty technical, and I wasn't sure I understood exactly what he meant, but he sure made it seem like he knew what he was talking about.
Jason and Djimon then talk about working with Shyamalan, and Djimon says it is exciting, because Shyamalan is so excited about filming and the story.
Shyamalan discusses that we will see some characters from Season 1, appearing back in "our time" meaning set in our present, rather than the time period Wayward Pines is in. Donald De Line, a producer, says that they won't be making any weird changes to the way the show's time travel and logic works, which is a good thing. I hate it when shows begin to break their own rules too often.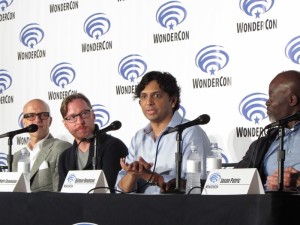 Another big thing that was discussed this panel quite often are the Abbies. Blake Crouch describes the monsters of the show, and says how they are in the "uncanny" valley, meaning they are very close to humanity, but so much more vicious and barbaric, which is partially what makes them so scary. The moderator asks what the role the Abbies have in Season 2, and Blake says that these monsters have specific goals, and are up to a lot more than we have seen so far, and is the reason they are continuing Season 2.
The moderator then asks how many seasons are planned, and Shyamalan says that they would like to finish the entire story in Season 3, given Fox would give them that 3rd season, and that they have a specific end point in mind if they do get what they are looking for from Fox.
The panel then moved over to audience questions. The first questioner asks if Shyamalan would be making any cameos, and he says no because it would pull the audience out of the film, but also because it is filmed in Vancouver, which I am guessing he's saying it is pretty far away. This leads to discussion about filming in Vancouver, and the producers say they have recreated the town outside of Vancouver, in a much better location than Season 1.
The next person asks what happens to Ben, and Shyamalan talks about Ben representing the dissension in the First Generation, and is a legacy to his father's ideals.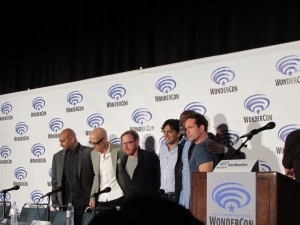 The next audience question is about who Shyamalan would cast if he could, and Shyamalan talks about how he often writes parts with specific actors in mind, even if that actor isn't necessarily cast for the part, so he generally already has people in mind when he is writing parts. He actually had Jason and Djimon in mind when writing those parts, and luckily, both were available and signed on.
Up next is a question for Blake, and he is asked about a 4th Wayward Pines novel, but it looks like there won't be one. He says that he is working on a book called Dark Matter. He also says he enjoys working on the show, so he isn't a shut-in, alone writing books, which is part of the reason there likely won't be a fourth book. Shyamalan also talks about the shift in movies, where middle budget movies seem to be phasing out. He talks about the movie industry being split into blockbusters and micro-budget films.
The moderator then asks Blake about seeing his world come to life with the town of Wayward Pines, and Blake talks about how moving it is, and it is wondrous how many people it takes to get something like this to come to life.
Shyamalan then talks about how hard the showrunner Mark Friedman works, and how he didn't realize how tough this was until he worked on this show.
Shyamalan finishes up the panel telling us that this season is about the Abbies. Blake says that we should keep an eye on them, and we will learn a lot about them, especially when we see one on the main street in the town. With that the panel is over.
Click here to continue to Part 2 of our Saturday Report, featuring the Scorpion and Agents of SHIELD panels!
Check out our photo gallery below for more pictures!