WonderCon, the "little sister" show to Comic-Con International's San Diego Comic-Con, took place at the Los Angeles Convention Center Friday, March 25 through Sunday, March 27. Read on as Violet reports how things went for her at Day 1 of WonderCon 2016!
Getting There and Badge Pickup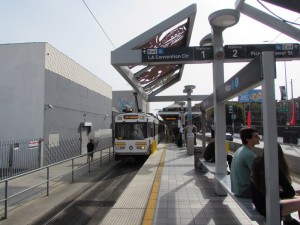 This year was the first year that WonderCon was in Los Angeles, rather than Anaheim, where it has been held since 2012. Having been to conventions at both locations, plus living in Fullerton, 5 miles north of Anaheim, I much preferred the Anaheim location. However, being an avid train commuter, I knew that it's very easy to get to the Los Angeles Convention Center by train from Fullerton. So I walked the half mile from my house to the Fullerton train station, caught the Amtrak to Union Station in Los Angeles at 9:15am, transferred to the red line subway, then the blue line light rail, which stops just a block away from the convention center, making it there around 10:15am.
I headed to West Hall, which is where you pick up your badge. Upon entering the building, about every 20 feet someone asked me where I was going, and I told them I was picking up my Press badge. This was to the left, rather than the right, where regular attendees were being directed. The line was pretty short for Press pickup, but the Press Desk had not opened yet, apparently waiting until exactly 10:30am to open. Our Twitter friend @cyberaug found me in the Press line, and informed me that attendee badge pickup had begun early, and he had already picked up his badge about an hour earlier, though it had also been originally scheduled to begin at 10:30am.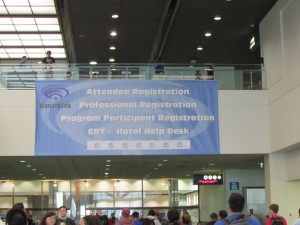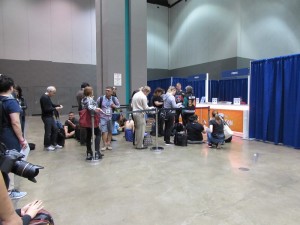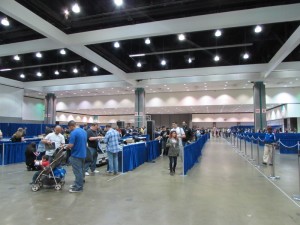 After picking up my Press badge, I just hung out and chatted with @cyberaug for a little while, having nowhere to be at the moment, since the Exhibit Hall wasn't scheduled to open until noon, and my first panel was at 1pm. There were several tables with chairs set up on the other side of West Hall, as well as a few charging station interspersed in between. There was also a bag check located next to those, which was charging $2 per item, though it wasn't scheduled to open until noon.
Limited Signing Ticket Drawing
My first goal of the day was to try for a signing, since I'd never tried one before, either at WonderCon, or at San Diego Comic-Con. I was curious how they worked. Luckily, the lines for the various ticket drawings were right there in West Hall, so I didn't have to go wandering around looking for them, and I was able to keep an eye on how long the lines were. My plan was to try for the Containment signing, since that's a new show that hasn't come out yet, so I was pretty sure the line would be really short. I was right. The longest line was for iZombie, though Teen Titans Go!, Bob's Burgers, and Shadowhunters also had fairly long lines. The other signings — Bordertown and Stitchers were pretty short. I was able to jump in line only a few minutes before the Containment drawing was scheduled to start, which was at 11:30am, and the line was less than half as long as the next longest line.
So if you've never done a ticketed signing for a CCI (Comic-Con International) event, here's how it works. There are several chutes, each dedicated to a particular signing, and you find the one you want, and get in that line. When you get to the front, there's a volunteer standing there with a bag full of tickets. Some of them are "winning" tickets, with a particular symbol on them, and the others are blank. If you pull a winning ticket, you go forward, present your ticket, and are given a wristband. If it's a losing ticket, you can go to the back of the line and try again.
Well, it seemed like everyone in front of me was getting lucky. After all, there weren't very many people in line, so that meant the odds were good for pulling a winning ticket. Of course, I pull a blank ticket, so I go all the way around to get back in line. My second try, another blank ticket. This time I just stay in the chute and go to the back of the line, instead of going the long way around, considering how short the line was. Third time's a charm, right? Nope. Fourth time? Nope. Fifth time?? Yes! Finally! I pulled a ticket with the "thumbs up" stamp, and got my neon green wristband, which indicated that the signing would be in Room 404A at 2:15pm. Perfect, I didn't have any plans at that time!
Then I waited for @cyberaug, who had gotten in line for Bob's Burgers. For some reason, their drawing started about 15 minutes late. As I was waiting near the exit point for the ticket drawings, iZombie ran out of winning tickets. At that point, the line was still very long, and there were a lot of disappointed fans. Meanwhile, despite the fairly long Bob's Burgers line, @cyberaug pulls a winning ticket on his first try! I envy people who can do that.
Exhibit Hall
At this point it was about noon, so we headed over to the Exhibit Hall, which was all the way over in South Hall. There is a path that you can take that goes outside between South and West Hall, but they were directing people to go through the hallway corridor that connects the two buildings. When we got to South Hall, there was a short line to scan in with the newly implemented RFID badges. It went pretty quick though. There were several columns, to which you touch your badge as you pass through. It lights up green, indicating you're good to go. We wandered around the left side of the Exhibit Hall, checking out exhibitors such as We Love Fine, and the Cinema Makeup School, where @cyberaug spotted someone he knew from the TV show Face Off. We then found the Tee No Evil booth, and chatted with the Te brothers, who design cool T-shirts, which our friends over at Nerd Fu often debut on their website. Around 12:40pm, I decided to head into my 1:00pm panel. Upon exiting the Exhibit Hall, I had to tap out. Again, it lights up green, and you're good to go.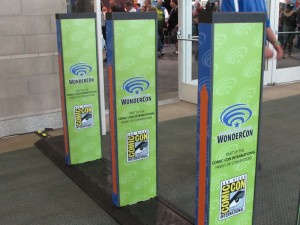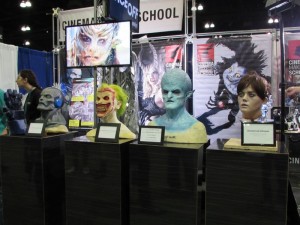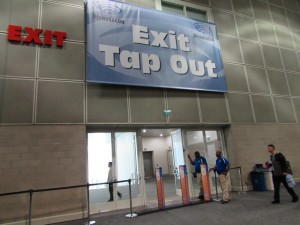 Houdini & Doyle: World Premiere Screening of Episode One and Q&A with Cast Members and Executive Producers
Upon approaching  the area where the panel rooms were, I had to tap in again. There was no wait. When I got into Room 408AB, for which there was no line, the previous panel was finishing up. Once it let out, I was able to move up to the front row. I'd never heard of Houdini & Doyle before WonderCon, but I do enjoy seeing pilot episodes in advance of their on air premiere, and the premise sounded interesting, so that's why I decided to check this out.
The panel started off with a screening of the episode, about 40 minutes long. It takes place in London in 1901. There's a murder, and Harry Houdini and Sir Arthur Conan Doyle (the author of the Sherlock Holmes books) make a bet on whether the murderer was a ghost, as the witness has claimed. Scotland Yard assigns Adelaide Stratton, a female constable, to supervise Houdini and Doyle as they investigate the case. Throughout the episode, we learn that Houdini is a skeptic, while Doyle believes in the supernatural. I don't want to ruin the outcome for you, but I will say that I was pleasantly surprised by the episode, as the show hadn't been on my radar at all. The show keeps you guessing about who is right, and what exactly is going on. I also liked how the show involves a smart female character, Adelaide, who as a female "policeman" has to face an uphill battle in being taken seriously in her career, considering that this is 1901.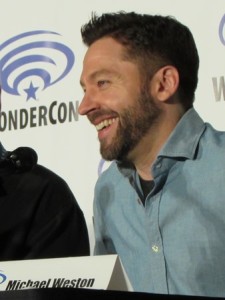 After the episode, the panelists came out on stage, which included star Michael Weston, who plays Houdini, and Executive Producers David Hoselton, David Titcher, and David Shore. Weston talked about how he liked the escapes on the show, and revealed that he really was hanging upside down in the first scene in which we see Houdini.
Titcher spoke about how he came up with the idea for the show. Sometime between 1986-1989 he was reading a book about the paranormal, which mentioned that Houdini and Doyle were friends, and he thought that would make a great idea for a movie. He came up with several different plots, and could never decide on just one, so instead of making it into a movie, he was able to get it made as a TV show, so that he could tell all of the different stories, instead of just one.
Hoselton explained that the show is about "what we believe and why" and that it's about "two men on opposite ends of the belief spectrum."
Shore, who wrote for the TV show House, said that Sherlock Holmes was an inspiration for the character House, and commented that it's "fun to play in the sandbox that Arthur Conan Doyle created." He also talked about how Steven Mangan came to the project. He also commented that Weston was great in his appearance on House.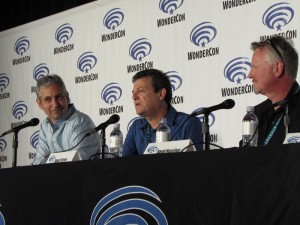 The moderator asked the panelists for a "tease" on what was to come on the show, so Hoselton told us that Adelaide has a "substantial" character arc that builds throughout the season. We will learn why she joined the police, and that she has some "deep dark secrets." He also pointed out that she actually really was the first female constable of Scotland Yard, and that they had to go back to microfiche to find this out!
We also learned that going forward, the show would give its take on vampires, aliens, and reincarnation, and address various historical supernatural cases. Although it is a period piece that takes place in 1901, the panelists pointed out that the audience would be surprised at how relevant it is to today, for example, with how it addresses women's rights.
Weston talked a little more about his role as Houdini, and how he enjoyed hanging upside in a theater in Manchester where Harry Houdini actually performed. At that point, the panel ran out of time, as only about 15 minutes remained in the timeslot after the episode ended.
Houdini & Doyle will premiere Monday, May 2 on Fox, after Gotham.
Containment Signing
It was about 2pm when the Houdini & Doyle panel wrapped up, I headed toward my Containment signing, since that was scheduled to start at 2:15pm. Luckily, Room 404A was right around the corner from Room 408AB, so I didn't have to go far. I thought I'd be a little early, but there were already a lot of people waiting. It wasn't the actual room where the signing would take place, it was a holding room, with chutes for people to line up. I noticed that many people had multiple wristbands for signings, which was definitely possible, considering the several short lines I had seen for signings that morning. The lady running the autograph signing went over the rules with us, which were basically that you can't take any pictures during the signing, and that you can only have the talent sign the item provided by the studio, no personal items.
The previous signing was running late, so it wasn't until a little after 2:30pm when the Containment signing started. This was unfortunate for some people who had won a ticket drawing for another signing which started at 2:30pm — that took place in the Exhibit Hall.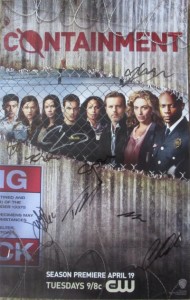 When we went into the room next door, they cut off our wristbands and handed us a Containment poster that had images of the cast. There were quite a few members from the cast who were signing, plus a few executive producers. Later, I was able to go back and put names to faces: cast members Claudia Black, Christina Moses, Kristen Gutoskie, Hanna Mangan Lawrence, Trevor St. John, Chris Wood, and George Young, and executive producers Julie Plec, Matt Corman, and Chris Ord. We had been told that this would be really quick, so I wasn't expecting much interaction with the signers other than a "hello" or  "how are you" or "thank you." I wasn't really familiar with the actors or the EPs, so I hadn't planned on trying to strike up a conversation with anyone. But I noticed that it seemed like the cast was being very friendly and speaking to each person much more than what I had expected. When it was my turn, since I was wearing a Batman shirt and a Superman hoodie, the signers kept commenting on that, asking if I was going to see the movie, which I told them I had seen it the night before, and them asking how it was. One signer, which I later found out was EP Julie Plec, asked me if anyone had ever told me that I looked like Carrie Fisher in the eyes. She turned to the person sitting next to her to ask if he thought so too (who I later found out to be Chris Wood), but noticing that he was still interacting with the fans ahead of me, she quickly apologized and waited until he was finished with them to ask him. She held up her hand to cover up the bottom of my face, and he agreed (though probably because it was his boss). Then I remembered that a long time ago, someone had told me that I looked like Princess Leia, and I told them so. Chris Wood commented, "A long time ago… in a galaxy far far away?" Then we chatted briefly about the newest Star Wars movie. Even though I didn't know anyone who was signing, it was a really fun experience, and much more than I expected! I'm so glad I got the opportunity. In case you're curious how many people got to attend the signing, they said it was 75.
So it was about 2:50pm by the time I finished the signing — which meant that I didn't have a lot of time before the Containment panel, which was scheduled to begin at 3:15pm at the Microsoft Theater. So there went my lunch plans. Not that I had planned to meet up with anyone, but I had planned to buy some food during this time. But since the signing started late, and I wasn't sure how much of a hassle it would be to get to and into the Microsoft Theater, I knew I should go ahead and head over so that I could make sure I got in on time. My lunch would just have to be one of the granola bars I brought.
When I headed in the direction to leave, I had to tap out with my badge.  It lit up red for some reason. I asked the attendant standing there, "It's not supposed to do that, right?" He said no, that it's supposed to be green, and told me to try again. It lit up red once more, but he told me to go ahead and go anyway, so I did. While walking toward the Microsoft Theater, I was a little worried, wondering if something would go wrong while trying to get in there, and if I would be sent to the "Help Desk," which is what I heard would happen if there were any issues with your badge not tapping in or out correctly. If that happened, it would make me late for the Containment panel, considering that it's a little bit of a walk from the Los Angeles Convention Center to the Microsoft Theater, and who knows how long the line at the Help Desk would be…
Click here to continue to Part 2 of our WonderCon 2016 Friday Report!
For more pictures, check out our photo gallery of images below!