Violet continues her report of Friday at WonderCon, which took place at the Los Angeles Convention Center Friday, March 25 through Sunday, March 27! In this second part of the Friday Report, Violet talks about her experience getting into the Microsoft Theater, then covers the Containment panel, as well as the Teenage Mutant Ninja Turtles: Out of the Shadows panel.
WonderCon 2016 – The Friday Report Part 2
If you missed Part 1 of the WonderCon 2016 Friday Report, click here!
Microsoft Theater
As I mentioned in Part 1 of the Friday Report, when I tried to "tap out" with my RFID badge at West Hall, it lit up red instead of green, but was told to go ahead anyway. As I made the trek over to Microsoft Theater, I was worried that something might go wrong when I tried to get in.
It actually wasn't too bad of a walk, and though Microsoft Theater was on the other side and across the street from Staples Center, it was pretty easy to get to, considering that the street was blocked off. Therefore, you could just cross the street without having to worry about traffic or going to a crosswalk and waiting for a light to change. This street blockage made it so that it felt more connected to the Los Angeles Convention Center.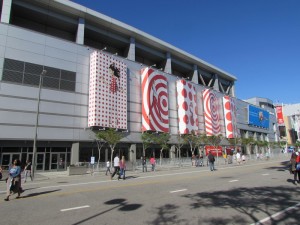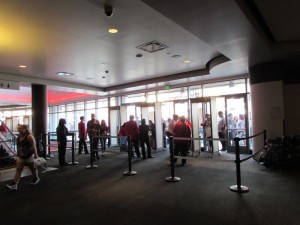 There was a bit of a line though, but not too bad. There was one person holding a handheld scanning device for our badges, rather than having columns set up for us to tap in and out. Things seemed to be going fairly quickly and smoothly for everyone in front of me. Then when it got to my turn, the guy scanned my badge — and told me to hold on. My heart sank, as I knew something would go wrong. However, a moment later, he then told me I was good to go. Huh. Not sure what happened there.
Then I walked down a long empty chute barricaded by metal railings to the entrance of the Microsoft Theater, where three doors were open with metal detectors. However, before entering, an attendant was scanning badges yet again. Then my bags were searched as I passed through the metal detectors. They didn't seem to care about my water bottle or granola bars. The whole process of going over to the Microsoft Theater was a lot quicker and less painless than I had anticipated. However, it could have been because there weren't really any overly popular panels going on. I had plenty of time to take a bathroom break and find myself a seat in the third row.
Containment Pilot and Q&A
Before things got started, Comic-Con International's Director of Programming, Eddie Ibrahim, came to the podium and gave his usual spiel about not recording any of the footage that is shown during the panel. Then we watched the entire pilot episode of CW's Containment.
If you haven't heard of Containment before, it's about a very deadly, contagious virus that breaks out in Atlanta, and a quarantine goes into effect. If you know me, you'll know that this is my favorite subgenre. Throughout the episode, we are introduced to several characters whose storylines cross by the end of the episode, some who get trapped inside the quarantine area, and some who get caught outside of the quarantine area and are unable to make it to their loved ones. We start off the first few moments of the episode on Day 13, seeing the city in chaos, but then we flash back to the beginning and see how things started with Patient Zero.

Characters include Lex, played by David Gyasi, who is a police officer that learns about the virus in its early stages. He has a girlfriend, Jana, played by Christina Moses, who is supposed to move in with him, but is having second thoughts. He tasks his fellow police officer friend, Jake, played by Chris Wood, to bring the man who is suspected to be the source of the virus back to the hospital. Dr. Sabine Lommers, played by Claudia Black, is in charge of trying to contain the virus, while Dr. Victor Cannerts, played by George Young, is the doctor on site at the hospital, who is trying to analyze the virus. There's also Teresa, played by Hanna Mangan Lawrence, who is very pregnant and trying to run away with her boyfriend. Finally, Katie, played by Kristen Gutoskie, is a teacher who is with her class of young children that have gone on a field trip to the hospital.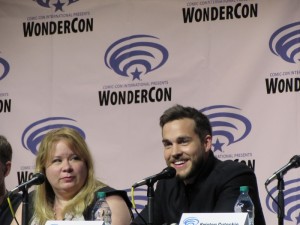 Following the screening of the episode, the panelists came out on stage, which were all of the cast members and executive producers who had been at the Containment signing I had attended earlier: cast members Trevor St. John, Hannah Mangan Lawrence, Kristen Gutoskie, Chris Wood, Christina Moses, Claudia Black, and George Young, and Executive Producers Julie Plec, Chris Ord, and Matt Corman. Executive Producer Julie Plec (The Vampire Diaries, The Originals) told us how the show came about, saying that it was modeled on a Belgium show called Cordon. She also spoke about how she loves virus movies, like The Stand and Outbreak, so this was right up her alley.
Plec went on to tell us about bringing this group of cast members together, which includes several alums from her other shows The Vampire Diaries and The Originals. Plec said that she knew she wanted Chris Wood in the show, but it was up to him to secure his part. She pointed out that Trevor St. John's character, Leo, wasn't even supposed to be in the pilot, but they put him in briefly because it would be a much bigger role as the series progressed.
When asked about whether the CW had an issue with all the "blood and gore" that the show employs, Plec commented that she's done a lot of blood and gore on her other CW shows, so she would have had words with them if they had tried to stop her from it on Containment. Executive Producer Matt Corman then talked about how they had consultants from the CDC (Centers for Disease Control) come in and educate them about the different stages of a virus and how they handle it, down to their plans for certain hour periods, so the show is pretty accurate to how a real virus would be handled. Executive Producer Chris Ord chimed in that the first 48 hours are critical, and that a lot of choices have to be made within that time period.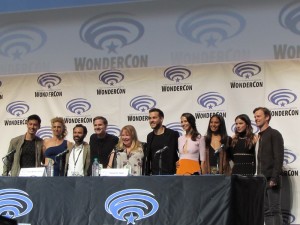 Then the moderator went down the line, asking each actor about their respective roles. Trevor St. John said that when he read the script, he wasn't in the pilot episode, and had to wait until episode 2, but that it was great. Hannah Mangan Lawrence spoke about her discovery of how strong her character, Teresa, was. Kristen Gutoskie mentioned how her character, Katie, had to deal with the responsibility of watching over 15 children (plus an adult child, as Chris Wood pointed out about his character), while also being a mother, dealing with her own internal struggles and being in a custody battle. Moving on to Chris Wood, who plays Jake, he said that he watched the original Belgium series and saw how terrifying it was, before he read the Containment script, and that the script blew him away with how clear each character seemed. Christina Moses commented that "the heartbeat of the show is the relationships" and that she loves that her character, Jana, is a survivor. As for Claudia Black, she compared her character on Containment, Dr. Sabine Lommers, to the character she played on Farscape, in that she's very "locked down." She went on to say that her character here is a very lonely character because she has to make decisions that please no one, and keeps saying that "it's for the greater good," which is a very controversial line. Though she did mention that she eventually starts to open up to the character Lex. Finally, George Young talked about his character, Dr. Cannerts, and how he is under a lot of stress, in that has to make hard decisions as well, and confer with Sabine about them. He also commented that what he likes about the fact that this is an ensemble cast is that the audience can align themselves with a character that they have an affinity with.
Rounding out the panel, Julie Plec revealed that the season is 13 episodes spread over 19 days.
Containment will premiere on the CW on April 19.
Back to the Exhibit Hall
The panel wrapped up around 4:15pm, at which time I walked back over to the Exhibit Hall while I waited for Josh to arrive after getting off of work. I saw a little more of the Exhibit Hall that I hadn't seen that morning, such as the Comic-Con HQ booth, the DC Comics booth – complete with LEGO Bat Signal and floating Superman, and the Teenage Mutant Ninja Turtles booth, as well as Artists Alley, just to name a few things. I wouldn't say it was packed, but it was quite a bit more crowded than it had been between noon and 1pm earlier that day.
My next panel was Teenage Mutant Ninja Turtles: Out of the Shadows back in the Microsoft Theater at 5:45pm. I had planned to take the break between Containment and TMNT to get some food with Josh when he arrived, which I thought would be around 4:30pm-5:00pm at the latest. However, at 5pm I still hadn't heard from him. Around 5:20pm, he let me know that he was stuck in traffic on the 5 and was almost to the 710. That was still a ways away. So I just ate another granola bar, and made my way out of the Exhibit Hall toward the Microsoft Theater, since I wasn't sure if the line would be more of a hassle than it had been for Containment. At that point, I was on the right side of the South Hall. When I tried to exit, apparently the tap out area on that side was not working, or off limits for some reason, as everyone wanting to exit were directed to the next tap out area — which was in the center of the South Hall. It was a little annoying, because there was just a big group of people trying to get out and we had to just keep walking.
Teenage Mutant Ninja Turtles: Out of the Shadows
I did manage to make it into the Microsoft Theater with no trouble once again, and found a seat in the third row again. There was an announcement made to "tell your friends and family" to come over to the Microsoft Theater to see the panel that was about to start. Looking around the auditorium you could see why this announcement was made: with only a couple minutes until the panel's scheduled start time, attendance was looking very sparse. The girl next to me commented that she thought there were more people there for the Containment panel than were currently there. This might have had to do with the fact that the schedule did not make mention of any of the panelists that would be in attendance. The panel even started at least 5 minutes late, presumably because they were waiting for more people to show up.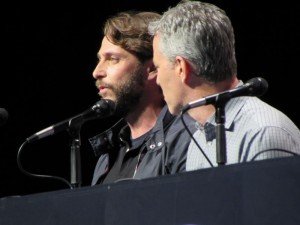 The first panelists brought out on stage were producers Andrew Form and Brad Fuller. They talked about the various new characters they were able to put into Teenage Mutant Ninja Turtles: Out of the Shadows, the sequel to 2014's Teenage Mutant Ninja Turtles movie. These characters include Bebop and Rocksteady (who they actually had wanted to put in the first film, but it didn't work out), Baxter Stockman (played by Tyler Perry), Krang and his Technodrome, and of course, Casey Jones (played by Stephen Amell). They also revealed that Baxter Stockman, the lead scientist at TCRI, was actually supposed to be in the first movie, but his scenes got cut.
The producers also dropped some breaking news: Fred Armisen had very recently been cast as the voice of Krang, and had in fact just come into work that morning.
Next, Stephen Amell came out on stage. He spoke about how he was able to film the movie in the two months that he has off from Arrow. Amell explained a bit about how Casey Jones and the turtles become involved with each other, saying that Casey Jones has a beef with Bebop and Rocksteady, and that when he first meets the turtles, he's suspicious of them. The moderator made a comment about how Casey Jones usually has long hair, but that Amell's iteration of the character has short hair. Amell explained that Casey Jones is a corrections officer when we first meet him, so long hair wouldn't suit the part. He did confirm that Casey Jones will use the character's traditional hockey stick — which Amell knew how to use, and also how to skate, being from Canada.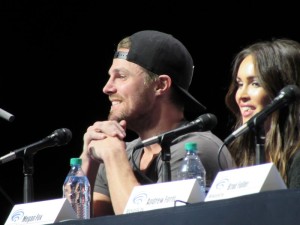 Then Megan Fox, who plays April O'Neil, joined the panel. She commented that this time around, the movie won't be so focused on April's job. The moderator wanted to say his favorite turtle at the same time Megan Fox said hers, though he said "Michelangelo" while she said "Mikey," and she corrected him, saying that it's "Mikey," though she then relented and joked that he could call him Michelangelo because he doesn't know him. When asked his favorite, Stephen Amell said, "Anyone but Raph." Andrew said his favorite in the first movie was Leonardo, but now it's Donatello, while Brad has always been a Mikey guy. The moderator then had everyone in the audience shout out their favorite turtle at the same time. It seemed like the winner was Michelangelo.
We then got to watch an extended clip from the movie, where April is running with a canister, and being chased by the Foot Clan. She ends up in an alley, and Casey Jones comes to the rescue, wearing his hockey mask and wielding a hockey stick, and attacks with hockey pucks. This is the first time that April and Casey meet. We then get a montage of action, including the turtles jumping out of a plane — and Raphael landing on the windshield of another plane in the process. Casey Jones gets to the point where he considers whether he wants to be a corrections officer or a vigilante — and April advises him to be a vigilante.
After the clip, the panelists talked a bit about the stunts. Also, Amell commented that there strangely aren't any alleys in New York City, and that the alley they filmed in is probably the only one!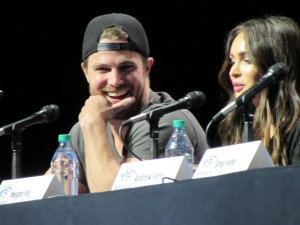 The panel was then opened up to audience Q&A. Many of the questions revolved around Stephen Amell and his role on Arrow. For example, he was asked who would win in a fight, Oliver Queen or Casey Jones? Amell answered that Oliver would be beating Casey Jones, but would stupidly not kill him, and then Casey Jones would come back and ruin Oliver's life. He was also asked about the stunts in Arrow versus the stunts on TMNT 2. Amell explained that Casey Jones is a different fighter than Oliver Queen, saying that Casey Jones is not strategic, and that he's more like "See Foot Clan, hit Foot Clan." Once the filmmakers found out that Amell wanted to do his own stunts, they let him — and he ended up doing way more stunts than he does on Arrow. Additionally, he was asked which weapon he likes better, the bow and arrow, or the hockey stick. Amell answered that he much prefers the bow and arrow, and said that oftentimes he had to resist the urge to reach for his quiver.
Megan Fox revealed that she doesn't let her kids watch TV, so they've never seen her in her movies. Amell said that he lets his daughter drive the Turtle Van, but he doesn't want to post the pictures of it, because he doesn't want to get in trouble with Michael Bay.
An audience member asked what their favorite Ninja Turtles toy was, and Amell answered the ooze, and commented that he used to know all the words to the Vanilla Ice song. The questioner tried to get him to rap the song, but Amell claimed that he didn't know the words anymore. Megan Fox started signing "Go Ninja, go Ninja, go!" and said she remembers the dance. To answer the question, she said she didn't have any Ninja Turtles toys, though she had a lunch box.
Stephen Amell and Megan Fox spoke about their experience filming in New York City. Amell explained that usually when you shoot a movie or show, you film at 3am, when you can shut down the street because there's no one around, but you can't do that in NYC, because there's always people around. One time, a sightseeing bus drove by an announced to its passengers, "There's Stephen Amell, filming Teenage Mutant Ninja Turtles." He didn't know what else to do but wave. Megan Fox talked about how she's a germophobe, and that the alley they were filming in, which is called Portland Alley, is known as the place where drunk people go to pee a lot, so it was difficult for her when she had to go crawling around on the ground there and laying on the pavement. However, it was therapy for her, which she thanked the producers for.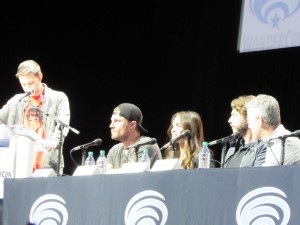 We learned that some of the movie takes place in Brazil, such as the plane scene we saw in the clip, although only the film crew had gone down there to film a few things. It is the first time that the turtles leave NYC.
The moderator interjected his own question, asking Stephen Amell about his first experience with motion capture. Amell said that it's hard not to look the actors in the eye when you're talking to them, and that you're supposed to look at some balls above their head which represent the character's eyes. Sometimes there are scenes when no one is there, so you have to put a lot of trust into the post-production element. Andrew Form said that in any scene with turtles, they have to shoot it three times: once with actors in the suit, once with actors, and once with nobody.
Will there be any more turtle beatboxing in this movie? The producers said that we'll have to wait and see!
The panel was on the shorter side, having started a little after 5:45pm and ending at 6:30pm, by which time I figured Josh must be waiting on me. Upon exiting the Microsoft Theater, we were directed to go to the left, toward the rest of LA Live, and away from the Staples Center. It was a bit chaotic exiting that way, as there were a bunch of Lakers related events going on in the courtyard outside of the Microsoft Theater, so people were in line for Lakers things, while WonderCon attendees letting out of the panel had to make their way across all the Lakers fans. I finally got past all that, and texted Josh to see where he was. He had just parked.
I'll let Josh tell you his story about trying to get to WonderCon, and let him take over for the rest of our evening in Part 3 of the WonderCon 2016 Friday Report, which includes the panel for AMC's Preacher! Click here to continue!
Check out our photo gallery below for more images!