Josh picks up where Violet left off on Part 2 of the Friday Report of WonderCon, which took place at the Los Angeles Convention Center Friday, March 25 through Sunday, March 27. In this third part of the Friday Report, Josh talks about his frustrating journey to WonderCon, as well as the Rotten Tomatoes panel, and the panel for AMC's upcoming show, Preacher!
WonderCon 2016: The Friday Report Part 3
If you missed Part 1 of the WonderCon 2016 Friday Report, click here!
Click here to go back to Part 2 of the WonderCon 2016 Friday Report!
Josh's Journey to WonderCon
My journey to WonderCon began Friday night. Violet had already made her way there in the morning, but unfortunately I had a real job to attend to. I headed out from my house in Fullerton around 4:45pm, and battled the 5 Freeway to the 10 West, and made my way into what I describe as the pit of Hell–Los Angeles.
I really dislike Downtown LA. Driving is aggravating, traffic is horrible, and some areas are downright scary. Once leaving the freeway, I was put into the belly of the beast, with traffic being horrible. Being a Friday night, and WonderCon going on, I figured it would be bad. The Los Angeles Convention Center is right by Staples Center and LA Live. There was a Lakers Game, and given the popularly of LA Live, It was a nightmare to navigate this area. Traffic was stopped in the middle of intersections, constant horn honking at people aggravated with other people, it was a boiling pot for road-ragers.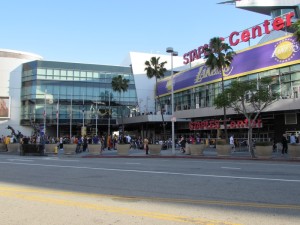 I made the mistake of trying to park in the West Hall for the Convention Center once I finally was able to get there. This is right by where people park for the Staples Center and LA Live, so it was utter chaos. I asked a woman working security where to park, and she said to make a U-Turn to Lot C. I did so, however when I pulled over there, the parking attendant said I needed to U-Turn and park in the West Hall. Already tried that. Arghhh!!
I drove around Lot C to see if I could find any other options. Nothing. I decided then to head to South Hall since at least it was a little farther from LA Live and Staples Center. Traffic of course was still a nightmare. After finally struggling to get to Figueroa Street I made it to the parking lot–which was actually not too bad. It cost $20 to park there. I wish I had made this decision when I had first arrived, and hopefully the next time I come to the Los Angeles Convention Center, I make this decision right away. I was very glad that the next couple of days would be on the Metrolink. No parking aggravation to worry about.
This journey really highlights why I hate the Los Angeles Convention Center though. It feels so disjointed, especially when things are happening in two separate Halls.
I am very glad that WonderCon is heading back to Anaheim next year. It is a much nicer venue. It also doesn't hurt that it is about 10 minutes away from our house, so getting to it is extremely easy and fast for us!
Sadly, after picking up my Press badge (which I was barely able to do before the Press desk closed at 7pm), due to arriving so late, I didn't get to see many exciting panels. We headed towards 408AB, where the AMC's Preacher panel was being held.
Rotten Tomatoes
The panel before Preacher was a Rotten Tomatoes panel, which we got into about halfway through, due to a long line. It seemed very interesting though, where audience members would present a movie and argument for it being good or bad to a panel of people who represented various movie websites. People in the audience had paddles, one voting for "Fresh" (meaning a good movie) and one voting for "Rotten" (meaning a bad movie). This allowed the audience to voice their opinion on the movie presented. Then the panelists would refute or agree with the opinions of the audience members, and finally, the Rotten Tomatoes score would be revealed.
I wondered if people were trolling the panel though. People tried to argue some strange movies–for example, one person tried to justify Cat in the Hat, and described it being a commentary on Reagan politics, and some other nonsense. I wonder if he actually believed this or if he was trying to get a rise out of everyone in the room.
Another potential troll was someone trying to refute that Deadpool was a good movie. This one seemed a little more believable though, as I can certainly see people disagreeing with Deadpool's premise, and not really being interested in its tone.
Oddly enough, Batman v Superman didn't come up in the panel at all, and the panelists even thought this was odd. I am guessing too many people were busy getting to WonderCon to see the movie.
I really thought this was an interesting panel and it made me wonder what movies I would like to debate. I think the big one I would bring up is Man of Steel, as I think that is a very good movie, that is really divisive, and one I am really passionate about it terms of how good it is. Maybe next time the panel is around…
Up next was the Preacher panel, which started a few minutes after its scheduled start time of 8pm, as staff was trying to fill every seat possible, so as to accommodate as many people as they could from the long line still waiting to get into this 1,000 seat capacity room.
AMC's Preacher
The final panel of Friday night that we saw at WonderCon was AMC's Preacher Panel. For those unfamiliar, Preacher is a comic book that AMC has adapted into a TV show. With the success of The Walking Dead, AMC is likely hoping to capitalize on another gritty, comic book series.
While I have not read the comic myself, from friends and online research, I have learned the basic background of the story–Jesse Custer is a preacher who has a questionable background, and he is possessed by a force, which allows him, at times, to tell people to do exactly what he tells them too. The comic was published by Vertigo, running from 1995 to 2000 with 66 issues and a 4 issue mini- series. It was written by Garth Ennis.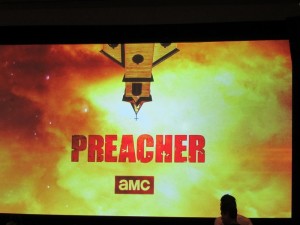 The WonderCon panel began with the pilot episode. We meet Jesse Custer, the Preacher character, played by Dominic Cooper, and see that while he is trying to be a man of God, he is struggling. He is clearly a heavy drinker, evident by the bottles littered about his room. We also see that his congregation doesn't have the traction he would hope for–the pews are mostly empty and those in attendance to his sermon appeared mostly disinterested.
We get some deeper background on Jesse's character based on his interaction with a child in the episode. This child, named Chris Schenck, talks to the Preacher, telling him that he wants the preacher to hurt his father because his father is hurting his mother. You would think this is a strange request of a preacher, but this kid, and seemingly much of the town, has heard talks of Jesse's past, which seemed to involve a lot of violence. We see the darkness in Jesse when he talks to the kid.
We also meet another main character–Tulip O'Hare. She is played by Ruth Negga, and she has a rather interesting introduction. We meet her battling some men in a car, while driving through the corn fields of Kansas. She is apparently on the run from some group, and winds up in front of a house where two kids have come outside to see the spectacle. Tulip seems to have a motherly – yet dark -feeling towards these children, and decides it is "arts and crafts time" for them, where she essentially recruits them to help her make a makeshift bazooka with tin cans, alcohol, and green army men toys.
She then makes sure the kids are safe in their bomb cellar, and heads out to take on the new group sent to hunt her down. She takes them out, and continues on her journey, apologizing to the kids for the mess before she leaves. Not much explanation is given regarding the reason for these people chasing her, but it looks like she has ticked someone off.
Tulip shows up in Texas, and tries to get Jesse back in the "game" — whatever the "game" is. It seems it has to do with screwing people out of money, or something to that effect, as it is supposed to have a big payday.
The third seemingly recurring character we meet is Cassidy, played by Joseph Gilgun. He seems to be an Irish man/demon, fond of drinking, and tearing people's throats out. We first meet him on an airline, and while on this flight Cassidy realizes things aren't as they seem, and everyone on the plane seems to have a plan to kill him. He is able to take them all down though, in a rather spectacularly bloody scene, finishing up with a viscous bite to the neck of an adversary, and then opening the emergency exit on the plane, and jumping out with just an umbrella.
Donnie winds up a splat on the ground, but is still quite alive. He finds a cow that seems curious about him, which he makes a snack of.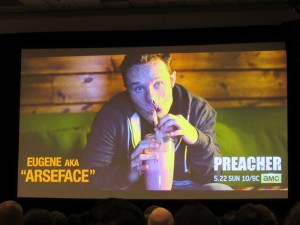 Also in the episode we meet "Arseface", a kid who has a deformed jaw, due to being shot in the face by a shotgun (at least that is what I have learned from Wikipedia–it is not explained in the show yet). Jesse and he have a discussion about God, and whether people can do something so horrible that God cannot forgive. Jesse dismisses this notion– but it seems he is dismissing it for two reasons–one, because he is a Preacher and that would conflict with his beliefs, but more importantly, I think he refuses to believe it because I have a feeling he has a pretty dark past which might mean he would not be forgiven either.
Meanwhile, we see Jesse continuing his efforts to be a good Preacher. He talks to the sheriff of his little town about Betsy being hurt, the mother of Chris. The sheriff isn't too excited to be helping out though, so the next day Jesse takes his concerns to the wife directly.
Turns out this was all a big misunderstanding though, as apparently Betsy likes the hitting she is receiving. I guess case closed right? Awkwardly at least. But things aren't exactly all good and well. In the evening, Jesse runs into Betsy's husband Donnie, who apparently was told about Jesse's concerns. Donnie gives Jesse a punch to the face, and then tells Jesse the next beating will be for Chris for ratting him out. Jesse seems content to let this all go until he hears that Chris will be on the receiving end of a beating. Jesse warns Donnie to not touch Chris. This of course escalates into a brawl, with us seeing flashes of Jesse seemingly enjoying the fight, rather than a typical Preacher who would frown upon it.
Cassidy has also shown up, and provides a little bit of back up for Jesse, who Jesse thanks later on when they end up in lock up. But Jesse's jail lock up is short lived, with Tracy, the woman helping Jesse with his congregation, bailing him out. But Jesse lets her down, telling her that he is going to walk away given how he feels he is failing the church.
But remember how I said there is a force that possesses the Preacher? Well, that development was sprinkled throughout the episode–in the opening scene of the show, we see a Preacher in Africa possessed by this "spirit", and he explodes in a bloody mess. This thing then travels to Russia and the same thing happens again. Well Jesse, feeling a bit down on his luck, visits his church to contemplate what he should do. He asks for a sign from the Lord, and that is when he seemingly gets one–the spirit thing has come to him, and seems to possess him.
We next see him waking up in bed, and Tracy is nursing him. Apparently he was sick, but seemingly is doing better now. He gets ready to give his resignation at his church, and on the way there, a character who has been nagging him sporadically throughout the episode comes to bother him again. The preacher has some sound advice for him, "Be Brave, tell the truth, open your heart." Makes sense right? Well, remember how this power gives Jesse to the ability for people to do exactly what he says? This man flies to visit his mother, and tells her the truth about how he feels. Unfortunately the "open your heart" part was taken quite literal by this man, who uses a knife to cut his heart out, which horrifies his mother along with the rest of the people in the elderly home.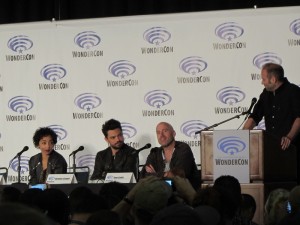 All the while this scene plays out, we are cutting to the Preacher, who is about to resign, but in the end has a renewed faith in his church, and promises to not quit. I wonder how he would feel about this if he knew what actually happened with the advice he had just given…
Anyway, after the episode, the actors Ruth Negga and Dominic Cooper, and Executive Producer/Showrunner Sam Catlin came out and answered a few questions. Unfortunately, not much is learned from the panel, as expected, as Sam Catlin doesn't want to spoil anything for the show. Fans of the comic book asked if various characters would be showing up, but nothing was confirmed either way in the panel.
The actors were also asked a few questions, such as how the stunts were and what their favorite part of their characters were. Not much was really learned new here, but they seemed excited to be on the show.
I am still undecided on the show as a whole, as it seemed a little odd to me. I am always into a dark-ish tone of a hero, but I am wondering if the tone will be something that I can get into. From my research online, it looks like he might be teaming up with Cassidy, the vampire, and I am wondering how that will all play out.
We will have to see when the show releases May 22nd, 2016.
Click here to continue to Part 1 of our WonderCon 2016 Saturday Report, featuring The Last Ship and Wayward Pines panels!
For more pictures, check out our photo gallery of images below!