Violet and Josh continue their Saturday Report of WonderCon, which took place at the Los Angeles Convention Center Friday, March 25 through Sunday, March 27. Violet provides a brief rundown of the Scorpion panel, then Josh gives his recap of the Agents of SHIELD panel!
WonderCon 2016 – The Saturday Report Part 2
Click here to go back to Part 1 of the Saturday Report, featuring The Last Ship and Wayward Pines!
Scorpion
This is Violet, telling you a bit about the Scorpion panel. So, to be honest with you, we've never watched Scorpion, or had much of an interest in watching it. The only reason we were in the room for this panel was because we knew we'd have to sit through the panel in order to secure a spot for the Agents of SHIELD panel. Although the Agents of SHIELD panel was ranked as the #1 most popular WonderCon 2016 panel on MySched, rather than being held in the large Microsoft Theater, it took place in Room 408AB, which, if you refer to our WonderCon 2016 seating capacity guide, you'll see has a seating capacity of merely 1,000. This wasn't really a problem for us, as we had planned to be in Room 408AB from before the time The Last Ship panel began at 11:00am and stay in the room for the Wayward Pines panel at 12:00pm, since we're fans of that show as well. The Scorpion panel was scheduled at 1:00pm, followed by the Agents of SHIELD panel at 2:00pm, so there was really no point to leave the room and try to come back, as we knew that would not work.
After the Wayward Pines panel ended, it seemed this was when people were really trying to get in to secure their spot for the Agents of SHIELD panel. The Scorpion panel started off with a screening of the following Monday's episode. I got up in the middle of it to go to the bathroom, and when I got outside, I saw just how crazy the line was, and was glad we already had a spot in the room.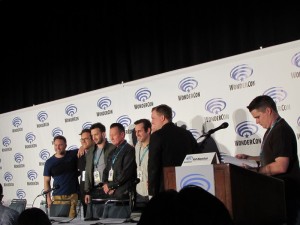 After the episode, the panelists were brought out on stage, which included Executive Producers Nick Santora and Nicholas Wootton, and actors Robert Patrick, Eddie Kaye Thomas, and Ari Stidham. As I mentioned, we don't watch the show, so I didn't really follow what they were talking about during the panel. The main highlight of the panel for me was seeing the T-1000 (Robert Patrick) from Terminator 2 – one of my all-time favorite movies – and Finch (Eddie Kaye Thomas) from the American Pie movies in person. The younger actors talked a bit about romantic interests on the show, but I couldn't tell you the specifics. Near the end of the short panel, it was announced that Scott Porter (you may remember him as Jason Street from the TV show Friday Night Lights) was now an official member of the cast, and they brought him out on stage to join the rest of the panelists.
After the Scorpion panel, staff tried to make sure every seat was filled for the Agents of SHIELD panel, which had an interestingly long run time of an hour and a half… I'll let Josh tell you all about it.
Marvel's Agents of SHIELD
Jeph Loeb was the moderator for the Agents of SHIELD panel, who is the head of the TV department at Marvel. He announced that Marvel's Agents of SHIELD has been renewed for Season 4, news which came out a few weeks ago. There was a pretty interesting poster for Agents of SHIELD that was handed out at the panel too–free stuff is always fun.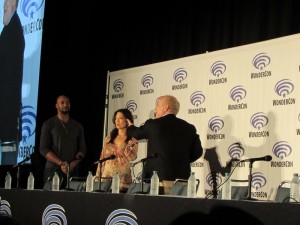 Jeph Loeb then had an amazing giveaway for a lucky fan–the season finale script! He said he would be giving it away to one lucky person. Unfortunately, Agent Mack and Agent May arrived on stage though, and confiscated the script. Sadly, the script will just have to be witnessed on its official air date.
This jovial tone was present throughout the panel, as it was introduced. Jeph Loeb tried to get the crowd excited for the panel by having one side chant "Season" and other side following with "four," since the show had been picked up for a 4th season. Then the cast of the panel came out. On the panel were cast members Luke Campbell (Lincoln), Henry Simmons (Mack), Elizabeth Henstridge (Agent Simmons), Chloe Bennet (Daisy), Brett Dalton (Ward), Ming-Na Wen (Agent May) and Clark Gregg (Agent Coulson), and Executive Producer/Writer Jeff Bell. Loeb had hoped that Jed Whedon would be in attendance, but his father had passed very recently, which was sad to hear.
Then another sad moment, although not nearly as sad, was Jeph Loeb telling us that there was an empty seat left for Bobbi and Hunter. Jeph Loeb then had a clip played, which the cast had not seen, which highlighted Bobbi's and Hunter's scenes in the show, finishing with their goodbye we saw at the end of their last episode, Parting Shot.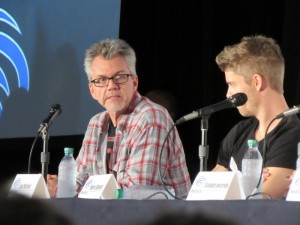 Jeph Loeb then mentioned Marvel's next TV show, which is the spin off for Bobbi and Hunter, which is called Marvel's Most Wanted. Jeff Bell, a writer for Agents of SHIELD, tries to remain cryptic about what this new show is about, saying it is about Bobbi and Hunter outside of SHIELD and working on their relationship. Not much to go on, but we will see what happens.
Jeph Loeb then asks the cast a few questions–asking Elizabeth what Ian De Caestecker (who plays Fitz) would want to say if he was there, to which she answers, "How much he loves me." Ming-Na Wen was asked about her men seemingly turning into monsters, to which she responds it is the effect she has on men. Clark Gregg discusses losing his two agents, and he talks about how there is a vanishing point between his character of Coulson and his real self, and how working with Nick Blood and Adrianne Palicki was sad for both Coulson and Gregg himself. Brett Dalton also talks about how his character is constantly changing, from a good agent, to HYDRA, to being dead, now being possessed by this Inhuman.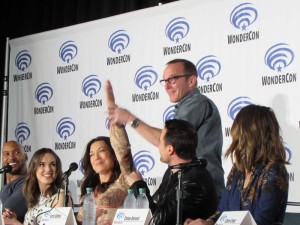 The rest of the panel was basically audience questions. There was a lot of joking going on–one man says he has been watching Agents of SHIELD since the first episode, the panel gets a little creepy/funny at his expensive, joking how they have been watching him. It is a pretty good laugh.
A lot of the questions in the panel were the typical ones I have heard at panels a lot–what do you do to prepare for scenes you are filming, what would be your super power if you had one, how can I become an actor–I guess it is hard to come up with innovative questions. I did like that one audience member asked for more information on the viewpoints of Lincoln and Daisy regarding the Inhuman situation, with Lincoln seeming to think it should be a choice while Daisy is fine with everyone becoming Inhuman. Jeph Loeb made a good point during this question, saying that Marvel often uses current events in the world to use as a "prism" for storylines in their comics, and now TV and movies. The panel seems to for the most part agree that they should be treated as equals to humans, which makes sense. (This begs for an article to elaborate on further if I have time).
Towards the end of the Q&A portion, the final question asks if there is any footage we can see, even asking to see a full episode! By golly, just because she asked, we got to see Tuesday's episode early, on Saturday! In all seriousness, I think she was a plant, but whatever, I can deal with that.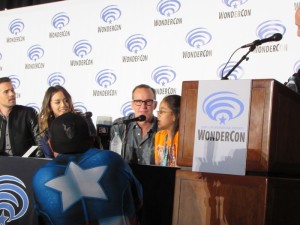 There were a couple of sweet moments during the panel though. There was a mentally handicapped woman who wandered up to the stage. Clark Gregg was nice enough to come down and give her a hug. She seemed excited about it. Then Clark Gregg wanted to hear a final question from a young girl. Chloe and Clark invited her up to the stage and let her ask it up there, which seemed to make the little girl's day, as she burst into tears. The little girl asked if characters from Agents of SHIELD would be crossing over into the MCU. Jeph Loeb seemed to be in a rush to finish the panel though, and assured her that everything is all connected for TV and the MCU, but of course, could not provide any details of this happening.
With that the panel wrapped up, and we headed out to meet up with @CorgiKohmander, who was in the Exhibit Hall. I had yet to see much of the Hall at this point, but we had to make a train after visiting with them, so we headed for the Metrolink to make sure we caught the 4:40pm train home, since the next train would not be until 7:15pm.
Agents of SHIELD is appearing on ABC, Tuesdays at 9:00pm. Check out our recaps of the episodes, if you fall behind, or need a refresher on what is happening there!
Stay tuned for our Sunday Report, featuring the Nerdist panel with Chris Hardwick, as well as The 100 and Legends of Tomorrow panels!
Check out our photo gallery below for more pictures!