Pretty much the entire main cast of Sabrina the Teenage Witch (1996-2003) reunited at Stan Lee's Los Angeles Comic Con on Saturday, October 28, 2017. The nostalgic panel on the Hot Topic Main Stage included Melissa Joan Hart (Sabrina), Nick Backay (Salem), Caroline Rhea (Hilda), Beth Broderick (Zelda), Nate Richert (Harvey), Alimi Ballad (Quizmaster Albert), David Lascher (Josh), Soleil Moon Frye (Roxie), and Elisa Donovan (Morgan).
The cast talked about how international the show is, though Melissa pointed out that it hit Europe much later than in the U.S. When she got married in Italy in 2003, no one knew who she was, but then when she went back a few years later, she was recognized. Beth recalled having done a show in Cairo, Egypt and having people recognize her because of Sabrina the Teenage Witch.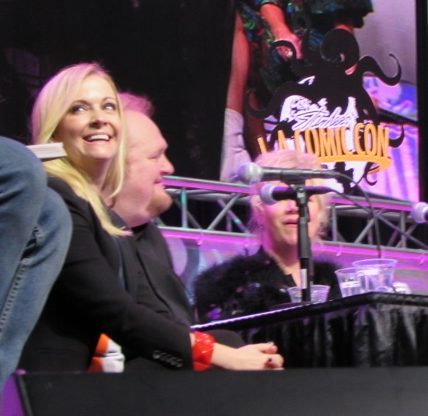 When the moderator asked Nick about his voice being recognized as Salem's, he joked in Salem's voice, "Only when I order a latte!" He went on to say that people often think that his voice sounds familiar, and that they might have known him in high school.
Melissa recalled when her mother, the producer, was trying to get the show off the ground. She had pitched it to four different networks in one day, and had gotten three offers, but ABC was the only one to offer a time slot. Her mother decided that the TGIF time slot was where it belonged.
Nate remembered going to the mall with his girlfriend to a Sam Goody (the crowd chuckled at that throwback), and young girls started recognizing him one by one, until suddenly there was a mob of girls after him!
David spoke about how it was tough for him at first when Sabrina and Josh started dating, because everyone was so used to Sabrina and Harvey being together. It took some time for him to find his place, but he did, and eventually Josh and Harvey even became friends.
Elisa Donovan talked about coming into the successful environment of Sabrina the Teenage Witch later on in the show, as she came on after having been on the Clueless TV series. Echoing what Nate had said, she recalled that she couldn't go anywhere around that time, especially a mall, without getting recognized. Soleil Moon Frye, who also came late to the show, had been excited because she got to work with her best friend (Melissa), and said that the show felt like a family.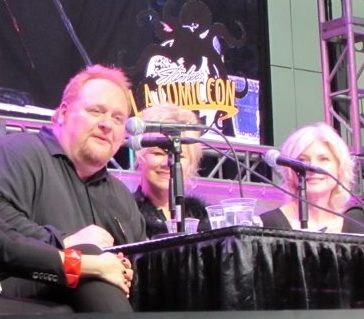 Nick Backay, who also wrote for the show in addition to voicing Salem, remembered writing 24-26 episodes per season, which is unheard of now. When voicing Salem, he would be off camera with a microphone. One time, he had to wear a fish tank over his head while speaking!
The others recalled what it was like working with "Salem" the cat. They were told to look directly at the puppet, but Caroline had trouble doing that and kept looking at Nick instead. She also pointed out that Salem didn't actually look like a cat the first season and more like "an alcoholic rabbit wearing a hairpiece." Eventually, Nick was not allowed to come down because he was too distracting. But then after awhile, Caroline would find herself talking to the puppet cat when no one else was around! Beth remembered petting the puppet cat as well.
Where is the cat now? Melissa thought it was at a puppetry museum in Atlanta. As for the real live cats, there were several that they used on the show. There was an episode of Melissa & Joey where they used the last living cat from Sabrina, and even used the same cat trainer. The cat wasn't very friendly though, and they couldn't even touch it. Sadly, the cat is no longer with us.
The moderator asked the panelists to raise their hand if they remembered magic being done to them on the show. All of their hands went up. Nate talked about the episode where Harvey was turned into a beast, which was actually his favorite episode. Beth talked about the flying vacuum cleaners and flying around on rigs. Melissa brought up the closet that they had to use to go to the other realm, which sparked a groan from the panelists, who had dealt with the crazy blinding light that would go off when traveling to the other realm. They would have to run into the small space and squeeze their eyes shut.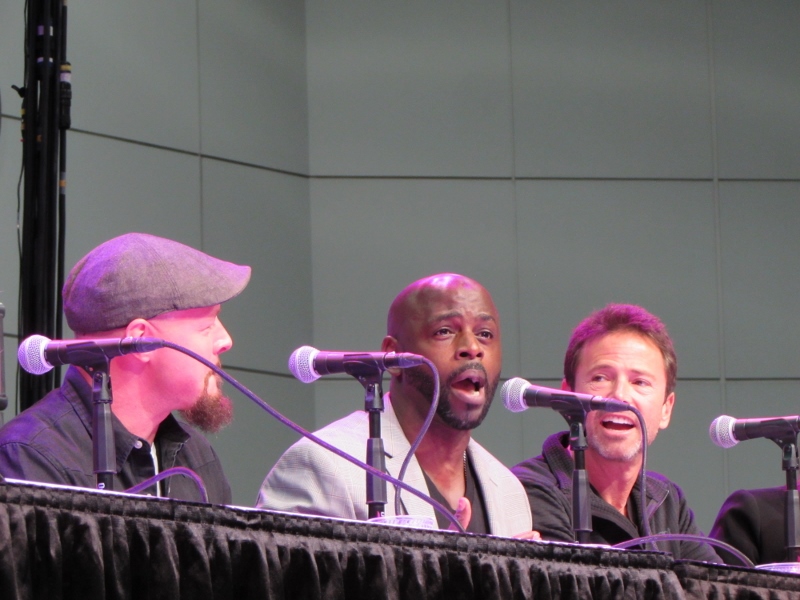 Alimi reminded us that Quizmaster Albert lived in the other realm, and remembered that he had a giant mouse as a roommate — though it really wasn't by choice, as the mouse was more of a squatter who refused to leave.
Then the panelists went down the line saying where they thought their respective characters are now. Elisa thought Morgan would be driving some wealthy man crazy, while also stalking Josh and giving Sabrina fashion advice. Soleil said Roxie probably started a punk band, moved to New York City and had a couple kids. As for David, he said Josh would be stalking Sabrina, and would be a successful photographer. According to Alimi, Quizmaster Albert would have moved to Miami and would be a nanny or teacher who teaches kids magic.
Since Harvey and Sabrina ended up together, Nate figured the two would have a 16 year old by now, and questioned whether that meant he would be banished. However, Melissa answered that it's the mother who becomes a ball of wax. But their child would only be 1/4 witch. Melissa thought that she and Harvey would have started their own Hogwarts and are teaching kids how to navigate the part mortal/part witch world. As for whether Harvey would ever get magic, Melissa said that Sabrina would be standing behind Harvey doing magic and making it look like Harvey was doing magic.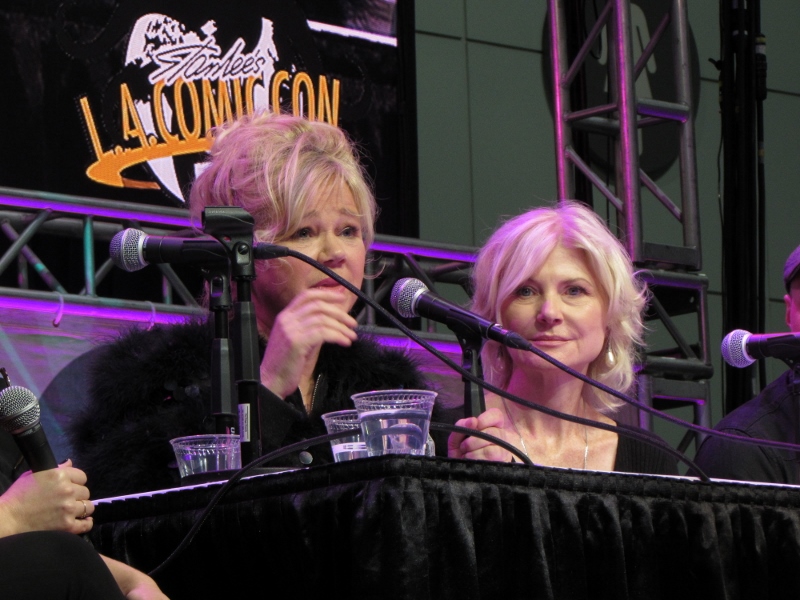 Beth responded that Zelda would be an Uber driver in the other realm, while Caroline answered that Hilda would probably be living alone with Salem and pining away for Drell. Nick agreed that Salem probably lives alone with Hilda, and is still banished to being a cat for trying to take over the world.
The moderator brought up the Sabrina reboot that CW is doing and asked how they felt about it. Melissa pointed out that it's a very different show from theirs, in that it's much darker and "more Buffy" so it would appeal to a different audience.
There was also discussion about the show being about powerful women, and how progressive it was. Caroline recalled having received a family award for the show in England, and that the award presenter commented that they loved the fact that Sabrina lived with her gay aunts. (The two aunts are actually sisters). Nick used his Salem voice to joke, "You don't know what happened in that house at night!"
The panelists then reminisced about all the 90s guest stars they had on the show, including Bryan Cranston, Usher, Backstreet Boys, Milo Ventimiglia, Penn & Teller, Hanson, Davy Jones, and more. Melissa explained that they were really lucky that they had a healthy budget. It also helped that many of the stars had kids who watched the show, so they did it for their kids.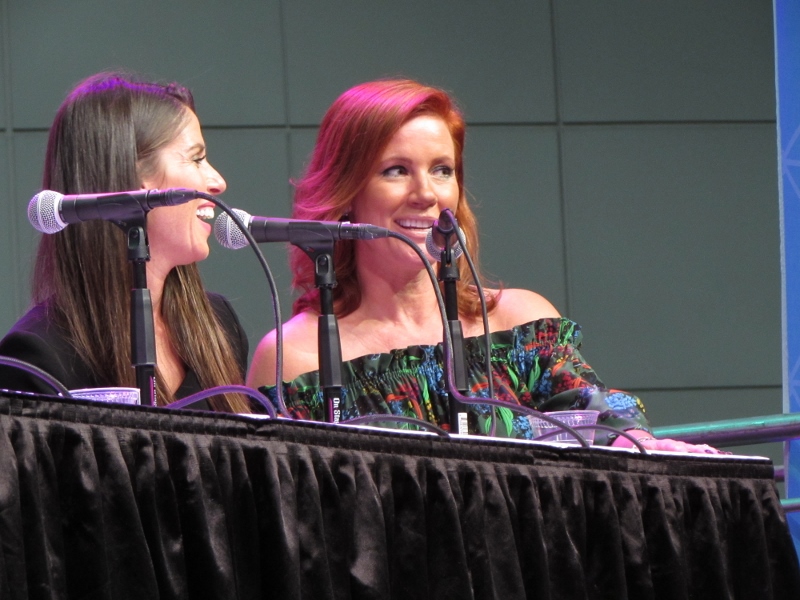 Speaking of kids, between all of the panelists, they have a total of 15 children. Although, as Soleil pointed out, her 4 kids and Melissa's 3 kids make up almost half of that!
Wrapping up the panel, Melissa spoke about how awesome it was to see all of these people here all these years later. She said that the biggest compliment they can receive is "We grew up with you." Melissa talked about how they were a family, and that even the crew stayed together for the whole seven years, they weren't a revolving door. Everyone working on the show had a blast, and appreciated every moment.
The panel ran out of time, and the panelists came to the front of the stage for a group photo, as seen at the top of the page.
This was a really cool panel for me, because I did in fact grow up watching Sabrina the Teenage Witch. I was 12 years old and in 6th grade when the show started, and when it ended, I was 19 and a freshman in college. This panel brought up a lot of nostalgia for me, and I'm so glad I got to see this reunion.
Check out more of our photos from the Sabrina the Teenage Witch Cast Reunion below.
Stay tuned for more of our coverage of Stan Lee's Los Angeles Comic Con 2017!
Click for more coverage: Katee Sackhoff, Drew Carey, Chloe Bennet, Adam West Tribute, and Quantum Leap!