After Katee Sackhoff's panel, Drew Carey was honored as the 2017 Comedy Legend at Stan Lee's Los Angeles Comic Con on Saturday, October 28, 2017.
Before Drew came out on the Hot Topic Main Stage, Price is Right models Rachel and Manuela, along with announcer George Gray, gave him a welcome, with George saying, "Come on down!" to call him out on stage.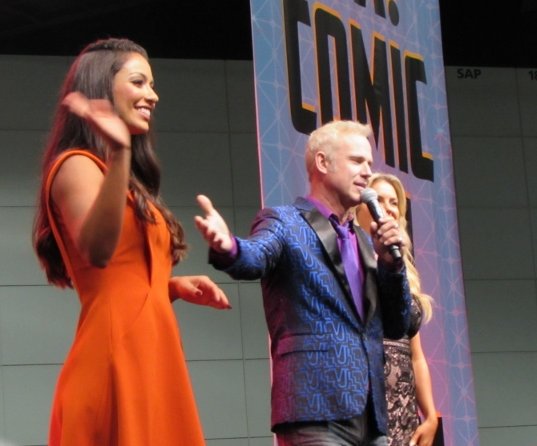 Drew told us about the Price is Right Halloween episode, where they all dressed up as made up superheroes. Drew was Captain Giveaway. The moderator commented that they should have had Stan Lee make the characters for them, to which Drew Carey started gushing over how excited he had been to meet Stan Lee and take a picture with him. When Drew was 12 years old, his first job was as a paper boy. A couple of times, he got in trouble because he spent all his money on comic books (mostly Marvel). He liked Spider-Man, Daredevil, and Captain America. When asked what character he would like to appear as in the Marvel Cinematic Universe, Drew said, "Can I just be Drew Carey?"
His biggest influence was MAD Magazine, which he still reads to this day, and actually has a subscription. He reads it during the breaks at Price is Right. As for other nerdy things that he's into, Drew said that he has an HTC Vive at home, and likes to play VR. He has an XBox, but mostly plays sports games on it. If you go into his office, he has a large collection of G.I. Joes and Barbie dolls. He gets "one to keep, one to trade, one to play with." He has special edition Barbies, such as Wizard of Oz and The Birds, and even has the Drew Carey Show dolls of his own character and Mimi. Speaking of The Drew Carey Show, Drew said that when he first started the show, he wanted to imagine what his life would be like if he had never gotten into stand-up comedy.
He's always had a philosophy of taking risks. As for how Whose Line is it Anyway? came about, he talked about how he was burned out from working on The Drew Carey Show so much. Additionally, he had a chip on his shoulder from The Drew Carey Show not getting enough respect. He had heard that Ryan Stiles, who was also on the show, did improv, and knew that others on the show had a background in improv as well. So Drew went over to The Improv on Melrose and asked if he could bring the cast of The Drew Carey Show there on Thursdays to do improv. It became a big deal, and they would sell it out every week. Then Drew heard about how Summertime ratings were low, so he asked Ryan if he'd be interested in doing Whose Line during the Summer. Dan Patterson, who had produced the original BBC version of Whose Line, happened to be in town, and was trying to pitch Whose Line, but no one was buying. They didn't want to use Ryan because he was too goofy looking, nor Colin, because he was too old. Drew got Dan Patterson to come see their Thursday night show, and he liked it. They got the ABC executives to come down and watch the show, and about a month later, ABC decided to do Whose Line. Drew attributed it all to having that chip on his shoulder, saying that sometimes when people think you can't do something, you get this drive to prove them wrong.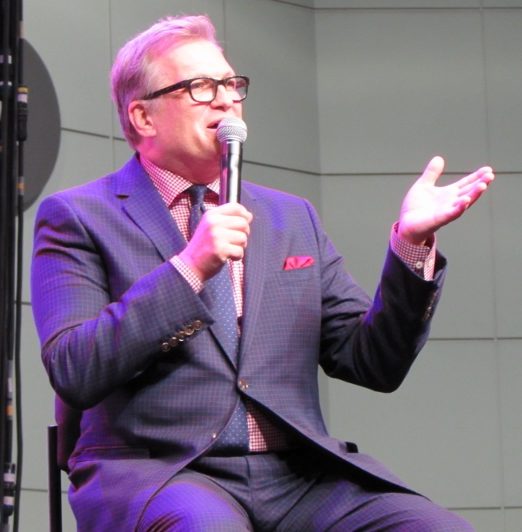 Drew refused to take credit for Craig Ferguson, as someone else had cast him on The Drew Carey Show. Additionally, Dan Patterson is the one who should be thanked for having Wayne Brady on Whose Line, though Drew said Wayne is the type of guy who was going to be successful anyway.
After the show was canceled, Drew thought that he was going to retire. However, he got a call to do a game show called Power of 10. He didn't want to do it at first, because this was around the time that David Beckham was coming to the LA Galaxy, and Drew didn't want to miss any games. However, the producer was very understanding of his soccer enthusiasm, and said he could work around the soccer schedule. Soon after, Drew got a call from his agent about taking over for Bob Barker on Price is Right. Drew had no interest, and couldn't believe they wanted him to be on "that old man's show." CBS was insistent though, and Drew eventually agreed to take a meeting with the producers. By the end of the meeting, he agreed to do the show. How did they convince him? They asked him what was his favorite thing to do in life, to which Drew answered that he likes to leave big tips. To this, they pointed out that he gets to do this every day if he's the host of Price is Right. Drew realized they were right. Not only would he get to give away stuff to people, it's not even his own money! Drew commented, "I really love it when people win. It's like I'm encouraging them to loot!"
Drew recalled living in Las Vegas a long time ago and being completely broke — so broke that he went to donate plasma just so that he could get money. They would pay him $40. However, they asked him when the last time he ate was, which was the day before. But you can't donate plasma on an empty stomach, so they advanced him $5 so that he could go get something to eat. Unfortunately, he wouldn't be allowed to come back to donate more for another 6 weeks. So whenever someone wins a small amount on Price is Right, like $1,500, Drew is able to relate to them and how much it means, as he hasn't lost track of how much money that is to most people, even though he is wealthy now.
The moderator brought up how humble Drew Carey is, and said that he was afraid that Drew was going to say no to appearing at LA Comic Con to accept the Comedy Legend award, because he knows Drew hates awards. Drew admitted that he was a little embarrassed about receiving the award, pointing out that Jerry Lewis is a comedy legend, not him.
To wrap up the panel, the moderator thanked Drew for his military service, pointing out that he had served in the U.S. Marine Corps Reserves. Drew tried to downplay his service, but the moderator praised him anyway, and the crowd applauded him.
Up next on the Hot Topic Main Stage at LA Comic Con was Chloe Bennet! Click here for our recap and photos of that panel.
You can view more of our photos of Drew Carey at LA Comic Con 2017 below.