Kevin Smith and Ralph Garman moderated a panel on Saturday, October 28, 2017 at Stan Lee's Los Angeles Comic Con paying tribute to the late Adam West that included Burt Ward and Lee Meriwether. Burt Ward played Robin, while Lee Meriwether was the very first movie Catwoman.
Kevin Smith spoke about how Batman 66 stands the test of time, then he asked Burt and Lee what it was like to meet Adam West for the first time. Burt recalled that it was July 1965 when he had a screen test with Adam. They had started talking about 15 minutes before the screen test. Within 5 minutes, Adam had him laughing. Lee remembered that when she auditioned for the film, she walked into a room of 50 gorgeous women waiting to audition and was intimidated. Adam wasn't there, but she hoped and prayed that she would get the part so that she would be able to work with him. As she left the room after her audition, she heard someone say, "I didn't tell her to do that." She had made catlike movements such as licking herself. When she got home, she found out she had a call from her agent, whom she called back — and found out that she got the part and was going into wardrobe the next day!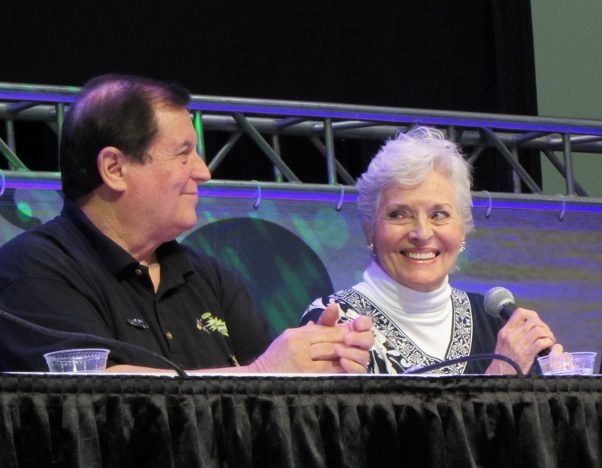 Burt talked about the friendship that he and Adam had forged, saying that even on weekends they would spend time together, such as playing tennis. People would be astonished when they realized Batman and Robin were playing tennis together! He also spoke about being a bonded pair for life as Batman and Robin, appearing at numerous conventions together, and even voicing lines for a Batman 66 pinball machine.
Burt said that Adam was exactly the same off camera that he was on camera. Ralph commented that he knew Adam loved to make people laugh. Burt mentioned that although the show was written for kids, there were double meanings that adults could get. When they went out, Adam often made suggestive remarks that would raise eyebrows, such as asking, "Would you like to touch my bat?" and then putting forth his cowl, or saying, "I'm getting strange stirrings in my utility belt…"
Kevin pointed out that we got one last performance from Adam West as he voiced Batman in the animated film Batman vs. Two-Face, which was recently released. Burt Ward talked about how the villain, Two-Face, was voiced by William Shatner, and how amazing it was for Batman and Two-Face to be voiced by such iconic actors. Burt had been on a panel for the movie at New York Comic Con a couple weeks prior, which William Shatner had also been on, and commented that William Shatner was so quick witted and reminded him of Adam. Lee Meriwether also lends her voice to the movie as defense attorney Lucilee Diamond. She said she hadn't seen the film yet or heard anything about it, so Ralph insisted that they get a copy of the film for her. Ralph teased that there was a moment in the movie that pays tribute to her Catwoman as well.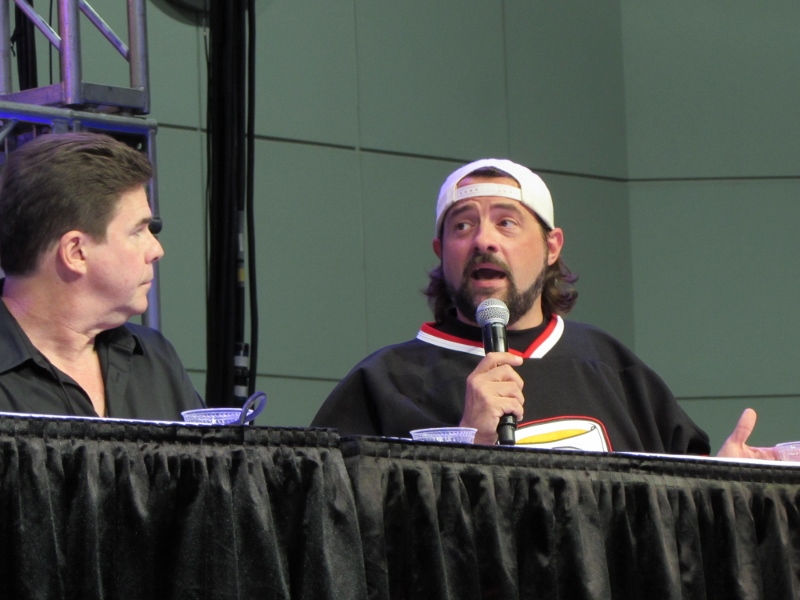 Kevin told us that he started watching Batman 66 when he was 4 or 5, when it was in reruns, and he owes his morality to the show. Even though he went to church, his morality didn't come from church, it came from Burt Ward and Adam West, who taught him that it was better to be good than to be bad. He said that the two of them made him the person that he is today. Ralph added that he thought Batman and Robin was the ultimate level of friendship, and that if you had a best friend as a kid, you would play Batman and Robin when hanging out. Ralph went on to say that then as you got older, you would appreciate more things from the show and grow with it.
Burt commented that whenever he makes convention appearances, sometimes he'll get families that come through, and the parents will reminisce about watching the show when they were kids. For example, the dad would revert to the mindset of when he was a kid and talk about when he and his brother clothes-pinned towels to themselves as capes to play Batman and Robin, or the mom talking about how she was so in love with Robin — to which their kids would get embarrassed.
As for typecasting, Burt didn't seem to mind. He said that he and Adam were having fun, and that they figured that other people saw that they were having fun, which made others have fun in turn, and that they loved making it fun for everyone.
Kevin asked if the two ever changed outfits just to see what it would look like. Burt talked about having the two poles that they slid down where they changed into their respective costumes, and people would ask how they changed so fast. Burt said that Adam used to tell people that they would have a wardrobe guy sliding down behind them who helped them get changed, and if they slid down the wrong pole, they would end up in the wrong costume. Ralph commented that he didn't think Adam would have been able to fit into Burt's costume anyway, though Burt pointed out that it was expandable.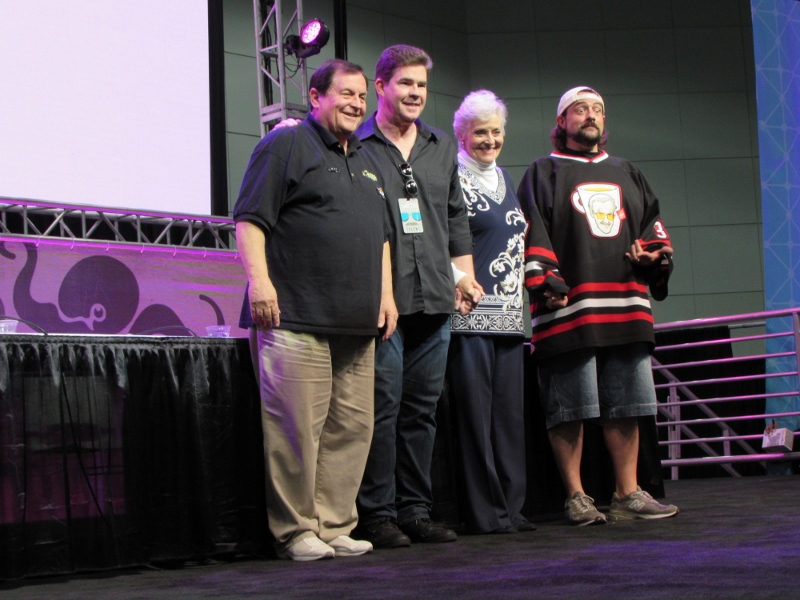 Burt then told a story about his very first day shooting the pilot. He got into the Batmobile and there was someone sitting next to him that he didn't recognize. It was Adam's stunt double, who told him it was a very dangerous stunt they were about to do, and they didn't want to chance Adam getting hurt. Burt wondered if he had a stunt double, which he did — but he was off having coffee with Adam West! It turned out that they couldn't use Burt's stunt double because he didn't look like him! So Burt did the shot with a sharp turn at 55 mph, but his door unexpectedly flew open. Luckily, he was able to wrap his little finger around the gear shift, which kept him from falling out. However, it pulled his finger out of joint, and his finger swelled up to twice its size. But they didn't get the shot. They had started filming at 7:45am, and by the time they let him go to the hospital, it was noon! Out of the next 4 days, he spent 3 in the hospital because of all the stunts that he had to do. The studio had taken out a life insurance policy on him, and Burt was sure they were trying to collect on it!
With that, the panel ran out of time, and Burt ended it with a trademark Robin phrase: "Wowie Zowie!"
Up next on the main stage was the Quantum Leap panel. Click here for our recap and photos of it!
You can view more photos from the Adam West Tribute panel at Stan Lee's LA Comic Con 2017 below.