Chloe Bennet, known for her role as Daisy Johnson on Marvel's Agents of SHIELD, appeared on the Hot Topic Main Stage at Stan Lee's LA Comic Con on Saturday, October 28, 2017.
The moderator started off the panel by asking where they are on Agents of SHIELD right now. Chloe answered that they're in space. The moderator also pointed out that Episode 100 is coming up this season, to which Chloe responded that she had no idea the show would make it so far, and that it's "so crazy!" She asked the crowd what they liked best about Season 4, and it seemed Ghost Rider was a popular answer. At that, Chloe said that Ghost Rider himself was actually here! Gabriel Luna then came out and joined Chloe on stage for the duration of the panel. There being only two chairs, one for the moderator and one for Chloe, Gabriel and Chloe shared one of the chairs.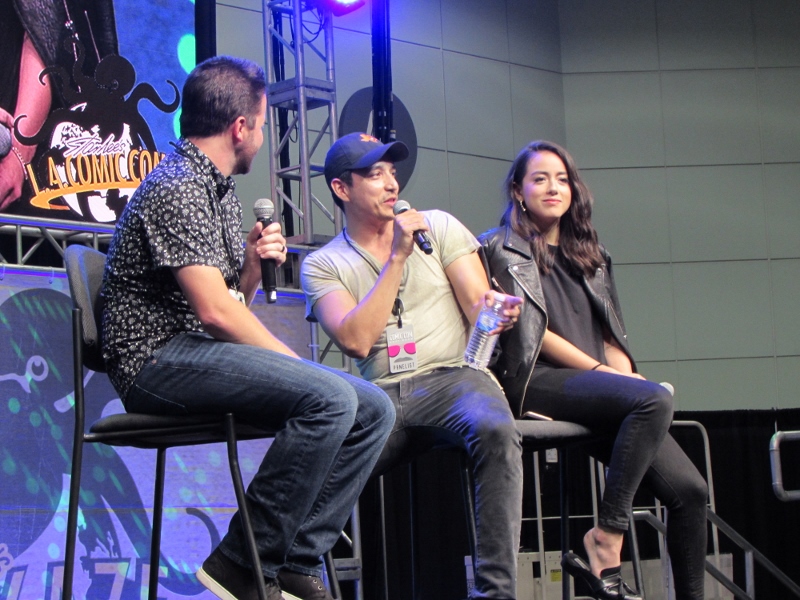 Gabriel looked at Chloe's jacket and remarked that he thought it was the same jacket she was wearing when she jumped onto his car and tried to crash him into the 2nd street tunnel. He recalled that coming into the show, he had been really excited to meet Chloe because his brother had given him the Secret Warriors comic book about ten years ago that he loved, and then suddenly he was going to be on a show with a character that he loved from the book. Gabe and Chloe shared memories about when they first started working together, how it was just the two of them for about a month and a half, running around East LA in heavy goth clothing when it was really hot outside, or stuck in a car, with their characters being "so moody" towards each other.
They also talked about what it was like to do their superhero team-up against AIDA, and even showed us a live action performance of what a team-up is like. Apparently they blast air at Chloe while she just stands there. Meanwhile, Gabe's chain is really only about a foot long, and they CGI the rest of it. Gabe said that he calls it his "lightsaber paring knife" because of how short it is.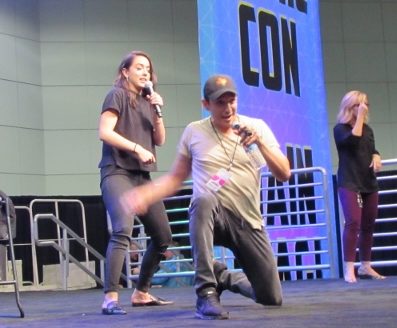 Chloe went on to talk about how the show is ahead of the curve when it comes to creating dynamic roles for women. Gabe pointed out that it very much passes the Bechdel test. Chloe said that the show has been portraying powerful women since day 1, though not to make a spectacle and try to draw attention to itself, but doing it because it's normal.
She then talked about her various transitions on the show, from Skye, to Daisy Johnson, to Quake, and how she has felt that she has grown organically with the show in real life as well. Gabe told the story about when he got the phone call to be Ghost Rider, and how it happened so fast between the time he got off the call and started shooting — 6 days. He also mentioned the goosepimples he got when Jeph Loeb told him, like he tells everyone that comes on board, "Welcome to Marvel." Both Chloe and Gabe then talked about how the show really feels like a family, and thanked the audience for supporting the show.
Chloe then asked if anyone had any questions. An audience member asked if their characters would ever be in a Marvel movie, which Chloe answered she didn't know, but would love to. Another audience member asked Chloe what her favorite on set memory was. She responded that X-Men is her favorite Marvel property, so she enjoyed working with the Inhumans in an X-Men type environment where everyone is using their powers. Chloe also said anything with Clark Gregg, because she loves the Coulson-Daisy relationship.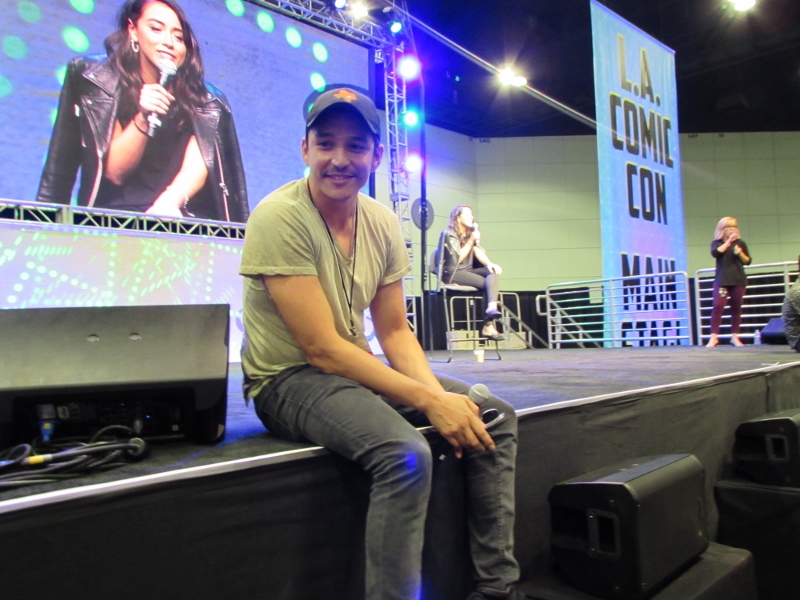 As for whether we will see Ghost Rider again, Chloe pointed out that they can't tell us that stuff, but Gabe said that as long as the fans will have them, they'll be happy to continue making shows for us.
One audience member thanked Chloe for representing the mixed Asian community, and asked if she would ever go for the pixie cut, to which Chloe said she would — but she would look just like her little brother, because they have the same face.
Chloe's favorite Agents of SHIELD character is FitzSimmons. She began gushing about cute they are, and how there's so many cute FitzSimmons things that happen this season that she wishes she could tell us about.
Another audience member asked Chloe if she would ever do another Fight Like a Girl campaign, which she confirmed that she has one coming up.
Chloe struggles when she doesn't agree with the decisions that Daisy is making. For example, it was hard for her when Hive was controlling her mind. She prefers when she is nicer, except she likes being mean to bad guys.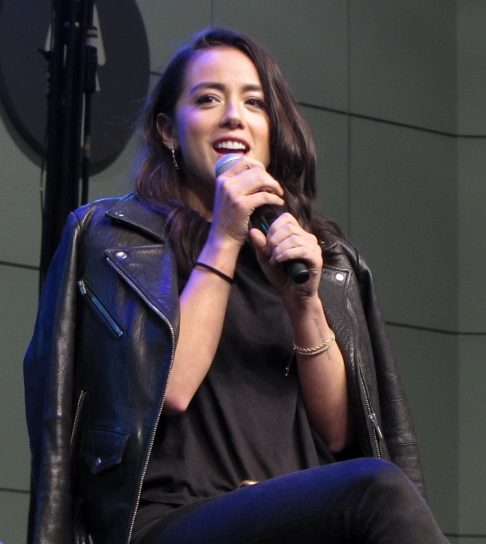 As for pranks, Chloe said that Iain de Caestecker, who plays Fitz, always wins at that game. One time, he switched out her front license plate for one that read "Ballz Deep" which she didn't notice for about a month. Apparently, when Iain messes up a line, he shouts, "Suck a bag of dicks!" So in one scene, Agent May was supposed to be swiping through photos of suspects. Suddenly, a paper bag filled with dicks showed up as one of the photos. Another time, Clark Gregg put a fart machine under Chloe's chair on their prop plane, which made noises every time she shifted. It happened to be on a day they had a lot of guest cast members, so that made it more embarrassing for her.
To wrap up the panel, the moderator asked Chloe to describe what Season 5 will be like. She said that this season is a completely different aesthetic, and it's a little bit scary. She also said that it's darker, but that it is very interesting, and that she's so proud of the show.
Chloe ended the panel by taking video for her Instagram of the audience yelling, "Ballz deep!" and cheering.
Agents of SHIELD returns to ABC on December 1 at 8/7c, then 9/8c every week after that.
Up next on the Hot Topic Main Stage was the Adam West Tribute with Burt Ward and Lee Meriwether, moderated by Kevin Smith and Ralph Garman. Click here for our recap and photos of that panel!
You can view more photos of Chloe Bennet and Gabriel Luna at Stan Lee's LA Comic Con 2017 in our photo gallery below.