Entertainment Weekly has a history of sponsoring the "Women Who Kick Ass" panels at San Diego Comic-Con every year, which usually consist of several women in film and TV. For the first time this year, they changed it to an "Icon Edition" with only one woman, Charlize Theron, at SDCC 2017. Then at Stan Lee's Los Angeles Comic Con, on Saturday, October 28, 2017, they did another one woman Women Who Kick Ass panel, this time as a "Sci-Fi Edition" starring Katee Sackhoff, who is best known in the nerd world as Starbuck on Battlestar Galactica.
Katee talked about having started in the business at age 14, when she played stereotypical blonde roles. But her mom told her that if she wanted to have a career later on in life, play the best friend. While she was trying to "re-brand" herself, Battlestar Galactica  came up, but at first they told her she was about 10 years younger than they wanted. The moderator brought up the fact that around this time, she played a character that was decapitated by Michael Meyers in Halloween: Resurrection.
Continuing about BSG, Katee said that if you go back and watch the mini-series, you'll see subtle differences between it and the rest of the series. She thought the reason was that she let the fan feeback get into her head — nobody wanted to see a female Starbuck. At her first comic con, she was booed. At age 21, she thought she would have to play the role as masculine as possible. However, after watching it, her performance felt false. After that, she vowed never to listen to fan negativity again if it adversely affects herself. So she then added vulnerability and femininity so as to add to the character's layers.
She told us that she's known for joking around on set, and then told us a story about the scene where Kara tells Adama that she's responsible for Zack's death. She had been joking around between scenes, and Edward James Olmos (Adama) pulled her aside and told her that she fakes it really well, but that if she actually tried, he thought she would be really good. He gave her some advice, telling her to look him in the eye and actually feel what she is saying. She took his advice in the next scene, and afterwards she walked out sobbing, with her hands over her face. After the scene, Olmos told her, "Congratulations, you're now acting."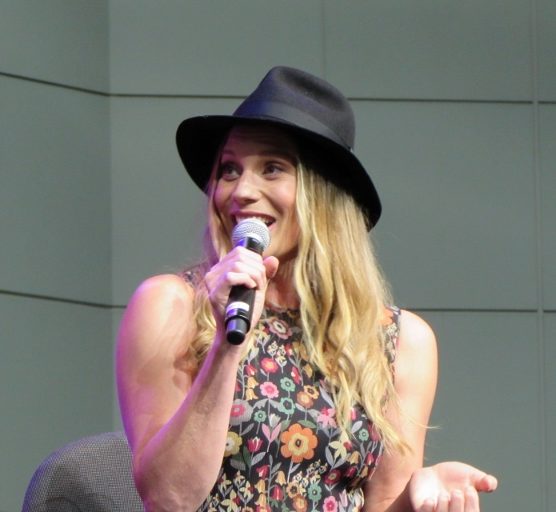 As for fan feedback after the show actually started airing, Katee recalled that the only way for her to get fan feedback at that time was by going to an internet cafe, purchasing an hour of time, and logging into a fan chat room. She pointed out that the show is much bigger now than it was when it was on the air, because they only had about a million viewers. Coming from theater, she missed the interaction with the audience. Then Richard Hatch started breaking her into conventions, and she was finally able to interact with fans and get their feedback.
Katee commented that a lot of the fan feedback was that Kara was not the same person in the last season, which Katee agreed with, because she literally is not the same person — she died. She struggled with how to play the role that final season, and Ron Moore told her to play it just that way: confused all the time, and desperate. She wanted Kara to seem unhinged, and didn't want her to seem like the same character. Katee mentioned that she developed a close relationship with vodka to get through that last season. She went home every night feeling exhausted, and she didn't have any other outlet besides drinking vodka.
She recalled that growing up in the 80s, there weren't a lot of strong women on TV, so she grew up idolizing male characters. For example, she wanted to be Bruce Willis. Then women like Linda Hamilton, Sigourney Weaver, and Lucy Lawless came along and did something for the for first time. She didn't realize it at first, but Starbuck became that for a lot of people, so she then felt a sense of responsibility. Since being on Battlestar Galactica, she has wanted to find these strong women to play, and they keep seeming to find her.
Katee revealed some information about her character which will appear on an upcoming episode The Flash, Amunet a.k.a. Blacksmith. She had been approached to be in the show right after finishing up Longmire, so she was looking forward to taking some time off. However, they told her, "We'll let you do whatever you want." She couldn't pass up that offer, so Katee made the character British. Katee admitted that she was on set while Thor was filming, and she basically just copied Cate Blanchett! She also listened to Marina Sirtis talk a lot, so the character is a mashup of the two. The character, Amunet, runs the black market for selling metahumans. Katee gave us a little taste of the character and her British accent, saying, "I don't understand why everyone's so mad at me, I'm just making money!" We will see Amunet throughout the season, as she is the nemesis to Killer Frost. Katee told us that Amunet really wants to kidnap Killer Frost so that she can sell her and make money.
It was really cool for me to see Katee Sackhoff at LA Comic Con, because Josh and I recently finished re-watching Battlestar Galactica after being inspired to do a re-watch by the BSG reunion panel at SDCC 2017. So with the show fresh in our minds, Katee's comments about her experiences as on BSG and her portrayal of Starbuck meant that much more.
Up next on the Hot Topic Main Stage was Drew Carey!
You can view more photos of Katee Sackhoff's panel at LA Comic Con 2017 below.