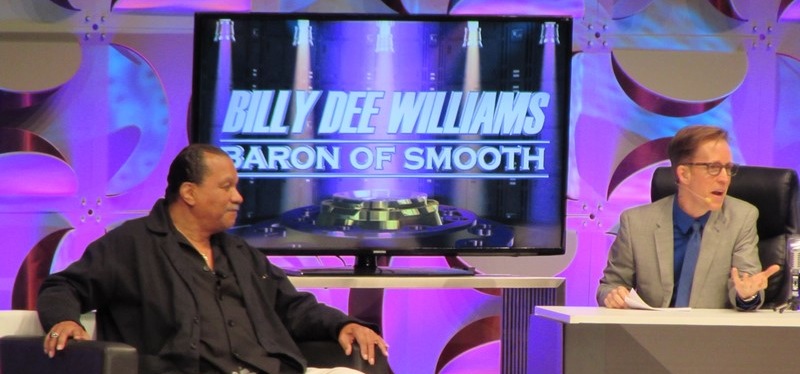 Violet wraps up the last day of Star Wars Celebration Anaheim with a recap of the Billy Dee Williams (Lando Calrissian) panel, and the Closing Ceremony, which took place on Sunday, April 19, 2015!
If you missed Part 1 of our Sunday Report, featuring Gareth Edwards, click here!
Billy Dee Williams: Baron of Smooth
After the Gareth Edwards panel let out, we had an hour and a half before the Billy Dee Williams panel, which was scheduled to start at 1:30 pm, so we figured we'd take the time to grab some lunch, then get back in line for the Arena. Rather than walk all the way outside to the food trucks or the Hilton food court just to find out they were too crowded, this being prime lunch time, we opted instead to grab some food from inside the Convention Center, right next to the Celebration Stage Queue. There was a bit of a line, but it wasn't too bad. By the time we got back into the Arena, it was about 12:50pm. Surprisingly, Billy Dee's panel started at 1:00pm, instead of 1:30pm, as listed on the Star Wars Celebration app schedule. Good thing we didn't take more time for lunch.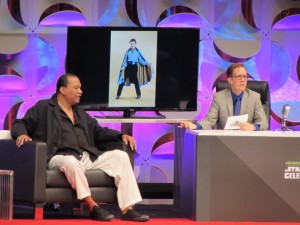 As usual, James Arnold Taylor came out to a flashy intro, then we watched a clip of Lando Calrissian scenes, set to the tune of "Smooth Criminal." When Billy Dee Williams came out, he commented, "I don't know why everyone thinks I'm smooth."
James went through the various movies that Billy has been in, including Tim Burton's Batman, in which Billy had played Harvey Dent. Billy said that he had wanted to play Two-Face in the sequels, but it didn't work out for him.
James then talked about the fact that Billy had been on Dancing With the Stars, and showed us a clip of his performance on there, including his Star Wars routine. Next, they talked about Billy's art, and James pointed out that Billy has a painting in the Smithsonian. We got to see some images of his art as well.
When James asked him what he thought of the new Star Wars movie, Billy admitted that he hadn't seen The Force Awakens trailer yet. So the trailer was shown yet again. After watching it, Billy commented, "It's missing an element," referring to the fact that there was no Lando. Then the crowd started up a "Lando" chant!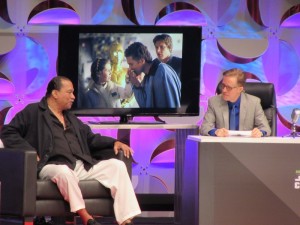 Speaking about playing Lando, Billy said that "the cape was the key." Regarding playing a dubious character, Billy answered that "playing a dubious character makes it much more interesting." James brought up what Carrie Fisher had said about him during her panel, how when he kissed her hand, he would say something funny to try to make her laugh. But when James asked Billy if he was a prankster on set, Billy simply answered, "No."
As for his favorite Star Wars scene, Billy said that it was "going up against Darth Vader — for 3 seconds, then I realized what I was doing!" James asked Billy if he ever gets tired of the whole "Lando betrayed Han" thing, and Billy said that he just thinks it's funny, especially when a 10 year old comes up to him and threatens his life because of it! James encouraged everyone to get off of Lando's back. Billy commented that Lando was faced with a "Las Vegas situation" and that he "lost everything and ended up wearing Han Solo's clothing."
We then watched a clip of the scene when we discover that Lando has betrayed Han, followed by a clip from Robot Chicken of the awkward dinner scene that must have followed, involving Darth Vader, Lando, Han, and Leia! Billy then talked about his voiceover work, and how he won't let anyone else play Lando. He commented that Seth Green was like one of his sons, and that he has a lot of fun with him.
We also watched a clip from Scrubs, when he played himself, and a clip from Star Wars Rebels, where he voices Lando. Then James brought up the fact that it was just recently announced that there would be a Marvel stand alone Lando Calrissian comic book.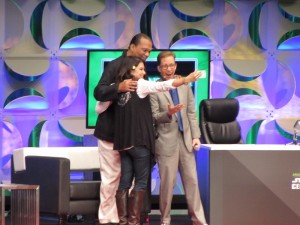 It was then opened up to Audience Q&A, or "Questions from the Council." A good number of the questions involved wanting to take selfies with him, or asking him to say Happy Birthday to someone. Only a woman that was already on stage for the "Best Seats in the House" was allowed to take a selfie, and he did oblige to the Happy Birthday request. There was also a little girl sitting on stage dressed as Princess Leia that had raised her hand, but then when the microphone came to her, she was too shy to speak. But her father said that she had wanted to say that she thought Billy was "cool."
When asked what his favorite role was, he didn't really have an answer, saying that there were so many, and reminding us that he had been doing this for 50 years. An audience member pointed out that in the original trilogy, Lando hadn't arrived until the second movie, and asked whether he might arrive for the second movie in the new trilogy. Billy replied, "I really don't know."
Another audience member mentioned Billy's Colt 45 commercial, and how there was a Rule #1 and a Rule #2, then asked what Rule #3 would be. But Billy said he would have to think about that.
One audience member brought it up that Billy had auditioned for the part of Han Solo, and asked now after playing Lando Calrissian, which role he would have preferred to play. Billy clarified that he never auditioned for Han Solo, leaving the shocked audience member to exclaim, "Oh, that's just a myth?!" Billy went on to say that he had been asked to do Lando, and that he thinks that was the perfect character for him to play.
Lastly, we watched a clip from Jimmy Kimmel Live, wherein Billy had filmed a parody commercial selling commemorative plates featuring tweets from Miley Cyrus. At that, the panel wrapped up.
Closing Ceremony
We went back inside the Exhibit Hall to check and see how long the line for the Closing Ceremony was. I had heard that oftentimes, notable guests come back for it, and that people often line up kind of early for it, so I wasn't sure how crazy it would be. The Closing Ceremony was scheduled to start at 3:30pm, and at this point it was right around 2:00pm. I had thought that if the line was really crazy and long, we would just go home and watch the live stream. However, we discovered that the line wasn't too bad, only extending to the 5th chute, so we went ahead and got in line. It seemed like other people had the same idea we had, with a steady stream of people coming from the Billy Dee Williams panel back to the Celebration Stage Queue.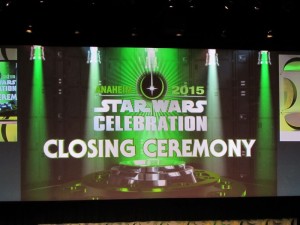 When they let us in, we probably could have squeezed into some seats on the first section of stadium seating, but we instead decided to go up to the second floor balcony and sit in the front row up there. It was a little bittersweet seeing DJ Elliot and Mark Daniel in action for the last time, and seeing Mark's fails with the T-shirt gun (ha ha). ReedPop Event Director Mary Franklin even came out and tried her hand at the T-shirt gun, something she said she's always wanted to do.
The panel started up right on time to a packed crowd. James Arnold Taylor did his hosting duties one last time. Basically, the Closing Ceremony is a recap of everything that happened over the Star Wars Celebration weekend, so James Arnold Taylor went through all the guests and panels that appeared on the Celebration Stage.
Then he brought out the hosts of the Behind-the-Scenes stage, Jimmy Mac and Jason Swank, to talk about the highlights from that stage. They talked about a great panel they had called Rebel Women Who Fought the Clone Wars, with special guest moderator Dave Filoni. They then talked about how they had to miss the Rebels Season 2 premiere and panel. At that point, the Rebels Season 2 trailer was then shown to the audience. It was funny when Darth Vader showed up on screen, all the red lightsabers in the room lit up! But back to the Behind-the-Scenes stage highlights, the hosts said that it had been announced that Alan Dean Foster was coming back to write the novelization of The Force Awakens. They also mentioned the great fan films that were at the Fan Film Awards, and the awesome tattoo competition. Lastly, they brought up a panel that Pablo Hidalgo was on, in which he pointed out everyone in the Cantina.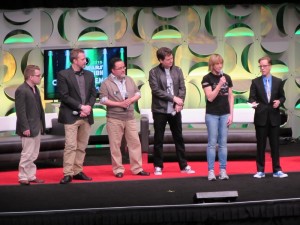 At that, Pablo Hidalgo was brought out on stage to talk about how his Star Wars Celebration Experience had been. He joked that getting to buy beer on the show floor was a game changer. But in all seriousness, he said that this Celebration was different for him because he was not a host like he usually is. However, he did get to be a part of a couple of panels, including the one mentioned above, and another with Dave Filoni called Untold Clone Wars, where they showed unfinished art from Clone Wars. But Pablo's favorite part of the weekend was getting to walk around and see all the fan-made creations.
He then talked about the Gareth Edwards panel he had moderated earlier that morning, which focused on the first Star Wars Anthology film, Rogue One. You can read all about that panel in our recap here. The crowd chanted to try to get Pablo to show the teaser for Rogue One that had been shown at the panel, but he couldn't. Pablo explained that a special projector was needed in order to show the teaser, and that projector was only in the room for that panel, and that an armed guard had escorted it out! He was able to show the concept art, however. Pablo described Rogue One as putting the "war" back in Star Wars, and emphasized that "this is only the beginning."
Then they brought out David Collins, the Digital Stage host, who talked about the Rebels Season 2 premiere, the debut of Star Wars Battlefront, the Restored Music of Empire Strikes Back, and the Shakespeare Star Wars live read.
We then watched a recap video, highlighting all the cool things that happened over the weekend, followed by a video message from Kathleen Kennedy.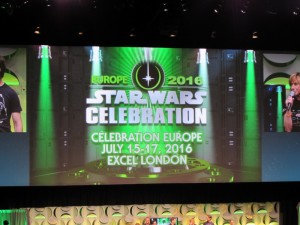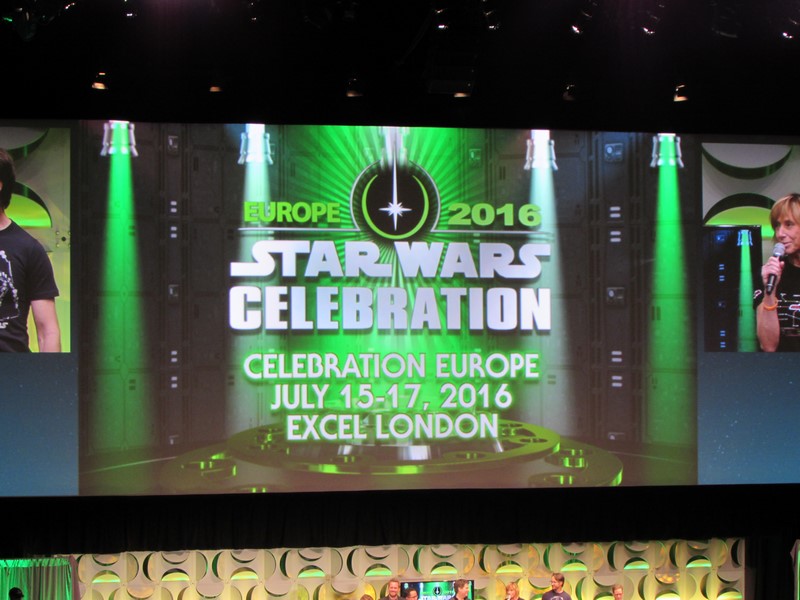 Mary Franklin, who is in charge of putting Celebration together, then came out on stage. She explained that she is the Event Director at ReedPop, which is the licensee of Star Wars Celebration, but also pointed out that before that, she had worked at Lucasfilm for 14 years. Some people were under the impression that this would be her last Star Wars Celebration, but she clarified that it was not. She then brought out the new Head of Fan Relations, Pete Vilmur.
The Closing Ceremony ended with the announcement that the next Star Wars Celebration would take place in London July 15-17, 2016 at Excel London, and that tickets would be going on sale the next day!
Then abruptly, it was all over, and we headed home after a fun-filled weekend at Star Wars Celebration.
Click here to read our final thoughts about our experience Star Wars Celebration Anaheim!
If you missed any of our Star Wars Celebration coverage, click here to see it all!