Star Wars Celebration Anaheim took place at the Anaheim Convention Center April 16-19, 2015! In Part 1 of the Sunday Report, the final day of Celebration, Josh recaps the Gareth Edwards panel, in which details about the spinoff, Rogue One, were revealed, then in Part 2, Violet recaps the Billy Dee Williams panel and the Closing Ceremony!
If you missed our Friday Report, featuring Ray Park, Carrie Fisher, and Anthony Daniels, click here!
Click here to go back to our Saturday Report, featuring James Arnold Taylor and Mark Hamill!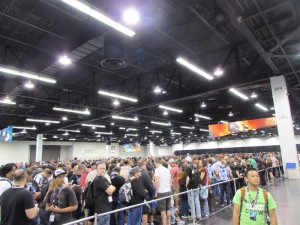 So, Saturday was an eventful day at Star Wars Celebration, and now it was time to wind down, with Sunday being the last day. Violet and I wanted to be sure we were able to get into the Gareth Edwards panel, so we parked at Garden Walk again, and arrived to Celebration just as Anaheim Convention Center was letting people in. We had to head to the line in Hall E though, which was filled with hundreds of people, as the staff said we would have to wait in line to get in. We waited in our corrals, until finally our row was allowed in. We headed to the opposite side of the Convention Center, as that is where the Arena is located. What was kind of troubling though, was that apparently the Convention Staff was letting people into Celebration without having to wait in the line we were in. Violet and I walked past the doors and saw people streaming in from that way now. That was a little bothersome, but had no bearing on what our plans were.
We walked by the Celebration Store to see how the line was, and it was surprisingly small! Unfortunately, it was too good to be true—the racks were basically empty, so there wasn't much to really look at. Ah well. We decided to move on to the Arena. We had to wait in line for some time, but we got in pretty easily.
Surprisingly, this panel wasn't at capacity. I am not sure if it is because people aren't as excited about the spin off movies, but this panel was to feature Gareth Edwards, who will be directing the first "spin off" movie for Star Wars, which is titled Rogue One, and Josh Trank, who would be directing the second one. I, for one, was very excited to see this panel, as I had hoped they would have some tidbit of news we would learn. I became even more hopeful when I heard that this panel wouldn't be live streamed. Also, we weren't allowed to take any photos!  Does that mean they are showing something that they want to keep "exclusive"? So exciting! Let's talk about the panel now.
As with every other panel, the warm up was done by Mark Daniel and DJ Elliott. When the panel started, Pablo Hidalgo was brought out to moderate, who has major Star Wars credit, from working on comics, to being a part of the re-canonization process for Star Wars, creating the new stories going forward. Unfortunately, right away, Pablo has some bad news–Josh Trank wouldn't make the panel due to being sick. It isn't really a huge deal though, since he is directing the second "spin off," which isn't coming out for quite a while, so I am sure there wasn't much to say about it. Oddly enough, a trailer did drop for his next movie The Fantastic Four that morning. Seems oddly coincidental, but I am not sure why it would be.
So the first guests to this panel were Kathleen Kennedy and Kiri Hart. Kathleen Kennedy talks about how this is the biggest Celebration ever and it looks like it will only grow from here. Kathleen also talks about bringing Kiri Hart on to analyze the Star Wars story going forward. Kiri seemed to be more than happy to join her, as Kathleen says that Kiri moved to San Francisco to take the job.
Pablo remarks that the first 24 hours of The Force Awakens teaser being released had 88 million views. That…is a lot. Kiri Hart talks about being a Star Wars fan, and how nice it is to take a break from all the work she has and enjoy Celebration.
But then we start getting into the fun of the panel. Kathleen Kennedy and Kiri Hart explain to us how the idea for the Star Wars spin offs came about, and then provide the "official" name for these types of movie, which is "Star Wars Anthology." Kathleen praises George Lucas for wanting to explore these alternate storylines. Kiri also talks about how these films are meant to stand alone, and tell their own stories separate from the main storyline of the "Episodes."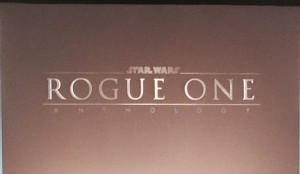 Moving on to discussing getting filmmakers, they talk about how they are looking for upcoming talent, and especially looking for people who are inspired by Star Wars.
Then, Gareth Edwards is brought out to discuss the first Anthology film, which is titled Star Wars Anthology: Rogue One. I have to say, I really find Gareth Edwards a humble guy. He says how nervous he is coming out to this panel, and seems to speak his mind, and what is on his mind is always something that shows how dedicated to filmmaking he is. He talks about how he desperately tried to not cry during the Star Wars teaser trailer, but failed. Then Pablo seems to hint that there might be something for us to see. Gareth tells Pablo that they haven't filmed anything yet–the movie is only in pre-production! Bummer. But Pablo plays this up more–and Gareth then seems to be a part of this tease. It turns out we get a little tiny teaser for the movie!
The teaser opens in what looks to be the forests of Endor, and a Tie Fighter going through the trees. Then as the shot pans, a big outline of the Death Star is shown. It is a very brief shot, but very exciting. The clip is narrated by Old Ben Kenobi explaining, "For over a thousand generations, the Jedi Knights were the guardians of peace and justice in the Old Republic, before the dark times, before the Empire." Then the screen goes black, with the Star Wars: Rogue One logo flickering as frantic voices are heard, seemingly frantically calling for help. Even though the Arena isn't full, there is a lot of energy over this clip.
So Pablo Hidalgo then gives us the official synopsis for the movie, "A rogue band of resistance fighters unite for a daring mission to steal the plans for the Death Star." Gareth also tells us that the film is set between Episode 3 and 4, though closer to 4. Also, we learn the role of Felicity Jones–she will be playing a rebel soldier, presumably leading the group to steal the Death Star plans, although that part is not outright said. Of course, Kiri Hart is watching Gareth like a hawk, so Gareth is trying to be careful about what he can say. Also, Gareth seems to indicate there will basically be no Jedi, and this movie will be about ordinary people, without powers that will, "bring hope to the galaxy." Gareth also talks about this movie working more in the "gray" in regards to morality, rather than simply being black and white.
Pablo then talks to Kiri Hart about Star Wars Rebels, and how they are fitting the TV series into the timeline, and seeing how the different stories may or may not crossover, depending if the story will provide that opportunity.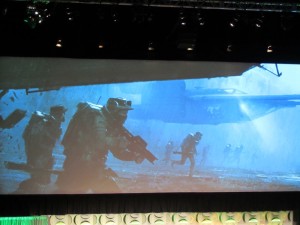 Next we get to see some concept art for the movie, which looks like a hardcore, gritty war film, which has me really excited.
Gareth then talks about his crew, which has a lot of crew that worked on various war movies such as Saving Private Ryan, Blackhawk Down and Zero Dark Thirty. Gareth seems really grateful to have these people, saying they are "way better" than him in every way.
Then John Knoll (who apparently was one of the creators of Photoshop) comes out to talk about the "genesis" of the Rogue One story. But he talks about how he came up with the idea for the Death Star plans being stolen being a movie. He said he bounced it around with some people, and they told him he needs to pitch this. Eventually he made an appointment with Kathleen Kennedy to pitch it, and it was one of the first movies presented to her, she said, and well, obviously she liked it, because the movie is being made! John Knoll talks about how it was tricky fitting this into the story, as it had to fit things that happened in Episode 4 so that it makes sense.
The panel finishes up with Kiri Hart and Kathleen Kennedy talking about meeting with Gareth, and offering him the job. He had to keep Rogue One a secret for 6 months, and Gareth talks about how he really wished he hated the story because he was thinking about taking a break from filmmaking, but it turns out he loved it, and felt obligated to direct it, since it was a Star Wars film. Then he shows an awesome photo of him face timing with his mom, who he finally told after 6 months of keeping this big secret. Then we get some fun photos of Gareth on his 30th birthday going to Tunisia to see the set of Star Wars.
Overall, this was probably my favorite panel of Celebration. Gareth Edwards seems like he really is taking this film seriously, because he has a true passion for Star Wars. Also, the fact that he spent some time making a silly teaser for us fanboys to watch, which he really didn't have to do, really put this panel over the top for me. I actually might be more excited for Rogue One than Episode 7. I really enjoy war movies, so mashing this up with Star Wars seems like the perfect combination. But Gareth looks like he is going to be getting back to work, starting filming in summer, which will take place in London and various other locations. The movie is set for release in December 2016! I can't wait!
Up next, we got some quick lunch, and headed right back to line so that we could see Billy Dee Williams.
Violet provides the recap on that panel and the Closing Ceremony next! >>
Note: The images of the "Rogue One" title and the concept art were also shown during the Closing Ceremony, at which time we were allowed to take pictures, which we have provided to you above.