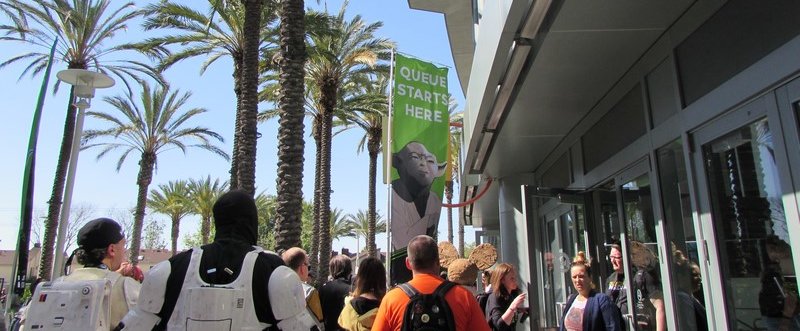 Star Wars Celebration Anaheim took place April 16-19, 2015 at the Anaheim Convention Center! In this article, Violet talks about her experience of arriving at Celebration, and gives a recap of the Ray Park (Darth Maul) and Carrie Fisher (Princess Leia) panels! In Part 2, Josh will continue with a recap of the Anthony Daniels (C-3P0) panel.
Arriving and Getting in Line
Violet here. So, I had to work on Thursday, and missed out on all the fun from that day. But I did get Friday off from work, so as usual, I caught the bus from near my house, which goes straight down Harbor Blvd and lets off right at the Anaheim Convention Center. I got on the bus around 9:35am, and by the time I got off the bus and walked over to the Convention Center, it was about 10:15am. But then I had to walk all the way down to Hall E, which was the only place that attendees could enter. The Exhibit Hall had just opened at 10:00am. As Josh mentioned in his recap of the Thursday morning J.J. Abrams panel, we had already picked up our badges Tuesday evening.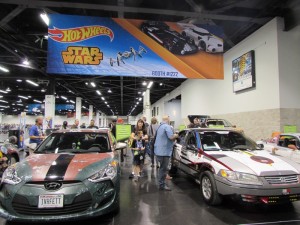 We were all funneled into the queue hall and waited about 20 minutes in the "everything line" before we were let into the Exhibit Hall. This was an odd experience for me, as I'm used to being able to just walk into the convention center without having to wait. Right before you exit the queue hall and enter the Exhibit Hill, there is a display of Star Wars themed cars, which you could stop and take a look at. Anyway, so it was about 10:40am by the time I got into Star Wars Celebration, and knowing that the Ray Park panel was going to start at 11:30am, and not knowing what to expect in terms of lines, I made my way over to the Celebration Stage Queue at the other end of the Exhibit Hall. On my way there, I passed by the super long Funko line, and heard a staff member going down the line telling people that all Star Wars Funko exclusives were sold out. Good thing I wasn't after those.
I made it to the Celebration Stage Queue around 10:50am, after navigating my way across the already crowded Exhibit Hall floor. There were more barriers set up for the Celebration Stage Queue, but they were empty, and we were instead directed into the holding room just outside the Arena, where there were columns taped off on the floor for people to line up in. As I sat in my chute, there was a father, mother, and daughter sitting in front of me. A man came by and asked them how many people were in their group. The father answered 3, and the man told them to come with him, and they followed him into the Arena.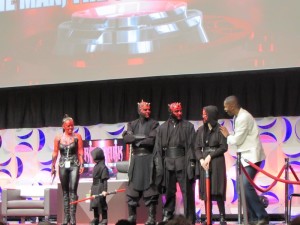 By 11:00am, my chute was let into the Arena. I tried to sit on the first section of stadium seating, as we discovered during WonderCon that it is a better vantage point than being on the floor, but Security would not let me and a few other people who had the same idea, saying that they had to fill in all of the floor seating before they could open that section. So I found a seat at the front of the second section of floor seats on the right side of the stage. I had kind of an obstructed view, due to being short, and having tall people sitting in front of me, but having the aisle space in front of me helped a bit.
DJ Elliot warmed up the crowd by playing tunes, and Mark Daniel soon came out to warm up the crowd as well. I recognized him as the man who had come and got the family sitting in front of me. Anyway, so he called all the Darth Maul cosplayers up on stage, and they each struck their best Darth Maul pose. He also played a game with the crowd using Star Wars themed Angry Birds plush toys.
Then it was time to for the panel to start.
Ray Park: The Man, The Sith, The Legend, 11:30am-12:30pm
First, voice actor James Arnold Taylor came out and introduced himself, and acted out the various voices that he does. He also explained why people were brought up on stage to sit in a section off to the side. Mark Daniel had gone out and gotten people from the back of the line and brought them up for the "Best Seats in the House." So that's why the people in front of me were pulled out of line! I was so close. Sigh.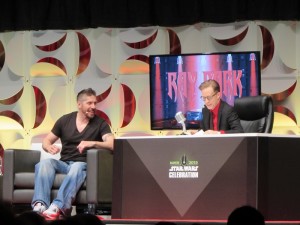 Before Ray Park came out on stage, we watched a clip of the various characters that he has played. James pointed out that Ray, who played Darth Maul in Star Wars: Episode I – The Phantom Menace, had played Edgar on Heroes and Snake Eyes on G.I. Joe, and James asked Ray what was his favorite character to play.  However, Ray said that's a hard question, as he enjoyed playing them all.
Ray went on to talk about the various forms of martial arts that he trains in, including Shaolin, Wushu, Kickboxing, Jiu Jitsu, and Long Fist. He explained that Wushu is an elaborate style of Kung Fu, with more showmanship. Long Fist is something that taller guys usually do, which is flowing, and looks nicer. Before he trained for Darth Maul, he was training for 10 hours a day! We then watched a clip of him training.
As for advice in regards to getting into martial arts, he said to "just enjoy it." Ray said that he loved Kung Fu as a kid, and grew up as a fan of Bruce Lee and Jackie Chan. He reiterated, "For you to do it, you have to enjoy it." Then when he grew up, he was upset to find out that the guys on screen had stunt doubles and were on strings. He had thought that they did it all themselves. So he went on and trained to do it without the strings. However, when he performed his role as Darth Maul, he wasn't used to wearing leather gloves and boots, so it was a challenge for him. James also pointed out that Ray had trained in ballet.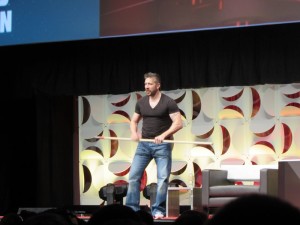 Ray had started out using his mother's broomstick to train, so James brought out a broom for Ray to show us some moves, and they took off the broom part, leaving only the stick. When Ray had first wielded the lightsaber, he had trouble with it because it wasn't what he was used to handling. He was told that he had to go to George Lucas about it, which he was intimidated about doing at first, but he did talk to George, and because of Ray's suggestion, they widened the handle.
After Ray showed us some more moves with the broomstick, he and James used plungers and feather dusters to fight each other. Then they both got out some lightsabers and recreated scenes from Phantom Menace. Actually, they had to borrow a double lightsaber for Ray from a kid in the audience. When he returned the lightsaber to the child, he first signed it for him.
Ray then talked fondly about working with Ian McDiarmid. Then he spoke about how he would spar every day with Ewan MacGregor. As for Liam Neeson, he is very tall, so Ray had to alter his fighting. Ray explained that Wushu is about stances and being down low, which didn't really work since Liam was so tall.
When Ray filmed Phantom Menace, he was only 22 years old. Through working on the movie, he learned how to do things properly for film, because he was inexperienced at the time.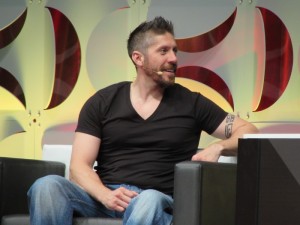 James pointed out that despite Darth Maul being a bad guy, the fans seem to love him for some reason. When James asked Ray if he thought Darth Maul was a bad guy, he joked that Darth Maul just wasn't fed enough food. Ray shared that when he talked to George Lucas about who Darth Maul is, he had said that "Darth Maul is whoever you want him to be." We then watched a behind the scenes clip from the making of Phantom Menace.
James revealed that Ray actually has a cameo in Episode I – he was a Naboo guard! We then watched the clip, which slowed down and pointed out exactly which guard he was. Next, we watched a clip of Darth Maul's death, specifically the moment when he was cut in half. Ray explained that the look that he gives at that moment was his "need to go to the bathroom" face! Then we watched a clip that Ray brought with him of how the fight should have ended. In this clip, when Obi Wan runs into the room, he runs so fast that he runs right into the hole!
It was then opened up to audience questions, which Star Wars Celebration calls "Questions from the Council." Through these questions, we learned that originally, Darth Maul was going to have his head chopped off, but then they later changed it to having him be cut in half. Ray also talked about watching Clone Wars with his kids, and being surprised to see Darth Maul, and that he hadn't been asked to voice him. He jokingly commented, "Daddy should've been nicer to George!"
As far as movie training vs. Wushu training, Ray said that he loves Wushu. In regards to a stand alone Darth Maul film, Ray said that if he's coming back, he should be topless, tattooed, and shredded.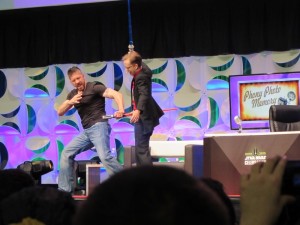 When asked if it was difficult to train in the heat with a cloak, Ray responded that he comes from England, where they don't get much sun, so he was really enjoying the sun. He commented that "being Darth Maul was a breeze," but did admit that having to wear the cloak was the hardest thing, because it's heavy.
The panel wrapped up with some "Phony Photo Memories" of Ray and James fighting with lightsabers, and striking posing in which Ray defeats James.
Then, since rooms are cleared between panels (something I'm not used to), I exited the Arena. Then I followed the crowd back to the Exhibit Hall and got in line for the Arena once again for Carrie Fisher's panel, which was to be starting in just under an hour.
Date With A Princess: Carrie Fisher, 1:30pm-2:30pm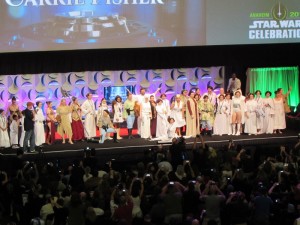 Whereas I had floor seats for Ray Park, I ended up on the second floor balcony for Carrie Fisher. Prior to her panel starting, Mark Daniel had all the Princess Leia cosplayers come up on stage for a Princess Leia "fashion show." They each got to strut their stuff on stage, and took a group picture at the end. There were quite a lot of them, a few of which were male! Once again, a new set of audience members were brought up on stage for the "Best Seats in the House."
Then the panel started up, and we watched a clip of Princess Leia moments throughout the Star Wars films, and afterwards, Carrie Fisher came out on stage with her dog, Gary.
Carrie and host James Arnold Taylor discussed the new The Force Awakens trailer. She told us a story about how she didn't understand how many things were spoilers, and awhile back she had told someone she was going to be away for 6 months, not realizing that was a spoiler. This got her in trouble. She then told us that she first saw the trailer at dinner the night before its big debut. She watched it on a computer and had to wear headphones.
Carrie spoke about having grown up around acting, and how acting became her "ordinary." She shared a story with us about when she was a child and was on set with her mother, actress Debbie Reynolds, and she saw her mother fall into the mud on How the West Was Won. She remembered thinking that this scene looked good. There was another time when her mother was in old age makeup, and this looked bad. Carrie joked, "They did that to me today!" She went on to say that she had to explain to a little boy why she was so old! However, James Arnold Taylor and the audience assured Carrie that she still looks great.
We then watched a clip from the Golden Globes where Debbie Reynolds is talking about how she had to wear her hair in a weird bun for a production she was in, and that she had warned Carrie against any productions in which she had to wear a weird hairstyle. Of course, then right after that, Carrie ended up having to wear two buns as Princess Leia.
While Carrie was trying to recall what had compelled her to audition for Star Wars, she got on the subject of a movie she had done with Warren Beatty, Shampoo. There was a line that was supposed to be "Wanna f–k?" but her mom wanted it to be changed to "Wanna screw?" because she was against bad language. However, Carrie did remember that one time she heard her mother say, "That f–ker said the F-word to me!"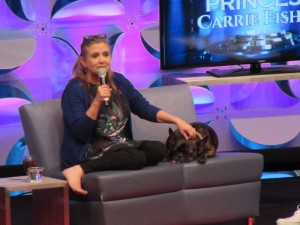 It then got suggested that "the F word" could be "force," and someone from the audience yelled out to Carrie, "I wanna force you!"
Carrie talked about her time on the set of Star Wars, and about the various costumed characters on set, commenting that "you feel hungover when you see that kind of creature that early in the morning." She also told us that it took 2 hours to have her hair done, so she had to arrive at 5:00 am, which was 2 hours before everyone else. After awhile, she was able to sleep through having her hair done. But then she said she went on Saturday Night Live and was given a hairpiece to wear — and it looked exactly the same! So that upset her.
She knew that the first Star Wars move would be something that she liked, but when it came time for the second one, she knew it would be a hit movie, "just like the one about to come out." She shared a couple more stories about filming Star Wars. One of which was about Billy Dee Williams, who played Lando Calrissian. Right before he would kiss her hand, he would always say something funny and make her laugh. "Something about 'the force' and 'being with me.' "
Another time, they had the opportunity to party with the Rolling Stones, but they had an early call time, so they had to decide which they wanted to do. In the end, they decided to do both! Carrie commented that she hadn't been a drinker, and used to say that she was allergic to alcohol. However, she and the other cast members had a lot to drink that night. So much that by the time they showed up for their call time, they were still drunk. She said you can see it in the scene when they arrive in Cloud City, and she and Harrison Ford are smiling.
We then watched a clip from Friends, where Ross is telling Rachel about his fantasy — to be with Slave Leia. As the clip played, Carrie sat on the floor and watched it, as her dog, Gary, sat with her. She said she had never seen that before.
We also saw a clip of every kiss that Leia has throughout the Star Wars movies. Carrie commented that she never realized that she kissed so many guys!
Then the panel was opened up to Audience Q&A, or Questions from the Council. One audience member asked if she could meet her mother, Padme, what would she say? Realizing that Natalie Portman plays Padme, Carrie would say, "I wish I looked more like you." Another audience member asked what her favorite scene was. At first, Carrie said that she liked jumping to light speed — but then she realized that she wasn't there for that. She then said she would have to think about that, but answered, "Probably one of the scenes when I said something awful to Harrison."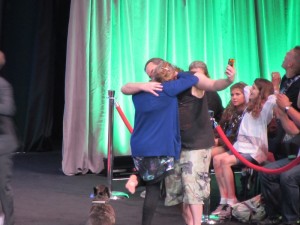 James Arnold Taylor then showed her his custom made Princess Leia shoes and had her sign them. Then they rolled around on the floor for a bit. Apparently they have a history of this from past Celebrations.
Finally, the last audience member asked about a picture that he was supposed to take with her at another event, and asked if he could get that selfie now. They let the man come up on stage, and she took the selfie with him, kissing him on the cheek. But then suddenly, she begin making out with him! And with that, the panel ended.
The Exhibit Hall
At that point, I went and walked around the Exhibit Hall for a bit while I waited for Josh to arrive. It was the first I had actually gotten to look around, since I had headed straight for the Celebration Stage as soon as I arrived, and then I had only been in panels so far. I stopped by the 501st Legion booth and picked up a Droid Hunt badge. You wear the badge on Saturday, and if the members of the 501st Legion see you wearing it, they question you and take the bottom of your Droid Hunt badge, which is then put into a raffle. Then on Sunday, you stop by the booth to see if you won!
After that, I just aimlessly wandered around. I eventually got to the Autograph Hall. I hadn't planned on getting any autographs, but decided just to walk around it and see who was there. I happened to wander by just in time to see Corey Dee Williams (yes, Billy Dee Williams's son) get an honorary induction into the 501st Legion! So that was pretty cool. Then Josh soon texted me that he was walking up to the Convention Center, so I went and met him out front by the fountain. I'll let him take over from here.
Click here to continue to Part 2 of our Friday Report, featuring Anthony Daniels!>>
If you'd like to see more photos from the Friday panels, click here!
To see more Exhibit Hall photos from Friday, click here!