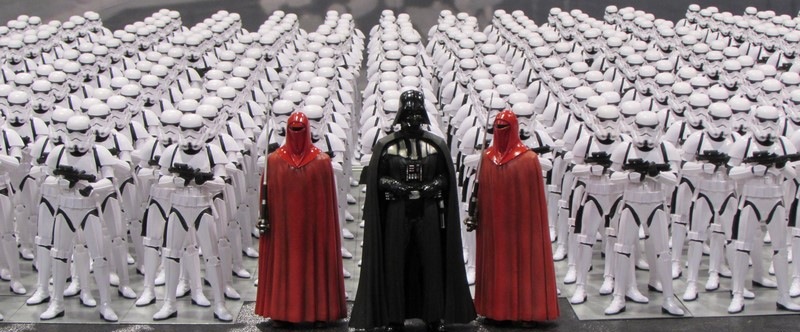 Josh and Violet each share their final thoughts about Star Wars Celebration Anaheim, which took place at the Anaheim Convention Center April 16-19, 2015.
If you missed any of our Star Wars Celebration coverage, click here to see it all!

Josh's Final Thoughts on Star Wars Celebration Anaheim
Star Wars Celebration was an eventful weekend. I really wished I was able to get there on Thursday for the Opening Ceremony, but I was glad I at least was able to live stream it. The most exciting event, of course, was the teaser dropping for The Force Awakens, but the weekend as a whole was great.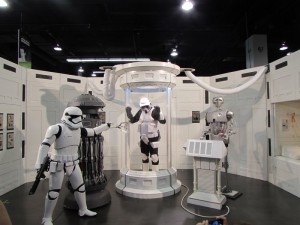 The highlights probably were seeing the original cast at the their panels—Anthony Daniels, Mark Hamill, and Billy Dee Williams. But also just being around a bunch of Star Wars fans really drew me in. It is a lot of fun seeing all of the different cosplay for various Star Wars characters. At one point there were so many Stormtroopers around I felt like I was aboard a Star Destroyer or the Death Star.
It is great that Celebration has taken off so well, but it certainly does make doing what you want to do a bit more difficult. Unfortunately due the crowds, we were unable to attend The Force Awakens museum, which was disappointing. Also, any time we attempted to go to the Star Wars Celebration store, the line was either massive, or the racks and shelves were basically empty. Violet and I still got some cool shirts (which we forgot to take a photo of!), but there were a few others I really wanted. Especially the Star Wars: The Force Awakens shirt.
Also, most of the panels were really well done. Mark Daniel and DJ Elliott did a great job getting the crowd warmed up for the panels, and James Arnold Taylor, who hosted most of the panels was really great too. It was easy to see that these guys were true Star Wars fans, and they certainly looked to be having a lot of fun with what they're doing.
The standout panel for me was the Garth Edwards panel. Ever since seeing him at Comic-Con for Godzilla, I have really liked him as a person. A lot of people in the film industry really don't feel like they're genuine in their enthusiasm, but Gareth Edwards seems very excited to be doing this film. He went to Tunisia for his 30th Birthday to see the Star Wars set. How could he not be excited to direct a Star Wars film?
It is too bad the next one is in London. I guess Star Wars is a global phenomenon, so those Brits can have their turn too. We just don't have the time or money to venture all the way to England for Celebration. It would be a fun trip, but doing that and Comic-Con would really hurt the pocket book. Hopefully it will be live streamed though, and I will be excited to attend even if it is just virtually.
Violet's Final Thoughts on Star Wars Celebration Anaheim
This was our first Star Wars Celebration, and we went in not really knowing what to expect. As you may know, we are quite familiar with fan conventions, being veterans of San Diego Comic-Con, WonderCon, and several other cons. Additionally, the venue at which Celebration was held, the Anaheim Convention Center, is familiar territory for us, not to mention close to home. However, with Star Wars Celebration, we were not familiar.
That probably why I naively thought that I could just go early in the morning to attend the 10:00am Thursday morning J.J. Abrams Opening Ceremony panel. By "early," I was thinking like 7:00am. I guess WonderCon has spoiled me, especially this year, into thinking that 3 hours is ample time to get in line for a panel in the sizeable Arena. But then the detailed instructions were released outlining the guidelines for lining up for that panel starting on Wednesday night at 6:00pm, and I quickly realized that getting into that panel was going to be like getting into Hall H on Saturday at San Diego Comic-Con. Being that I would have to camp out alone since Josh wouldn't be able to join me, and I only had a precious few vacation days left, I decided not to even bother trying to get in, especially when the announcement came that the panel would be simulcast, including all footage shown during the panel.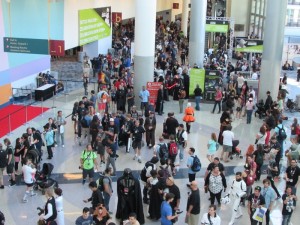 I did, however, take the day off of work on Friday, which was crowded, yet deceivingly mellow compared to how extremely crowded and crazy Saturday would be. On Friday, it was very easy to get into the Arena panels, featuring Ray Park, Carrie Fisher, and Anthony Daniels. I didn't get in line for any of those panels more than an hour early, and made it into all of them just fine. Clearing rooms between panels was also a new experience for me. Although somewhat crowded on Friday, I found the wide aisles easy to navigate the Exhibit Hall floor.
But then on Saturday, despite those wide aisles, it was difficult to move. You could not walk anywhere without bumping into someone. You could not do anything without standing in an extremely long line. That day felt like it was crowded to the level of San Diego Comic-Con at its peak busy hours. We had not expected it to be like this. When we go to SDCC, we know to expect crowds. We didn't realize it would be so crowded at Celebration, that you would have to wait in line just to go up the escalator!
We also didn't realize that it would be so difficult just to buy something from the Celebration store. After you stand in line to get into the store, you shop, then stand in a line to pay for your items. All Josh and I bought were 2 T-shirts, which took way longer than it should have once we stepped up to pay. It was then that we realized that maybe the reason the line to pay was so slow was because all of the cashiers were slow as well. This would also have a chain effect on how many people were allowed into the store, if there were still so many people waiting to pay.
On Sunday, I was surprised that the Arena was only about half full for the Gareth Edwards panel, which was not live streamed, especially considering the awesome information and exclusive footage we got out of it about Star Wars Anthology: Rogue One. That panel was definitely San Diego Comic-Con level in terms of reveals, and was probably my favorite panel of the weekend.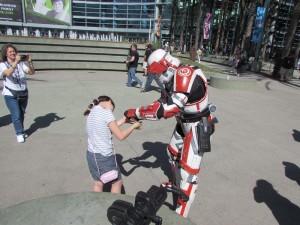 Another thing that I didn't expect was for the event to attract such a national and international audience. Before the Celebration Stage panels, when Mark Daniel would talk to people from the audience, there were so many people from out of the country, like from Germany and the UK, and of those people that were from the US, many had come from the other side of the country. So that was really amazing to think that all of these people traveled so far to be there, when it was just a short 15 minute drive from my house. It was also really cool to see how many children were at Celebration, totally absorbed in the Star Wars culture, many in cosplay. It makes you realize how prevalent Star Wars is in our culture, and that it really is a franchise that will last from generation to generation.
Next year, Celebration will be in London. Unfortunately, that's not really in the cards for us. It's been rumored that the following year, Celebration will return to Orlando. We probably won't be able to make it to that one either. We were really lucky that it happened to be so close to us this year, and also are grateful that we were given Media badges in order to attend the event, since it is on the pricier side of conventions ($75 for Saturday only, $60 for each of the other days, or $140 for 4 days). We hope that Celebration comes back to the Anaheim Convention Center soon, or at least Southern California, but if not, we're just thankful that we had the opportunity to go this year.
Star Wars Celebration Europe 2016 takes place in London July 15-17, 2016. VIP tickets are already sold out, but you can click here to buy General Tickets.
If you missed any of our Star Wars Celebration coverage, click here to see it all!