Up next after the Aliens 30th Anniversary panel in Hall H at San Diego Comic-Con 2016 on Saturday, July 23, was Entertainment Weekly's annual Women Who Kick Ass panel, which started around 4:30pm. This year's panel featured Connie Nielsen, Ming-Na Wen, Morena Baccarin, Melissa Benoist, Nathalie Emmanuel, Tatiana Maslany, and Lucy Lawless.
The moderator started off the panel by going down the line asking the panelists what "kick ass moment" they were most proud of for the role they are currently in or recently completed. Connie Nielsen (who we had seen earlier in the day on the Wonder Woman panel, as she will be playing Wonder Woman's mother, Hippoylta) said that her moment was killing her ninth German soldier on the beach with a double sword. Ming-Na Wen (Agent May on Agents of SHIELD) brought up a scene where she beat up three big guys and told them she'd do them a favor by not telling anyone that "a little tiny Asian woman" just kicked their ass. Morena Baccarin liked that in Deadpool, instead of her character, Vanessa, being appreciative of him for saving her, she called him an a-hole for leaving her in the first place.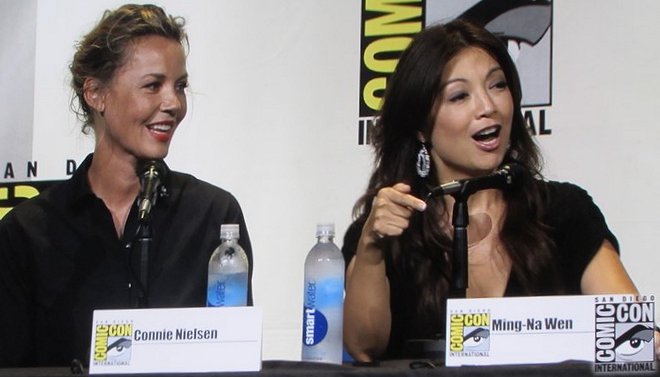 Meanwhile, Melissa Benoist (Supergirl) was proud of herself for getting through getting punched in the face really hard. Nathalie Emmanuel's "badass moment" on Game of Thrones was Missandei telling Tyrion that he knew nothing about slavery. Tatiana Maslany's kick-ass moment for her character, Sarah, on Orphan Black was when she reclaimed a part of her identity she had lost. Finally, Lucy Lawless said her moment was when she was being hit on by Lee Majors on Ash vs. Evil Dead, and then jabbed her fingers up his nostrils, which she actually had ad libbed.
The next question was what was the craziest thing they had been asked to wear during a fight scene. Lawless answered, "a bucket of snot." Nielsen spoke about how hard it was to move around in full armor, and yet look athletic. Ming-Na Wen talked about how hard it is fighting while wearing high heels, so she loved fighting in her lingerie because she was bare-footed!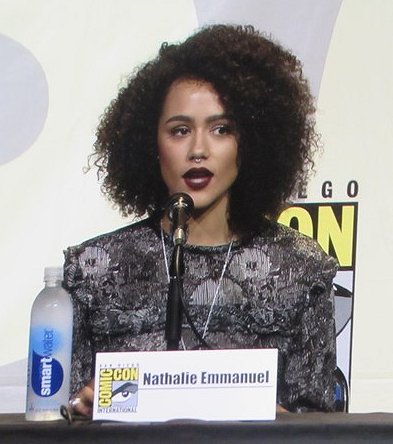 Another question was what was the role the panelists took that scared them to take it. Nielsen's answer was her character in Boss because her character was unhappy and terrifying, while in her real life she was very happy. Emmanuel talked about being in Maze Runner: The Scorch Trials and how, being a British actress, that was scary for her as her first American film, because it was intimidating doing her American accent in front of Americans. Lawless said that all of her roles have scared her, but that Lucretia (Spartacus) was the scariest role she's ever had. Maslany said that the fear is what makes her excited about a part — if she's not afraid, then she's not interested. Baccarin's said that her biggest fear is having to be emotional.
The moderator brought up a feature in Entertainment Weekly called "Watch This, Sorry About That," and asked the panelists if they have any roles in their past that they wish they didn't do. Wen addressed the fact that people don't realize that oftentimes female roles are very limited, so they just want a job so that they can pay the rent, or keep their insurance. Lawless warned against taking a role in something that has a title with three exclamation points. It came up that several of the panelists have been on Law and Order, including Nielsen, Wen, and Benoist, but although Morena Baccarin had always wanted to be on it, she was never able to get the job! The panelists seemed to agree that they don't regret any of the roles they've been in, because they were all learning experiences.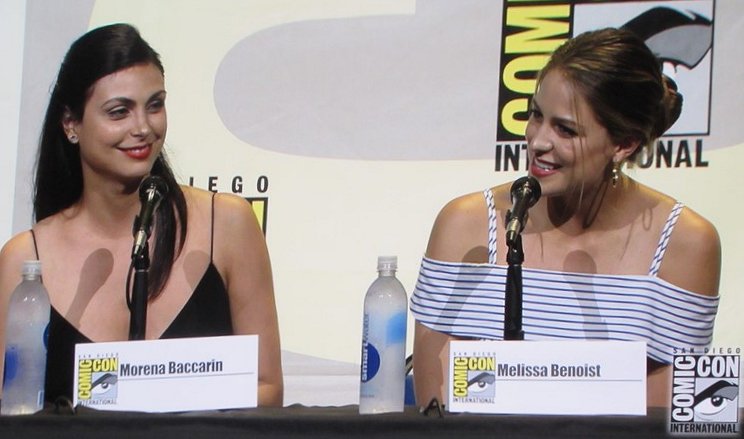 As for strangest fan encounters, Lawless shared a story about having been at the deathbed of one of her fans. The fan had gotten cancer, and Lawless went to visit her in the hospital, and she died while Lawless was visiting. Nielsen recalled one time she was on a long elevator ride, and someone leaned over to her and said, "Loved you in Devil's Advocate." One time a "big black dude" came up to Wen and said, "Oh Ming-Na Wen, I loved you in that movie!" Wen assumed he was talking about one of her action movies, but it turns out it was The Joy Luck Club! This made her realize that you can't judge anyone on what they like by what they look like. As for Emmanuel, a fan wrote her a letter from prison asking her send him a pair of underwear that she had worn. The panelists joked that she should have sent him some granny panties. Baccarin recalled that a fan who was a confectioner sent photos of the cookies that he made, which were mostly normal, except for one, which was labeled "chocolate peanut butter penis." Benoist said she hadn't had any really unusual experiences yet, but there were some Girl Scouts who had won a national science fair and got to make a presentation to President Obama and meet him — so then when they met her right after that, they didn't really care about her, though they were enthusiastic about her dog that she had with her.
The moderator asked if the panelists had ever been mistaken for someone else famous. Wen's response was "any other Asian actress" and even famous Olympic ice skaters! Baccarin said she'd been mistaken for Ashley Judd.
Interestingly, not one of the panelists had a back up plan if acting didn't work out for them. Wen recalled that when she was looking at colleges to attend for acting, her mother was surprised that you could get a degree in drama, and Wen did an impression of her mother saying, "Oh, American school so easy." However, Wen pointed out that now she can say she's been a doctor, a Senator, an FBI agent, and currently is an agent that saves lives. Now her mother takes all the credit.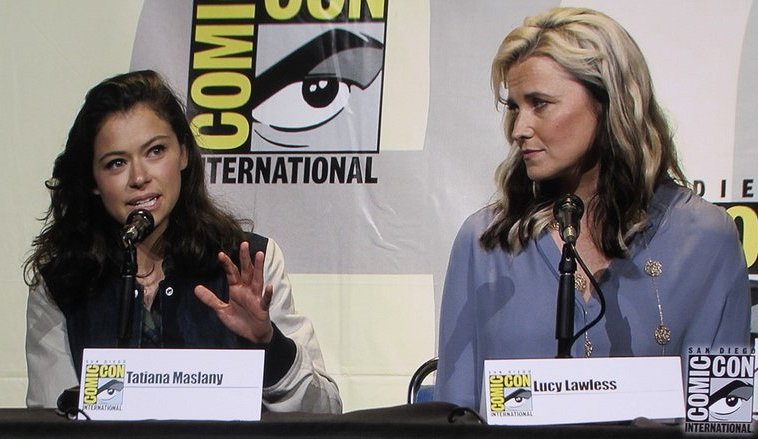 The panelists then discussed whether they felt like the situation with women's roles has improved. Maslany spoke out how she felt like women are very "politicized" right now, and that she watches with a "critical eye" that makes her very aware of the ramifications of the presence of women, as to whether the role is empowering or unempowering. She thinks that there is a very exciting change happening right now, though. Nielsen said that whenever she gets a script and a producer tells her that the role is an astro physicist, for example, she always asks "Do you see her do it?" because otherwise, it's just decoration. Nielsen thinks there's a lot of unconscious things that still go on in terms of gender roles, and we need to ask "Why?" in order to change that. Baccarin talked about there being more "age appropriate" casting of relationships, as it used to be that all you were seeing was 40-50 year old men with 20-something women. Wen pointed out that if it's the reverse, with the woman being older, then the story becomes about that age difference. Lawless joked, "I'm willing to take on that challenge."
There wasn't a lot of time left in the 45 minute panel, so it was opened up only for a couple of audience questions. One question was whether women with curves and wrinkles would ever have equal representation on TV and film. Nielsen suggested that the problem was more in the middle, that it was easier for younger women to get roles, and then once you get past 50, you start to get the "meaty" roles again.
Another question was directed to Ming-Na Wen about how it feels to represent two iconic bad-ass female roles – Mulan and Melinda May. Wen talked about coming to cons and meeting fans who grew up with Mulan and are now sharing it with their daughters. She went on to say that the connection in having inspired young girls with her roles is the "biggest perk" in being an actress.
That was all the time they had for audience questions, so the moderator wrapped up the panel by asking the panelists what is the one superhero part they would love to play, regardless of gender. Wen answered, "I want to be Lucy Lawless," and Benoist responded, "Me too." Meanwhile, Emmanuel's answer was Iron Man. Baccarin said that she wants to be James Bond and a Bond girl — in the same movie. Maslany wants to be Raphael from Teenage Mutant Ninja Turtles. Benoist said it would be pretty fun to be Super Mario, but added that she's loving her current role and loves "what she stands for" and loves "her positivity."
With that, the Women Who Kick Ass panel wrapped up. The next panel of the evening was what everyone in Hall H had been waiting for all day — the Marvel Studios panel! Click here to continue to our recap and photo gallery of the Marvel Studios panel.
You can view more photos from the Women Who Kick Ass panel below: