It is finally here! What I consider the holy grail of Comic-Con, is Hall H, Saturday. This is when the big movie panels are done, and while this year seemed a little lighter than usual on the movie news front, it was no less exciting. Why? Because Warner Bros had some making up to do with the relatively lukewarm reception of Batman v Superman, so seeing what they had to bring to the table this year seemed intriguing. On top of that, Marvel returned to Hall H after skipping a year, and there was potentially a lot of excitement to be had this year.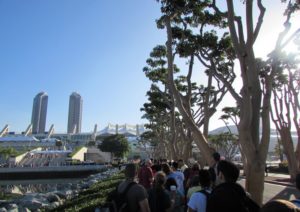 Violet and I made our way back down again from our hotel in the morning. We stopped for smoothies at the smoothie shop that is connected to the Hilton Bayfront hotel. I got a wonderful "Dreamsicle" Smoothie, which was delicious. We got to line shortly before 7:30am, which was the deadline to return to the end of the wristband line. At that point, the line extended all the way out to the "island" behind the convention center, past the box office. Line staff was directing people without wristbands over to the basketball courts. While being very excited for the panels to start, I was pretty fried due to my previous escapades of waiting in line to achieve a wristband for the panels. My sunburn was not enjoying this new day in the sun. You can read about that adventure here.
Finally the line began to move. There was some marine layer of clouds that washed overhead, and eventually, Violet and myself made it underneath the tents, just outside of Hall H. Finally, we were allowed inside, a couple minutes to 11am, which was plenty of time to get settled in for the 2 hour panel that was scheduled to begin at 11:30am. Inside, we headed to our usual spot, the back, right section of the room. We happened to run into Jason Koh and Scott Angus there, and we managed to get some seats with them.
Warner Bros Pictures
After everything settled down, the Warner Bros Panel was finally under way. The panel began with a clip of various WB movies being strung together into a very awesome clip, getting the Hall H audience hyped for the panel to come. Once the video was over, the moderator came out to the panel, which was none other than Conan O'Brien.
One cool thing about being in Hall H for a Warner Bros. panel is that not only do they use the large center screen in front, but they also pull back the curtains to reveal additional screens that run all the way along the left and right walls!
An unfortunate downer to the panel was the security people were giving us a hard time at the beginning. They kept bothering us, telling us to not take photos, despite us not taking photos of the of content, only of the people on stage. Additionally, I overheard other people being told they could not record the panels, which was something I thought was allowed, as long as they did not record the footage in the panel.
The DCEU Movies
The first portion of the panel was dedicated to the DCEU. We are shown a clip of various DCEU movies already released and upcoming movies, along with some behind-the-scenes footage as a primer for the panel.
The first people brought to the stage were the directors from the various upcoming DCEU movies. David Ayer from Suicide Squad, Patty Jenkins from Wonder Woman, Zack Snyder from Justice League, James Wan from Aquaman, Rick Famuyiwa from The Flash, and Ben Affleck from Batman came to the stage.
The directors give brief lines about their movies coming up. Interesting points to this short introductory panel was Patty Jenkins talking about her fascination with the original Superman movie. Zack Snyder also talks about how much fun it is for him making the "fraternity" and "sorority". James Wan also talks about how exciting it is for him being in Hall H for the first time, and also talks about how he wants to bring some of his "horror elements" to Aquaman. Ben Affleck, meanwhile, is excited to take on this character and seems to think it is going to be "terrifying" and "inspiring", and it will be a once in a life time opportunity.
After the directors came out, Warner Bros had a few movies discussed individually.
Wonder Woman
Patty Jenkins comes back out first to discuss Wonder Woman. She talks about how exciting it is bringing this character to the big screen, and talks about how great of a cast she has to work with. Some of the cast is then brought out to talk briefly, including Gal Gadot, Connie Nielsen, and Chris Pine. Patty Jenkins compliments Chris Pine, calling him a "real counterpart" to Wonder Woman and" cool and funny." Patty Jenkins also describes Gal Gadot as the "real Wonder Woman."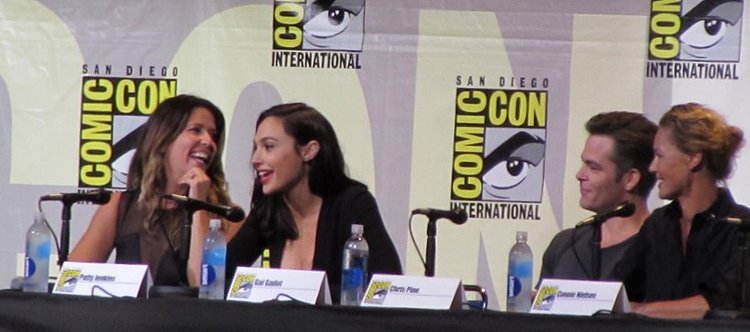 After some discussion of the movie, we are shown the trailer. Luckily for the rest of the world, the trailer was released to the public. You can view it here:
From the trailer, it looks as though we will be seeing Wonder Woman encounter "man" for the first time, and taking on the Germans in World War I. After the trailer, each actor provides a quick take on their character in the film. One interesting audience question that came up was asking about Wonder Woman's invisible jet, or flying herself. Patty Jenkins says that there will not be an invisible jet in this film, as it seems too early in time. And just as quickly as they came out, the Wonder Woman panelists leave. Wonder Woman is set to hit theaters June 2nd, 2017.
Justice League
After the Wonder Woman panel, Zack Snyder comes to the stage to discuss Justice League. He then brings out some cast members–Ben Affleck, Gal Gadot, Jason Momoa, Ezra Miller, Ray Fisher, and the big non-surprise–Henry Cavill! Apparently Superman will be returning to life in Justice League.

Then, we get some footage, despite Zack Snyder's pleas that they have only been shooting for merely two months. Again, Warner Bros. made this trailer public for people to watch, which you can see below:
So, I was very critical of the movie Batman v Superman, finding it very disappointing, and was wondering if Zack Snyder was the person to move forward with this project. This trailer got me back on board though, as it was a lot more fun. It featured Batman beginning his mission of recruiting the members for the Justice League, but had some great comedic moments.
This panel was over pretty quickly though, with little questions regarding it being asked by Conan, and none from the audience.
Justice League is in theaters June 14th, 2019.
Suicide Squad
After the Justice League panel, David Ayer comes out and introduces the Suicide Squad panel, bringing out practically the whole cast, including Will Smith, Jai Courtney, Margot Robbie, Viola Davis, Joel Kinnaman, Jared Leto, Jay Hernandez, Adewale Akinnuoye-Agbaje, Scott Eastwood, Cara Delevigne, Adam Beach, and Karen Fukuhara.

Will Smith, as Conan O'Brien so eloquently put it, was the "hype man" for the panel, seeming very excited for this movie to come out. He was hooting and hollering about his excitement for the film. David Ayer discusses how much he enjoys comic books, and how he wanted to make this movie like a comic book in as many ways as he could.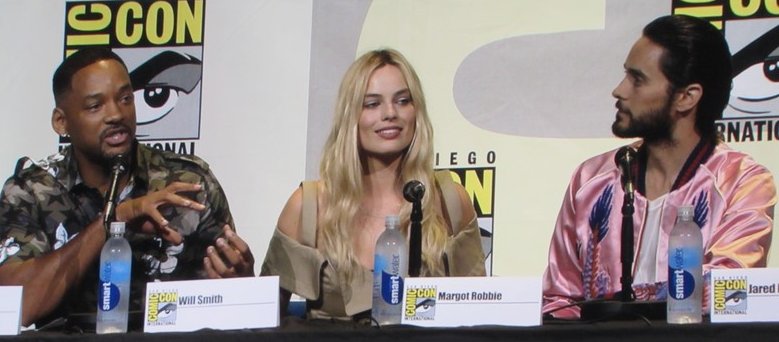 Will Smith talks quite a bit, and seems to like what he says David Ayer describes the movie as–"not good versus evil, but bad versus evil". Another thing Smith talked about was David Ayer's process for getting people into character, which would be talking to people before shooting, then using the personal issues that come up during filming to get people to feel the way they should on set. Will Smith also talks about a prank that Jared Leto played on Margot Robbie, where he had delivered a rat to Margot Robbie, wrapped in a box so she wouldn't know it was inside. Sounds pretty cruel of Jared Leto. I guess it is something the Joker could do, right?
The panel gets a few questions from the audience, mostly answered by Will Smith. After the panel was over, Will Smith brought up some contest winners up on stage, who got to meet their character that they had dressed up as.
Again, there was another trailer released to the public after the Comic-Con crowd got to see it. Here it is:
Suicide Squad is in theaters August 5th, 2016.
The LEGO Batman Movie
After the DCEU movies were finished up, the next panel rolled right in. It was for The LEGO Batman Movie. This panel begins with a LEGO Conan introducing LEGO Batman to the panel, which is shown on the screens of Hall H. After the brief comedic scene is over, the real Conan introduces the director of the film to the stage, Chris McKay. Will Arnett then joins the panel, who voices Batman in the animated film.
We get some insight into the movie which will have Joker as the villain, and also have Batgirl and Robin in the film. McKay talks about the comedic elements of the film, and Will Arnett talks about how this Batman might be the way he is because he might be insecure.
We also get a trailer of this movie, which was also made available to the public:
The trailer features Batman being scolded by Alfred, to take care of his adopted son Robin (voiced by Michael Cera), so Batman brings him into the superhero fold. There are many cheesy sand silly laughs to be had throughout the film. Time will tell if Batman will have the same appeal he did in the first LEGO film.
The LEGO Batman Movie  is in theaters February 10th, 2017.
Kong: Skull Island
After the LEGO Batman Movie panel, we had a panel for Kong: Skull Island. Jordan Vogt-Roberts, the director for the film, came out to discuss the newest King Kong reboot film. He introduces quite a bit of the cast to the panel: Brie Larson, Corey Hawkins, Jason Mitchell, John Goodman, and Tom Hiddleston.

We were shown the first footage of Kong: Skull Island, which confirms this is a reboot, where Hiddleston and Samuel L. Jackson's character seem to be leading the expedition that leads to the discovery of King Kong. Another interesting aspect to the movie is that it looks like this King Kong might be significantly bigger than the previous iterations of the character. Does this mean there are possibilities of leading up to a Godzilla versus King Kong film? Hmm… Previous iterations of King Kong would have seemed too small, but this King Kong could be just right.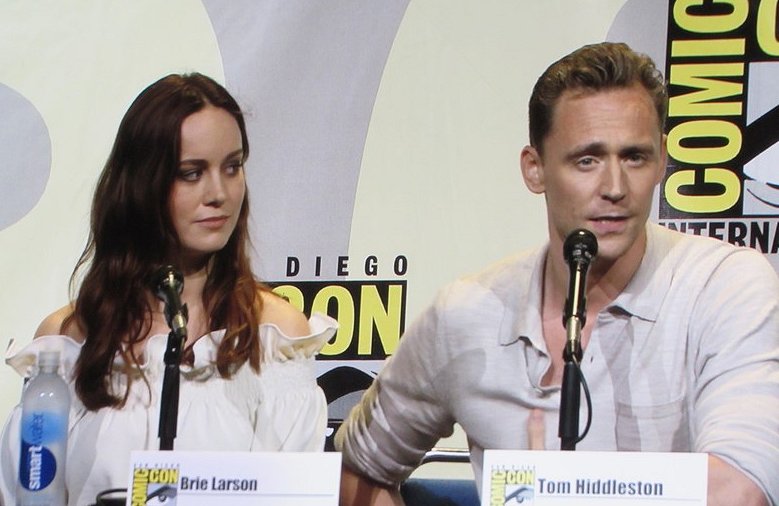 Jordan Vogt-Roberts talks about taking on this job, and it is a genre film that he wants to tell a new story about. He also discusses that the film takes place in the 1970s, and he thinks it is a good fit because it is the last time where myths and unexplained things really exists.
Some of the cast members talk about their characters, and as with every time Hiddleston is on a Comic-Con panel, he received "woos" from the audience any time his name is mentioned. The cast also talks about the various filming locations, which ranged from Vietnam, to Australia, to Hawaii, and how that could be tough. John Goodman chimes with a funny, yet awkward discussion about working with, "Mr. Kong" on set, and how grumpy he could be to work with.
Again, Warner Bros. released the footage for this panel. You can see it here:
The cast then answers some questions about their favorite thing they watch on Netflix. John Goodman has a pretty hilarious answer–watching Roseanne and saying his lines before his character does.
Kong: Skull Island is in theaters May 10th, 2017.
King Arthur: Legend of the Sword
Following Kong: Skull Island was a movie I was not expecting–the new King Arthur, called King Arthur: Legend of the Sword. Charlie Hunnam is introduced to the panel, who plays King Arthur. The film trailer is shown for the first time, but again, the trailer was released to the public after Hall H saw it. You can view it here: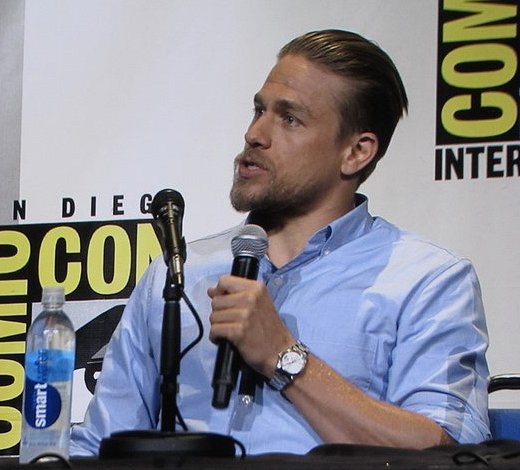 They discuss some aspects of the film. Guy Ritchie is directing the film, and Charlie Hunnam talks about how this film, despite taking place in Avalon, feels very modern. Hunnam also talks about how King Arthur is not as noble of a man this time around, and that was important for Guy Ritchie. Hunnam also talks about how this Arthur might not want to take on the quest we are so familiar with.
King Arthur: The Legend of the Sword will be released March 24th, 2017.
Fantastic Beasts and Where to Find Them
The final panel for WB was a pretty big movie, that many Harry Potter fans would be excited about–Fantastic Beasts and Where to Find Them. Introduced to the panel was David Yates, director of this film, and the previous four Harry Potter movies. David Yates introduces Eddie Redmayne, who is very excited to be in Hall H. Eddie Redmayne decided to use his "magic" to try to turn the lights up, but Conan breaks it to Eddie Redmayne that they cannot go any brighter.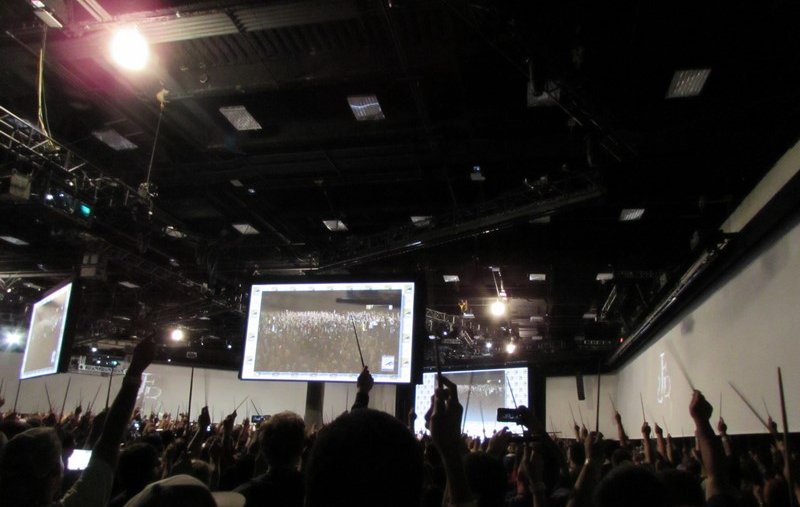 Redmayne then has a plan–he begins passing some wands out to the audience. Then more, and Conan "realizes" what is happening. The entire Hall H then receives a magic wand, distributed by people dressed in 1920s era clothing, to assist with the light situation.
After several minutes of chaos, the audience then directed by Eddie Redmayne to use their wands, and the lights are brightened for a few seconds. This was a fun activity to give Hall H something to participate in, and Harry Potter fans had to be overjoyed with the wand they received.
Following this bit of fun, some more of the cast is brought out. The panelists included Katherine Waterson, Alison Sudol, Dan Fogler, Colin Ferrell, and Ezra Miller. The cast talks briefly about the film, which takes place in New York in 1926.

We were then shown a new trailer for the film, which again was released to the public after Hall H saw it. You can see it here:
I was pleasantly surprised with Warner Bros. Hall H panel on Saturday. I didn't expect it to be bad or anything, but films such as Justice League, Wonder Woman, and Fantastic Beasts and Where to Find them all looked really good in the trailers that we saw. Especially with Justice League this felt like a "righting of the ship", because the film felt like it had a very different tone. In a way, the trailer we saw almost felt like a "heist" film in the way that Batman was going around trying to get recruits for his impending mission.
Eddie Redmayne, as I already have said before, really impressed me in The Theory of Everything, and this sort of bumbling wizard character looks like it could be a lot of fun in the Harry Potter world. The film looks so good, I might go back and watch the remaining Harry Potter films I haven't seen to see if I have any better enjoyment with them!
The next panels coming up were not the exciting movie panels I enjoy, but they were still great panels. Stay tuned for our next recaps, covering Star Trek's 50th anniversary, followed by the Aliens 30th anniversary, and following that, the recurring Hall H panel Women Who Kick Ass, and finally finishing off the day with the grand finale of the Marvel Studios panel!
See below for more photos from the Warner Bros Pictures panel: