Anthony Breznican from Entertainment Weekly moderated the Aliens 30th Anniversary panel at San Diego Comic-Con 2016, which took place on Saturday, July 23 in Hall H, following the Star Trek 50th Anniversary panel.
Panelists included Lance Henriksen (Bishop), Michael Biehn (Hicks), Carrie Henn (Newt – who it turns out that James Dashner, author of The Maze Runner, had named his character Newt after!), Bill Paxton (Private Hudson), Paul Reiser (Burke), Sigourney Weaver (Ripley), director James Cameron, and producer Gale Ann Hurd.
Breznican praised the late makeup effects creator Stan Winston, and asked James Cameron and Gale Ann Hurd about the alien queen. Cameron talked about how Sigourney Weaver didn't want to know about any of the effects going on inside of the alien queen to make it move because "she wanted it to be real in her mind." In fact, Weaver said she still doesn't want to hear about it. Gale Ann Hurd mentioned that not having CGI back then made them "honest," meaning that they had to make sure they vetted very early on what they were going to do. As a result, Cameron, Winston, and a few others met up in parking lot and used black garbage bags and ski poles to plan out the alien queen!  This was before they moved over to England to shoot the movie at Pinewood Studios. Cameron also told us that there were two guys inside the alien queen, and 14 off camera moving other parts of her.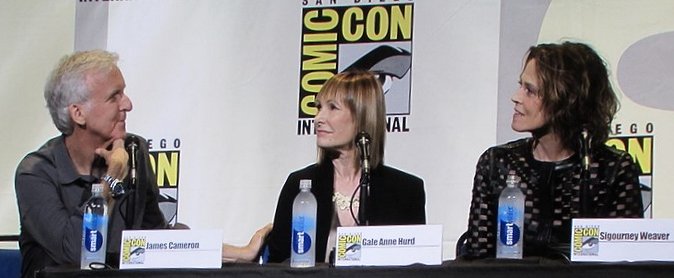 Moving on to the actors, Breznican brought up the fact that Sigourney Weaver had been nominated for an Oscar for her role in this movie. When asked how much of Ripley is in her, and vice versa, she confessed that she had told Gale Ann Hurd, who is an executive producer of The Walking Dead, that she can't bring herself to even watch 5 minutes of that show! Weaver said that when she played Ripley, it was all acting, and that she took inspiration for the character from an environmentalist friend of hers. Weaver then spoke highly about the ensemble cast.
We then watched a clip from Aliens, selected by James Cameron himself, that displays the dynamics of the cast. It is the scene where Ripley wants to take off and nuke the place, but Burke tries to protest, to which Ripley points out that Corporal Hicks is now in charge, and Hicks agrees with Ripley about nuking the place.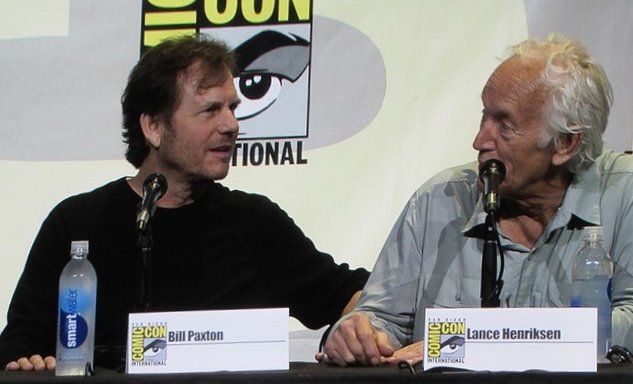 Going down the line, Breznican addressed Bill Paxton, who gave the audience what they wanted: his classic, "Game over, man!" line. Paxton described his character, Hudson, as a "pressure release valve," to which Cameron agreed, saying that Hudson was a way to release the tension in the film, so that it can build up again.
Lance Henriksen talked about the scene with the knife. Cameron hadn't been sure that Henriksen was moving fast enough for it to look "superhuman" so they cranked up the speed, but it turns out that was actually too fast, and that the take we see in the movie is actually Henriksen doing it that fast.
Michael Biehn spoke about when he got the job for the role of Hicks. He had already had a comfort level with James Cameron and Gale Ann Hurd from working on Terminator, so Hurd had called him up on a Friday night and asked if his passport was in order. He said yes, so she asked him if he could make it out on Monday morning to play Hicks, and he said "Hell yes!" He mentioned something rare that he experienced on set: that the cast all supported each other and that he never heard anyone say anything negative about anyone else there. Biehn credited Sigourney Weaver for this, and praised her incredible work ethic. He said that even though he came in late, the cast made him feel welcome from the very beginning and embraced him. Biehn recalled re-watching the movie about a year ago when it came on TV, after not having seen it in about 10 years. He said it was "so fun to watch" and he had kind of forgotten about the relationship that Hicks had with Ripley. It's always been important to Biehn to support his leading lady, but Cameron actually wrote that into the script. Cameron commented, "I think it could have gone somewhere if Fincher hadn't killed you off." Biehn agreed. Sigourney Weaver jumped in and praised Biehn's performance, saying no one could have played the part so effortlessly, warm, and debonair as he did, even though he was "a grunt."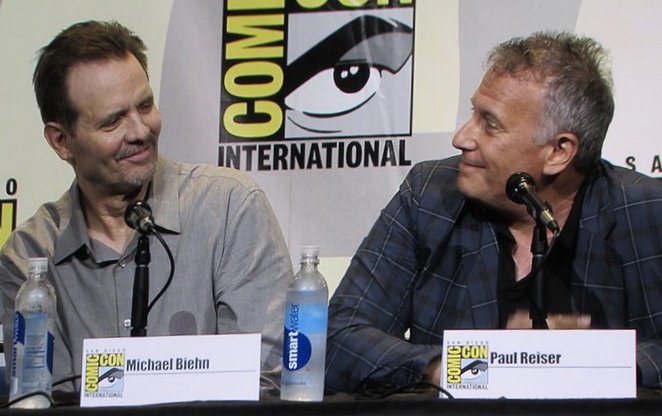 As for Paul Reiser, he defended his character, Burke, saying that he's not a bad guy, "he's just misunderstood!" He recalled the others had 2-3 weeks of "boot camp," which he didn't have, and that he had come to set with just a notepad and a pencil, he didn't get all the "cool stuff" that they had. Reiser was going to use a filofax, though Cameron warned him to reconsider using it as a prop, because he would be carrying it around for the next 3 months! He was envious of the gear that the others had. Weaver pointed out that Reiser got to wear the suit with the "funny collar." Reiser said that they had about 12 meetings about the suit, and he was looking forward to seeing what it looked like considering how much time they spent discussing it and measuring him, but then was let down when he got to set and saw what it looked like.
Interestingly, Gale Ann Hurd told us that they got more notes from the studio on costumes than anything else. But then Hurd would tell them if they really didn't like something, it would take 2 weeks to reshoot, which would then cost millions of dollars as a result. So they always decided that they liked it after all!
Carrie Henn, who played Newt, is now a fourth grade teacher. She commented that sometimes her students will come to her around holidays or birthdays and ask her to sign the Aliens DVD as for presents for their father, or that kids would tell her that their father never went to parent-teacher conferences, except with her! She then told us the story of how she was cast: she was eating lunch in the school cafeteria and someone took her picture. Then she went and did several auditions at school, and a little while later they called back and wanted her to meet Sigourney Weaver (which was a big thrill to her as a Ghostbusters fan) and they got along well, so she ended up getting the part.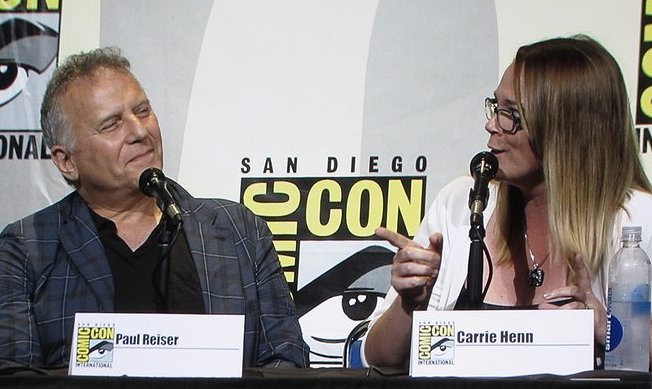 James Cameron explained that they had seen a lot of child actors, but they had all been "conditioned by the system" to smile at the end of every line. However, they wanted someone who wasn't trained to do so. Cameron said that they did try to insulate Henn from Rated R aspect of the movie, and Weaver did a good job taking her under her wing. Cameron then shared a story about the scene where Henn is encased in the alien slime, which Cameron administered himself, and she told him, "You know, it should be illegal for you to do this to little kids." Henn tells her own story about being covered in the alien goo and going back to the hotel and getting into the elevator — where everyone backed away from her.
Breznican then opened it up to audience questions, and also invited people to tweet him questions that he would ask on their behalf.
The first audience question is whether there will be another Aliens movie, to which Weaver responds that there is another one in the works, to be written and directed by Neill Blomkamp. She says that she hadn't wanted to do a 5th one, but she and Blomkamp started talking about it on the first day of working together on Chappie. Then four months later, she got a script that "gives the fans everything they are looking for." However, she and Blomkamp both have other work to do first, and she hopes when they finish that, they'll come back to getting started on it.
One audience member asked about shooting the scene with the alien queen. Weaver recounted that she would get in the power loader suit with a man named John and walk around in a circle, like a horse on a lead. Cameron thought that it took about a day and half to shoot it, and that although there was a miniature queen and suit, the majority was full size. Cameron likened walking in the suit to a dad walking a small child around on his feet. To Weaver's recollection, she thought it had taken several days to shoot, to which Cameron responded, "The actors always think it's longer than it really is."
Breznican then called for a guy who had tweeted a question to him to come up to the mic, saying that it would be a better question coming from him. So the guy came up and asked his question — which was a marriage proposal to his girlfriend! She said yes. Weaver asked if they were invited to the wedding, to which the guy responded that they were all invited — except for Burke!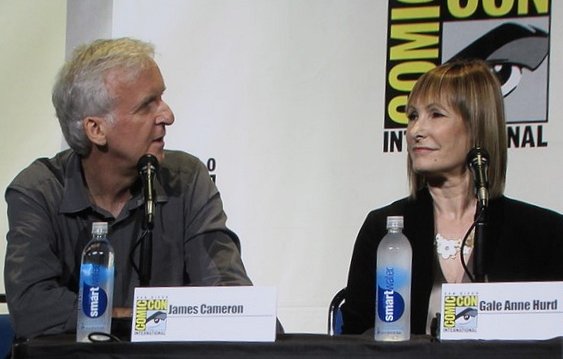 After that, someone asked what makes Aliens stand out, to which Gale Ann Hurd said that "it legitimized science fiction horror," considering that it was nominated for 7 Academy Awards, and as a result was a "game changer" for the genre.
Another question was how many people it took to puppet the alien queen when she was running. They had used the miniature for this, and Cameron didn't know for sure, but he thought there were 5 people operating the cables from above, and 2 people operating the feet.
As for casting Paul Reiser as Burke, Cameron said that Reiser hadn't yet defined himself as the funny guy that he's known as now, so they merely responded to what they saw in the audition. Reiser recalled that he waited a month for the call while they went to England for auditions. Cameron confirmed that they did indeed have to see every American actor working in England at the time, on which Gale took copious notes, even though they already knew they wanted Paul Reiser.
In response to a question as to whether the panelists are surprised as to how well the movie has held up all these years, Lance Henriken shares a story with us about when he had seen the movie for the first time. James Cameron had asked Henriksen what he thought about it, and Henriksen said that he would write him a letter — which made Cameron think that he didn't like it, especially since he never wrote the letter. However, Henriksen said that the truth was that he had "never seen a movie like that" with Cameron's ability to "make the film on so many levels," so he was unable to come up with the right words to praise the movie.  "I left the theater shaking, it was so good," he recalled. Then he was too lazy to write the letter, which he feels guilty about. Gale Ann Hurd encouraged him that it wasn't too late to write the letter, and he said that he would. Cameron joked, "Have you ever put it together that you never got called for one of my other films after that?"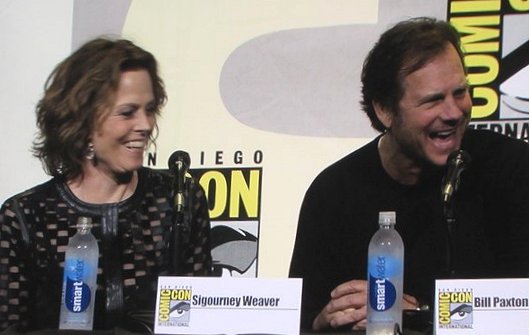 Sigourney Weaver added that when she first read the script, she was an English major in college, and she was struck by the "brilliance and confidence of the structure."
Biehn then shared his story about seeing the movie for the first time. There had been a screening for the press, which Cameron didn't want the actors to go to. So Biehn and Bill Paxton snuck into the projection room and watched it from there! Afterwards, the two were so excited about it, and Paxton had described it as, "It's a roller coaster to hell, man!"
The final audience question was how much was ad libbed, but the resounding answer from the panelists was "Not much!" Henn emphasized that she had been very "by the books." She remembered a scene that she was rehearsing when she was in the water, and Cameron was above, pretending to be Ripley. He told her "When I say 'XYZ' then you say your line." So they start rolling, and Cameron said a different line than he was supposed to, so she didn't respond, and he had to yell "Cut!" and asked Henn what happened. Henn explained to him that he had said something different, and that "looking back I'm very sorry!" Cameron said that although they didn't ad lib a lot, they did do some group bonding exercises.
The panel wrapped up with a group photo, which the newly engaged couple was invited up on stage to be part of after the panelists had gotten a photo together.
Stay tuned for our recap and photos of the annual Women Who Kick Ass panel!
You can view more photos from the Aliens 30th Anniversary panel below: