Following the Warner Bros. panel in Hall H at San Diego Comic-Con 2016 on Saturday, July 23 in Hall H was the Star Trek panel. This year was the 50th anniversary of Star Trek, and Hall H hosted an anniversary panel, featuring captains and other characters from the various shows. To start the panel off, we are shown a brief clip of the original opening of the original Star Trek series. Bryan Fuller comes out to host the panel, beginning by announcing the new Star Trek series which will be debuting in January 2017.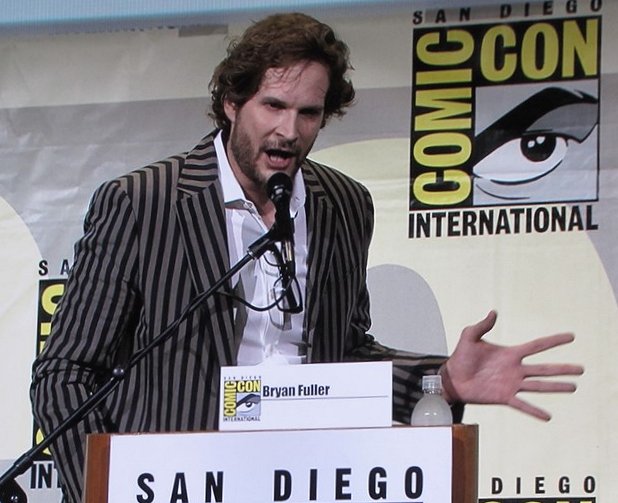 Bryan Fuller talks about how 51 years ago, William Shatner was stung by a swarm of bees, which Bryan Fuller says that he thought would be a blessing for the show going forward. He then talks about what Star Trek has done, making a promise for the future of people coming together as one nation.
Bryan Fuller then introduces the panelists–Scott Bakula (Captain Archer, Star Trek Enterprise), Michael Dorn (Worf, Star Trek: The Next Generation and Deep Space Nine ), Brent Spiner (Data from Star Trek: The Next Generation, Jeri Ryan (Seven of Nine on Star Trek: Voyager), and of course, William Shatner (Captain Kirk on Star Trek: The Original Series).
Bryan Fuller leads off with asking William Shatner how important the canon of Star Trek is, to which Shatner says it is very important. Fuller then asks how wonderful it would be to continue stories if Captain Kirk had not been killed off. Fuller then talks with Brent Spiner about how Data would feel about the current state of society with regards to individual rights. Spiner says that the show has been about "individual rights" and respecting everyone, and says that in our world this is being "challenged".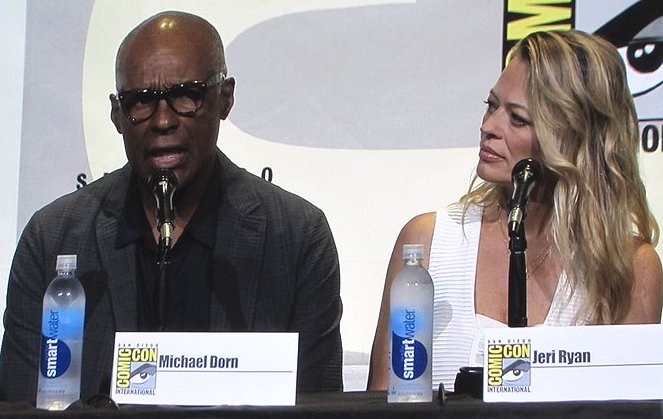 Going down the line, Fuller talks with Jeri Ryan, about the Borg, and Jeri Ryan talks about how the Borg appreciated all beings, as it would assimilate the best of each race it overtakes. She talks about Seven of Nine's experience when she was separated from the Borg.
Michael Dorn then talks about being a Klingon, but being introduced as a member of the Star Trek crew in The Next Generation. Dorn remarks how that while most races in Star Trek were accepted, the Klingons were still not thought of as equals yet, and with him playing Worf he was able to change that.
Fuller seems very invested in the messages Star Trek seemed to convey, and really enjoys the message that people should be coming together as a race. Fuller moves down the line, talking to Scott Bakula about being the chronologically first captain for Star Trek. Bakula talks about that this is the reason that he felt he could take the part–because he would not have to compare to other Captains, as he was the first, and therefore would be "figuring everything out". He also talks about how Star Trek to him means looking to the future to figure things out. He describes himself as hopeful and optimistic, and believes that people, as a species, will figure it out.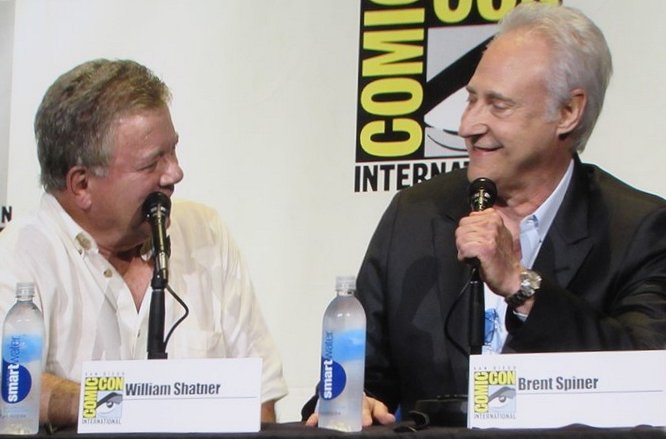 Shatner jumps back in, saying that the time has come to "figure it out," referring to the world, and technology. He also talks about how he met with a friend who is a climatogist, and he asked if the world has reached the tipping point of no-return yet. He tells a long story about how a river, the largest salmon run in North America, was at its lowest point, then at the next year, the salmon run was at its biggest ever. Shatner describes this as a way for the world to give us hope, but insists that this doesn't leave humans off the hook for caring for their planet.
The panel then opens up to audience questions.
The first question asks what should be expected in the new Star Trek series. Fuller eventually fields the question himself, to which he says that the new show should remind the audience what it is, and continue to push boundaries and be progressive. Fuller also says the show will not be episodic, and will have a flowing story. This seems to baffle Shatner, but Fuller reassures him that it will work.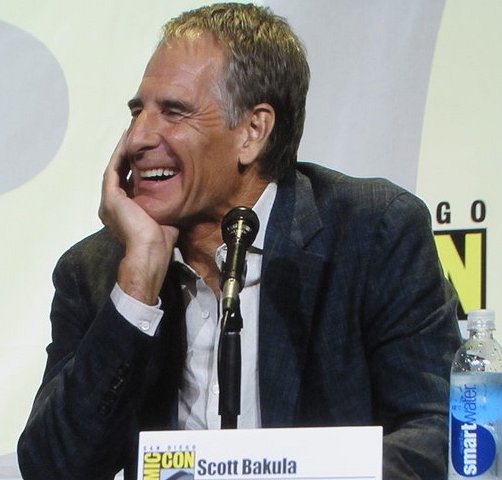 The next question asks the panel who their favorite captain is. Jeri Ryan talks about the elephant in the room–everyone is going to say Shatner/Kirk. Fuller opens this up to second favorite captain, since Kirk could not be trumped. Bakula says Picard is his second favorite. Michael Dorn, meanwhile, says that each Captain was great in their time.
"Button Lady" finally made her appearance (a familiar face every year in Hall H), and has some awkward conversations with Shatner. Oddly, Shatner has not really seen his own episodes or other Star Trek series' episodes, which comes up in his conversation with Button Lady.
The panel then talks about technology, in relation the real world, and what device the panelists would want. Spiner wants a replicator, especially to help starving people, to replicate food. The transporter comes up in discussion as well. The panelists also discuss how Star Trek essentially had iPads on it before there were such a thing.
Near the end of the panel, Bryan Fuller provided a very small tidbit of the new series, Star Trek: Discovery, showing the new ship seemingly being finished and ready for launch into space. This was released to the public here:
To close out the panel, Bryan Fuller asked everyone in Hall H to join hands and pledge to work toward a future as reflected in Gene Roddenberry's ideals. He then asked for a moment of silence in honor of Leonard Nimoy and Anton Yelchin. The panelists then took a selfie together, with the Hall H crowd in the background, and with that, the panel ended.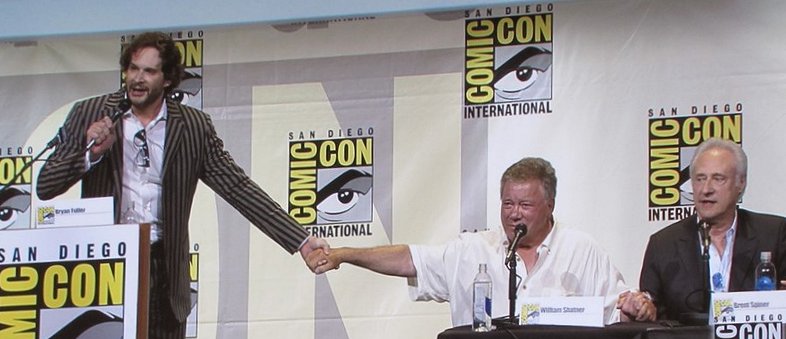 Click here for our recap and photos of the next panel in Hall H, the Aliens 30th Anniversary panel!
See below for more photos from the Star Trek panel: