Following the Women Who Kick Ass panel on Saturday, July 23 in Hall H, we had the other big movie studio panel–Marvel Studios. They were absent from San Diego Comic-Con last year, and I was very curious about the content they would bringing with them this year.
The panel opens with a montage of the previous Marvel film heroes, as a primer to get the audience ready for the panels to come. Then Chris Hardwick comes out to moderate the panel, who in turn brings out Kevin Feige, head of the Marvel Studios film division. The two banter back and forth about Marvel not being at Comic-Con last year, and Feige explains it as them saying they did not have a lot of stuff to show. But now, they have a lot to show us — including a reveal of the new "Marvel Studios" logo, as seen above.
Black Panther
The first movie that Feige talks about is Black Panther. Ryan Coogler, the director of the film, comes out to talk about the film, and begins with saying how several years ago, he was way in the back of Hall H, and is excited to be on the stage this year. He also talks about his love for comic books, and his love for Black Panther. Unfortunately, there hasn't been any footage of the movie done yet, so we don't get any sneak peeks, but we have some of the stars in attendance, including Chadwick Boseman, who is playing Black Panther, and Michael B. Jordan, who will play the villain, Erik Killmonger. Chadwick Boseman is very excited about making this movie, and looks forward to it coming out, it seems. Danai Gurira, who is playing Okoye, and Lupita Nyong'o, playing Nakia, also are in attendance, and they both seem very excited to play their characters as well.

Black Panther comes out in theaters July 6, 2018.
Thor: Ragnarok
The next film up is Thor: Ragnarok. They are filming, so no film stars or directors are able to make it to Hall H, but Kevin Feige announces a bunch of names in the film. Anthony Hopkins returns to play Odin, Tom Hiddleston will be playing Loki, and Idris Elba will return as Heimdall. Jeff Goldblum, Karl Urban, Cate Blanchett and Tessa Thompson will all be joining the cast.
The audience is then shown a pretty hilarious video of what Taika Waititi, director of Thor: Ragnarok, thinks Thor was up to while the events of Captain America: Civil War unfolded. This has Thor hanging out with his normal friend Daryl as a roommate, basically being Thor in "normal" life, which is essentially getting in the way of Daryl. Mark Ruffalo pops in and out as well as Bruce Banner, but it was a fun video to watch. It is too bad Marvel didn't release any of this footage, as it was a fun gag for the fans.
After the video montage, we are shown some concept art of Thor: Ragnarok, which looks like it will shape up to be a pretty fun space film.
Thor: Ragnarok comes out November 3, 2017.
Doctor Strange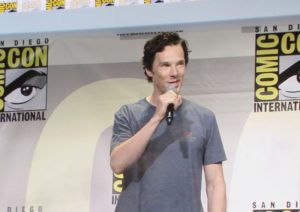 After the Thor: Ragnarok bit wrapped up, we started to get some real meat — the side screens came out, and there was mist brought into room, which Marvel used to make some really fun light shows, introducing the Doctor Strange part of the panel.
Benedict Cumberbatch appears on stage, to roars from the crowd. The director of the film is then brought out, Scott Derrickson. He talks about the origin of the character in the 1960s, and how different it was for Marvel in the 60s in comic form, and the movie is doing the same now. Derrickson then brings out the cast for the film–Tilda Swinton, playing the Ancient One, Rachel McAdams, playing Christine Palmer, Benedict Wong playing Wong, Mads Mikkelsen playing Kaecilius, and Chiwetel Ejiofor playing Baron Karl Mordo.
Hardwick goes down the line asking some brief questions. They also seem very excited to be a part of the movie. Tilda Swinton talks about playing the Ancient One and says that "anyone could be the Ancient One". One thing I think she may have let slip, and she says something to the effect of her not knowing who will be the next Ancient One–does she perhaps die in the film? Hmm…

Other characters provide some insight too–Rachel McAdams talks about how her character keeps Strange grounded. Benedict Wong also talks about his character is quite different than the Wong in the comics, who was much more like a servant character.
We then get to see an extended scene of Doctor Strange meeting the Ancient One for the first time–which was really done well. This footage as not released to the public, but there was a new Doctor Strange trailer released. You can view this here:
Doctor Strange releases November 4th, 2016.
Spider-Man: Homecoming
So, as I suspected, while Spider-Man's rights are technically still with Sony, Marvel has had a heavy hand in the making of their films, so Kevin Feige decided to talk a little bit about this during the Marvel panel. The new film is called Spider-Man: Homecoming, and Hardwick and Feige talk about how they try to give each film its own identity.
We also see a small montage on the video screens of Spider-Man, who was reintroduced (for the 3rd time now) in Captain America: Civil War. Director Jon Watts and Spider-Man himself, Tom Holland, join Feige on the stage of Hall H to talk a little bit about the film. The film is being filmed in Atlanta, and Feige thanks Amy Pascal over at Sony for making this happen. They talk about how this Spider-Man movie is going to have a 15 year old kid in high school, just out of puberty. Feige then says that they have shot some stuff–even though it has only been 10 days. We get to see a really fun clip that feels right out of The Breakfast Club or Ferris Bueller's Day Off with Peter Parker going through the rhythms of high school. Then at the very end of the clip, we get a big clue as to the villain of the film–Vulture, as we see a big bird-like man coming towards us on screen.
This footage did not get released to the public. But it looks amazing, and I cannot wait for Spider-Man to make its big screen appearance. Some of the actors who play students at Peter Parker's high school were brought out on stage as well to say a few words.
Spider-Man: Homecoming hits theaters July 7th, 2017.
Guardians of the Galaxy Vol. 2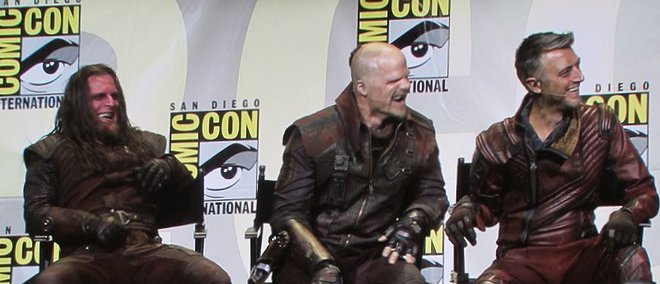 One of the next films coming up after Doctor Strange is Guardians of the Galaxy Vol. 2. James Gunn comes out to talk about the movie, and is very gracious to the audience, thanking us for hanging out in the hot sun.
Hall H then erupts with chaos as "Ravagers" begin making their way to the stage–people from the film in costume. They have some banter on stage, which was a little awkward to watch, but provided some entertainment for us.
Finally the main cast comes to the stage, Chris Pratt, Zoe Saldana, Karen Gillan, Dave Bautista, Pom Klementieff, Elizabeth Debecki, and then Kurt Russell is brought to the stage.

We are then shown a scene from the film, which features Michael Rooker, who seems to be possibly working with Star-Lord this time around, as we see Yondu, Rocket Raccoon and Baby Groot have all been arrested/imprisoned. In the scene, Yondu asks Baby Groot, who has been allowed to roam free, to grab his fin that goes on his head, which controls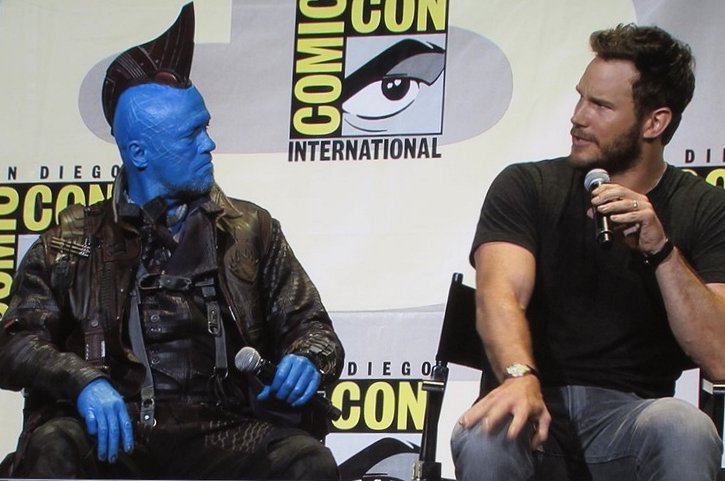 his arrow he has. What follows is hilarity as Baby Groot brings random items to Yondu, until finally get gets the fin. Then we see Yondu making death with a whistle, as he impales dozens with his arrow, allowing his, Rocket's, and Groot's escape. All this is done to the song "Come a Little Bit Closer" by Jay and the Americans, which shows they haven't lost their musical touch.
Michael Rooker then takes the stage–dressed completely as Yondu, and has a lot of fun playing his character, I think.
Hardwick talks about how the first film was essentially born in Comic-Con in 2013. James Gunn talks about how the pressure this time around is a better kind of pressure, since people actually like this property now, rather than no one knowing what it is.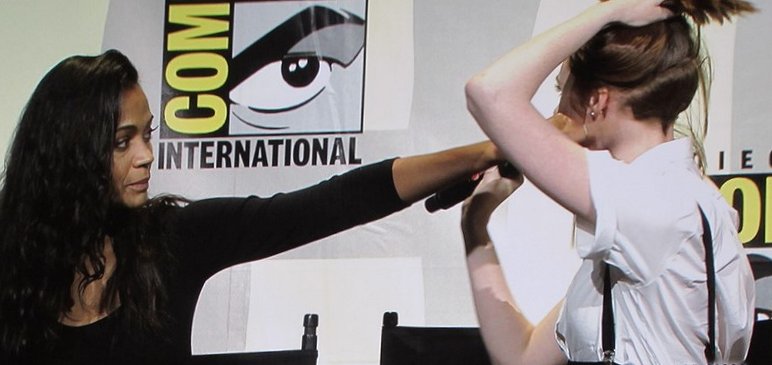 Pratt talks about Star-Lord picking up where he left off, trying to stay out of trouble, but not doing quite as well. Meanwhile, Karen Gillan was allowed to keep (most) of her hair this time around–she has an "under-shave", basically thinning her hair enough for the film, I guess. Karen Gillan gave us a good laugh about this, saying when she shaved her head she looked like a "long baby", which the cast seemed to agree with. I have to say–I agree too.
Michael Rooker, meanwhile, is asked about his Yondu cookies he made, and Hardwick mentions how Rooker was really pushing James Gunn for more Yondu in the second Guardians of the Galaxy film.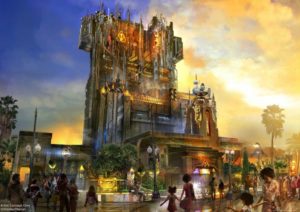 Then another non-movie related piece of news dropped–We are shown a brief clip of Chris Pratt and the cast filming something on green screen. It looks like at Disneyland California Adventure, the Hollywood Tower of Terror ride is actually being turned into a Guardians of the Galaxy themed ride, to be called "Guardians of the Galaxy, Mission: Breakout." This had a lot of cheering in the crowd, but there was a small segment of people who actually booed this news. They seem to have an affinity for the Twilight Zone themed ride.
This had been suspected for some time with Disney fans, and seemed to have very mixed feelings with the people in the know on the rumor. I personally think this could be a good change. Less and less people know what the Twilight Zone is, and so it makes sense to upgrade the ride, I think. Besides, I am all for more Marvel stuff at Disneyland.
We are then shown another clip for the film, which is more trailer-like in nature, showing many different scenes of the film. We learn a couple big pieces of information in the clip though–one that Kurt Russell's character is playing Star-Lord's father, Ego, as was suspected for some time. Additionally, Sylvester Stallone is appearing in the film too, which many people are joyful as in a way it reunites Tango and Cash (an old 80s action movie starring the two action stars).
Again, none of this footage made it to YouTube, as it was exclusive to the Hall H audience, which is unfortunate for those not in attendance.
Guardians of the Galaxy Vol. 2 hits theaters May 5th, 2017.
Captain Marvel
So, Kevin Feige had one more bomb before he leaves. They get the entire crew on stage for a "Marvel family photo", and Kevin Feige wants to introduce the newest member to the Marvel Universe–Brie Larson, who will be playing Captain Marvel! She doesn't say much, but comes out to join the massive amount of people on stage for photos.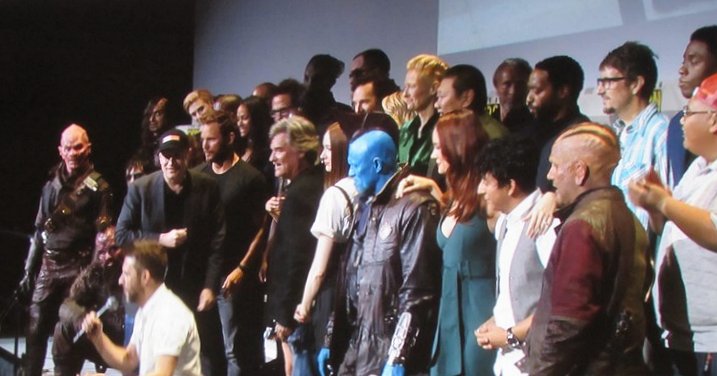 Kevin Feige also then announces everyone in the audience will receive a hat which has the new Marvel Studios logo on it. Unfortunately, this causes some chaos, as people want to get their hands on the hat. Violet and I, like good Hall H attendees, remain in our seats and we receive our hats with little incident. And while we feel bad for Kevin Smith, Violet and I were very tired, and made our way to the exits with Jason Koh, his cousin, and Scott Angus.
By reports on Twitter, this hat handing out process took quite a while, and unfortunately the Hall H staff did not allow anyone into the Hall until all hats were passed out to the Marvel panel attendees. This unfortunately meant that Kevin Smith was left with practically no audience for the beginning of his panel. Luckily, people were finally allowed in, and he had a good size crowd for his panel, it appeared from the reports on Twitter we saw.
After saying our goodbyes to Jason and Scott, we headed back to the car, to make our way back towards our hotel. We stopped off at Lazy Dog Cafe which was fairly close to our hotel, had dinner, made our way back to our room, and prepared for sleep. I was exhausted.
Click here for our recap and photos of our final day at San Diego Comic-Con, which included the Sherlock, Supernatural, and Prison Break panels!
See below for more photos from the Marvel Studios panel: