So, Friday of San Diego Comic-Con 2016 rolled around, and Violet and I had earned our wristbands for Friday in Hall H, where panels such as The Walking Dead, Game of Thrones, among other things would be taking place. However, there was something I was deeply concerned with—and that was Hall H for Saturday.
While I enjoy most of the TV panels that go on in Hall H, they are not something that I am over the moon about seeing. I would much rather see Saturday, and completely miss what happened on Friday. So that is exactly what I did.
We had gotten in line for Friday's Hall H panels at about 7:15am, since 7:30am was the deadline to return to the end of the wristband line. After we finished our breakfast on the marina that we had picked up from IHOP, I decided to meander to the "NDL" line, which was the Saturday line. It had already stretched back to the marina parking lot. At this point, which was around 8am, I said my farewells to Violet and told her I would be skipping Friday. (Click here to jump to Violet's reports on the Friday Hall H panels.)
So I wandered back to the Hall H NDL line, following a few people who had also decided to hop in line. In this short time, the line had extended into the marina parking lot, next to Joe's Crab Shack. This was actually a bit odd, as I had never seen the Hall H line go into this parking lot. Apparently other people haven't either, which will lead to a controversy later on.
There had already been two full "chutes" of people in line in this parking lot, and myself and the few people around had joined the third that already had started. In front of me was a nice man who sacrificed the next 15 hours for the sake of his son(s). As we walked up to line, this man had confirmed with security staff (in yellow shirts) and the Comic-Con staff (people in the green shirts) that this was in fact the Hall H Saturday line, and wristbands would begin being handed out at 9pm. The reason I am going so in-depth on this has to do with the controversy that began later on in the evening, so stay tuned for that excitement!
Unfortunately though, I had come ill prepared for this stationary journey I had set myself on. I had planned for a long day away from provision, and packed water and food for myself. I had also packed a blanket to sit on, expecting to be seated on grass. Unfortunately, due to the route of the line, I was on asphalt. I also had no sunscreen, despite warnings from Violet. I had thought perhaps I would be on the grassy island, which while filled with cockroaches at night, yes, is not so bad, given the trees that provide shade for much of the day.
So the journey began. I shielded myself from the sun using my jacket, but as the day progressed on, I had to take it off. It was way too hot to keep it on. This might have been a big mistake in the end. I kept myself busy throughout the morning by working on preparing recaps on previous panels for our website, keeping up on Comic-Con news on my phone, and watching various Youtube videos that caught my interest.
At around 12:30pm, Jason Koh/CorgiKohmander came and joined me in line for a bit, which provided me a wonderful respite. After a quick restroom break, I returned to the fiery asphalt. Jason headed back out for another panel, and said he would return in about another hour or so. I had decided to try to get my mind off the heat by doing more website work. Unfortunately, the heat was becoming so intense, that my laptop said that it needed to cool off. I resolved to going back to my phone for entertainment, however that soon also became overheated.
Jason returned back to the line, and came with some relief—a picnic mat that would reduce the heat coming up from the fiery asphalt. We talked about a bit about movies and other Comic-Con related activities, and his wife and her cousin showed up providing additional supplies—chairs and umbrellas, along with waters that were much cooler than the boiling ones I had left.
Violet had finished her panels at about 3:30pm, and came to join us in line. We sat and talked, or looked up stuff on our phone, trying to pass the time. What seems to be a usual thing for the Hall H line, various rumors began to spread. One big one was that wristbands would be passed out at 7PM rather than 9PM as it was supposed to be. This turned out to be false, as expected.
One other person in line joined us: Scott Angus. He was kind enough to bring a very important resource for myself—Aloe Vera. I had begun to look like a tomato at this point, due to the harsh sunburn I was achieving. This provided much needed relief.
Finally the sun began to set, and Jason "recon'd" some food from the Marriott. I had decided to take another restroom break, and make a quick walk around the Convention Hall to see if the Blizzard booth's line had gotten any shorter. Nope—it was still capped. I had been trying every day to find a short line, and never found it less than capped.
The hour was finally approaching—9pm. I had again decided to use the restroom just before 9pm, which would allow me to see what was going on at the front of the line, which was right by the Adult Swim off-site location. As I approached the park restrooms, right next to the Adult Swim area, I could see the security and Comic-Con staff preparing to hand out wristbands. This lead to giddiness, knowing the time was coming to receive the mythical Hall H wristband, but at the same time there was always a little paranoia. The Hall H line always seemed to inflate to several times the amount of people in line—more than the 5 times it would be expected to. It always makes wonder if this time is the time we miss out.
The handing out of the wristbands progressed very slowly. I was hoping we would be out of line and back to our hotels by 11pm, but that was looking like less and less of a possibility. But we continued to wait. During our wait, Violet and others in our group consulted Twitter to see what was going on.
This is where a controversy began brewing. Apparently some people on the Twitter-sphere had begun to say that the people in the marina parking lot were not in the "real" Hall H line, and they should/would be skipped for wristbands. Of course this was preposterous, as I explained at the beginning—both security and Comic-Con staff had directed us to this line—how could it be an invalid line?
So what should have been a joyful period turned into one of further paranoia. Making matters worse, was how long everything was taking. But finally we saw the line staff making their way to the marina parking lot's edge. But something seemed wrong—the staff stopped there, and arranged themselves into a circle, appearing to meet about something. Then people in the first chute of the marina began moving forward, but stopped abruptly. Again, there was a very long wait. Twitter still seemed to be battling back and forth about the legitimacy of the Marina parking lot line.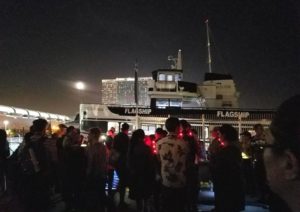 Finally, after what felt like an eternity, the line staff handed out wristbands to the people in the parking lot. There was a bit of chaos to this though. At first, people began moving forward but were told to stop again. Then after the first chute was done, the second chute began sliding over to the location of the first chute, which caused audible confusion among both the line staff and people in line. They then returned to their previous position, received their wristband, and were set free. Then finally, we received ours, and were set free. It was about 11:15pm, so Violet and I said our goodbyes to Jason, his wife, cousin, and Scott Angus, and we hurried back to the hotel to get as much sleep as possible before the next day.
So, in the end we did get our wristbands. We ended up fairly high, receiving "B" wristbands, so it could be argued I got in line way too early, since we went back to our hotel anyway, sacrificing our position in line. I reasoned though, I would much rather have the wristband earlier in the day, so that I could get back to the hotel earlier, getting much needed sleep, before the excitement of Saturday begins. Sure, I could have gotten in line a few hours later, however that would have added potentially a couple hours to the waiting for the wristbands, and cutting into any sleep I would be able to get. I am getting old. Functioning on less than 6 hours of sleep just becomes un-fun.
But the real excitement begins Saturday morning! Stay tuned as we cover the Hall H Saturday line up, which is coming up next!