We continue chronicling our experience at San Diego Comic-Con 2016, which took place Wednesday, July 20 through Sunday, July 24! This article picks up where Josh left off after the Snowden panel on Thursday, July 21, and covers our exploration of offsite events and Marvel/Netflix's Luke Cage panel.
After the Snowden panel wrapped up, we decided to venture out for some lunch. We wanted to hit up Incorporated, which was the Syfy property that Maryjane's at the Hard Rock Hotel had been transformed into this year (last year it was The Expanse). But it was going to be a 35-40 minute wait, so we decided to go somewhere else. We ended up at Henry's Pub, which had a Game of Thrones theme going on, from the way it was decorated inside, to its menu. They even gave us free skull shot glasses to take with us.
Offsites
Then we ventured out to take a look at the various offsites, since we hadn't had a chance to do that yet, and we didn't really have anywhere else to be until much later in the afternoon. First we went over to the Batman v Superman offsite next to the Omni Hotel, where there was a large statue of Superman, and a Batmobile on display. You could stand in line to get some swag, no badge required. There was a guy going through the line scanning badges for a contest though, and if you won, then you would get to take a picture sitting in the Batmobile. On the way back, we passed by the NBC offsite, featuring Emerald City decorations, free frozen yogurt in honor of The Good Place, and a gravitron ride for Timeless.
After that, we took a look at the offsites going on in front of Hilton Bayfront and in the grassy area behind the convention center. The grassy area had the Adult Swim carnival games, like it did last year. Further down the marina was a yacht named Abigail, and was a Fear the Walking Dead offsite. We also saw Kevin Smith being interviewed on the IMDb yacht. Across from the front of the Hilton was the FX offsite, with various props and displays from their shows. It was pretty hot out there walking around, so when someone handed us a flyer for Comic-Con HQ and mentioned "free cold drinks" we decided to go check it out.
The Comic-Con HQ area was right in front of the Hilton, next to Fox Sports Grill. A guy in a full suit of armor waved us in, promising Power Rangers inside. When we got in, Alison Haislip and a guy whose name I didn't catch were interviewing Dave Franco and Emma Roberts on stage about their upcoming movie Nerve. It was pretty sparse in there as far as attendance goes. There were about 3 rows of lawn chairs and bean bags set up in front of the stage. Further back were some "grassy" (fake grass) platforms with Comic-Con HQ pillows and charging stations, where we hung out at for a bit. You could just go up and request a free soda-stream soda, with your choice of berry or lemon-lime flavor. After a short break following Nerve, the cast of the new Power Rangers came out on stage, and Alison Haislip and her counterpart then interviewed them. It was a little odd that there wasn't an actual Power Rangers panel at Comic-Con, yet Comic-Con HQ was interviewing the cast for their livestream show (or delayed stream?). The same goes for Nerve, actually. I think if more people had known about the schedule for these interviews, there would have actually been a decent crowd for the Comic-Con HQ event. But maybe they did that on purpose because they didn't want it to be too crowded.
Parting Ways; Getting Into Ballroom 20; Teen Wolf
By this time, it was getting close to 4pm. The Luke Cage panel was scheduled to start in Ballroom 20 at 5:45pm. Knowing that the Teen Wolf panel was starting at 4:30pm in Ballroom 20, I wanted to at least get in line by the time that panel started, in order to ensure that I would make it into the Luke Cage panel, as I was expecting a good number of people to leave the room after Teen Wolf. Meanwhile, Josh was wanting to go to the Overwatch panel, which began at 6:45pm in Room 6BCF. Seeing how popular Overwatch had seemed throughout the course of the time we'd been at SDCC, Josh knew he would need to line up early to get in, and that he wouldn't be able to go to both Luke Cage and Overwatch. So we made our way up to the Ballroom 20 area, and parted ways. Click here to follow along with Josh's journey.
I followed the signs pointing out to the balcony saying "Ballroom 20 line this way." Most of the tents were empty, so we were able to walk right past them. But the last couple of tents they did have us wind back and forth through the chain ropes. It seemed like there was a pretty steady stream of people coming in behind me. The line seemed like it moved almost continuously. There were only a couple of times when it would stop, and that would only be for a minute or two.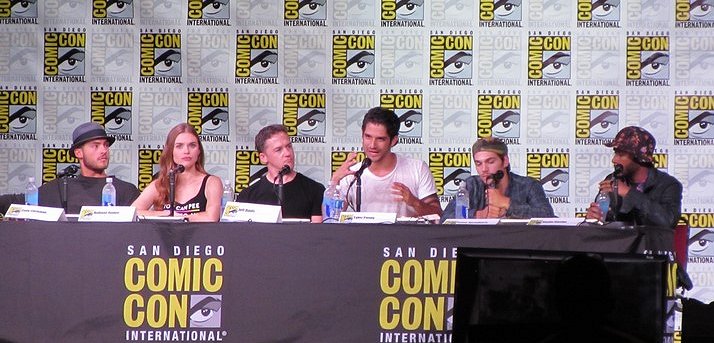 When I made it into the room, it was actually still pretty early on during the Teen Wolf panel. I've never seen the show, so I didn't really follow much of what they were talking about. Apparently, this was the very last Teen Wolf panel ever. I did notice that Dylan O'Brien wasn't there. I suppose he must still be healing up from his injuries incurred while shooting Maze Runner: The Death Cure. The other lead in the show, Tyler Posey, was quite animated throughout the panel, though. Someone asked the panelists what song would define their character (or something along those lines) and Tyler Posey broke out into singing "Hungry Like the Wolf," which was pretty entertaining, as he really got into it. He also asked out an audience member who asked a question, though I'm not sure if anything ever came of that.
Luke Cage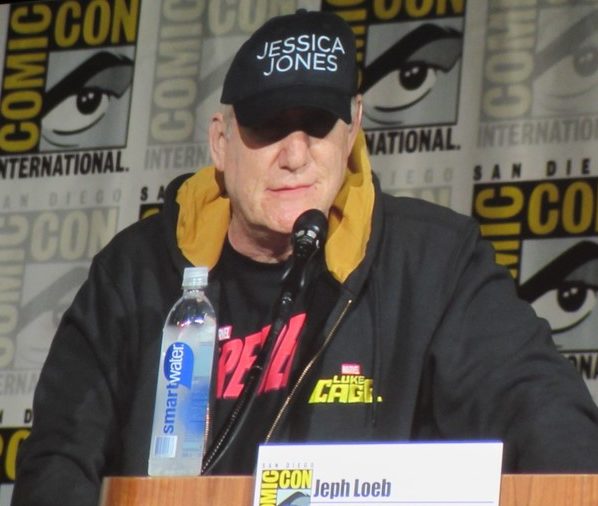 Soon it was time for the Luke Cage panel. A decent number of people left after Teen Wolf, but the room seemed to fill up after that. It was almost 5:45pm, when suddenly the lights went out, and a 2 minute countdown appeared on the screen. At the end of the countdown, we saw a clip that featured footage from Daredevil, Jessica Jones, and some new Luke Cage footage — which then ended with the Punisher. Jeph Loeb, executive producer and Marvel's Head of Television came out on stage to moderate, commenting that this was hopefully the "first of many Marvel Netflix panels." He showed us that he was wearing a Daredevil shirt underneath his Luke Cage jacket, and he also put on a Jessica Jones hat. Loeb then split up the crowd into three different groups, the right side of the room being Daredevil, the middle being Jessica Jones, and the left being Luke Cage. He had each group yell out the name of their assigned show one after the other. These kind of warm up antics seem to be pretty typical with Jeph Loeb, based on the Agents of SHIELD panel that he moderated at WonderCon earlier this year.
Suddenly, Jon Bernthal, who plays the Punisher, came out on stage and asked to roll the trailer again, which they did. You can watch that trailer below:
After the trailer, Loeb announced that Marvel was now going into production on a Punisher series on Netflix!
Security was being very strict in Ballroom 20. At first, I was taking pictures of Jeph Loeb and Jon Bernthal, and putting my camera down whenever any sort of footage would come up. While I was taking pictures, I had two different security guards come by and tell me "no recording" and I politely told them I wasn't recording, I was just taking pictures. Then I got out my phone to take a picture of Jon Bernthal so I could tweet it out, and a security guard comes by and tells me I'll have to delete the picture. Thinking maybe he thought I had been taking pictures during the trailer, I politely explained and showed him that I had merely taken a picture of the man on stage, to which he replied that I can't take a picture of ANYTHING. Um, that's weird. So I deleted it while he watched. After the picture deleted, a previous picture that I had taken during the Teen Wolf panel popped up, and he said I would have to delete that one too. I told him that the picture was from the previous panel, and he made me delete it anyway! Um, what? Very odd. So I refrained from taking pictures during the panel, despite everyone around me taking pictures and security not doing or saying anything to them. I was on the end seat, while these other people were closer to the middle. I kept looking at the security guard who had made me delete the picture, thinking he was going to come stop these people taking pictures, but every time I looked at him, he was just watching the panel! This "no pictures" policy was not even announced, the only sort of policy that was announced was the usual "no recording during footage" policy. So I'm not sure why security was being so strict — and only towards certain people (me).
Loeb then brought out Luke Cage executive producer and showrunner Cheo Coker, followed by cast members Frank Whaley (who plays Detective Scarfe), Theo Rossi (Shades Alvarez), Simone Missick (Misty Knight), Mahershala Ali (Cornell Stokes, aka "Cottonmouth" — though Loeb warned us not to call him that!), Alfre Woodard (Mariah Dillard), and Luke Cage himself, Mike Coulter. Loeb also announced that Rosario Dawson will be joining the cast, but she is currently filming something for Marvel Netflix — and Loeb teased that we would hear more about that later.
We then got to see a clip from Luke Cage, where he enters a boxing gym and some guys unload bullets into him — which, of course, have no effect on him.
Showrunner Cheo Coker then talked about how important Luke Cage is to him personally, saying that there aren't a lot of African-American superheroes, and he's been reading comics since he was a kid. Luke Cage stood out, not just because he was Black, but also because he was funny, interesting, and strong, so he's always felt a personal connection to the character. Coker went on to say that with everything that's going on right now "the world is ready for a bulletproof Black man." He described the show as having a "90s vibe" but at the same time that it is "very much today."
Moving on to Alfre Woodward, she said that when she read the script it was "one of the smartest pieces of writing that I've ever come across." She praised Cheo's concept and vision, as well as the setting of Harlem, a place that she loves, considering its cultural and historical importance, so much so that she dubbed Harlem itself as a character in the show.
Frank Whaley spoke about how when he read the script, it imported him to another place, and that he "felt the soul" of what it was going to possess.
Coker talked about how music plays a huge role in the show, which Coker described as the "Wu-Tangification of the Marvel Universe," and revealed that every episode is named after a Gang Starr song because he wanted the 13 episodes to almost feel like an album, likening binge watching to how people used to listen to a record from beginning to end.
Mike Coulter explained that although we've already seen Luke Cage through Jessica Jones's point of view, Luke has his own problems, and we'll find out a lot more information when we watch the show. He described the show as a drama first and foremost, that's set in a superhero world.
We then got to watch another clip from the show, this one showcasing Mahershala Ali and Alfre Woodard, as they have an argument.
Ali addressed the complications of playing Cornell Stokes, explaining that he could tell that the character had depth, and was complicated in his own way, but that the character went about things differently than the common person, including himself.
Loeb asked Theo Rossi how it was for him acting while wearing sunglasses the whole time. Rossi admitted that he actually did research on how to act with sunglasses on by watching Daredevil. He also went on to say that the sunglasses make his character way more shady, explaining that he's shady in all ways.
Simone spoke about her experience playing Detective Misty Knight, describing the character as strong, self-assured, and determined. Simone liked how the character is "her own person" rather than the wife or the girlfriend. When we first meet her, she's undercover. We then got a clip of this meeting, where Luke and Misty meet on the street corner… and end up going back to one of their apartments for a fun time…
Mike Coulter recalled that it was actually 15 degrees the night they shot that scene, and Simone also remembered that it was raining.
Simone then announced that it was Frank Whaley's birthday, so she had all of Ballroom 20 sing "Happy Birthday" to him!
We got yet another clip from Luke Cage, this one of Ali, standing in front of a Biggie Smalls painting, where Biggie is wearing a crown on his head. The frame is shot so that Ali is standing in front of the painting so that it looks like Ali himself is wearing the crown. Meanwhile, he is slapping a guy around.
Coker revealed that he actually had known Biggie when he was a journalist, and had been one of the first and last people to interview him. He loved gangster movies, so this was kind of an homage to him.
Loeb reiterated that Luke Cage will be available on Netflix on September 30th, then we got to see the debut of the Luke Cage teaser trailer, which you can watch below:
It seemed like things were wrapping up, but Loeb said hang on. And suddenly a clip starts playing on screen of Finn Jones on the set of Iron Fist — however, the clip cuts out, and Joe Quesada, Chief Creative Officer of Marvel Entertainment, comes running out. Apparently they were supposed to make another announcement before running that clip. The announcement? That Daredevil has been picked up by Netflix for Season 3!
So then they roll the clip with Finn Jones, giving us a sneak peek at the set of Iron Fist, followed by some footage from the show. You can also watch that footage:
But that's not all. There's one more announcement. They're going to bring them all together for The Defenders! We then got a teaser clip that the show would be coming in 2017. Here's that teaser:
The panel ended with the panelists coming together at the front of the stage for a group photo. But apparently someone a couple rows in front of me got caught recording or taking a picture of the Defenders teaser, so a security guard was yelling at them. However, someone then asked that security guard if it was okay to take a picture of the group photo, and he said yes, so I took out my camera and snapped a couple of pictures! So, wow, that was an awesome panel! I didn't realize we were going to get so much out of it! Luke Cage looks pretty awesome from the clips we watched, and I can't wait to see everything else that Marvel has in store for us with its new Netflix shows!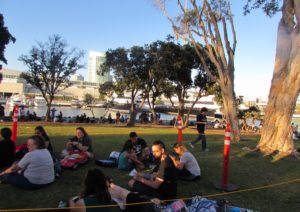 After the panel ended, I headed down to find the end of the Hall H NDL ("Next Day Line"), for which wristband distribution for Friday's panels were supposed to begin being handed out at 7:15pm. It was a few minutes past 7:00pm by the time I walked all the way out to the "island" behind Joe's Crab Shack. The girls in line behind me had been in the Luke Cage panel as well, and security also wouldn't let them take any photos during the panel. They had been sitting near the front, behind the deaf section, and security was even giving the deaf people a hard time for using their voice to text translator devices! Anyway, Josh joined me around 8:00pm, after his Overwatch panel ended at 7:45pm. The wristband distribution went pretty quickly, with us getting our "D" wristband around 9:30pm. Not a bad wait. Since it was right there, we ate at Joe's Crab Shack, then headed back to the hotel for an early morning, since we would need to get back to the end of the wristband line by 7:30am the next morning.
Stay tuned for our Friday coverage, featuring Con Man, Fear the Walking Dead, The Walking Dead, and Game of Thrones!
See below for more photos of offsites and the Luke Cage panel!