We continue chronicling our experience at San Diego Comic-Con 2016, and with this article we pick up on Friday, July 22 for some Hall H fun, starting with Con Man!
After securing our wristbands the night before (they were "D" wristbands, out of "A" through "D," but better than no wristband!), we got up around 6am the next morning to give us enough time to get ready, make the drive over from Hotel Circle, and head back to the end of the wristband line by the deadline of 7:30am. Along the way, we stopped off at IHOP and got a To Go order to take with us so that we could eat it in line. By the time we made it to the end of the line, which by that point had condensed and extended to the middle of the marina sidewalk, it was about 7:15am. We slowly condensed more and more, and then around 8am, Josh decided that he was going to go ahead and get in the NDL (next day line) for Saturday's Hall H panels. Click here to jump to Josh's story on how that went.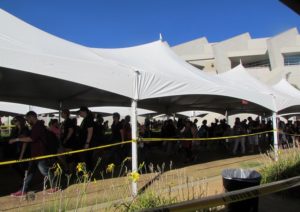 The first panel of the day, Con Man, was scheduled to start at 10:30am. According to Twitter reports, the Hall H line began being let in around 9:00am. By the time I got in, it was around 9:45am. After a little while, a couple of guys sat next to me who didn't have wristbands. I asked them what time they got in line — 7:30am. Oh, so only 15 minutes after me, and they didn't have to wait around for 2 hours the night before to get a wristband. Oh well, it's always a gamble, and I'd rather be safe than sorry. I don't think I would be brave enough to attempt trying to get in line that late on a Friday for Hall H, for fear that I would be waiting around all day for nothing! But the two boys said they would have been willing to wait in line all day until the Game of Thrones panel, because that's all they really wanted to see.
Soon, the Con Man panel started. As you may or may not know, the first season of Con Man was funded by an Indiegogo crowdfund campaign, and is the brainchild of Alan Tudyk and Nathan Fillion. It's about a sci-fi TV show called Spectrum that was canceled too soon, and how one of the cast members (Tudyk) now makes his living appearing at conventions.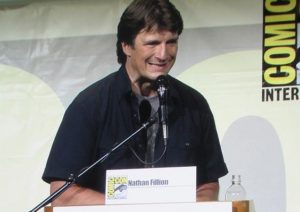 Nathan Fillion came out on stage first, announcing that he would be moderating the panel, and confessed that he had never moderated a panel before. However, he joked, "I run a tight ship." (Fillion would continue to repeat this joke throughout the panel.) He then brought out a full slate of panelists, including Alison Haislip, Casper Van Dien (who Fillion said beat him out for the role in Starship Troopers), Lou Ferrigno, Nolan North, Liam McIntyre, Felicia Day, Mindy Sterling, producer PJ Haarsma, and finally Alan Tudyk. Upon introducing Tudyk, Fillion announced, "I'm only going to say it one time: he's more talented than me."
We then took a look at the Spectrum motion comic, and after that, we watched a clip of Con Man: The Game, which is about creating your own con, and will be available for download as an app on August 24.
Tudyk talked about how the idea for Season 2 came about. He knew Lou Ferrigno from conventions, and Ferrigno came to him and said that they should do Of Mice and Men. Ferrigno recalled thinking, "I hope I don't play Lennie!" However, Tudyk explained that he himself plays Lennie, while Ferrigno plays George, because Ferrigno's character tries to con him. Instead of the play being titled Of Mice and Men, it's titled I'm With Stupid. Tudyk mentioned that it's also a musical, and that this season continues the ridiculousness of the first.
Meanwhile, Mindy Sterling's character is "still sleeping with people." She spoke about the challenges she had to face this season, which included singing and dancing, since it is a musical. Another challenge was all the dialogue that Tudyk gave her "that makes no sense," so much so that she was unable to remember it enough to recite an example. However, Tudyk was able to, though, and yes, it was quite nonsensical, so I sympathize with Mindy Sterling!
There's not a set date for the release date of Season 2 of Con Man, but producer PJ Haarsma did confirm that it will be back in the Fall and available to watch on the Comic-Con HQ streaming network.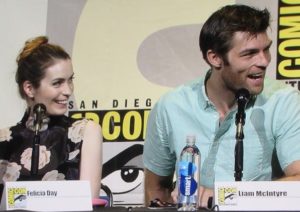 Moving on to Liam McIntyre, he explained that he plays the "lost Hemsworth." He also recounted how Alan Tudyk had punched him in the face. To his defense, Tudyk responded, "But luckily he's Australian, so it didn't hurt!"
If you watched Season 1, you'll remember that Felicia Day's character dresses like the person that she shadows at conventions. This season, she shadows Lou Ferrigno, so she had to wear a muscle suit underneath her clothes in order look more bulked up. Unfortunately, it was 110 degrees when they were shooting, and the suit was very insulating, to the point that she almost passed out! People had to keep sticking ice packs in her clothes to cool her down.
As for Nolan North, Tudyk pointed out that most people don't know that they know him. North stood up and turned his back to us, as many people would recognize his backside from the Uncharted video game series. Tudyk joked that North is the 2nd best at motion capture, and has a "chip on his shoulder" about Andy Serkis.
In Season 1, Casper Van Dien played a bartender that happened to be at every bar that Tudyk's character went to — but he never said anything. However, we learned that Van Dien's character actually speaks this season!
Alison Haislip confirmed that she will be playing Alan Tudyk's character's love interest, saying, "We hooked it up!" The panelists then joked about how Tudyk just wanted to write into the script that he makes out with people.
We then got to watch the Season 2 trailer, which you can watch below:
After the trailer, the panel was opened up for audience questions. One audience member asked if Tudyk put any of his real life experiences into Season 2, and Tudyk said that all of Season 2 had come out of Lou Ferrigno asking him about Of Mice and Men. 
Then "Button Lady" stepped up to the mic (if you've never been in Hall H, Button Lady often asks questions, and always wears a cloak filled with buttons from various fandoms!) and asked Nathan Fillion to run his fingers through his hair, which he did. Her real question was whether there would be a separate soundtrack for the musical, to which PJ Haarsma confirmed that there would be. Tudyk told us that there were about 4 or 5 songs in the musical. Ferrigno commented that he had never sang before, so they had an opera singer replace his voice. Tudyk was a bit upset about this reveal, as he had wanted people to think it was really Ferrigno signing! Later, Ferrigno talked about how singing and lip singing was a new experience for him, but he said that he loves taking risks in his life, and that he had an attitude of "just go for it" and didn't think about being nervous. Oh, and Tudyk mentioned that there's a song called "Tell Me About the Rabbits." Also, his fiancee did the choreography for the musical.
Another audience member asked about killing off Joss Whedon (who had appeared in Con Man last season), and Tudyk said that he would love to kill Joss every episode, "like a Kenny thing."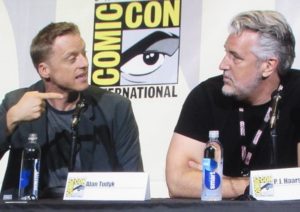 Nathan Fillion asked PJ Haarsma how he does it all, to which Haarsma replied that it's about working with all the people on the panel and part of the show, and trusting that they can do great work. Mindy Sterling agreed that working with these people makes everything "so joyous and fun." It was also pointed out that they had crew from the show in the audience, including the two crew members who got engaged during the Con Man panel last year, Barry Bishop and Billy Brooks, who are now married! Fillion added that when he first decided to become an actor, this is what he wanted it to be like. PJ Haarsma also mentioned that 642 fans came back to be in the show, and they used all of them.
Of course, Tudyk's involvement in Star Wars: Rogue One came up, as it caused him to take a step back from Con Man and allow for another director to come in. However, the panelists pointed out that despite this, "He didn't let go!" and still tried to be in charge of everything. Tudyk talked about being on the set of Rogue One and trying to get everyone ready to go, but then he realized that's not his job!
Liam McIntyre chimed in that he wasn't on set for many days, but that he was sad when it was his last day. He gave us a bit of advice: don't make Alan mad! He also commented that it was weird to actually get to use his natural Australian accent.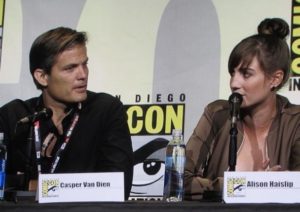 Alison Haislip spoke a bit about how she had come in at the last minute in Season 1. Then after the show came out, people kept making comments about her eyebrows, and how big they were, which made her a bit insecure because those are her actual eyebrows!
In the Season 2 trailer, there was a part where Nathan Fillion's removes a hair piece and it is revealed that he is bald underneath. Haarsma commented that they had been afraid to show that because of how vain Nathan is! However, Fillion was actually wearing a bald cap in that scene, and he demonstrated how he can move his natural hair around to make it look like he's moving a hair piece around. Though Fillion did admit that his hair was one of the (two?) things he has going for him!
The panelists wrapped up the panel by talking about a couple of funny stories that happened on set regarding Lou Ferrigno. Nolan North's character was scripted to kick Ferrigno, but he was afraid to, and said "I'm not gonna kick Lou," to which Ferrigno had replied "Kick me!" So North kicked him, but it wasn't very hard, so Ferrigno had to tell him, "No, really kick me!" PJ Haarsma recalled that one day he was trying to put eyedrops in his daughter Sky's eyes, but was having some trouble, so Ferrigno offered to help. Ferrigno's hands were so big compared to Skye's head, which he was holding, so when people walked in on him doing this, they kind of freaked out, wondering what he was doing to her!
Nathan Fillion then closed out the panel, calling it the "best panel ever!"
Next up in Hall H was the Fear the Walking Dead panel! Click here to continue to our recap and photos of that panel.
See below for more photos from the Con Man panel: