Following The Walking Dead panel, the Game of Thrones panel took place in Hall H at San Diego Comic-Con on Friday, July 22 at 2:15pm, and featured executive producers and cast members.
Rob McElhenney of It's Always Sunny in Philadelphia came out on stage to moderate the Game of Thrones panel. Realizing that people might be wondering what his involvement with the show was, he claimed that he had actually starred in the show, but that his scenes always got cut. He then showed a funny parody video where he tries to convince people that "Winter is coming."
He then brought out the panelists (while the Game of Thrones theme song was playing in the background), which included creators/executive producers/writers David Benioff and D.B. Weiss, director Miguel Sapochnik, and cast members Liam Cunningham (Davos), John Bradley (Samwell), Nathalie Emmanuel (Missandei), Conleth Hill (Varys), Sophie Turner (Sansa), Iwan Rheon (Ramsay), Faye Marsay (the Waif), Isaac Hempstead Wright (Bran), and Kristian Nairn (Hodor). Of course, Kristian Nairn was greeted with chants of "Hold the door!" from the crowd.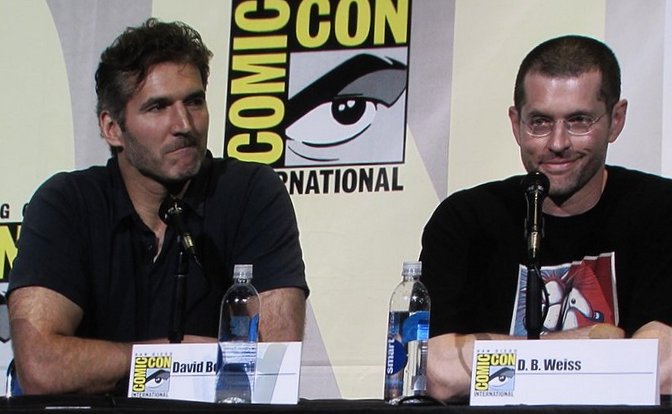 McElhenney started off by asking Benioff and Weiss about why the show is coming out later than normal next year (not until Summer), and why next season is shorter than the normal season, being only 7 episodes instead of 10. Benioff explained that since Winter is now here, they have to wait until later in the year to shoot, and because of that, there's no way to get it out before Summer. However, McElhenney pointed out that that doesn't account for the three Sundays that he'll have nothing to do. Weiss suggested that he could rewatch the show from the beginning, and didn't give an actual answer as to why the season was shorter.
McElhenney then asked the creators whether there was any specific civilization or historical figures that they drew from the most when doing the show. Weiss pointed out that one of the great things about the books being fantasy is that they're not bound to anything historical that happened. George R.R. Martin drew upon a variety of things, and they do the same with the show. Benioff jumped in at this point to tell us that Sophie Turner had made them all take shots of vodka prior to coming on stage, so he apologized in advance for their answers not being as articulate as they should be. However, Turner spoke up, saying that she's only 20, and claimed that she herself didn't do any shots!
Next, Benioff talked about now being past George R.R. Martin's books for the first time, and meeting with Martin and getting the Hodor reveal. He said that they're still living out "the spirit of George's imagination," even though they're beyond the books. Benioff also pointed out that it's fun how Martin's books with be different in some respects, yet the same in others.
Moving on to Iwan Rheon, he addressed where Ramsay Bolton is coming from. Rheon said that he's just looking for his father's love and acceptance, which people can identify with, but apart from that, there's very little to like about him.
Kristian Nairn said he didn't expect things to be so crazy with the outpouring of emotions over Hodor's fate. He told us that he was at staying at a hotel in LA recently, and all the doorstops said "Hodor" on them. Nairn apologized for making people cry, but said that he's done his job, then.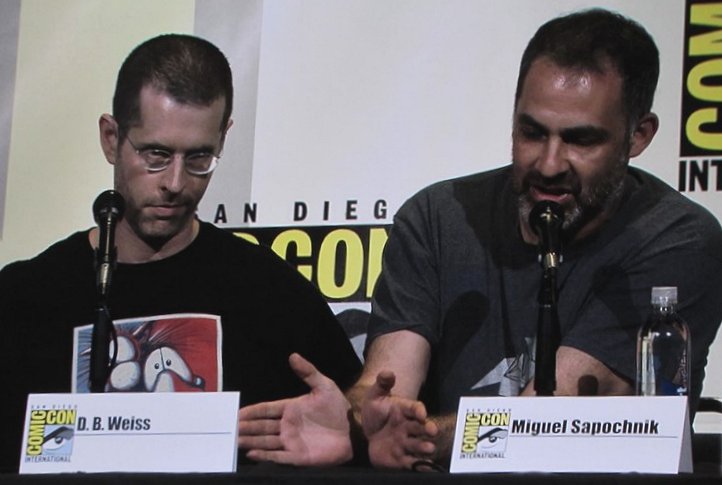 Miguel Sapochnik directed the episodes Battle of the Bastards and Winds of Winter, which McElhenney praised as two of the best episodes, not only of this show, but of any show. Originally, Battle of the Bastards was supposed to feature horses charging and surrounding the troops, crushing them with the horses. However, it turns out that "if you run horses at people, they don't like it." The first time they're alright, but the second time they don't really want to do it, and by the third time, they refuse. So the idea got changed that instead of running horses at people, they would run people at people. This then led to the idea of the pile of bodies. Sapochnik is not on the list of directors for the coming season, but he hopes to be back the following season.
Liam Cunningham has not read the books, so he was not aware of the death of Shireen until he read the script. Cunningham praised the "easy relationship" he had with the actress, and complained that the writers keep taking the people he likes working with away from him! He shared a story that he took the wooden stag home and gave it to his daughter (who was sitting in the audience), which he had her hold while they were watching the show. So while they're sitting there watching Shireen get burned on screen, which he was not aware was going to happen at that point, he felt like the worst dad in the world!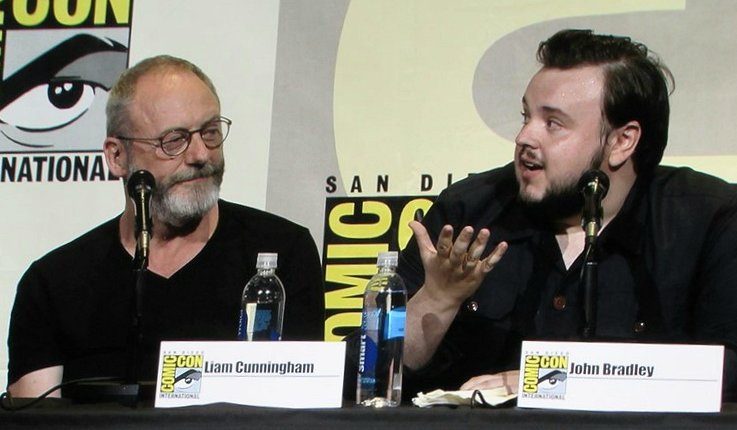 McElhenney brought up the fact to John Bradley that when Samwell sees the library, he smiles, which people never do on the show. McElhenney pointed out how sweet of a character Samwell is, and joked that Benioff and Weiss hate sweetness, so Sam will eventually be executed, so he asked him how he would choose to die. Bradley painted an ironic picture of Samwell climbing up a ladder in the library to get a book from the top shelf, underestimating his own weight, the ladder toppling backwards, and the shelf of books falling on top of him! Sapochnik chimed in that he would direct that. Bradley agreed, and said, "Imagine Sam trying to fight his way out of all the books that he's loved his whole life," much like Jon Snow was trying to fight his way out of the bodies that were piling up on top of him! "It wasn't battle that killed him, it was books that killed him."
Nathalie Emmanuel spoke about Missandei's role in the future of the Seven Kingdoms as she sees it. Emmanuel thinks that she genuinely believes in Daenerys and her claim to the throne, so she hopes that Missandei continues to support Daenerys and be a "girl power" couple.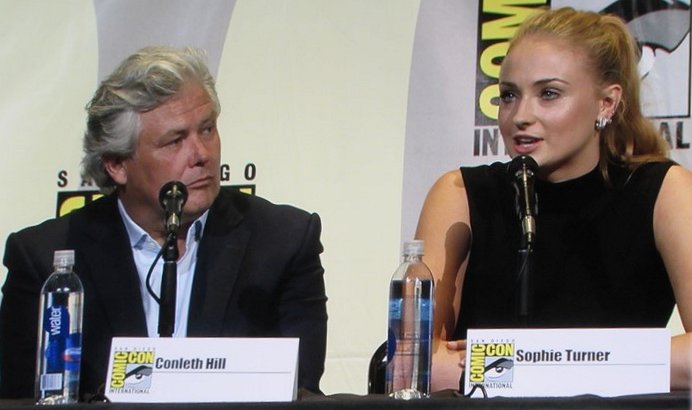 Moving on to Conleth Hill (who actually has a full head of hair, unlike his character, Varys, who is bald), McElhenney asks him if he had access to spies working for him in his real life, how he would use that power. Hill answered that he would use that power for good, and that he thinks the world should be headed for inclusivity rather than exclusivity. He also brought up the scene where Varys interrogates someone, which Hill thinks that people probably didn't expect that was how he would do it.
McElhenney asked Sophie Turner probably one of the biggest questions that Game of Thrones fans had about Sansa this season: Why didn't Sansa tell her brother about the Knights of the Vale? Turner replied, "That's what I was wondering too!" However, she provided the following answer: "Because she wanted all the credit, and it was a more dramatic moment when they showed up, and it makes for really good television." Regarding whether Sansa thinks that she should sit on the Iron Throne, Tuner said she didn't know about the Iron Throne, but that she thinks Sansa believed the Battle of the Bastards was a joint effort and that Sansa thinks she and Jon should reign as King and Queen of the North. However, she's not sure that Sansa believes that Jon is capable of running Winterfell, and that he doesn't have the intellect, knowledge and experience that Sansa has, adding "and I concur." She did acknowledge that Sansa knows Jon has "Stark morals" and will make "good" decisions, but "whether it will benefit anyone is another story." She then joked, "Whatever, Jon. Over it."
Faye Marsay confessed that she's actually a "scaredy cat" and nervous and shy in real life. She enjoyed working with Maisie Williams, who was a good motivator, and kept hitting her to keep her going. McElhenney asked Marsay what she thought about the theory that Arya and the Waif are the same person. She said that she thought it was a cool theory, but thinks that they are two separate people on their own journeys, and that the writers have it right, the way things are. McElhenney asked the writers if people are reading into it too much, but Benioff and Weiss didn't give any sort of answer either confirming or denying the theory.
McElhenney then asked Isaac Hempstead Wright what he thought Bran was going to do with the information he found out about Jon Snow's parentage. Wright said that Bran knows he's being given this information for a reason, and presumes that eventually he will tell Jon about it, but he isn't sure how Jon is going to take it. Wright talked about having worked on the show since he was 11. He is now 17.
Starting with Sapochnik, the panelists went down the line saying who they thought would win the Iron Throne and/or who they would like to sit on the Iron Throne. Sapochnik said he didn't know, and would be happy if they shared it, but he didn't think that would happen. Cunningham pointed out that George R.R. Martin has said that the ending will be "bittersweet," and went on to say that "knowing the deranged minds" that work on the show, he hopes this doesn't happen, but he has a vision of the Night King, with his leg over the arm of the Iron Throne, sucking on a Cuban cigar. Out of loyalty, John Bradley answered Jon Snow. Similarly, Nathalie Emmanuel answered Daenerys, out of loyalty. Conleth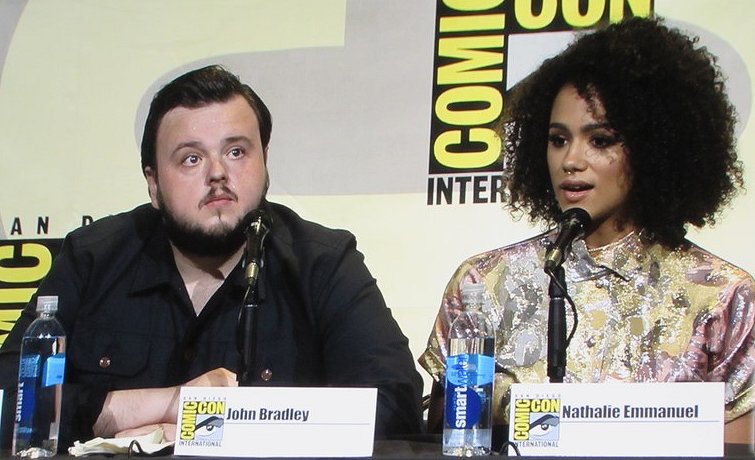 Hill teased, "I know, but I can't say." Sophie Turner then answered, "I think I'd want Littlefinger on the throne," to which the audience audibly protested, and McElhenney exclaimed, "Shame! Shame! Shame!" To her defense, Turner explained, "I just think it'd be fun, it'd be quirky… sadistic," reminding us that "we like that kind of thing" since we all watch Game of Thrones. Iwan Rheon answered, "I think they should melt the thing down and have a democracy." Marsay's answer was, "Probably Arya, because if I don't say Maisie, she'll probably beat me up with a stick." Wright thinks they should have a "4-pronged Stark dream team, with Jon on the throne, Sansa advising, Arya beating people up, and Bran just sitting in a corner with a tree." Finally, Nairn gave his answer that he thinks Westeros deserves someone with honor and integrity, and he thinks Brienne should sit on the throne. This answer went over well with the audience.
The panel was then opened up for audience Q&A. Button lady asked Sophie Turner what scene she was most looking forward to acting when she first read the script this season, to which Turner said it was the Ramsay scene, saying it had been building up to this, her first kill, "and I'm so glad it was Ramsay!" Iwan Rheon replied, "It was an honor to be killed by you."
Another audience question was addressed to Faye Marsay regarding her fight scenes. Marsay said that they were choreographed, and she and Maisie Williams spent time in Northern Ireland for that. She recalled one day after filming, she was so tired that she fell asleep face down in a plate of salmon. However, they had a lot of fun.
One audience member brought up the fact that Jon Snow and Sansa aren't really brother and sister (Sophie Turner could already see where this was going, and said "Don't ask me this!" yet the questioner continued), and pointed out that Jon likes redheads, so what kind of issues does Turner think this could cause? However, Turner answered that Jon and Sansa grew up together, so they may as well be siblings, and that they have that sibling rivalry. She then turned to Benioff and Weiss and told them, "If you make anything happen, I'm going to kill you!" Benioff told the audience member, "It hadn't occurred to us, but thank you." However, Turner insisted, "Nothing will happen."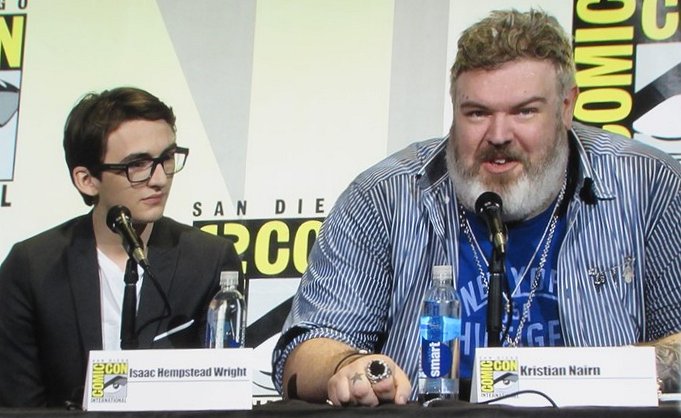 Of course, the typical question about sharing any funny stories came up, but Sophie Turner was the only panelist that provided an answer: "Kit farted a lot."
A question addressed to Isaac Hempstead Wright was about his impressions when he first read the script where he finds out about Jon Snow's parentage. Wright said that he had known about R+L=J, but that he hadn't known about the Tower of Joy. What he thought was really cool about these scenes was that the audience got to see another character react to the "rich history of Westeros," so for him personally, it was nice to "see it all click together."
There was a question that came up for the women about how it feels to play strong female characters. Marsay talked about how it's empowering and awesome. Nathalie Emmanuel said she felt really proud about it, and pointed out that Missandei has had to overcome quite a lot and likes how she is strong, but in a quiet way.
When asked if there was anything that Hodor would like to say to Bran if he were able to say anything other than "Hodor," Nairn said it would definitely be "No." However, Nairn said he thought Hodor would be happy with the way he died, and that he enjoyed protecting and looking out for Bran — in the same way that he himself did with Isaac Hempstead Wright the past six years. At that, Wright leaned into Nairn for a hug.
After wrapping up with audience Q&A, we then got to watch a teaser trailer for Season 7, and the panel ended with a blooper reel, both of which you can watch below:
When the panel ended, there was a mass exodus out of Hall H. I texted our line buddy Jason (@CorgiKohmander) to see if he and Josh needed anything before I headed to meet them out at the Hall H NDL (next day line) for Saturday Hall H wristbands, as Jason had notified me earlier that it was so hot out there, that Josh's phone had overheated! A little while later, Josh texted me saying that his phone was working again. I asked if they needed anything, but it took a little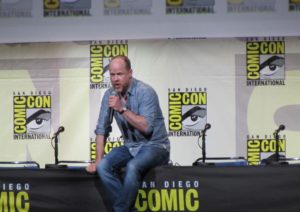 longer before I got an answer, due to the poor service I was getting. By the time I got an answer back that they didn't need anything, the Joss Whedon panel was just about to start up (which was only about half full, since so much of the crowd left after Game of Thrones), so I was able to move up much closer, and snapped a few pictures before heading out to meet the others.
In hindsight, I probably could have just stayed for the Joss Whedon panel, which we've attended at SDCC in the past and enjoyed. It's pretty much just a Q&A with fans, and indeed, at the top of the panel, he confirmed that he didn't have any big announcements to make. However, I was feeling like I needed to put in an appearance at the line, and feeling guilty that Josh had been sitting out there all day in the hot sun. It was nearly 4pm by the time I made it out there. If you missed Josh's rundown of how waiting in line was, and his story about the line controversy that happened later that night, click here.
Stay tuned for our recaps and photos of the Saturday Hall H panels!
See below for more photos from the Game of Thrones panel: