The Walking Dead panel took place in Hall H at San Diego Comic-Con 2016 on Friday, July 22, at 1:00pm and featured executive producers and cast members from the show.
After Chris Hardwick finished up his "pee break" following the Fear the Walking Dead panel, he returned to the stage shortly after 1:00pm to begin The Walking Dead panel. Hardwick announced that Season 7 would premiere on Sunday, October 23, and contain 8 episodes for the first half of the season, and then would return in 2017 with 8 more episodes. He revealed that Greg Nicotero directed the Season 7 premiere, which was written by Scott Gimple. Also, there will be a preview special on Sunday, August 14. Of course, Talking Dead will follow each episode throughout the season.
Hardwick then brought out executive producers Scott Gimple, Robert Kirkman, Dave Alpert, Gale Ann Hurd, and Greg Nicotero. Kirkman started off by joking, "Okay, Negan killed…" but then stopped before revealing anything, and promised that the "frustration will be over soon." Hardwick asked if it will be worth the wait, to which Kirkman replied that he thinks everyone will be blown away, and said "You're all gonna love it."
Hardwick asked about the whereabouts of Morgan, Carol, and the rest of the group that's not with Negan. When answering, Scott Gimple slipped up and accidentally called Carol "Karen" — a joke that would continue to come up throughout the panel, that Karen was Carol's evil twin. Gimple then revealed that we're going to see a place called The Kingdom, and that we'll also see where Tara and Heath went. Gale Ann Hurd spoke about the fact that they're expanding the world this season, and meeting new survivors that we didn't know existed — both friend and foe, including non-humans.
Dave Alpert teased that we'll be seeing things from the comics that had previously been thought to be unable to pull off on the show, be pulled off. Hurd added that we'll be seeing new styles of leadership this season, and see which ones work, whether they're benevolent or not so benevolent.
Nicotero then presented images on the screen (which we weren't allowed to take pictures of) of a few new walkers we'll see this season, one which looked like "burned pizza" and another which they nicknamed "Hitchcock" because it looked like birds had pecked out its eyes.
We then got to watch the world premiere of the Season 7 trailer, which you can view below:
During the trailer, the producers left the stage, except Scott Gimple, and cast members were brought out, including Andrew Lincoln (Rick), Norman Reedus (Daryl), Danai Gurira (Michonne), Chandler Riggs (Carl), Steven Yeun (Glenn), Lauren Cohan (Maggie), Ross Marquand (Aaron), Sonequa Martin-Green (Sasha), Michael Cudlitz (Abraham), Christian Serratos (Rosita), and Josh McDermitt (Eugene).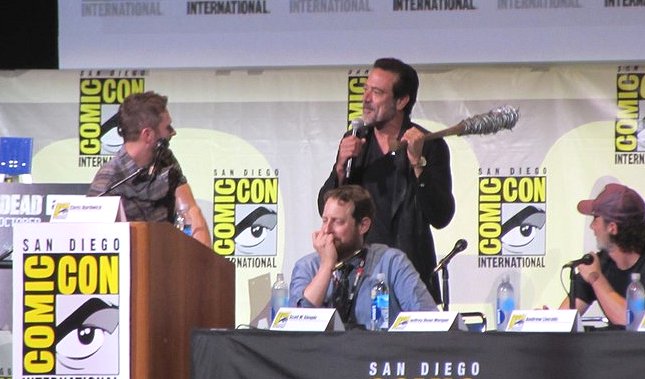 After everyone had been seated, Jeffrey Dean Morgan came out dressed as Negan and holding his baseball bat, Lucille, and began taunting the panelists! He then took a seat at the table as well, and commented that ever since he played the role of Negan, he's never been stopped so much in his life! He also revealed that he had actually been a fan of the show since it started, as well as the comic books.
Scott Gimple confirmed that we would be seeing new locations and new characters this season, such as King Ezekiel, who we saw in the trailer (along with his tiger), who will be played by Khary Payton.
Andrew Lincoln talked a little about shooting that final Season 6 scene with Negan, saying, "Well, it sucked." Apparently, his mother is a big fan of the show, and she gave her son some acting notes, such as "You've got to get to that space you were at at the end of last year." His wife had to tell his mother to "pipe down." Regarding Season 7, Lincoln confirmed that "it's a really sh*tty start to the season," but encouraged us to "hang in there," promising that "we're heading to one of the greatest showdowns that we've ever had in the show since Terminus."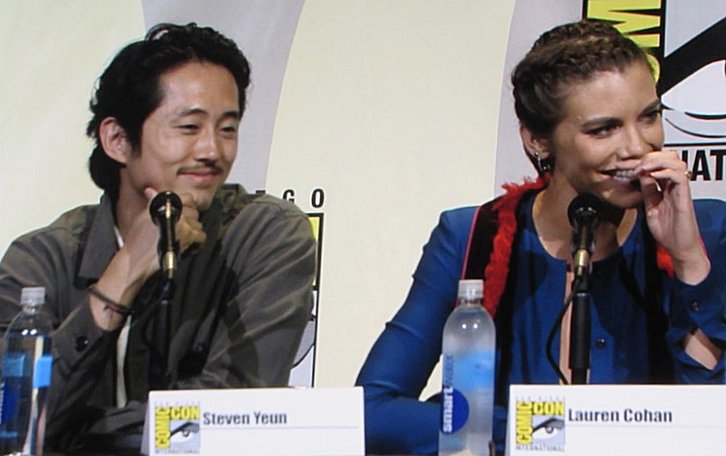 Steve Yeun has always been a huge fan of the comics, and he recalled when Issue 100 was about to come out, his cousin called him and told him "Glenn's got it too good right now," and then after 100 came out, Yeun was like "Oh, crap…" Yeun talked about how "iconic" this moment was, and said that "however it happens, it's such a great moment."
Lauren Cohan spoke a bit about Maggie's illness and how both physically and emotionally demanding the season finale was. She also brought up that she loves her fellow cast members for carrying her on that stretcher "for days and days!" She also talked about how Maggie was "feeling the need to protect."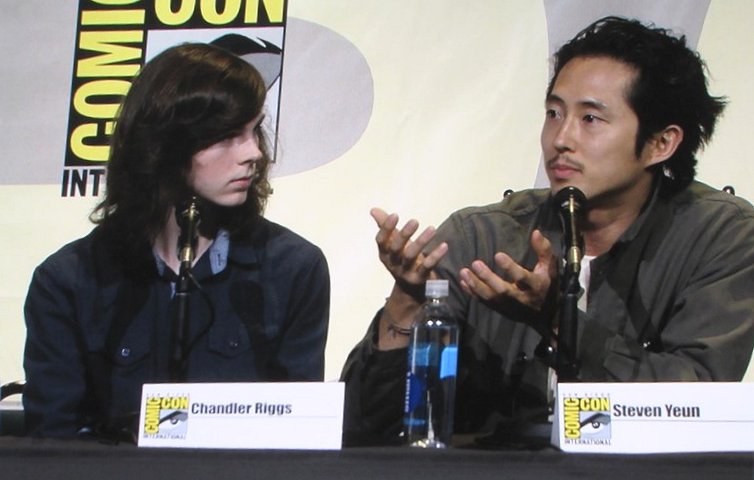 Chandler Riggs said that the worst part of acting with a patch over his eye was the lack of depth perception. He actually preferred wearing the prosthetic to wearing a bandage because apparently when he wears the bandage, they always want to see his eyebrow, whereas he didn't have to worry about that when wearing the prosthetic. He again reiterated how much vision you lose by covering an eye.
Danai Gurira addressed Michonne's vulnerability, saying that the moment where she thought Michonne started to open up to Rick was actually a long time ago. She pinpointed the episode titled "Clear" (Season 3 Episode 12), where she bonds with Carl, as the moment where she starts putting down all her layers. She also recalled the moment when she thought that Michonne and Rick could actually get together one day, which was the moment in the jail cell when they're looking for bullets, Michonne hands Rick the one bullet she did find. It was at this point that she thought maybe Michonne could see him differently. Even the crew was like, "Are Rick and Michonne gonna get together??" It made sense to her because Michonne is a woman that has to "deeply respect the man she opens up to." She could see that he was a "good man burdened with leadership" rather than "a man who needed leadership to feel like a man."
Norman Reedus then gave us a rundown on the various pranks that he and Andrew Lincoln have played on each other. One time they went to Tokyo, and Reedus speaks a bit of Japanese, so Lincoln asked Reedus to teach him how to say "Thank you for having me in your country" but then it turned out what he was actually saying was, "Where's the toilet?" Reedus also put chickens in Lincoln's trailer one day. In retaliation, Lincoln wrote on Reedus's window "Andy's bitch" after he had gotten his windows tinted. Lincoln also sent Reedus a package on set that exploded with glitter in his face when he opened it! However, we got to watch video of how Reedus got him back for that one: Lincoln gets into his car, turns on the air conditioner — and glitter comes out of the vents! Lincoln said that now they call him "Sparkles" and "Glitter Boy." But Lincoln decided to get Reedus back right then and there, on stage, and pulled out a handful of glitter and blew it at Reedus! Unfortunately, this plan backfired, as most of the glitter blew back on Lincoln, and got stuck in his beard!
Moving on to Josh McDermitt, this is apparently his first San Diego Comic-Con! He is flattered to see Eugene cosplayers, though he pointed out that he's seen a lot of female Eugenes, because they have longer hair, so it's easier for them to make it into a mullet. But then when he looks at them he thinks, "I kinda wanna sleep with Eugene…"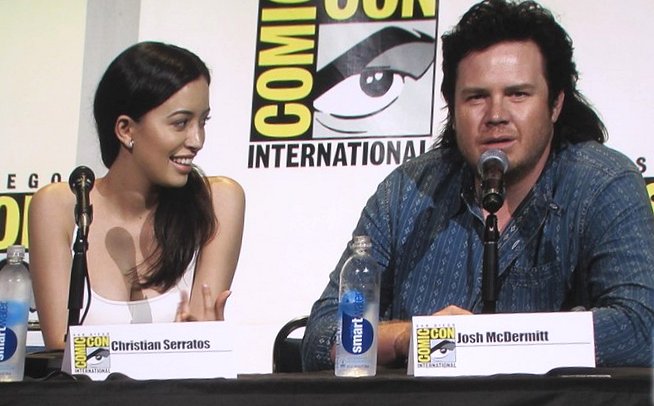 Hardwick commented on the awkward seating arrangement placing Michael Cudlitz between Abraham's ex-girlfriend and his current girlfriend, but Cudlitz looked to his left and his right and replied, "Well, I think it's a win-win!" Cudlitz then elaborated about Abraham's relationship with Rosita, saying that when they first met, it was "a relationship of convenience," and made sense at the time, but now that Abraham "sees a tomorrow," he can't deny what his heart is feeling, and it's not convenience anymore. He talked about the qualities Abraham admires about Sasha: her will to survive, strength, intelligence, and beauty, and said that "there comes a point where you can't deny what you're feeling." Now that he's allowed to feel, he's reminded that there are "things worth not only dying for, but living for," and he finds that in Sasha. (Cudlitz started to tear up as he delivered this explanation.)
Sonequa Martin-Green said that it was so much fun working with Cudlitz, that they shared a lot of jokes and good times. She recalled that they spent a lot of time together in that car, and he had to help her with her breast milk a couple of times, which she trusted him to do, him being a father himself. Martin-Green described her own personal relationship with Cudlitz as "very brotherly/sisterly."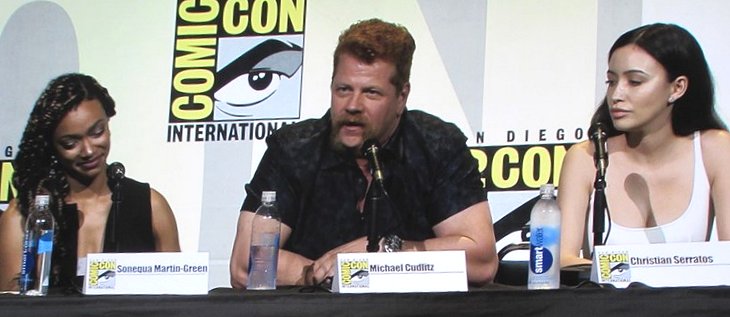 This was also Christian Serrato's first time at San Diego Comic-Con. She spoke about how coming into the show after it had already been established was nerve wracking, especially after she had heard so many great things about the cast and their work ethic. She talked about the last episode of Season 6, describing it as an "incredible bonding experience" and said that she's excited to be here "for however long I'm here." Serratos also brought up how exciting it was for her character to exist so that a Latina character would be available for girls to cosplay.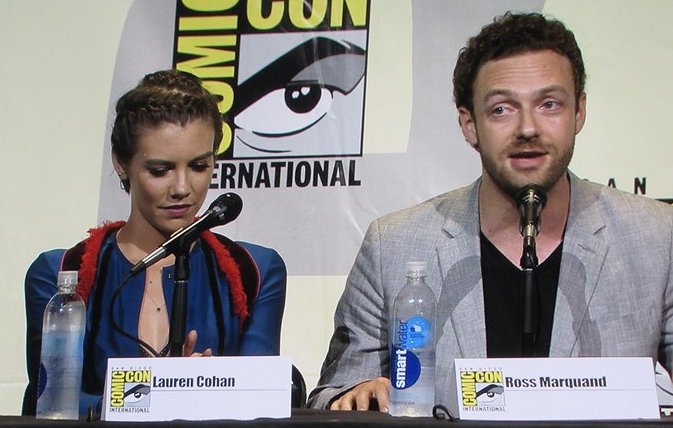 We found out firsthand that Ross Marquand is amazing at doing impressions. First he showed us his Harrison Ford. Then he did an impression of Mick from Rocky, and he and Michael Cudlitz had a back and forth as Mick and Rocky! It turns out that Cudlitz's Sylvester Stallone impression is spot on!
We then got to watch a couple of video messages from Lennie James (Morgan) and Melissa McBride (Carol) who were unable to make it to SDCC. Following the video messages, the panel was opened up for audience questions.
The first question was whether they were aware of the political impact that "Richonne" would have. Scott Gimple admitted that he wasn't aware that it would have the impact that it did, because he was thinking of them as characters, and not in any other way. Danai Gurira chimed in with her support of Scott Gimple, praising him as a "real storyteller"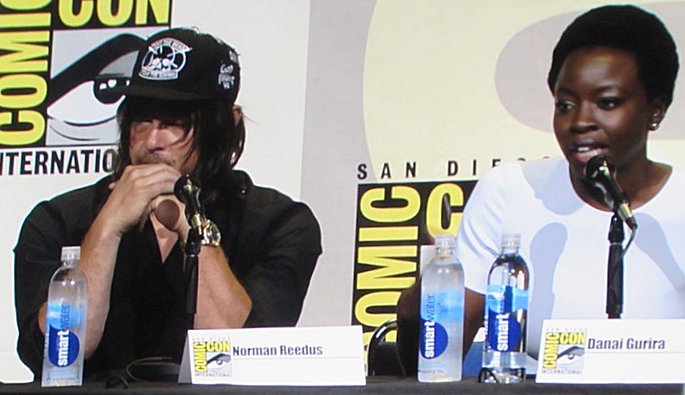 who is interested in humanity. Gurira said that she looks at Gimple and feels like she can trust herself to an artist that is going to pursue a "true narrative." She acknowledged that "change will always cause some people to feel uncomfortable" and that she's glad she's on a show that "doesn't get caught up in that stuff." Gurira hopes that this portrayal will help to break down barriers.
Another audience member asked Norman Reedus what his favorite scene from Season 6 was, and why it was the scene when he blew up Negan's men with a rocket launcher. Andrew Lincoln provided an answer, saying that "All Norman talked about on top of that tank was, 'How do I look from behind?' "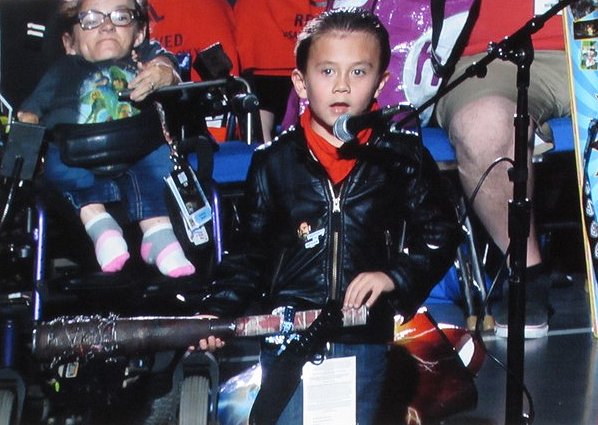 Next, a little boy dressed in Negan cosplay asked how many zombies Negan killed in his second episode. Gimple gave a slight spoiler, saying we would see a lot of walkers up against the fence of the sanctuary of which Negan is in charge. Because of this scene, Gimple put the number at "at least 61 walkers."
The final audience question was whether there would ever be a Chris Hardwick cameo. Hardwick revealed that Greg Nicotero has offered for him to go down there and he'll make him a walker. As for appearing on the show as a normal human, Hardwick explained that he doesn't want to get in the way of the show, because as soon as people recognize him, it will take them out of the show. Then Hardwick joked, "I could be Karen!"
With that, The Walking Dead panel wrapped up. Stay tuned for our recap and photos of the next panel in Hall H, Game of Thrones!
See below for more photos from "The Walking Dead" panel: