After the Legendary panel at San Diego Comic-Con in Hall H on Saturday, the Women Who Kick Ass panel was up next! Violet recaps that panel, and following that, Josh recaps the Dark Horse: An Afternoon with Joss Whedon panel!
If you missed Part 3 of our Saturday Recap, click here!
Women Who Kick Ass
The Women Who Kick Ass panel consisted of Gwendoline Christie (Game of Thrones), Hayley Atwell (Agent Carter), Gal Gadot (Batman v. Superman), Jenna Coleman (Doctor Who), and Kathy Bates (American Horror Story).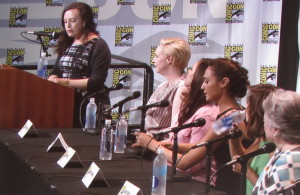 Moderator Sara Vilkomerson opened up the panel by asking the panelists who are some kick-ass women who inspired them. Hayley answered Bette Davis, while Gal Gadot answered her mother, Gwendoline Christie said Sigourney Weaver, Jenna Coleman said Katherine Hepburn, and Kathy Bates also answered her mother.
Sara then asked Gal what it was like to put on the Wonder Woman costume for the first time. Gal described it as an "out of body experience," and said that she thought the costume was representative of the "Wonder Woman of today." She then talked about how she had done an audition for Warner Bros. two years ago, but she didn't know what it was for. Then after she got back to Israel, Zack Snyder called her and said he would need to see her for a camera test, but she still didn't know what she was testing for. He asked, "Do you have Wonder Woman in Israel?" and her jaw dropped in disbelief, but she was able to get through the conversation professionally.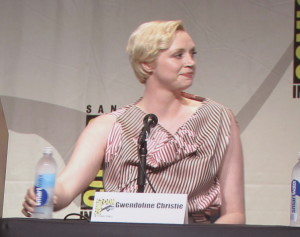 Although she was unable to talk about her Star Wars character, Sara asked Gwendoline Christie if that character could take her Game of Thrones character, Brienne, in a fight. After agonizing for a few moments, Gwendoline replied, "It's just impossible! I think it would be like two worlds meeting and possibly just merging and becoming one."  If Gwendoline could write Brienne's happy ending, she would like to see her redeem herself again.
The panelists were asked if there was ever a time when they had to say to a showrunner or director, "I don't think she would say this," or "I don't think she would do that." Gal talked about how this has happened more so since she has become a mother, but she has been able to communicate with the directors she has worked with to get it worked out. Hayley said has had to say, "I don't think she would be naked in this scene… and I'm not doing it just to fulfill your weird little fantasy."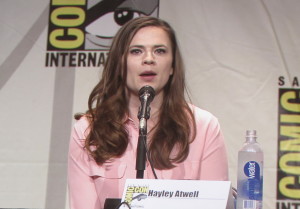 Hayley also talked about her character's transition from Captain America to Agent Carter. Sara brought up the Cartinelli shippers (those who support a relationship between her character Peggy Carter and Peggy's friend, Angie Martinelli on Agent Carter), and Hayley commented that "it's quite rare to see women in a scene together not talking about the men" and who are not in competition, and have a genuine affection for each other. "Luckily, the fans took that relationship into their hearts…and then they just want them to kiss."
Moving on to Kathy Bates, she revealed that she has just gotten the first couple scripts for American Horror Story: Hotel, and knows that she is running the hotel. When asked our of movies or TV, which she thinks are more hospitable to women these days, Kathy told us the story about how Dustin Hoffman gave her her first role, but that "TV is where it's really at now." The other panelists seemed to agree, and liked that they could explore a character for a longer period of time with TV.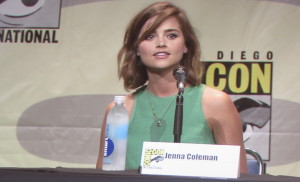 Jenna Coleman spoke about how she got to play 3 different versions of the same character during her first season of Doctor Who. Her thoughts on a woman playing the Doctor? "It's absolutely possible. There's absolutely no reason why not." Although she admitted there currently isn't a vacancy, due to Peter Capaldi playing the Doctor right now, who she praised as doing a wonderful job, she commented that it depends on the person and that Moffatt "casts the right person at the right time" to send the show in a particular direction.
The moderator also asked the panelists about challenges they have faced that their male counterparts have not had to face. Jenna answered, "Having to run in heels." Gal Gadot spoke about how she has always worked in a very male dominated environment, having been in the Fast and Furious movies. However, she said she has been privileged to have worked with men who have a lot of respect for women, and but that at the same time, she feels that it's important to her to show the cooler, stronger side of women. "It was never about women versus men… it was always about showing how amazing we are." Gwendoline talked about how when she left drama school 10 years about, the world was a less embracing place because the internet wasn't as available to everyone, but now the internet "seems to have made everyone's frame of reference so much more diverse." As a result, characters like the women on the panel play are being embraced because "women want to see themselves represented in a more realistic way."
The panel was then opened up to audience questions. One guy talked about how he got a lot of grief for wearing a Wonder Woman shirt, and the panelists supported him for doing so. Another guy stepped up to the mic and asked Gal Gadot a question in Hebrew about her journey of breaking out of Israel, which moved her to tears.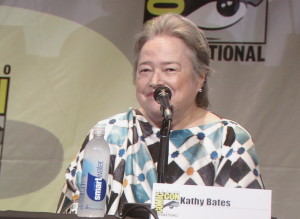 Another attendee asked Gwendoline and Hayley how they want to respond when their character is treated wrongly. Gwendoline Christie joked, "All the time with violence." Hayley talked about how Peggy is very resourceful, using her wit, charm, and intelligence, and when she needs to, her sexuality — but she doesn't depend on it. Hayley also praised Marvel for being so supportive of her, saying that she has felt "genderless."
As for the most challenging action stunt that the panelists have done, Kathy Bates talked about wrestling James Caan and getting her head slammed into the floor. She didn't think she would cry, but she did. Hayley spoke about the fight sequence in the diner, and how she had to duck, which was difficult because of the clothes she was wearing. Hayley mimicked the American accent of her stunt coordinator, who told her, "Darling, you're not in a club."  Jenna then spoke about hanging upside down a lot, which they could only do in 30 second spurts, but it was a 12 page scene. Gwendoline's answer was Brienne's fight with the Hound, for which she spent 2 months training for 3-4 days per week for 6-8 hours per day just to build up the strength. She described how difficult the scene was, wearing all that armor, running backward, sword fighting, up a hill, in boiling hot weather in Iceland. She revealed that during the fight sequence, she was supposed to punch the Hound between the legs, which she only pretended to do while rehearsing, but then when it came time for the actual take, he told her, "Do it for real." She then confirmed that what you see during that fight is "a genuine connection of fist and undercarriage."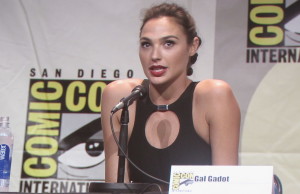 The final question was directed toward Gal Gadot about her research for Wonder Woman, and although she couldn't say much, she did say that she did a lot of research with Zack Snyder in determining who this Wonder Woman would be. She also said, "I go to bed and dream of her" and seemed really excited
This panel is always a fun and interesting panel, because it brings together a lot of talented women of current pop culture, to speak about an important topic. It's rare to be able to do this in a setting other than San Diego Comic-Con, because it's difficult to have this amount of talent in one place. The Women Who Kick Ass panel also affords attendees an opportunity to see their favorite kick-ass female stars that they might not have had a chance to see in other panels. For example, we missed the Game of Thrones panel and the Agent Carter panel, so it was nice to be able to see both Gwendoline Christie and Hayley Atwell on this panel. Plus, in this panel we get to hear them not only talk about feminist issues, but those issues in the context of the shows they're in. So even though you may have missed the panels for the shows these women are in, you still get to hear about those shows and get behind the scenes information that you may not have gotten in the actual panels for those shows.
Up next was Joss Whedon, and I'll now hand it back over to Josh for that recap!
Dark Horse: An Afternoon with Joss Whedon
Following the "Women Who Kick Ass" Panel in Hall H was Joss Whedon, who has apparently earned enough "street cred" to solo a Hall H panel. A lot of people were there to see him, so I guess he has earned it.
Before Joss Whedon came out, a Dark Horse Rep came out and said that more Firefly comics were in the works, as well as finishing up some storylines for Season 10 of Buffy and Angel and Faith.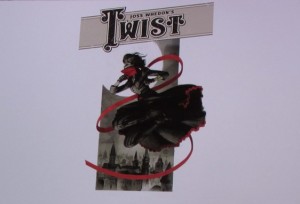 There wasn't a whole lot of exciting stuff brought to the table by Joss Whedon. He starts the panel thanking Dark Horse for continuing stories for characters he created, and their ability to be true to those characters. He did say that he had a lot of stuff in the works, but most of it was being kept under wraps because it wasn't ready to be presented yet. He did bring to the table a new graphic novel that he is working on though, which is called, "Twist." He described the comic as a different take on Batman, where Batman is a girl in the Victorian Era. He shows us a cover of the Graphic Novel, which you can see to the right.
Joss Whedon also talks about how hard the big budget movies are, and how tiring they are for him. He described that working with Marvel was like a "Tornado ripped up [his] house."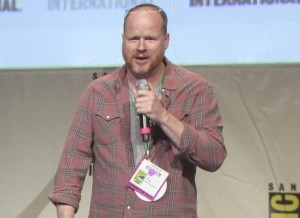 Joss Whedon does give us a motto that he is now living by, which he says is to "Continue to earn what you already have," meaning to keep working, and give to the fans so that he doesn't have to rely on his past work for validation, or come up with rip offs of his previous work.
One funny bit is that he mocks his own handling of Black Widow. For those unfamiliar, a lot of viewers of Age of Ultron gave Whedon a really hard time about how Natasha was handled in the movie. But he does thank us Comic-Con fans for being the cure for Twitter.
After his speech, he opens the panel to audience questions. The first questioner asks how Whedon handles his female characters, and he describes it as him drawing off his own feeling "being tough and vulnerable," but he acknowledges that he drew from a lot of the actresses he has worked with, by listening to their voices.
Another questioner asks Whedon's favorite character that he has made, and he says it changes daily, but at that moment, he says Buffy. Another asks further about one of his other properties, Dr. Horrible, and when we will see the sequel. He says that he is currently unemployed, but everyone else involved with the project is busy, and he can't provide any real updates. Discussing another Buffy character, a fan asks when we will see another character go from the good side, then turning dark. Whedon says he will always try to slide that into his characters, but he prefers to keep that secret, so that it can be a surprise as it begins.
Probably the best question given to Whedon was asking why people are here, on Earth. Whedon takes on the challenge. Whedon says that the world is a meaningless place where we eventually die. But he says that humans' primary function is to create stories. This I guess explains his passion for creating good stories, as for him, it provides meaning.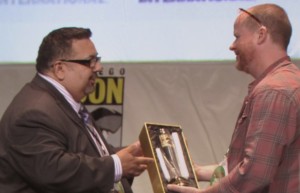 One of the final audience questions was of a person cosplaying as Lorne, who was the green demon ally of Angel. She asked what the actor, Andy Hallett, was like, as he had passed away, and Joss said it was a pleasure working with him.
The panel ended with David Glanzer, Director of Marketing and Public Relations of Comic-Con International, presenting Joss Whedon with the Icon Award, of which past recipients include Stan Lee, Neil Gaiman, and many more. "I didn't expect to get moved by it, but I am," Whedon commented. "This means an enormous amount to me, and that's all I'm gonna say."
Overall, Joss Whedon's panel was pretty entertaining, but I had wished we would get some more information on some cinematic or television projects he is working on. I guess he is still probably making decisions on where to go next, and probably taking a little bit of a break. It was also a good "breather" panel, before the awesome Fox panel which is coming up next!
Click here for Part 5 of our Saturday Recap, featuring the 20th Century Fox panel, which included Maze Runner: The Scorch Trials, Victor Frankenstein, Fantastic Four, Deadpool, and X-Men: Apocalypse!