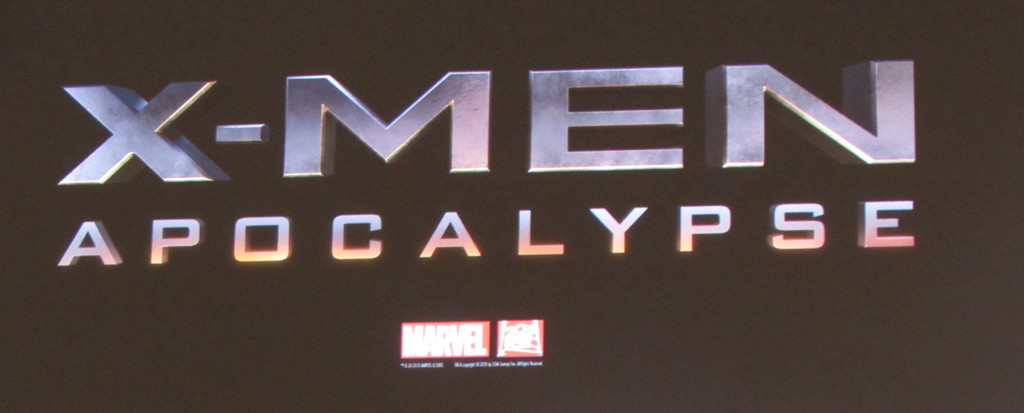 Following Joss Whedon's panel in Hall H at San Diego Comic-Con on Saturday was the 20th Century Fox panel. It was not announced ahead of time which movies this panel would feature, as there were several possibilities, but one could make an educated guess. It turned out that the 20th Century Fox panel included Maze Runner: The Scorch Trials, Victor Frankenstein, Fantastic Four, Deadpool, and X-Men: Apocalypse! Violet provides the recap for this one.
If you missed Part 4 of our Saturday Recap, click here!
20th Century Fox
We had finally come to the finale of Saturday evening: the 20th Century Fox panel, which had taken the place of Marvel Studios, which usually holds this spot. Chris Hardwick returned once again to moderate the 1 hour and 45 minute long panel (5:45 pm – 7:30 pm), which started off with Maze Runner: The Scorch Trials, the follow up to last year's Maze Runner.
Maze Runner: The Scorch Trials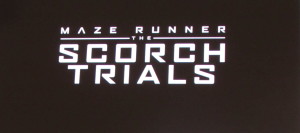 This part of the panel started off with a new trailer for Maze Runner: The Scorch Trials, which is based on the second book of the trilogy of young adult novels written by James Dashner. Chris Hardwick then welcomed author James Dashner, Director Wes Ball, and actors Dylan O'Brien (Thomas), Rosa Salazar (Brenda), Ki Hong Lee (Minho), Thomas Brodie-Sangster (Newt), and Giancarlo Esposito (Jorge) to the stage.
Hardwick asked O'Brien how Thomas has changed between the first movie and The Scorch Trials, and O'Brien answered that he was feeling defeated for the first time, and angry. Moving on to Salazar, she said that this was the first time she saw the trailer, which was "so emotional" to watch. Regarding how Newt was feeling about all of this, Brodie-Sangster commented that he's now in a world that he has no power and control over, which is completely new to him. However, he also mentioned that Newt is a "constant source of encouragement," and always sees the best in the Gladers. Wes Ball jumped in, adding that a "sense of brotherhood" was always important to the series. Giancarlo Esposito then talked about his character, Jorge, comparing him to his Breaking Bad character Gus Fring, but  "with more heart," and saying that he's "very explosive."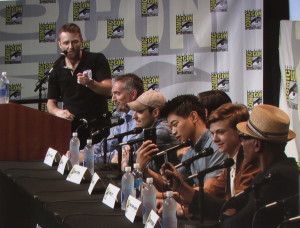 Wes Ball spoke about how he wanted this movie to feel totally different from the last one, and said that it starts off right where the last movie left off. Ball mentioned that there are "cool new twists and turns" and "will throw us into a really cool third movie." He went on to say that The Scorch Trials is almost a different genre of movie from the first film, in that it's a little bit of a horror movie.
The discussion part of panel was really short, and ended with us watching some footage from the movie. In the clip, Thomas (Dylan O'Brien) and Brenda (Rosa Salazar) are walking through some tunnels, and encounter some bloody, zombie-like "cranks" (what they call the victims of the virus) who run after them. As they run away, Thomas and Brenda come to a drop off point at the edge of a building, with seemingly no means of escape.
Being a fan of the Maze Runner novels, I was surprised to see the changes in the clip. In the book, the cranks seem more coherent, and can speak and communicate, whereas in the clip, they are more rabid and monster-like. It definitely felt like a scary, jump at you, horror type of film, which could be interesting. I'm curious to see how much The Scorch Trials film is different from the book.
The new trailer and the footage has not been released at this time, but you can view the older trailer below:
Victor Frankenstein
Next up was the film Victor Frankenstein. Director Paul McGuigan, and actors James McAvoy (who plays Victor Frankenstein) and Daniel Radcliffe (who plays Igor) came out on stage, then we watched a trailer for the film.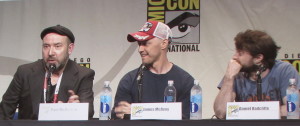 McGuigan commented that "it's really a love story between these two men" and said that the film is about giving the Frankenstein name back to Victor. In the beginning, Igor is living in abject conditions, but then Victor finds him and lifts him up, saving his life. But then, Victor starts losing his mind, and Igor brings him back. "The imbalance in the relationship is what makes it interesting."
McAvoy said that if you ever wanted to see Daniel Radcliffe beat up and abused, this is the film. Radcliffe said that it's not a violent movie, but then took it back, saying, "But to you," (referring to McAvoy), "Oh yeah, I guess."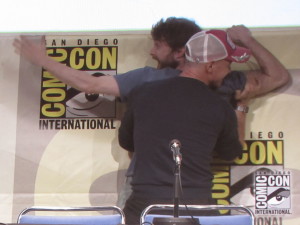 McAvoy spoke further about his character, explaining that Victor realizes that Igor has a particular set of skills, and then manipulates him.  Additionally, McAvoy said that Victor has an obsession with scientific advancement, which gets in the way of loving Igor and seeing him as his equal. McAvoy joked with a Southern accent, "Just tryin' to build monsters and be a good Christian." He further explained that in the novel, Victor was obsessed and crazy "just because," but in the movie, he has a reason. The movie keeps him mad all the way to the end, and he is given a backstory.
The guys talked about how the first moment on set together, Victor is "essentially breaking [Daniel Radcliffe's] back," and they got up an reenacted it for us.
The panel ended with a clip from the movie, in which Victor and Igor give a demonstration of bringing a monkey back to life. At this time, the trailer and footage has not yet been released. This panel was pretty hilarious, as it was filled with sexual innuendos, and at one point, McAvoy even commented, "I am a walking penis joke."
Fantastic Four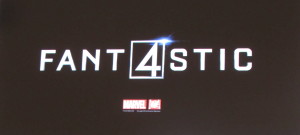 Next was Fantastic Four, for which director Josh Trank, producer Simon Kinberg, and actors Miles Teller (Reed Richards/Mr. Fantastic), Michael B. Jordan (Johnny Storm/Human Torch), Jamie Bell (Ben Grimm/The Thing), Kate Mara (Sue Storm/The Invisible Woman), and Toby Kebbell (Victor Domashev/Dr. Doom) came out on stage.
Trank spoke about how he had always loved the Fantastic Four since he was a kid. He wanted it as a movie, not found footage, and said that this tells the tragic origin story. Kinberg said that he got the call to work on Fantastic Four as he was finishing up X-Men: Days of Future Past. He had been planning on taking a break from superhero movies, but after talking to Josh Trank, who explained his approach to the movie as being more science than science fiction, Kinberg decided to be a part of Fantastic Four.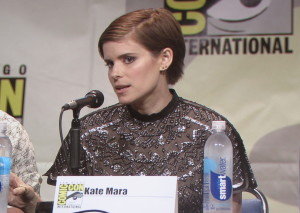 Kate Mara talked about how she always wanted to be in a superhero film, and that she really liked the "family aspect" of Fantastic Four, as well as Trank's take on it as an origin film. The way she approached her character, Sue Storm, was to make the character as relatable as possible. Michael B. Jordan echoed Mara's sentiments, saying that being in the movie was like living out a childhood dream, and that he likes the how it portrays a "modern version" of a family.
Jamie Bell then talked about his character, Ben, who he described as an "everykid," saying that he has one friend, Reed Richards, who constantly gets him into trouble. Bell further explained that his character becomes the "best version of a hero," in that he looks out for and protects his friends, and is the "heart of the group."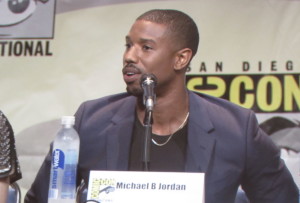 Regarding the character Dr. Doom, Kebbell said he had a big ego, but was very relatable, and that "the best part about being a villain is that you find a twist so that you're always right."
We learned that this story is a little more in depth than in previous versions, and that it "almost works as a prequel" to the iconic version of these characters, according to Trank. It then becomes a question of how much they can be torn apart before they can come back together. Upon being asked if the film is completely done, Trank said he thought so, and that he actually had come out of mix just a few hours earlier!
The panel finished up with a new trailer, in which we finally see Reed Richards' stretch. The trailer has been released, and you can watch it below.

Deadpool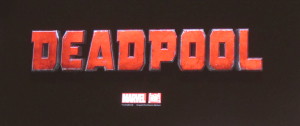 We then got a video message from Deadpool, but then immediately following that message, Ryan Reynolds came out on stage and addressed the audience, though not in costume. Then cast members T.J. Miller (Weasel), Morena Baccarin (Vanessa Carlysle), Ed Skrein (Ajax), Gina Carano (Angel Dust), Brianna Hildebrand (Negasonic Teenage Warhead) and director Tim Miller also came out on stage, and they all had a seat.
When Hardwick asked Tim Miller what made him decide to make the film, he answered, "Fox said, 'You can make it if you want,' and I said, 'Okay.' " Miller went on to say that the studio was ready to make it now because of the fans, and that Deadpool is the "perfect character for our time."
Ryan Reynolds commented that this character "has everything you'd ever want," and that it was a miracle that the studio let them make it, let alone let it be rated R. Reynolds joked that, "No matter what the rating, babies will love this." He also spoke about how when he puts the suit on, the whole energy and atmosphere on set changes. As for the difference between the previous version of Deadpool and this version, he said, "This time I don't shut up."
Speaking about her character, Vanessa, Morena Baccarin described her as "badass," saying that she "gives him lip right back, and not necessarily the talking kind." She commented that her character is the perfect match to Deadpool's crassness.
Brianna Hildebrand explained that her character, Negasonic Teenage Warhead, is a 15 year old being trained by Colossus. Ed Skrein said that his character, Ajax, is an ex-Special Forces soldier who gives Wade Wilson the power that makes him Deadpool. Skrein described his character as disrespectful and ungrateful. As for Gina Carano, she said that her character, Angel Dust, has anger issues, and helps create Deadpool.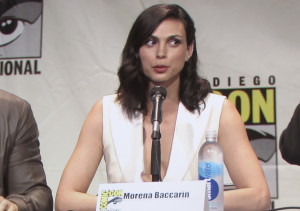 Tim Miller spoke a little more about making the movie, saying that the studio didn't question anything they did, "even though they should have." Reynolds revealed that Miller "cries at pure unadulterated rage," and told us a story about a scene where he went into a rage, and Miller was so overcome with emotion at Reynolds' performance that he cried. Miller admitted that it was true, and told us a story about Reynolds getting jealous when Miller teared up about Morena Baccarin's side of a scene, but had no reaction to Reynolds.
Reynolds confirmed that Deadpool is "obviously going to break the fourth wall," and that his mouth is not sewn shut at any point in the film. "You have your merc with a mouth."
Miller went on to say that this was the "best script by far I've ever read." At this point, Miller started to choke up, confirming what was said earlier about him crying.
We then got to see footage from the movie, which was hilarious and awesome, and everything we would have expected and more. There were a lot of great one liners, and it was not censored at all. It included the test footage scene that was leaked, and much more, and even poked fun at Reynolds having been in Green Lantern. When the footage was over, the crowd loved it so much, that they demanded to see it again, chanting "One more time! One more time!" And we did get to see it one more time. That footage hasn't been officially released yet, but should be coming out soon.
X-Men: Apocalypse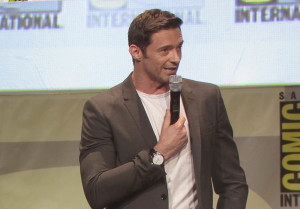 The final movie in the 20th Century Fox panel was X-Men: Apocalypse. First, Hugh Jackman came out on stage and thanked the fans, saying that playing Wolverine has been the greatest part of his life, and that Wolverine is the greatest comic book character ever written. He said that the third Wolverine movie would be his one last time "putting on the claws," though he also said, "I got three words for you guys: 'Old Man Logan.' " Bryan Singer also came out on stage and they talked about Jackman's audition to play Wolverine. Jackman commented, "Never play poker with this man." We even saw video of the moment Singer offered him the role, which Singer recalled as an "awkward conversation," as he went to Jackman directly, rather than through his agent. Jackman said it was because he didn't have an agent back then.
The cast of X-Men: Apocalypse was then brought out: Evan Peters (Quicksilver), Lucas Till (Havok), Kodi Smit-McPhee (Nightcrawler), Lana Condor (Jubilee), Tye Sheridan (Cyclops), Sophie Turner (Jean Grey), James McAvoy (Professor X), Jennifer Lawrence (Mystique), Michael Fassbender (Magneto), Oscar Isaac (Apocalypse), Olivia Munn (Psyclocke), Ben Hardy (Angel), Alexandra Shipp (Storm). Writer/Producer Simon Kinberg came out on stage as well. Seeing that there were no chairs available for him to sit at the very full table, Hugh Jackman took this as his cue to leave — though first, Jennifer Lawrence invited him to sit on her lap for the panel, which he did for a moment.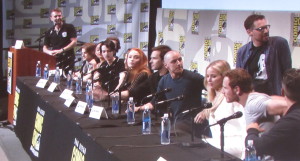 We learned that X-Men: Apocalypse takes place in 1983, 10 years after the events of X-Men: Days of Future Past. At this point in time, the world has accepted mutants, for the most part, and we find the characters in all different places.
We then got to watch some footage from the movie, which has been filming for 5 weeks. In the footage, we see several of the characters in costume, including Apocalypse, who can control the powers of the other mutants and use them to his advantage.
After the footage, Hardwick went down the line, asking each actor about their character. McAvoy, who is now bald, joked that he "can now say Patrick Stewart don't have sh*t on me." Fassbender revealed that in the film, Magneto has fallen in love and is now a family man, just trying to lead a normal life. Lana Condor spoke about Jubilee's "sick sense of fashion," while Sophie Turner address the responsibility of coming in as Jean Grey. Alexandra Shipp told us a little about Storm, who is lost, and doesn't know who she wants to be, or how powerful she can be, adding, "Hopefully she can find her way to the X Mansion."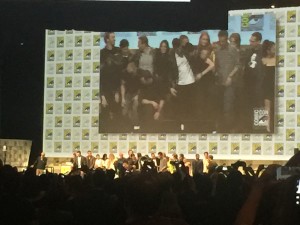 We watched the footage one last time, and after that was over, Hardwick said he wanted to set a record of most superheroes in one selfie. So he called the casts of all of the superhero movies that were in the 20th Century Fox panel back out to the stage! Stan Lee made a surprise appearance, saying he would take the picture. But then he didn't have a camera, so Channing Tatum, who will play Gambit in the upcoming standalone Gambit film, made his own surprise appearance, saying he had a camera! So they all got together and took a selfie. Stan Lee wrapped it up saying, "Now that's how you end a panel!"
I must admit, it was a pretty awesome finale! However, it would have been nice if they would have put this epic selfie up on the big screen so that those of us not in the first section of seats would have been able to see it better! Instead, there was an image of title cards displayed on the screen, including Gambit. The crowd kept yelling, "Screen! Screeeen!" in request to show the selfie up on the screen, but to no avail. This was unfortunate, as our camera's second battery had just run out at the end of the panel, and the USB outlet on our external battery charger had broken, so whereas we would have been able to use the camera to zoom in on the selfie, we had to use our camera phones instead, and didn't get nearly as good of a photo as we could have. Ah well. Note to self: bring two extra camera batteries next year instead of one. Also, buy a new external battery charger.
Probably at least half of the room left after the 20th Century Fox panel, but we stayed for the Warner Bros. TV and DC Entertainment Screening Block.
Click here for Part 6 of our Saturday Recap, featuring the Warner Bros. TV and DC Entertainment Screening Block, which included Arrow, The Flash, Legends of Tomorrow, Gotham, and Supergirl!