After the exciting 20th Century Fox finale in Hall H on Saturday at San Diego Comic-Con 2015, about half of the crowd emptied out, and the seats were actually almost all filled back up for the Warner Bros. TV and DC Entertainment Screening Block. Violet recaps this 3 hour panel, lasting from 8:00pm to 11:00pm, which featured discussion panels with the cast and crew of Arrow, The Flash, Legends of Tomorrow, Gotham, and Supergirl, and ended with a screening of the Supergirl pilot.
Click here if you missed Part 5 of our Saturday Recap, featuring the 20th Century Fox panel, which included Maze Runner: The Scorch Trials, Victor Frankenstein, Fantastic Four, Deadpool, and X-Men: Apocalypse!
Warner Bros. TV and DC Entertainment Screening Block
Last year was the first year this event was held. At that time, Marvel had been the last panel of the evening, finishing up at 6:30pm, and with the WBTV panel not starting until 8:00pm. Many people speculated about what would happen during that hour and a half break, but it turned out to be nothing more than putting out goodie bags on all the seats, and rearranging the Hall H stage to remove the table, and add tons of chairs, which would eventually sit the cast members of all of the shows participating.
This year, however, there was only a half hour break between the previous panel, 20th Century Fox, and the WBTV panel. There also weren't any goodie bags given out. And each show was handled separately rather than all together. Additionally, the WBTV event was the only panel for all of these shows, whereas last year, there were separate full panels for each of the shows. So this was the only place to see panels for any of these shows, with the exception of viewing the Supergirl pilot, which was also screened on Preview Night. We didn't get much new footage for the shows yet, with the exception of Gotham, mostly seeing only highlights from the season that just ended at the beginning of each show's panel, and the trailer that had already been released for Legends of Tomorrow.
The evening started off with the the curtains being pulled back from the side screens once more, then Lisa Gregorian, Chief Marketing Officer of Warner Bros., came out on stage and expressed her excitement about the event. She then introduced Ian Somerhalder (The Vampire Diaries) as the Master of Ceremonies.
Arrow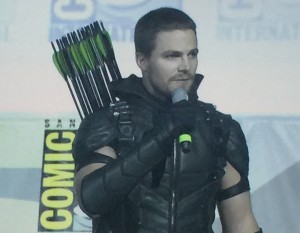 We watched a short clip, then suddenly, a dark hooded figure appeared on stage — it was Stephen Amell in costume as the Green Arrow! The crowd went nuts. He acted in character as Oliver Queen, telling the audience, "San Diego Comic-Con, you have not failed this city!" and announced that he is now officially the Green Arrow.
After watching a recap clip of Season 3, the cast of Arrow was called to the stage, and the screens switched to an Arrow banner. Cast members included Paul Blackthorne (Captain Lance), David Ramsey (Diggle), Emily Bett Rickards (Felicity), Katie Cassidy (Laurel), Willa Holland (Thea), and John Barrowman (Merlyn). Stephen Amell also rejoined the stage, now wearing normal clothes! That was a quick costume change. Chief Creative Officer of DC Entertainment Geoff Johns, and Executive Producers Wendy Mericle, Marc Guggenheim, Greg Berlanti, and Andrew Kreisberg joined the stage as well.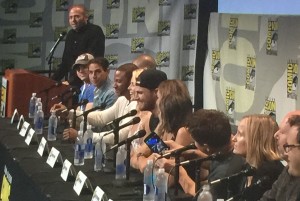 The moderator, Buzzfeed's Jarett Wieselman, asked Amell about the new suit, but he joked, "I don't know what you're talking about." However, he then praised the costume designer. Berlanti commented on how the suit factors into Season 4, saying that it was the first step in the progression from Arrow to Green Arrow, and that it expresses who Oliver is going to become. Kreisberg added that the tone of the season would be more fun this year, and there would be a little more humor, and that when the season starts, Oliver is happy and in love. Wendy Mericle seemed excited about the fact that they would have Oliver making some jokes in the lair.
Damien Darhk and Anarky were revealed as new villains for next season, and we also learned that we will see the origin of Mister Terrific, who will be gay. However, it was teased that there's another big villain coming, as well as a lot of other characters that people wouldn't guess that are from the DC Universe.
Katie talked about how she was excited that she finally got to put on the Black Canary suit. Willa confirmed that we may officially call her "Speedy" now, and how proud she was to have been able to do justice to the origin story of a female character, pointing out that we usually don't get to see a woman who has such a troubled past as Thea be able to come back from that.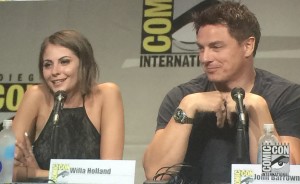 Emily revealed that when she wore the ATOM suit, she actually only wore the upper half, as it was so big and heavy, being Brandon Routh's suit, and that she had to wear hockey pads underneath to make it fit! She also told us that in the scene when Oliver is smiling lovingly into Felicity's eyes as she's wearing the suit, "it's actually a 6′ 4″ stuntman."
John Barrowman admitted that he doesn't know if his character, Malcolm Merlyn, is ditching the hood for the robe next season, and said "That's what exciting about being part of the show." Barrowman said that he doesn't like to know what's going to happen too far ahead. Marc Guggenheim revealed that Merlyn would be back in the hood in Episode 3. Barrowman also said that he had a Ra's al Ghul ring made for himself, which he was wearing.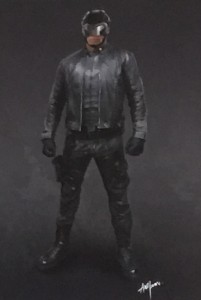 When asked about Diggle's scruff, David Ramsey said he didn't know if he would be keeping it, as he didn't know if it would go well with the new helmet. At that point we saw a picture of Diggle's new costume, and Ramsey said, "It's called Black Driver." Guggenheim said that Oliver's advice to Diggle last year to cover up his face was well taken.
As for Paul Blackthone, he said Captain Lance would still be in his regular costume — that is, a gray suit and tie. When asked if he would now officially be a part of Team Arrow, he commented that he's never really officially considered himself a part of it. Barrowman jokingly invited him to join the League of Assassins.
The moderator brought up the fact that Olicity (Oliver and Felicity) was named "Ship of the Year" at the MTV Fan Awards a couple days prior. Amell commented, "It's not quite an Emmy, but it means a lot."
A few audience questions were taken, one of which was whether this season Oliver would be silly and more sarcastic, like the comics. Amell confirmed that they will move in a more "Green Arrow" direction. He was also asked if Oliver was going to be a billionaire again and Amell said, "I have a sugar mama."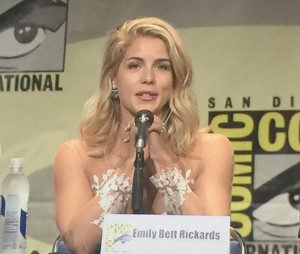 The panelists were asked if they had experienced any scenario where they had to become their character in real life. Amell related a story about how he got mad at a guy at a hockey game and the guy started talking back to him, then another guy behind him recognized him, and yelled to the guy, "Hey, that's the Green Arrow!" Emily told a story about how she was having problems with her phone, and she wished she was Felicity so that she could fix it.
Regarding the dynamics we would see next season, Barrowman said he liked when Felicity was giving out orders, and that "strong female roles are awesome." Amell revealed that because everyone knows Oliver's secret identity now, we would see new character interactions this season, such as Malcolm and Felicity, and Laurel and Thea.
The Arrow panel then ran out of time, and we were shown a sneak peak of the new animated series Vixen. I don't really remember much about it, as a security guard jumped over us to get to someone in the row in front of us who was recording the footage, so I was a little distracted with that back and forth.
The Flash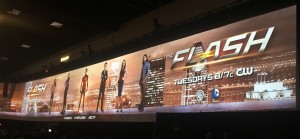 Next up was The Flash. Laura Prudom of Variety moderated this panel. Panelists included Executive Producers Andrew Kreisberg and Greg Berlanti, actors John Wesley Shipp (Henry Allen), Candice Patton (Iris), Carlos Valdes (Cisco), Grant Gustin (Barry), Tom Cavanaugh (Dr. Wells), Danielle Panabaker (Caitlin), and DC Chief Creative Officer Geoff Johns.
We learned that the "big bad" this season will be Zoom, who is faster than the Flash or the Reverse Flash. The show will also be introducing Jay Garrick, who will be played by Teddy Sears (Masters of Sex), and adding Patty Spivot, who will be played by Shantel VanSanten (The Messengers), as well adding as Wally West. Season 2 will pick up a few months after the events of the season finale, and this season will introduce characters from Earth 2.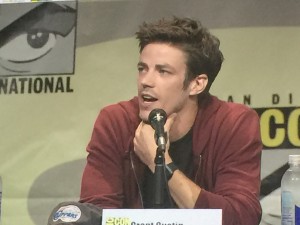 Grant Gustin said that going into Season 2, we find Barry dealing with extra tension, and being treated as a hero for Central City, a role which he's having a hard time accepting, due to feeling like Eddie is the real hero.
Carlos talked about how Cisco is dealing with the biological changes that are taking place in his brain in Season 2, and what Eobard Thawne told him at the end of last season.
Kreisberg talked how they were excited about bringing Jay Garrick in this season, since he was the original Flash. Geoff Johns added an interesting bit of trivia: that Episode 123, the episode where we see Jay Garrick's helmet, is the same number of the comic where Barry Allen meets Jay Garrick for the first time.
As for Candice Patton, she said that now that Iris knows Barry's secret, she will be a part of The Flash Team in some aspect. John Wesley Shipp teased that eventually Henry will get out of prison, though said it won't be revealed how until later. Tom Cavanaugh spoke about getting to know the "real Harrison Wells" this season. Finally, Danielle Panabaker talked about how she's excited to actually be Killer Frost one day, and that they worked really hard on that costume.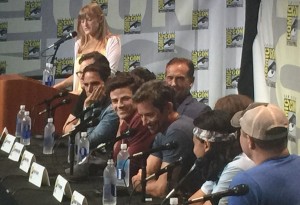 Then there were a couple of audience questions. One question was whether anymore Rogues would be used in Season 2. Kreisberg confirmed that Grodd, Captain Cold, and Golden Glider would be back, though teased that there were some other villains they didn't want to reveal yet.
Another attendee was curious as to how the Man in the Yellow Suit was able to beat himself up in Episode 9. Tom Cavanaugh explained that it's a "speed mirage" that moves so fast that it leaves a residue.
The final question was whether Cisco would become Vibe next season. The panelists tossed the question around to each other, as no one seemed willing to answer it. Finally, Grant Gustin noncommittally said, "Sure." However, Geoff Johns took the opportunity to promote the comic book he wrote with Andrew Kreisberg, saying to read it if you want to learn all about Vibe. With that, the short panel wrapped up, and moved on to the next show on the agenda.
Legends of Tomorrow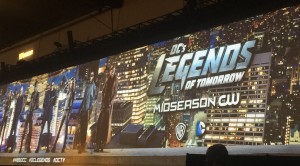 After The Flash panel wrapped up, it was time for Legends of Tomorrow, the Arrow/The Flash spinoff series, which Geoff Johns moderated. Executive Producers Mark Guggenheim, Greg Berlanti, Andrew Kreisberg, and Sarah Schecter joined the stage, along with actors Ciara Renee (Hawkgirl), Victor Garber (Dr. Martin Stein/FIRESTORM), Brandon Routh (ATOM), Wentworth Miller (Captain Cold), Caity Lotz (White Canary), Dominic Purcell (Heatwave), and Showrunner Phil Klemmer.
We learned that when Arrow and The Flash start back up, people believe that Ray Palmer died in the explosion that happened in his building at the end of last season. Additionally, Caity's character, Sara, is currently dead, so that will be taken care of. The Arrow/The Flash crossover episodes will lead into the premiere of Legends of Tomorrow, which will occur midseason. It was also revealed that the character Hawkman will debut.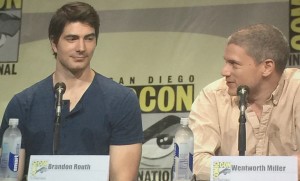 Brandon Routh talked about how Ray thinks he knows a lot about teamwork, so he's pretty "gung ho" about wanting to be in charge of the Legends of Tomorrow.
When asked why Caity's character is now the White Canary, she explained that, like with Thea, the person who goes into the pit isn't the same person that comes out, and there will be consequences. She also said that her character is the most dangerous member of the team because she's not afraid to die, considering that she has died multiple times.
Geoff Johns then asked how Captain Cold and Heatwave would respond to being asked to join the team. Dominic Purcell responded that Heatwave would be "pissed," but that between the two of them, Captain Cold is the one in charge, commenting, "I'm always following Wentworth." Wentworth Miller said Captain Cold would respond badly because he's used to being the guy in charge, and he's not a team player. He added, "These guys have to work together, and it's going to be a bumpy ride."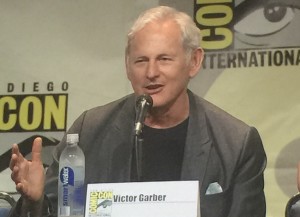 Executive Producer Andrew Kreisberg talked a little about what we would see in the show, saying that time travel is a huge part of it, and that we would be meeting Randall Savage, who is immortal, in several different timelines. As for comparing the show to Arrow and The Flash, Kreisberg commented how it was important for them not to do the same show, saying, "This show is going feel as radically different from The Flash as The Flash is from Arrow."
Victor Garber told us that his character, Dr. Martin Stein, is arrogant and thinks he's actually capable of mediating this "dysfunctional family," and is naive enough to think that this could work. He confirmed that FIRESTORM will definitely be a part of the show, probably more than even he realizes.
To prepare for the role of Hawkgirl, Ciara Renee said she had been reading the comics, and had just finished catching up with watching Arrow and The Flash. She's also been boxing and doing martial arts. Her favorite thing about her character is the reincarnation aspect. She revealed that we get to see her in different time periods, and that she enjoys the challenge of playing a lot of different people.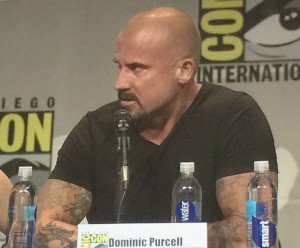 Producer Greg Berlanti went on say that Legends of Tomorrow exists because of the passion of the Arrow and The Flash fans, as well as the fact that they've had a surplus of talent on the two shows, plus the desire to do a "team up show" in the vein of Oceans Eleven and The Magnificent Seven.
Marc Guggenheim said one of the great things about the show is that they get to visit different corners of the DC Universe, not just in 2016, but throughout all of time. He teased that they would be going to not only incredible places but "incredible moments," but was unable to say anything else.
As for what time period the Rogues would visit if they got ahold of a time machine, Wentworth Miller answered 1970s, while Dominic Purcell went with 1920s, saying "I'm a romantic." Victor Garber said he would go back to the 1800s, while someone jokingly suggested Titanic to him (referring to the fact that his character died in the movie), to which he sarcastically replied, "Oh yeah, that went well!"
When asked why he chose to work on Legends of Tomorrow, Phil Klemmer said it was one of the easiest decisions he ever made. He said he has worked at Warner Bros. for his entire career, and "to be able to do something like this, with a cast like this, was literally like a millisecond sort of decision."
No audience questions were taken for this panel.
Gotham
Next on the agenda was Gotham. After the recap clip, we did get to see a bit of new footage, which was of villains breaking into Arkham Asylum. Panelists included Executive Producers Bruno Heller, Danny Cannon, John Stephens, and Geoff Johns, and actors Ben McKenzie (Jim Gordon), Morena Baccarin (Dr. Thompkins), Donal Logue (Bullock), Robin Lord Taylor (Penguin), Sean Pertwee (Alfred), Camren Bicondova (Selina Kyle), David Mazouz (Bruce Wayne), Erin Richards (Barbara), and Cory Michael Smith (Ed Nygma).
Bruno Heller revealed that this season would be about the "rise of the villain." The stories will become larger and more epic as the city begins to decline into chaos, as well as more colorful and more exciting, and just "more." Camren said that she's excited about this season as Selina tries to figure out whether she is a good guy or a bad guy, and that we'll get to see a big part of her background.  This season will also be the rise of Jim Gordon, and Ben McKenzie talked about how new heroes would be introduced, and they would have to band together to fight the rise of the villains.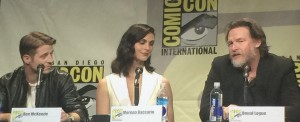 Donal Logue said that when the next season starts, Bullock feels beaten down, and less idealistic than Jim Gordon about their chances to stem the tide of the bad that is coming.
As for how Barbara's relationship with Jim has changed, Erin Richards replied that it has changed a lot, considering that she killed her parents, so "it's strained, to say the least." Bruno jumped in, saying that "she's the crazy ex-girlfriend from Hell," but pointed out that although it's a story of insanity, it's also a story of "fulfilling your potential," adding, "It's just crazy potential."
Sean Pertwee talked about how this season, Alfred and Bruce would have a more adult relationship of mutual respect and understanding. David Mazouz chimed in, saying that the revelation of what's down the staircase is a new chapter in their relationship, and although at first Bruce and Alfred will go through a rocky patch, they'll soon get past it to "Operation Good Guys."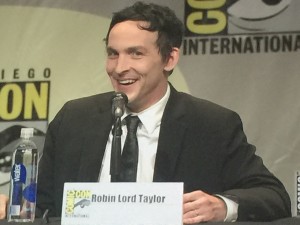 Robin Lord Taylor reveled in the fact that Penguin has achieved his goal and is the King of Gotham now, and that's he's prepared to fight to stay there.
There were only two audience questions taken — well, technically one. The first question was from a young boy who said he'd had a crush on Camren for the longest time. He asked the actors who their favorite cast member to work with was. Sean Pertwee answered David, and then David joked, "Mine's not Sean." However, Donal answered, "On any given day we are all each other's favorite to work with."
The next person to step up to the mic never got to ask his question, as Cameron Monaghan, the actor who plays Jerome (a.k.a. The Joker) on Gotham, took the mic and creepily asked Detective Gordon "How high is your pain tolerance?" Security got to him real quick and dragged him away to the back of the room, as Ben McKenzie went into character as Jim Gordon, saying, "I'm gonna find you, Jerome, and I'm gonna take you down!" So that was a pretty cool way to end the panel.
Supergirl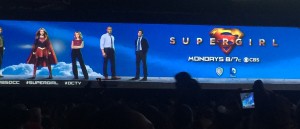 The final panel of the WBTV evening was Supergirl. This panel included Geoff Johns, Executive Producers Ali Adler, Sarah Schechter, Andrew Kreisberg, and Greg Berlanti, and actors Melissa Benoist (Supergirl), Chyler Leigh (Alex Danvers), David Harewood (Hank Henshaw), Mehcad Brooks (James Olsen), and Jeremy Jordan (Winn Schott).
Geoff Johns talked about how it's important to have women involved in every show, and that it's past time to have a female superhero lead. Greg Berlanti echoed that sentiment, and commented, "When you meet Melissa Benoist, you can't imagine anyone else being Supergirl." We then learned that although the producers saw thousands of women audition for the role of Supergirl, Melissa Benoist was the first woman they saw, and they still came back to her. Interestingly, Stephen Amell and Grant Gustin were also the first actors they saw for Arrow and The Flash.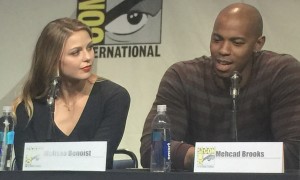 The panel went down the line, each actor talking about his or her respective characters. Melissa Benoist talked about how it's "impossible not to feel empowered" when she puts the suit on. Chyler Leigh plays Kara/Supergirl's sister, Alex, and said she felt like they had an instantaneous bond when she and Melissa met. David Harewood, who plays Hank Henshaw, wouldn't reveal whether he was a good guy or a bad guy, saying "You'll just have to wait and see." Jeremy Jordan talked about his character, Winn Schott, loving Kara for who she really is.
As for Mehcad Brooks, he plays James Olsen, who is "Jimmy" Olsen, but all grown up now. He has moved from Metropolis to National City, and ends up working at the same place as Kara. The moderator then coaxes Brooks into showing his abs, much like Stephen Amell did during this panel last year. Brooks immediately regrets it, saying, "I feel really violated." The moderator commented, "What happens at Comic-Con stays on Twitter," to which Brooks, embarrassed, replied, "My mom follows me!" The moderator joked, "A lot of moms are going to follow you now!"
Regarding new DC characters that we'll see, we learned we will see Reactron, Livewire, and Maxwell Lord, the latter of which will be played by Peter Facinelli, who then came out on stage. He commented, "Last time I was here was for Twilight, so it's good to be home," and said he was "super excited" for the show, pun intended.
Finally, we learned that Supergirl is heavily influenced by the Donner vision for Superman, in that "it's grounded, and fun, and full of heart and humor." Kreisberg commented that "Melissa's greatest super power is to make you believe in her, and this is really a show about a hero that you can believe in, someone who can make you proud, and make you feel alive, and make you feel like you want to be a better person." He went on to say that they feel like it's the kind of show that families can watch together, and "can be something that will bring some light into the world."
Cirque du Soleil? No, Lucent Dossier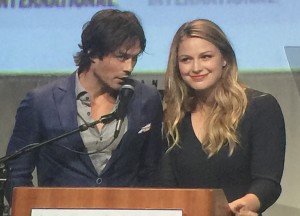 The panel then wrapped up with Ian Somerhalder and Melissa Benoist speaking together at the podium. They considered a Supergirl/The Vampire Diaries crossover, but immediately decided against it. We thought that the Supergirl pilot would start right away, but unfortunately, it did not. Instead, the tables and chairs were cleared from the stage, and Somerhalder announced that there would be a special performance from Lucent Dossier, and Melissa announced that the Supergirl pilot would screen after that.
Once the stage was clear, they turned the lights off, and then there were some weird acrobatic dancers suspended from the air, while techno music played. I'm not really sure what the point of it was. Josh almost got up and walked out, he was so tired, and I considered leaving myself, but then it was finally it was over.
Oh, I also must mention that early on during the event, near the end of Arrow, some glow sticks were passed out to the audience. It looked like it was red, so I thought maybe it was for The Flash. But then I noticed that other people had different colors. I think maybe it was supposed to be for during this weird Cirque du Soleil thing, like we were supposed to feel like we were at a rave or something? I really don't know, because nothing was ever mentioned about the glow sticks, which were just plain, without any sort of logo on them or anything.
Supergirl Pilot
So then it was finally time for the Supergirl pilot. I have to confess that I only was coherent through about half of it, then I dozed off for a bit (it had been a long day!), and then saw the last few minutes. I don't want to give too much away, but I will say that neither Josh nor I were all that impressed with it. Josh criticized the graphics, specifically at the beginning when Kara gets sent off in her spaceship and gets stuck in the Phantom Zone, comparing them to those of Tron — the original Tron from the 80s. I thought it had too much of a "CBS" feel to it. We both agreed that it seemed like they were trying to make the show too girly, and by doing so, undermined the role of a strong female woman, especially since they already introduce not only a male romantic interest, but a love triangle as well. Plus, Kara's boss, although a female, portrays the characteristics of a chauvinistic male. We're willing to give it a chance when the season starts though. Supergirl premieres on October 26 on CBS — though oddly on the same day and timeslot as Gotham airs on Fox, Mondays at 8/7c. Not sure why WB wants to put their own shows in competition with each other.
And thus our long Saturday in Hall H came to an end. We went back to the hotel, and I'm pretty sure I fell asleep as soon as my head hit the pillow.
Click here for our Sunday recap, featuring Heroes Reborn and more!