The final day of Comic-Con came up quickly.  Sunday is always a strange day.  I personally feel both a sense of sadness, but also a sense of relief.  San Diego Comic-Con specifically is very tiring, due to how crowded it gets.  But that doesn't take away how fun it is either.  But Sunday just has that weird emotionally polar feel to it.  But enough about that, let's get into what we did on Sunday.
We got up (Violet, Tamara, Bradley and I–David had to head to a work event, so he had to leave for home Sunday morning), and figured that since every year has been pretty easy to get into Hall H on Sunday, we decided to go get some breakfast, and we would be in Hall H by 11:15am, when the Supernatural panel started.  We headed downtown and found a restaurant to eat at.  Tamara, David and Bradley had eaten there the night before, after they left Warner Bros. night panel.  We had some breakfast, and around 11am we decided to make our way back to the Convention Center.
To our horror, there was a line.  Violet and I were stumped. Last year, there was no line for Hall H on Sunday, due to Doctor Who not being there. We figured it would be the same this year. The line wasn't very long, but seemed long enough that we probably wouldn't make it in for Supernatural.  Not all of it at least.  We decided to test the waters to see why people were there, so we asked the group in front and behind us.  They were split on why they were there–one group was there for American Horror Story: Hotel, the other for Heroes: Reborn.  The next panel we were interested in was Heroes: Reborn, which started at 1:45pm, and we figured that we could probably leave and come back for that, so we abandoned the line temporarily.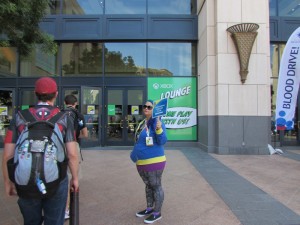 We met back up with Bradley and Tamara, who had been walking the Convention Floor.  We decided to go ahead and claim our giveaways we had collected from the Hateful Eight panel and the Legendary panel.  Knowing that the Hateful Eight giveaway was a poster, there was one problem we realized–we didn't really have a good way to transport all these posters.  So we hit the Exhibit Hall floor.  Tamara remembered the Fox booth handing out a lot of poster tubes as a giveaway, so we made our way there.  The exhibit floor was still extremely packed, and unfortunately when we got there, they weren't doing any giveaways, as a signing was going on.  We decided to head towards the direction of the Hyatt, where the giveaways were, but go through the convention hall as much as we could, hoping to find a poster tube at a vendor.  Luckily we found one, and it was pretty cheap, considering that it was durable, expandable, and had a carry strap–only $10.
So after that, we hit the streets and made our way to the Hyatt.  It was a long walk, especially with how crowded the streets of San Diego still were, even though it was Sunday.  After getting to the Hyatt, we did some searching, and located the prize room.  We collected our posters, and then, since it had taken so long, Violet and I headed back to the Hall H line.  Luckily, we were able to take the Marina path, behind the hotels and Convention Center, which was a much more open path.
Back at the Hall H line, there was a line, but American Horror Story/Scream Queens wasn't even half over yet.  The line moved slowly in, and once inside, there were a ton of seats open.  Violet and I were both confused as to why there had been a line if this was the case, but we were happy to be inside.  We moved to our usual spot, and waited for American Horror Story: Hotel to end.

Heroes Reborn
The panel ended, and our final panel of Comic-Con was about to begin.  Greg Grunberg was the moderator,  but prior to him coming out, Tim Kring talks about how he brought Heroes to Comic-Con 9 years ago, and how this was deja vu for him.  He thanked the fans for sticking with it, and also tells us fans that grew tired of the show that the makers have had a good rest and are ready to bring it back again.  He then tells the crowd about some video games related to Heroes that are launching.  They also plan on releasing some e-books, and they have a new Heroes app, which will show old episodes, as well as stream the prequel to Heroes: Reborn.
The footage is then presented, first the video games, then the short film.  I wasn't too thrilled about the video games, but when I heard the Heroes theme music, it gave me chills.  The second clip seemed like a Youtube video that went wrong, but it turned out to be planned, and had a hooded man talking about what happened to the heroes, how they began displaying their powers, but then the government clamped down on the "Evos," which is short for "Evolved Humans," forcing them to register, which of course lead to discrimination.    This forced Evos into hiding, afraid.  This hooded man tells the people it is time to show their powers.  Then the clip cuts to a woman who wants to show her brother something.  He is disinterested, but then she shows him–she is able to move her shadow.  Her brother freaks out, and the sister is relieved, thinking that her brother would be scared.  Turns out he is excited, and the clip ends with her asking if he wants to see what else she can do.  Then seeing clips of future "webisodes," we see the brother looking for his sister, who seemingly has disappeared….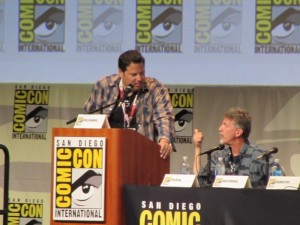 Here is a link to the Heroes Reborn App:
http://www.nbc.com/heroes-reborn/app
I, for one, am very interested in seeing this web series.  It looks like it will be a great set up to Heroes Reborn.  But let's get into the rest of the panel:
Finally Greg Grunberg comes out, and talks with Tim Kring, the writer of the show, and he discusses that this show is about the characters, and telling a story.  He also discusses how special effects and filming in general has gotten a lot easier since Heroes went off the air.  He also talks about how there are so many more locations for film this time around, as the original Heroes series only filmed in a 40 mile radius.
Tim Kring says that the series is going to pick up 5 years after the series ended.  Then Greg Grunberg introduces the "extended trailer," which hadn't been seen before.  We see a lot of old characters coming back, including Noah Bennet, Mohinder, Hiro, Micah, Matt, and the Haitian, as well as much of the new cast.  We see Zachary Levi as a villain, killing fellow Evos, and Noah being asked to help save the Evos.  It was a pretty exciting trailer, and I suggest checking it out.  You can view the extended trailer here:
Then Greg Grunberg cues the music, which is AC/DC's "Back in Black", and the cast comes up, which is mostly the new people, but Jack Coleman, who played Noah Bennet, is in attendance.  New cast members included Zachary Levi, Ryan Guzman, Robbie Kay, Gatlin Green, Henry Zebrowski, Judith Shekoni, Danika Yarosh, and Rya Kihlstedt. During this whole panel introduction, Greg Grunberg is very excited, introducing each member.   The cast talks about their parts, and it seems like everyone is excited to get this show going.  Greg then introduces surprise guest Jimmy Jean-Louis, who will reprise his role as the Haitian.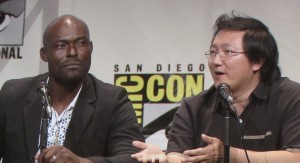 Greg Grunberg then shows a special message from Masi Oka, who says that he is stuck on some island.  But he has a surprise for us!  He "teleports" from the video message to the stage.  It was a pretty cool way to bring Hiro to the stage.
Tim Kring talks about bringing the old characters back, and he says that Noah Bennet was the "linchpin" to bring the old cast together with the new cast, since everything went through him.  Tim also talks about the different lives Evos have now, whereas in the original show, it was a wondrous thing to have powers, but now it is a dangerous thing to discover.
We get one final short clip from the show, which features Hiro trying to save Mohinder, who has been captured, and has some device connected to him, which inhibits his power.  Hiro shows up and fights his captor, and slices him pretty good with his katana.  Hiro frees Mohinder, but it turns out the assailant that Hiro took down wasn't quite finished–and he seems to have the ability to clone, making a duplicate of himself–several times, giving Hiro and Mohinder much more to deal with.
This panel really got me excited for the show.  I really liked the first season of Heroes but it seemed to progressively get less entertaining as the seasons went on.  One thing that gets me excited about Heroes Reborn is that it is just a 13 episode run.   These shorter episode runs for me turn out to be much better generally, as the story is much more concise, and there aren't really any "filler" episodes.  But this was end of the panel, and basically the end of our Comic-Con.
We left our last Hall H panel for 2015, and made our way back to the hotel, since our car was still parked in the parking garage there.  Violet and I had to wait for Bradley and Tamara, who had to make their way through the chaos of the exhibit hall, as well as the now emptying Hall H crowd, which is a nightmare.  I ended up driving home, but we did our traditional stop at Olive Garden in Carlsbad on the way home.
We reached home in Fullerton around 7pm, and we were so exhausted, we wound up passing out pretty quickly.
Note: These are just a handful of our photos from Sunday. Click here for our Sunday Photo Gallery!