Stan Lee's Los Angeles Comic Con, formerly known as Stan Lee's Comikaze Expo, took place at the Los Angeles Convention Center Friday, October 28, through Sunday, October 30. Follow along as we share our experience! Josh is going to start off telling our story, and Violet will take over later on.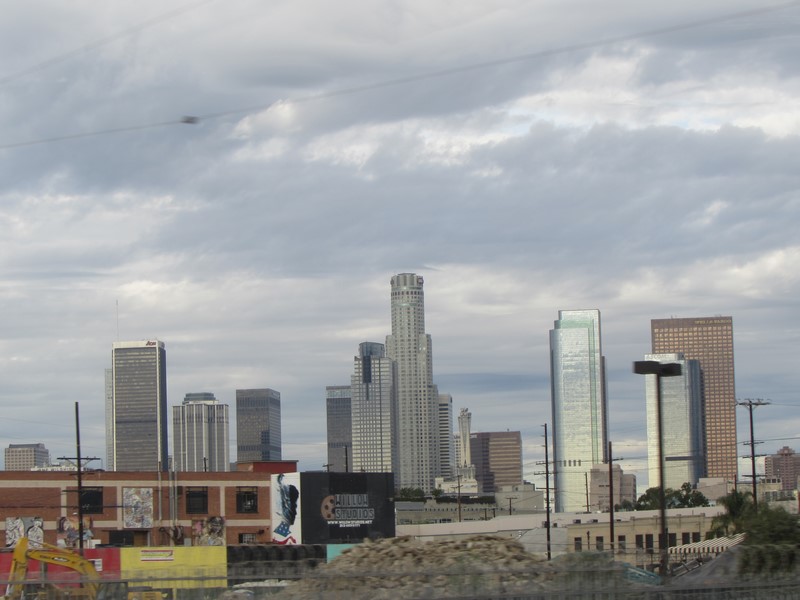 So, Stan Lee's Comikaze, or as it is now known, Stan Lee's LA Comic Con, started for us on Saturday. Violet and I got up in the morning, and headed for the Fullerton Train Station to take the Metrolink there. Last year was a big headache with parking so the train eliminates that problem for us. Besides, this year there were a billion things going on in that area–The League of Legends Finals, the Rock and Roll Marathon Expo, among other things. The train would make things a lot easier.
Violet acted as my guide, since she takes the train every day, and I don't very often. We got to the Los Angeles Convention Center pretty easily. It's pretty obvious you're heading in the right direction when you slowly see more and more cosplayers appearing around you.
At the Convention Center, it was already pretty busy when we arrived, which was around 9:45am. The security seemed to be a little confused as to how things were supposed to work, as when we walked up, an LA Comic Con staff member had to explain who to let through the door he was guarding, and who not to let in. But things were straightened out for us in the nick of time–we were let in to go pick up our Press badges. There really wasn't anyone in line, other than Kevin Conroy (he voices almost all Batman animated and video game iterations) next to us. That was pretty interesting.
From the sounds of it on Twitter, badge pick up for general admission was nightmarishly long. Photos showed the line going down the block. That would be tough to stand in as it was a pretty warm day.
Heading to the Main Stage Introduction with Stan Lee
Violet and I then headed for the Main Stage which is inside the Exhibit Hall (which I still really dislike–why do we have to stand the entire time?) On the way, someone hit my hand with their briefcase. I was about to throw down with whoever it was, when I turned to see it was Kevin Conroy yet again. I decided to give him a pass this time (just kidding Kevin Conroy if you read this, I couldn't throw down with a fly–besides it was just a light tap, and I am sure you didn't even notice it!).
When we got to the main stage, Stan Lee was on the stage and introducing a clip for his show Lucky Man. I am not familiar with the show, but it looks like it is heading into Season 2, and airs on Sky 1 in the UK. He introduced a trailer for the second season, and after that he told us to have a great Comic Con.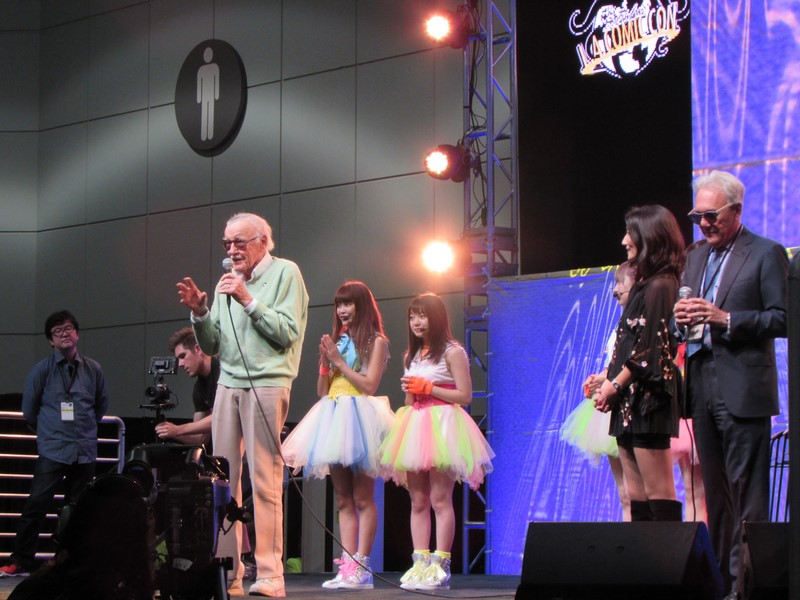 There was a second panel, for The Reflection. This was an anime cartoon which we got a to see a small trailer which involved a blue Iron Man like character flying though the sky. Hiroshi Nagahama was brought out to discuss the show, who is the show's co-creator and director. He only spoke Japanese, so the woman moderating the panel had to translate.
Trevor Horn came out, who is a big music producer and former member of several well known bands from the 80s, such as Yes, The Buggles, and Art of Noise. He discussed his involvement with writing and producing the theme song for the show. Then Japanese girls were brought to the stage who will be voicing characters in the show. They were in a pop group called 9nine. They introduced themselves as Uki, Sayaka, Kanae, and Hirona, which will also be the names of their characters. They discussed their excitement to do the show, then performed a song for the audience, which was accompanied by a dance routine. I am not a J-Pop fan, but there seemed to be a decent amount of people in the crowd seemed interested in the show.
Stan Lee came out for this panel too, and provided some promotion for The Reflection. He also noticed his cameo in the trailer we saw. Then the group gave away some hats and shirts to the crowd.
Exhibit Hall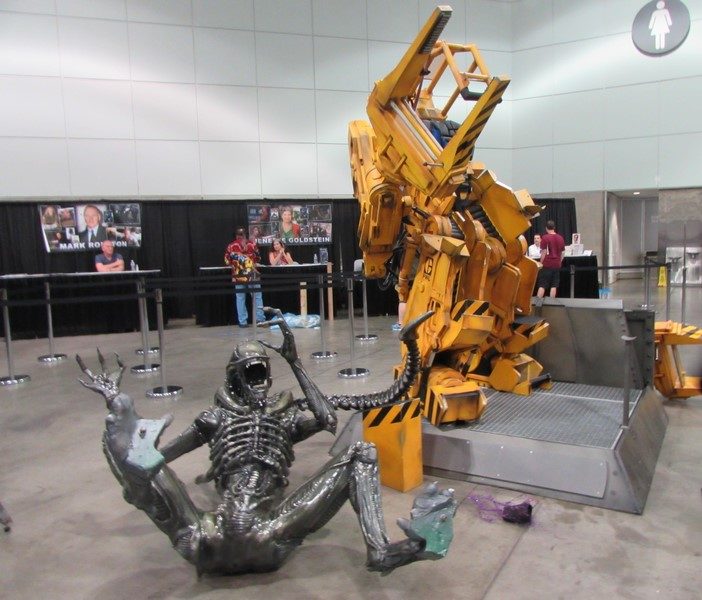 While Violet and I were watching this panel, our Twitter friend @cyberaug came up and chatted with us a bit. We then migrated to walking the floor some. We walked by the Autograph area and discovered the two longest lines were the Adam West and Kevin Conroy lines, Batman characters of course.
The exclusive Funko Pops were also a big draw, with the line shooting down one of the main hallways. There were quite a few movie props/replicas to see as well. The usual cars–the Back to the Future Delorean, Spawn's Motorcycle, the Blues Brothers car, plus a Tron motorcycle, and the Aliens power loader, to name a few. The floor was very crowded so walking it was a bit tough. They need to make these aisles wider!
Missed Panels
It's Violet taking over from here on out! At 11:30am, we decided to start heading over to Entertainment Weekly's PopFest for the Supernatural and CW Superheroes panels, which was about a mile away, and one train stop away. Click here for our Saturday report on that event. Unfortunately, this meant missing out on several panels at Stan Lee's LA Comic Con we would have liked to have attended, but were scheduled at or near the same time, including the Kings of Con panel with Rob Benedict and Richard Speight, Jr. from Supernatural, the Luke Cage panel with star Mike Colter, The Flash panel with Candice Patton (Iris West), Teddy Sears (Jay Garrick), Danielle Panabaker (Caitlin Snow), Shantel VanSanten (Patty Spivot), and Liam McIntyre (Weather Wizard), and the Cary Elwes panel.
Star Trek 50th Anniversary
By the time we made it back to Stan Lee's LA Comic Con (after a nice lunch at nearby El Cholo), it was about 3:20pm, and the Star Trek 50th Anniversary panel was already well under way on the Main Stage. The panel included Walter Koenig (Chekov) and Nichelle Nichols (Uhura) from the original series, Denise Crosby (Tasha Yar) from Star Trek: The Next Generation, Robert Picardo (The Doctor) from Star Trek: Voyager, and Roddenberry Entertainment executive Trevor Roth.

Denise Crosby recalled that when The Next Generation first came out, there was a lot of hate mail from the fans of the original series, outraged that they dared to even attempt to continue the legacy of such a classic series. But then people soon grew to like the show. Robert Picardo talked about portraying an artificial intelligence character, and that he wanted to make his character the exact opposite of Data on The Next Generation. Picardo mentioned how he would make fun of Data's character, saying things like, "Danger, Wil Wheaton!" (referencing the famous "Danger, Will Robinson!" quote from Lost in Space).  Nichelle Nichols revealed that she can still fit in her uniform from all those years ago, and that she actually tries it on once a year to make sure that it still fits! Walter Koenig expressed that he hopes that as Star Trek continues, it can continue to deliver the original message intended.
The panel ended with the audience singing "Happy Birthday" to Robert Picardo! The moderator had a cupcake with a candle, which he lit and gave to Picardo to blow out.
Dominic Purcell
Up next on the Main Stage was an interview with Dominic Purcell, who plays Mick Rory (aka Heat Wave) on Legends of Tomorrow, and Lincoln Burrows on Prison Break, which is coming back for a fifth season in 2017.
Purcell talked about how they balance screen time between characters on Legends of Tomorrow, which has a large ensemble cast. He said he's not too concerned about his screen time versus others' and that he's fine with a day off, because that means he can just go surf! He also likes how his character, Mick Rory, can say just one line and steal the show! Purcell revealed that there's a lot more humor this year, and not as "heavy-weighted" as last year. The moderator asked about the upcoming four-way crossover with Supergirl, which Purcell said that they just shot. The only thing Purcell could tell us about it was that, "Heat Wave hits on Supergirl." Sounds about right!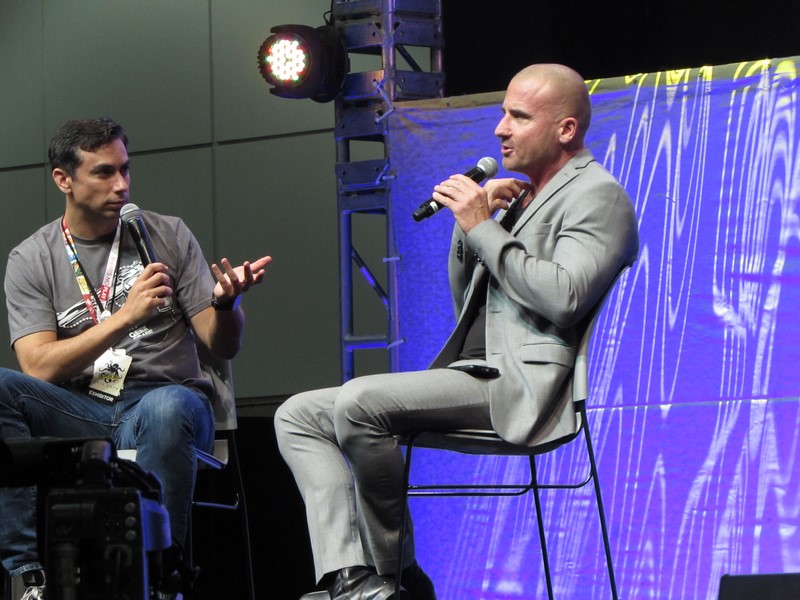 The conversation then turned to Prison Break, which will have a nine episode arc for its upcoming fifth season, that Purcell described as a "reboot." Purcell expressed how "awesome" it was to come back to the show and work with so many of the same actors from before that he hadn't seen in awhile. He also praised the great storytelling of Prison Break. Purcell then explained what's going on when we pick up during the fifth season, saying that after Michael Scofield's supposed death, Sara remarried, and that Lincoln didn't take his brother's death very well. Then he gets some intel from T-Bag that Michael is alive, which he doesn't believe at first, but his curiosity gets the better of him, and he discovers that Michael is indeed alive. So Lincoln goes after Michael, and encounters a lot of terrorists and danger. Apparently, it's supposed to be ISIS, but they didn't want to give them the satisfaction of recognition, so they called the terrorist organization by a different name. The moderator suggests that they just call them "sissies."
The moderator asked about how the comeback of Prison Break came about. Purcell pointed out that Prison Break is the only property, including movies, that is available on every territory in the entire world, and that now there is an entire new generation of kids watching Prison Break. It was Purcell and Wentworth Miller who got the ball rolling for this new reboot when they got to talking about it while working together on The Flash. When Season 5 starts, it has been several years since we last saw these characters, and that Lincoln Burrows has changed a lot since the beginning of the show.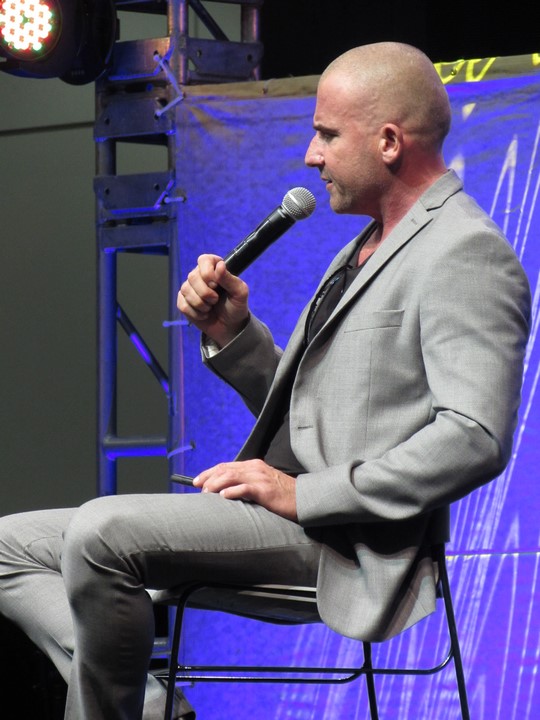 We then got to watch a never before seen clip from the new season. Lincoln is with a group of people, one of which doesn't want to leave without Michael. Lincoln sees a truck driving by outside, which he hijacks, while avoiding gunfire. Purcell said that it was filmed in Morocco. Although it is only nine episodes, it does leave it open for another season.
Fans in the crowd were also given an opportunity to ask questions. One fan asked what was Purcell's favorite part about Lincoln's journey. His answer: rediscovering him. Another fan asked what character he would want to see come out on The Flash, but Purcell admitted that he doesn't read comic books, and didn't even know who The Flash was before he began working on the show! A fan, who had much praise for Purcell's recent movie Assault on Wall Street asked if he had any movies coming out soon, and Purcell told us about one called Abandoned, where he is stranded on open water.
The panel ended with a screening of the Prison Break Season 5 trailer.
With that, we called it a day, and headed home to rest up for the next day! Click here for our Stan Lee's LA Comic Con Sunday Report.
See below for more photos from Saturday at Stan Lee's LA Comic Con 2016!