Stan Lee's Los Angeles Comic Con, formerly known as Stan Lee's Comikaze Expo, took place at the Los Angeles Convention Center Friday, October 28, through Sunday, October 30. Follow along as we share our experience! Josh is going to start off telling our Sunday story, and Violet will take over later on.
Our journey on Sunday morning to Stan Lee's LA Comic Con began much in the same way it did the day before–heading to the train station, and heading up to the LA Convention Center again. We got to the Convention Center a bit early, and decided to wait on the second level. Below there was a massive line to get into the Exhibit Hall. We eventually made our way in and headed back to the Main Stage.
Stan Lee's Superhero Ball Wars
The first panel there, which began a little after 10:00am, was about another of Stan Lee's products coming out, a mobile game called Stan Lee's Superhero Ball Wars. The panel was hosted by Jeffrey Edell, who assisted in creating the game. Opening the panel, he introduced Stan Lee, and talked about following him around New York years ago, bothering Stan Lee. He also reminisces about his time with the Merry Marvel Marching Society, which was created quite a while ago as a fan club.
Jeffrey had a trailer played for the crowd, which featured Stan Lee narrating the story for the game, which takes place beyond Pluto on a small planet called "Ballo," where everything is spherically shaped. Stan Lee narrates further, describing the people of the world, known as Ballians, and their heroes which are known as Inflators. The trailer continues explaining that the world was attacked by the Deflators, enemy spherical peoples who are taking the air of Ballo. So a scientist, with the likeness of Stan Lee, comes up with a plane to evacuate Ballo, and go to Earth so that they can train to go back to Ballo to retake their homeland.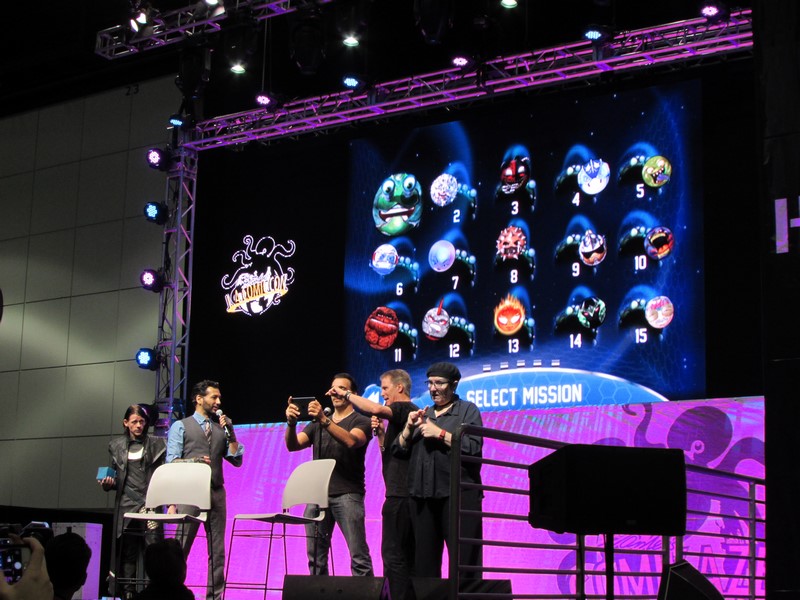 After the trailer, Jeffrey demonstrated playing the game, and talked about how it is an augmented reality game. It seems as though you hold your device, and have to find various Ballians as they are speeding towards you, and capture them for points. I didn't quite comprehend the exact goal of the game, but that seemed to be the basic idea of it.
After playing a round himself, Jeffrey invited to the stage Cas Anvar, who voices Altair in the Assassin's Creed games, and who starred in The Expanse. He doesn't do so well, and fails the round. Jeffrey then invites another man to the stage–Adrian Paul, who played Highlander in the Highlander TV series. He also doesn't fare well in the game either.
The panel wrapped up there with Jeffrey asking people to download the game from the iTunes store, and take photos with some cosplayers that were playing Thor and Loki. Also, a kid who had achieved a high score on the game received a signed autograph of Stan Lee.
Hands of Respect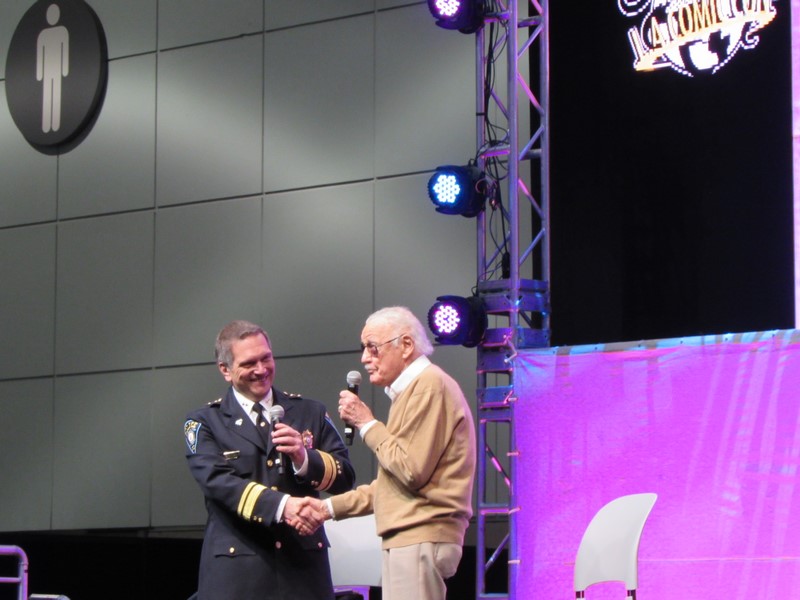 A police chief from New Jersey then came out on stage to present Stan Lee with an award honoring him for his work on Hands of Respect, and made him an honorary New Jersey police officer. Stan Lee joked that anyone speeding in New Jersey should watch out! Then Stan said a few words encouraging attendees to treat everyone with respect in order to make the world a better place.
Chris Hardwick's Ultimate Stan Lee Interview
Chris Hardwick then came out and interviewed Stan Lee, which was the panel which started shortly after 10:30am. So Hardwick started the panel, asking Stan Lee questions which he thought don't come up very much in his panels.
The first question is who he dressed up as for Halloween as a child. Stan Lee says "Spider-Man." But Stan Lee missed the "as a child" part, and he says Errol Flynn. His favorite subject in school was English, and he enjoyed writing. He also talks about how he dated a lot, and was on the newspaper for his high school. Talking about what he was going to do after high school, Stan Lee says he wasn't sure. He then talks about working in the military, and how it was tough at first, but when he was discovered as a writer, he was moved to New York and wrote training books and videos. He talks about how he had to write the nomenclature for the M10 rifle, despite learning nothing beforehand about the weapons. Stan Lee also talked about working on the payroll for the military as well, coming up with a character named "Fiscal Freddy," which helped speed up the finance people in the military training, so soldiers could be paid on time.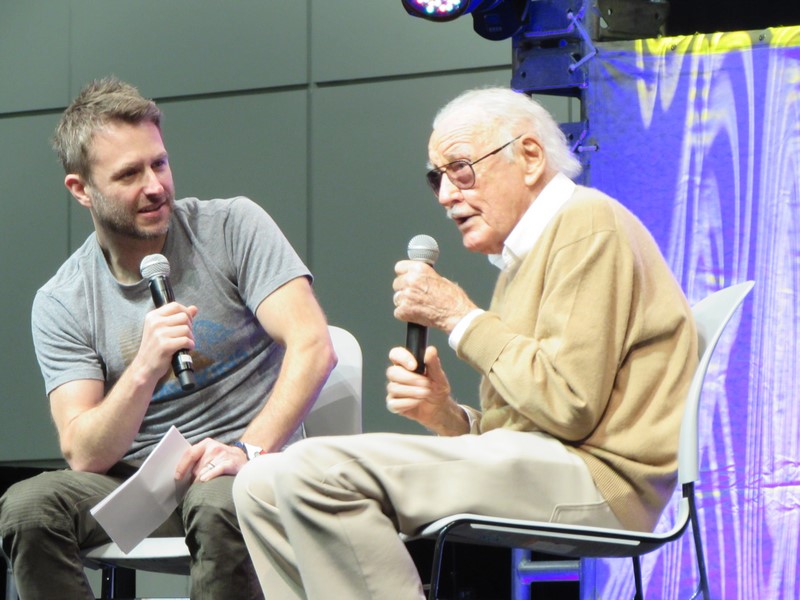 Stan Lee says his best friend was his wife. He also says he would be meeting up with Ken Ball in Rhode Island, who was also in the military. He also mentions a few others, such as Gill Champion, Max Anderson, and even Chris Hardwick, if he plays his cards right.
Chris Hardwick then asks what Stan Lee's great American novel would be, and he says it would have to be about people who don't get along well, and he thinks it would take awhile to write it. Moving on to radio, Stan Lee talks about an old show called Chandu the Magician.
Chris Hardwick then talks about the Doctor Strange premiere, and how he accidentally almost tripped Stan Lee. This causes Stan Lee to talk about a story when he was 17 or 18, and worked as a movie usher in Times Square in New York. He talked about hoping Mrs. Roosevelt would come down his aisle, as she was at the premiere for a new Bing Crosby movie. Sure enough, she did, though he got flustered and called her "Mrs. President." Apparently Stan Lee tripped and fell, and Mrs. Roosevelt ended up helping him to his feet. Stan Lee says it was his most embarrassing moment.
Chris Hardwick then asks how many presidents he has met, and Stan Lee talks about his encounter with Reagan, after he was out of office. Stan Lee says that he told Reagan that he bets he is happy to be out of office, but Reagan said that he loved being president. He also met George Bush, and tells a story that he was at an awards banquet, and how President Bush kissed a woman on the cheek as gave her the award. Then when he got to Stan to hand him his award, Stan said to him, "I hope you're not going to kiss me too!" They both started laughing, and Stan said that someone took a picture of that moment, which makes it look like they're old friends.
Chris Hardwick then asked if Stan Lee had any interaction with Fredric Werthem, a pychiatrist who was causing fear-mongering about comics, and how they were a bad influence. Stan Lee talks about this man, and how he wrote a book about a boy who murdered his mother, and what caused it, and that book had an impression on Stan Lee, so it broke his heart to learn that this man turned into a nutcase.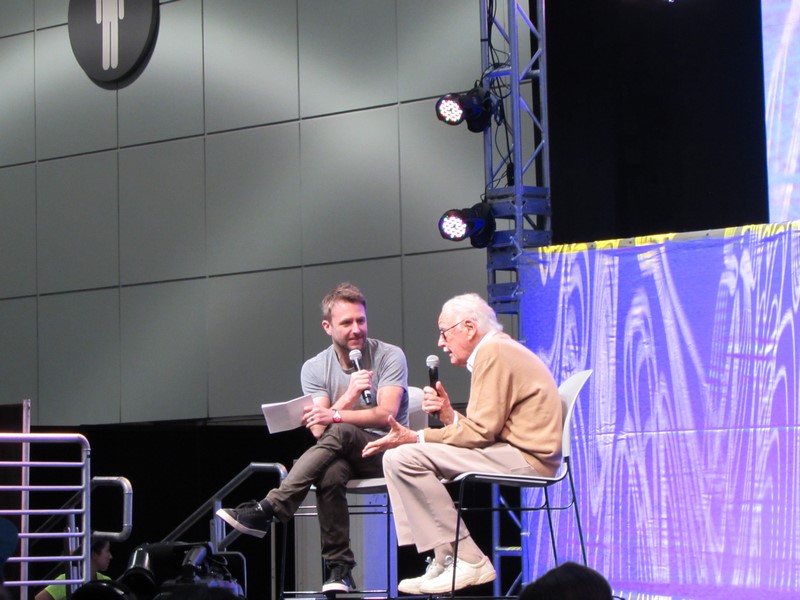 Chris Hardwick then asks Stan Lee about his look. Stan Lee doesn't seem to think his look is that unique. As for his mustache, he says it came from trying to look like Errol Flynn, but his wife hated the beard and mustache, so he decided to shave the beard and keep the mustache. Stan Lee then proceeds to berate Chris Hardwick about his attire.
Stan Lee is then asked about his fan mail, and he says he gets tons, both good and bad — but whenever he gets negative comments, he can't sleep that night. Chris Hardwick also asks Stan Lee if he met Errol Flynn, and Stan Lee is sad because he never got to meet him, and that Chris Hardwick reminded him he never got to. Stan Lee then talks about how he wanted to be like Errol Flynn, but then realized it was more his characters as Errol Flynn wasn't that great of a guy.
Stan Lee is then asked about any controversial comics he may have wrote. Stan Lee has trouble thinking of one, but he talks about making Spider-Man. He says that he wanted to make the kid a teenager, and his boss didn't think people would like it because no one likes spiders, and no one would like a teenager unless it was a sidekick. Stan Lee then talks about adding Spider-Man to the last issue of a comic run, and that issue sold the most for the month. Apparently his idea for Spider-Man took off, because his boss came in and wanted to make more comics of the character.
Chris Hardwick then talks about Star Wars and Stan Lee's publishing of those comics. Stan remarks how jealous he is of George Lucas given how much he made just from Star Wars, while he has made dozens of characters and Star Wars has beaten him.
Stan Lee then talks about how his initial interest in comics was just to keep the rent paid, but says he is happy that the stories have made people use their imagination more, and how reading should change one's life.
Chris Hardwick and Stan Lee then took a selfie together with the audience in the background to end the panel.
Gerard Way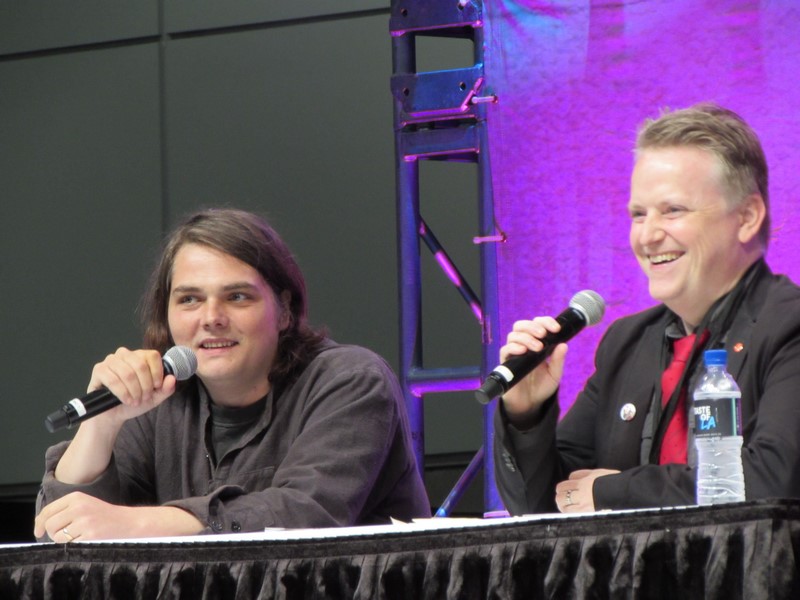 This is Violet taking over for the rest of the article! Right after Chris Hardwick's interview with Stan Lee wrapped up, the next panel was Gerard Way. He is probably best known as the singer of rock band My Chemical Romance, but he also has a large following as the writer of DC Comics series Young Animals. We weren't able to stay for this panel, which started a little after 11:00am, but I took a few photos before leaving the Main Stage area.
Since it was still early, the line for food in the convention center wasn't very long, so we went ahead and ate lunch, knowing that we probably wouldn't get a chance to later. Then we caught the train and headed over to The Reef (about a mile away) for the Fantastic Beasts and Where to Find Them panel at EW Popfest. Click here for our recap and photos of that panel!
Visualizing Heroes and Villains – Masters of VFX
This panel was scheduled to take place 1:30pm – 2:20pm, so I knew it would be cutting it close and that we would be a little late after attending EW PopFest. However, presumably due to the rain, the Fantastic Beasts panel started late, and went over on time, so it didn't even wrap up until just after 1:30pm. So by the time we caught the train and made our way back to the convention center and up to Room 409 AB, it was about 2:00pm.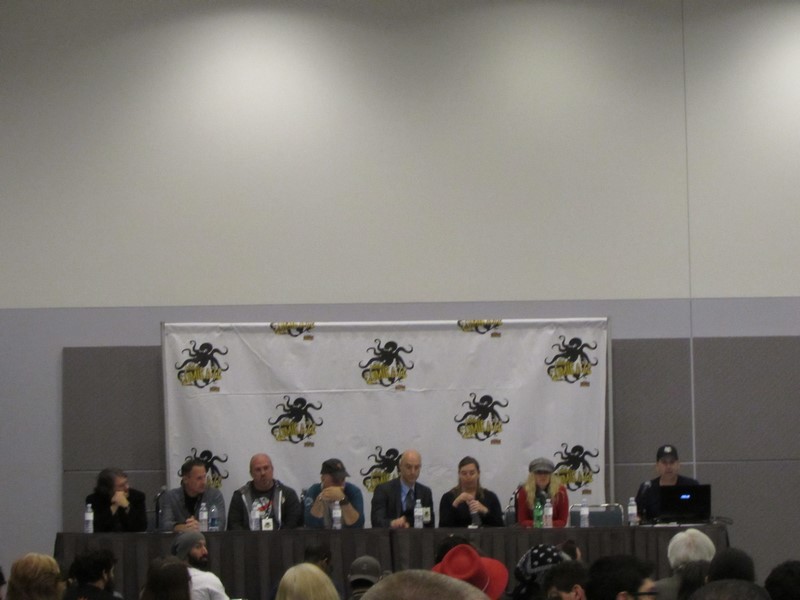 This panel featured Mark Kolpack, Sabrina Arnold, Briana Aeby, Ryan Moos, Kevin Lingenfelser, John Decker, Tom Mahoney, Dan Mellitz, who are all visual effects masters that have worked on popular TV shows and movies, such as Agents of SHIELD, Preacher, Tron Legacy, Pirates of the Caribbean, and more. Unfortunately, because we arrived so late, we missed any introductions or explanations about particular things that the panelists have worked on.
Right after entering the room, a clip was played which featured several different scenes from Agents of SHIELD, providing some behind the scenes graphics of how certain visual effects were put together. For example, once scene was of Robbie Reyes, aka Ghost Rider, in Agents of SHIELD the first time his head turns into a flaming skull.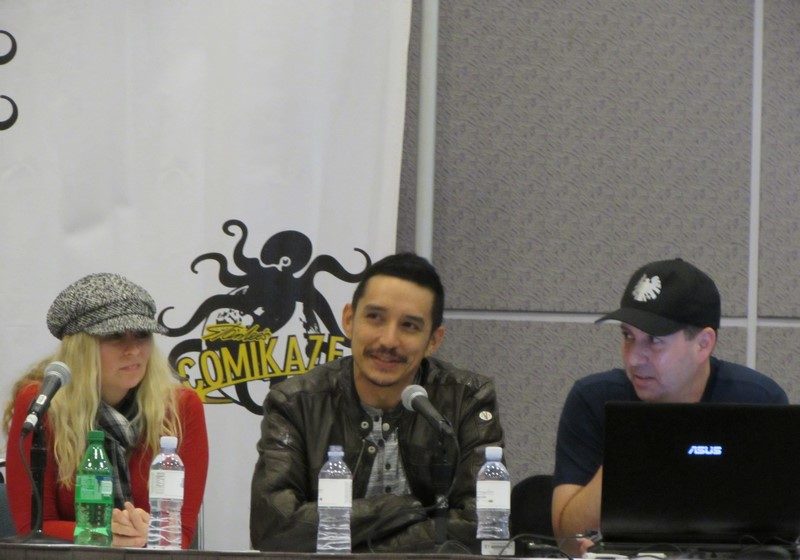 After the clip, actor Gabriel Luna, who plays Ghost Rider, joined the panel and talked about his experience working with the visual effects artists. He praised their amazing work, and spoke about Mark Kolpack giving him advice on how to walk, and how Mark had told him it was "all about the walk." After seeing it on screen, Gabriel said from then on out, he learned to listen to everything he said. We also learned that there's a difference between when Robbie goes full flaming skull, and when his just his eyes turn red — Gabriel has to wear a hood over his head when it's the full flaming skull.
It was really interesting hearing the behind the scenes info on how everything is brought to life and looks so great. It's too bad we didn't get to see the whole panel.
After the panel wrapped up, we chatted with our friend @cyberaug for a bit, then headed out to catch the train back home! Another great year of Stan Lee's Comikaze — er, I mean, Los Angeles Comic Con — in the books. Looking forward to next year already!
See below for more photos from Sunday at Stan Lee's LA Comic Con!