The first Entertainment Weekly PopFest (or EW PopFest, for short) took place at The Reef in downtown Los Angeles on Saturday, October 29 and Sunday, October 30, 2016, offering fans an opportunity to get up close and personal with their favorite pop culture stars! Violet is going to tell you about our experience there on Sunday. Click here if you missed our Saturday recap, featuring the Supernatural and CW Superheroes panels.
It was about 11:30am by the time we finished up our early lunch at Stan Lee's LA Comic Con and decided to start heading over to EW PopFest for the Fantastic Beasts and Where to Find Them panel that was scheduled to start at 12:30pm. But when we got to the front doors of the convention center to exit, we noticed something — it was raining! We had known it was a possibility, having looked at the forecast that morning and seen that it was a 63% chance of rain, but we were hoping we wouldn't have to deal with it for the short amount of time that we would be outdoors. We also didn't bring an umbrella, because it was on the list of items that were prohibited at EW PopFest.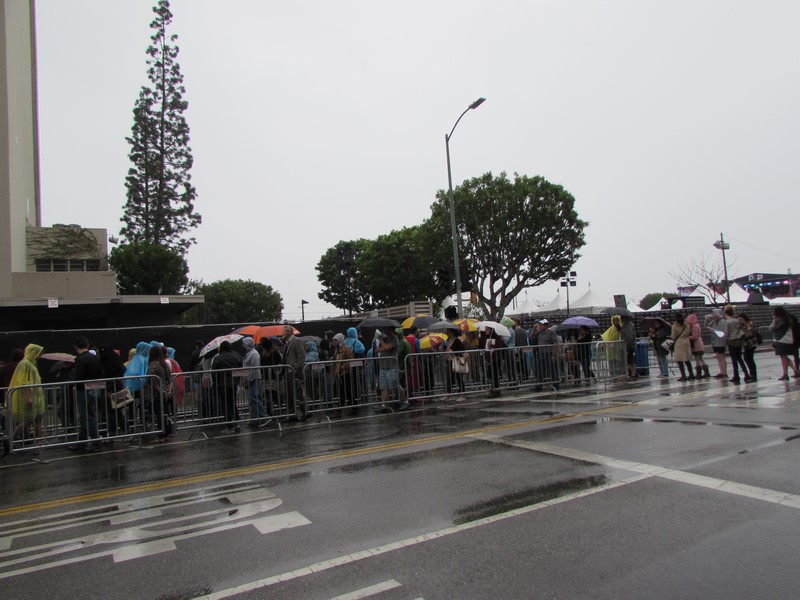 Fortunately, it wasn't pouring rain, though it was a steady light rain. We hopped on the Metro Blue Line and made our way over to The Reef, about a mile away, where there was already a long line of people waiting to go through security. Many people had umbrellas. Some people didn't. We were wondering if the umbrellas would end up being allowed. There was a guy selling rain ponchos, but we were fine with our hoodies. Turns out all the umbrellas were allowed inside without any issue, which was kind of annoying, because that meant there would be umbrellas in my view during the panel. Luckily, by the time the panel started (which was several minutes after the scheduled 12:30pm start time), the rain had mostly died out.
The panel began with a teaser for Fantastic Beasts and Where to Find Them, then Entertainment Weekly's resident Potter expert, Marc Snetiker, came out to moderate the panel, and brought out actors Eddie Redmayne and Katherine Waterston. For those who don't know, Fantastic Beasts takes place in J.K. Rowling's Wizarding World in 1920s New York City. Eddie Redmayne plays Newt Scamander, while Katherine Waterston plays Porpetina "Tina" Goldstein.
Katherine talked about how being on set was like being in a J.K. Rowling museum, and Eddie added that this new movie has all the little things you love about J.K. Rowling movies, but set in the 1920s, down to the little details of a shoe shine area outside the subway.   Katherine also commented that the character who plays her sister uses a lot of cool 1920s slang. We then got to watch a clip from the movie, at which point the moderator made sure to emphasize we needed to "keep the secrets," meaning that we shouldn't take video of the clips being shown on screen. There were security guards walking around making sure no one was recording.
This first clip was called "Welcome to New York." As the title suggests, it is when Newt Scamander first arrives in New York, and he is getting his baggage checked. The inspector insists on opening his suitcase, which Newt quickly switches over to "Muggle Worthy" before handing it over. When the inspector looks inside, it just looks like normal clothing is in it, so he tells Newt "Welcome to New York."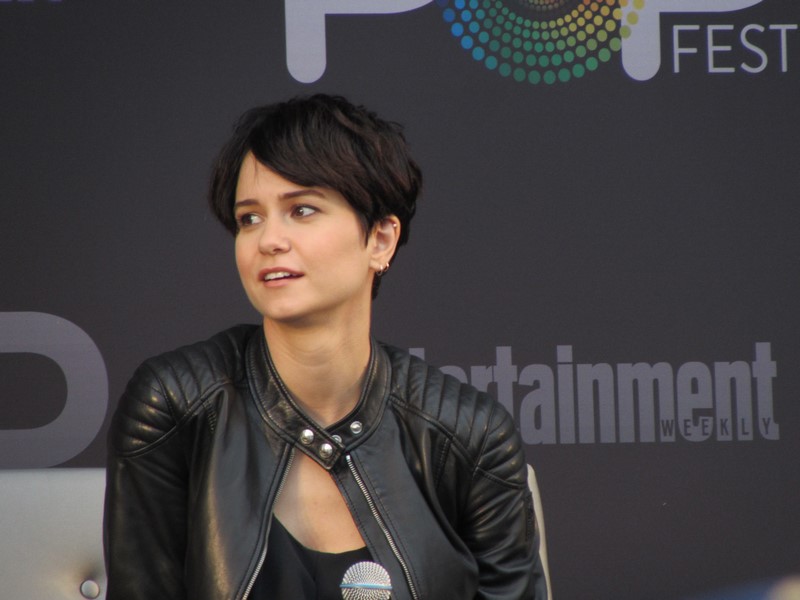 The moderator commented about the Hufflepuff scarf inside the suitcase, and asked if Newt Scamander would bring Hufflepuff back to glory, to which Eddie replied, "I hope so!" Katherine then spoke about the biggest difference of American witches and wizards, which is that they aren't allowed to engage with Nomages (the American term for Muggles) at all, and that there is a lot more secrecy with witchcraft, due to the Salem Witch Trials. Then Newt Scamander comes and breaks all the rules, which frustrates Katherine's character. The moderator then brought up the fact that [spoiler alert] their two characters end up together, according to canon. Even though the two don't see eye to eye at first, Katherine commented that it's fun for the audience, knowing that they eventually get together, to see the beginnings of that.
We learned that when we first meet Katherine's character, Tina, she's an Auror, though she has been demoted. Newt sees her potential and encourages her to get back out there.
In the next clip, "Just a Smidge," Newt uses magic to repair the side of a building which has been destroyed by a beast that escaped from his suitcase. Meanwhile, Dan Fogel's character has been knocked out, and is laying on the floor. Tina reaches Newt's room just after everything is repaired and asks if his suitcase was opened. He replies, "Just a smidge."
Eddie Redmayne commented that that was the first scene they shot together. They talk about the little beast he was holding in the clip, and the different sort of props they would use in place of the beasts. Katherine praised how talented Eddie was while "wrestling" the beasts. They also talked about their use of wands, or "wandry," as the moderator called it. Katherine said that when she first picked up her wand, she felt "goofy" and made them make her wand heavier so that it would feel more substantial.
Katherine recalled when she and Allison Sudol, who plays her sister Queenie in the movie, did an audition together and felt a strong connection with each other. Eddie commented that Dan Fogler, who plays Newt's friend, a Muggle, brings such heart to the movie. He also remembered when the four of them did their first read through together, they were left alone together at the studio, and had a real bonding moment.
We then got to watch yet another clip, in which Newt and Dan Fogler's character, Jacob, hop into Newt's suitcase. Unfortunately, Jacob is a bit large, and has to force his way in. Once in, Newt gives him a solution, because apparently Jacob has had a side effect to a murtlap, due to Muggles having a slightly different physiology than wizards. They then go further in and see a large birdlike creature. Newt comments that if this beast had gotten out, it could have been catastrophic.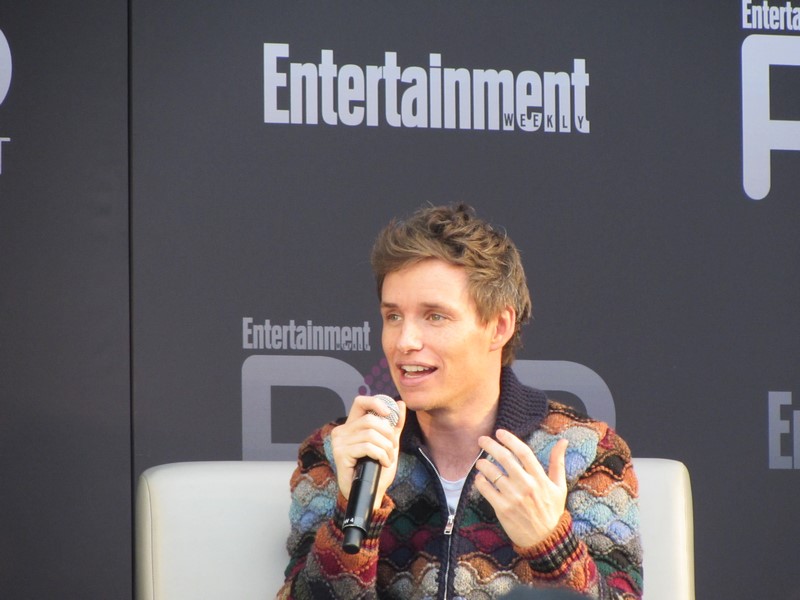 The moderator asked if Katherine and Eddie ever tried to get details out of J.K. Rowling. Katherine said she never asked, but one time Rowling couldn't hold it in anymore, and even though she wasn't supposed to, gave them some details about the next film. However, when they heard there were going to be 5 movies, that was news to them. But Eddie conceded that he could see how it could be a "macro story" that could take more time.
When asked who was the biggest Harry Potter geek on set, both said that without a doubt, it was Ezra Miller, who was their source for everything anyone needed to know about the Harry Potter world. We then watched a clip from Ezra Miller, who was unable to make it to EW PopFest. Ezra talked about how in Harry Potter and the Deathly Hallows [spoiler alert], Voldemort retrieves the Elder Wand from Dumbledore's tomb, which used to belong to Grindelwald. Ezra then points out that Fantastic Beasts takes place in 1926, which is around the time that Grindelwald began his attacks on Europe — and teases that this might be connected, and might not be connected to Grindelwald's rise to power.
Katherine and Eddie talked about how Ezra is such a big Harry Potter fan, that when the part came up, he was already doing The Flash, but he begged them to let him do both, and worked hard to work out a schedule to where he would be able to do both.
An audience member asked about the training that the actors received. Apparently Eddie had to work out every day for a scene where he takes his shirt off — but then the scene was cut! They did stunt training, but Eddie explained that stunt training in the J.K. Rowling world is weird stunt training. Katherine agreed, saying that she ran with a teapot. She also said that they often things would come together on the day of, like climbing up boxes, then sliding across the floor and catching something. Eddie talked about going through months of training to ride on the back of a large animal, then on the day of, he was suspended in the air on top of a "green bucking bronco."
The final question is from a little girl asking what is their favorite beast if they could keep one. They both agree on the bowtruckle, because it's the "lap dog" version of a magical creature, and would be the easiest to take care of, and very cute and loving.
With that, the panel was out of time, actually having gone over time, and thus ended our day at EW PopFest, as we had to hurry up and get back over to Stan Lee's LA Comic Con for a panel. This was a pretty cool event, and I hope they do it again!
See below for more photos from the Fantastic Beasts and Where to Find Them panel at EW PopFest: