The first Entertainment Weekly PopFest (or EW PopFest, for short) took place at The Reef in downtown Los Angeles on Saturday, October 29 and Sunday, October 30, 2016, offering fans an opportunity to get up close and personal with their favorite pop culture stars! Josh is going to tell you about our experience there on Saturday.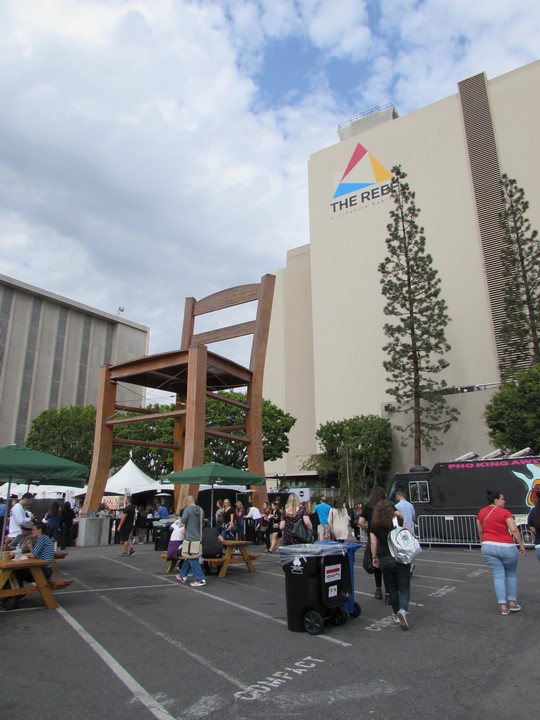 At about 11:30am, we decided to make our way from Stan Lee's LA Comic Con at the Los Angeles Convention Center over to EW PopFest. We had to hop on the Metro Blue Line for one stop to get to The Reef, where the event was being held, then walked about 2 blocks. Upon arriving, we had to get in line to get a wristband, then stand in another line to go through security. Ugh, security. Normally it is not a big deal for me, as I don't generally carry much on me, but I had a backpack, and pockets full of stuff, so it was a bit of a hassle. The line took about 30 minutes to get through too, so that was a bit frustrating.
Finally arriving inside, Violet and I were not sure exactly what to expect. Arriving at the Main Stage there, it felt like an outdoor concert like Warped Tour or something like that. It wasn't terribly crowded though–plenty of room to move around and get a good view, which was nice. I am curious to know how the ticket sales went for EW, as I would guess they might have hoped for a bit more, given the fairly light crowd. Still–the most rabid fans showed up, and seemed excited to see their favorite CW characters.
Supernatural
The first panel was the Supernatural panel. Jared Padalecki and Jensen Ackles were there, who play Sam and Dean Winchester, the main character brothers on the show. They came out, and the panel was moderated by Samantha Highfill. The two "brothers" came out as goofy as they usually are, getting started with a cheesy CSI: Miami parody. It was groan-worthy funny.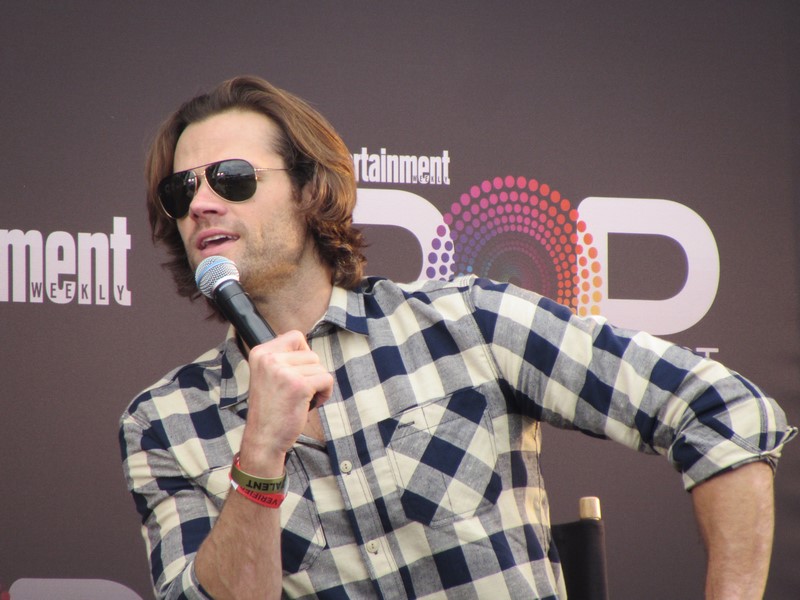 The two talked about various aspects of the show, such as how it has changed since the first season, where now they are much more comfortable with the show, and are much less concerned if the show gets cancelled than when they finished their first season. They also discussed how they knew they had the chemistry to be brothers–which they both thought was when they did their first sit down read together.
Jared Padalecki had a lot of fun with "mic drops," while Jensen kept making fun of him for it, and telling him how often he breaks mics when he does that. This didn't seem to faze Jared too much, and the antics continued through the panel.
Another aspect they talked about was mom leaving. Apparently she recently abandoned the two, and Jared talks about how Sam seems to always lose whatever he is holding on to.
One of the audience questioners offered Jared some of his favorite cookies, which are white chocolate macadamia nut cookies. This got Jensen in an uproar, demanding the girl to tell him what his favorite cookies are. Unfortunately she did not know, and apologized but Jensen got his own container of cookies, and he seemed grudgingly content with that.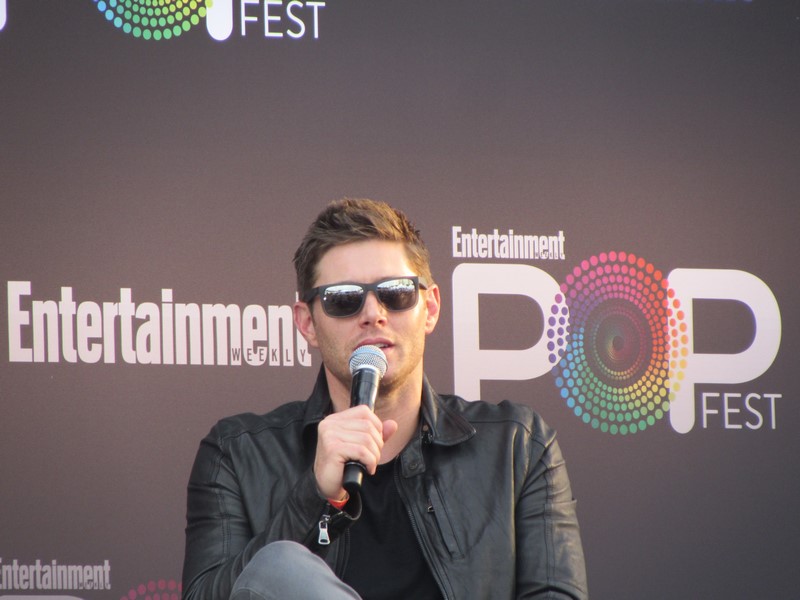 Another audience member asked if they could recite any of the exorcism chants that they've used in the show. Jared shared an interesting story with us about how when he was in high school, he took Latin so that he could do well on the SATs. He explained that the running joke when you take Latin is that you're never going to use it. This would have proved to be true, had he followed his intended path of becoming an engineer, but then he became an actor on Supernatural and actually uses Latin! Jared then recited some Latin for us.
The panel finished up with a trivia challenge, having Jared and Jensen face off against each other about knowledge of their own show. They both did very well, but there was some controversy, with Jensen claiming Jared's polling of the audience put him a point behind. It all came down to one final question for the win however–how one kills Bloody Mary. Jensen was the first to chime in, saying that you say its name three times. Jared began telling him that that is how you conjure Blood Mary, but then Jensen realizes this and says the correct answer, which is to show Bloody Mary her own image in a mirror.
CW Superheroes
After the Supernatural panel, actors from the CW DC shows came to the stage including Grant Gustin (The Flash), Stephen Amell (Green Arrow), Melissa Benoist (Supergirl), and Caity Lotz (White Canary from Legends of Tomorrow). Also on the panel was Greg Berlanti, executive producer for the shows.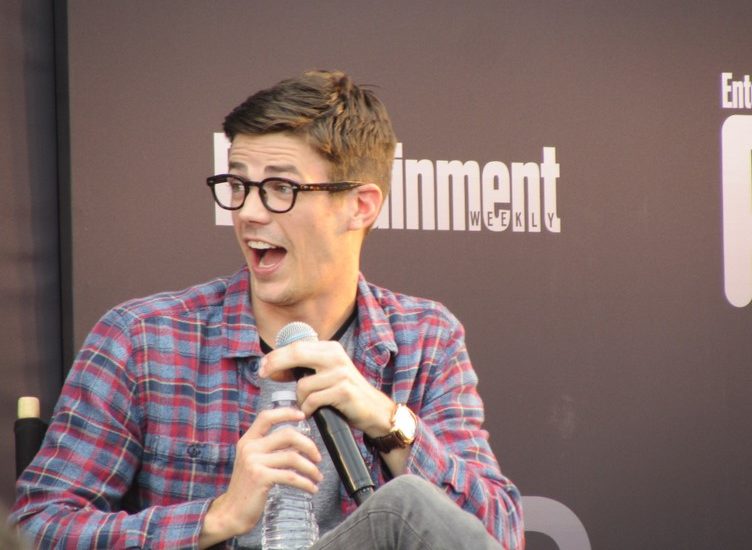 The big topic for their panel was the big crossover that was coming up. The four shows are going to have a big story arc that will span across all four shows, and it was described as a big four hour movie. We also got to see some clips from the crossover too, one in which The Flash and Green Arrow  "kidnap" Supergirl, but Supergirl clues them in saying that she let it happen because after all, Green Arrow doesn't have Kryptonite arrows, right? We also see Felicity and Cisco putting the superheroes into a sort of Danger Room, where the group has to fight off small, spherical robots.
Some other topics that came up were how their auditions went when they got the part. Stephen Amell seemed to get his pretty quickly, while Grant Gustin and Melissa Benoist said they had a several week long process to get the part. But Greg Berlanti said that all of the actors on the stage were the first to be brought in for each of their parts.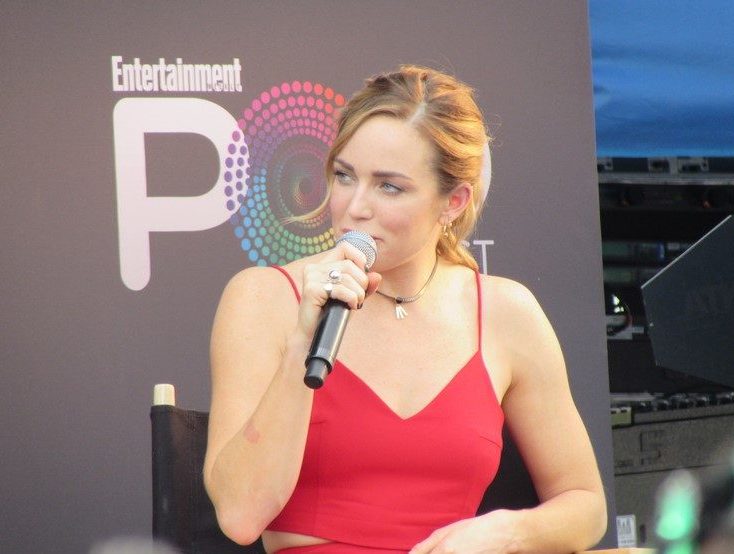 Caity Lotz also talked about how much fun she has with the stunt training, and taking over as leader of the Legends of Tomorrow. She mentioned how before she was the "back seat" leader with Rip, but now she is going to be the one taking full responsibility for people that get hurt, or when things go wrong on the mission.
Also asked of Stephen Amell was what will happen with "Olicity" (Oliver and Felicity's relationship, for those not knowing what that phrase means). Berlanti chimed in with a cryptic answer, but seemed to hint they are likely to get back together at some point in the future. Amell revealed that there is a conversation in an upcoming episode where the two discuss their relationship.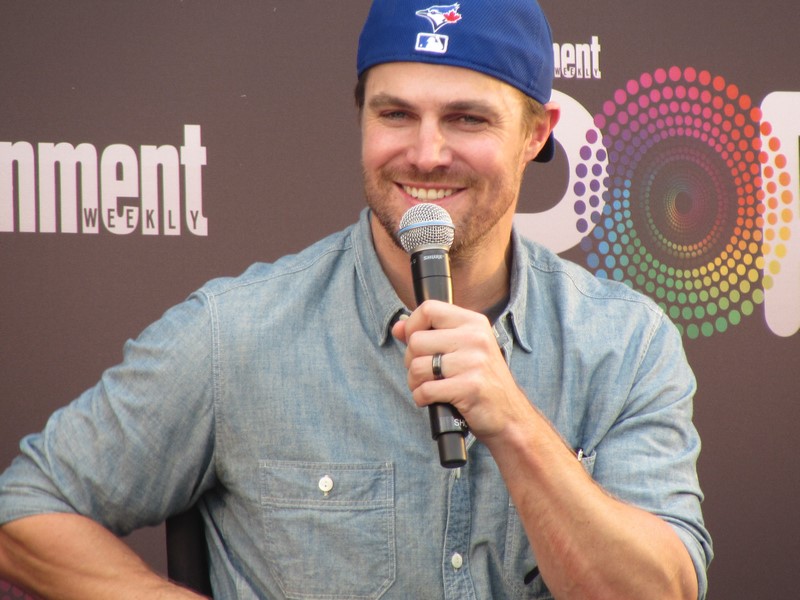 An audience member asked Stephen Amell about an episode where Oliver woke up and there was a mouse on him. Amell said that he did not like it, because there are two things in the world that terrify him: mice and zerks. He explained that zerks are little explosions that are strapped to you — but Caity Lotz interrupted, correcting him that those are called squibs, while zerks are what are shot around you. Apparently Oliver is going to get shot in the heart. Amell said that when the explosion goes off, your instinct is to look down, but you're supposed to look up. He also remembered that they are not allowed to have zerks on Arrow anymore, because one time he got hit in the head with one!
A little kid asked Grant Gustin about when a new bad speedster will be appearing on the show. Grant replied, "very soon." Berlanti chimed in saying it was Savitar, and referred to him as the "God of Motion."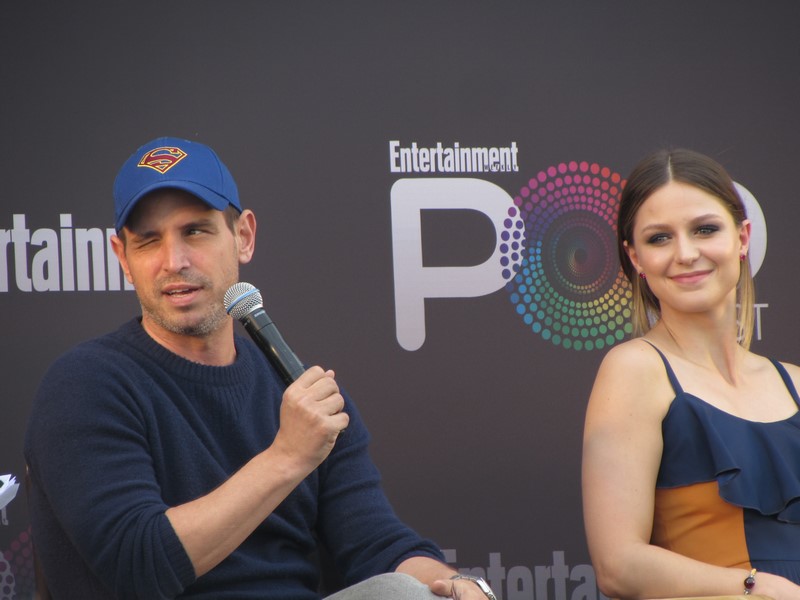 Another question asked was of Melissa Benoist, asking if she is like Supergirl, and she responded that she is more like Kara, because she is bumbling and dorky like her. She also remarked that she is not sure which way that is rubbing off, if her character is rubbing off on her, or if she is rubbing off on her character.
Also asked of the panel is if it is possible to ever get back to the original timeline for Barry, and Berlanti said that it is pretty unlikely with how they have set up the universe.
With that, the panel wrapped up, and so ended our day at EW PopFest — but we would be back on Sunday for the Fantastic Beasts and Where to Find Them panel! Stay tuned for our report on that.
See below for more photos from the Supernatural and CW Superheroes panels at EW PopFest!