Following the Con Man panel which took place on Thursday, July 21 at San Diego Comic-Con 2016, was the Fear the Walking Dead panel, which started at 12:00pm in Hall H.
Of course, the panel was moderated by Talking Dead host Chris Hardwick, who announced that the second half of Season 2, which returns August 21, would contain 7 episodes, with Talking Dead to follow each episode.
We then watched the premiere of the mid-season trailer, which you can watch below:
Hardwick then brought the panelists out on stage, which included Executive Producers Dave Erickson, Robert Kirkman, Dave Alpert, Greg Nicotero, and Gale Ann Hurd, followed by cast members Colman Domingo (Strand), Kim Dickens (Madison), Cliff Curtis (Travis), Frank Dillane (Nick), Mercedes Mason (Ofelia), Alycia Debnam-Carey (Alicia), Lorenzo James Henrie (Chris), and new cast member Danay Garcia.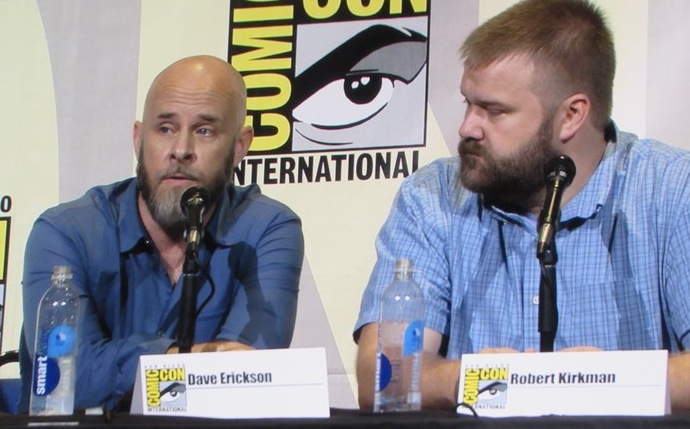 Dave Erickson started off by talking about how the characters really have to learn to survive this half of the season, then Gale Ann Hurd spoke about shooting in Mexico. Dave Alpert commented that the skills the characters had in the "old world" might not apply here, and that we'll be seeing the characters develop into something new. Regarding the difference between this show and The Walking Dead, Kirkman commented that this show offers more experiences that you can't get from the other show, and that the diversity between the shows and the fact that they're so different, yet exist in the same world, is the best part of it. Greg Nicotero spoke about the evolution of the walkers, pointing out that in Fear the Walking Dead they have the ocean and the plane crash to work with. He also talked about shipping dead bodies to Mexico, which apparently is not an easy thing to do.
Moving on to the cast, Cliff Curtis talked about how his character, Travis, is probably the slowest to adapt to this new world, but teased that we might see him do something that will shock viewers. He also called Travis a "bad-ass dad." Addressing Travis going off with Chris, Curtis commented that "it was the honorable thing to do" since Chris wasn't getting the attention that he needed, so Travis is going to try to "go camping" and figure out how to help him.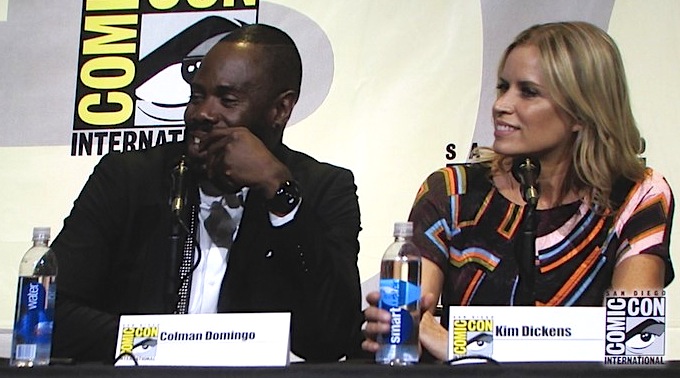 Hardwick asked Lorenzo James Henrie if Chris was really going to stab Travis, but Henrie answered that he was just giving him "a tease." However, Mercedes Mason chimed in and said that Curtis and Henrie are "still wrestling" and they're "always sizing each other up."
In response to Hardwick's question of whether Madison killing Celia is indicative of what more we're going to see this season, Kim Dickens replied that she thinks it is. She recalled reading the script and coming to that part, which shocked her. Dickens commented that, "Something overcame her, and without thinking about it she did it," which is an indication of what's to come. Dickens also talked about how Madison still thinks of Nick as a child who needs to be protected, but she has to let him go now.
Moving on to Frank Dillane, Hardwick asked if Nick had given up on his family. However, Dillane said that Nick probably just needs to figure stuff out, and that he could "never really give up on family outright," that he "just needs some time." Dillane also talked about the "gunking up" process, since in the trailer we see that he covers himself with walker blood to blend in with the walkers. Dillane said that the process is miserable and really sticky. He recalled one that day they really went for it, and he ended up looking like Hellboy!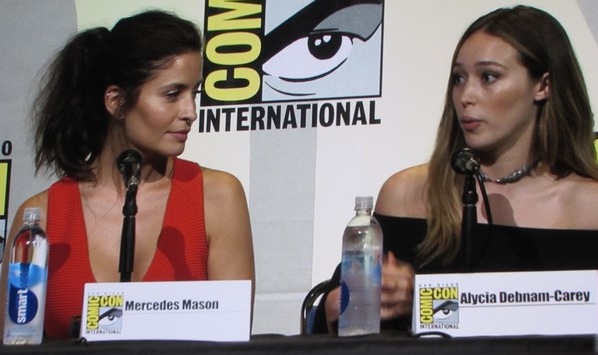 Alycia Debnam-Carey talked about how tension has been "boiling beneath the surface" between Madison and Alicia, but said that now that Nick is going away, maybe Madison will focus all of her attention on Alicia. She teased that the two have an interesting mother-daughter relationship that we will see change very much in the second half of this season.
Hardwick asked the panelists who always cracks up during scenes, and they all seemed to agree on Colman Domingo. We then watched a blooper reel, which included a pretty awesome scene of Domingo dancing to Michael Jackson's "Beat It."
Domingo then addressed Strand's losing Thomas, pointing out that Strand has been going through a "huge deconstruction" the entire season, saying that Strand is now out there alone trying to figure out who he is, and hopefully the loss of Thomas will make him stronger, but it could possibly break him. Hardwick asked if Strand really loved Thomas or if Thomas was just a means to an end. Domingo's theory was that Thomas started out as a means to an end, but that when Strand yells out "Thomas!" that's when Strand realizes that he really loved him. Domingo also spoke about Strand's relationship with Madison, at first joking, "He has the hots for Madison," but then saying that they find out that they need each other more. Kim Dickens talked about Madison's "unlikely alliance" with Strand and suggested, "They might get drunk together later…"
This prompted jokes about Strand and Madison hooking up, to which Mercedes Mason acted shocked, and pointed out that Travis was sitting right there! Chris Hardwick reminded her, "He's on a camping trip!" Curtis replied, "I'm good. There's a lot of Madison to go around." But in all seriousness, Curtis mentioned that Strand has always been there to save them, so in the back of his mind, Travis is thinking that while he's away, Strand will take care of Madison.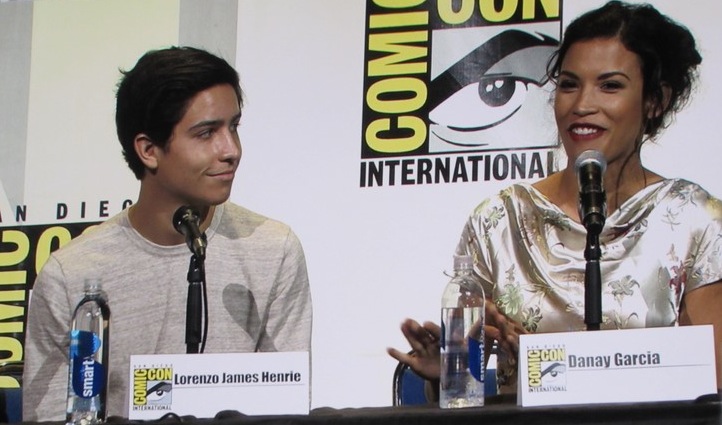 Next, Erickson talked about the new character played by Danay Garcia, whose name is Luciana. He explains that Nick finds a neighborhood outside of Tijuana where they believe that evolution is the next step, which is where he meets Luciana, a "bad-ass soldier" in this group, and they form a bond. Garcia recalled her first day on set, when she saw "walking deads everywhere!" eating lunch. She explained that her character is "testing" Nick, since he is the foreigner and this is her land, Mexico. Garcia herself is Cuban, so she had to research the unique way that the Mexican culture deals with death. She found out that there are three important days: the day you die, the day you're buried, and the day you're forgotten. Garcia went on to say that Luciana puts Nick in his place until he can pass the test.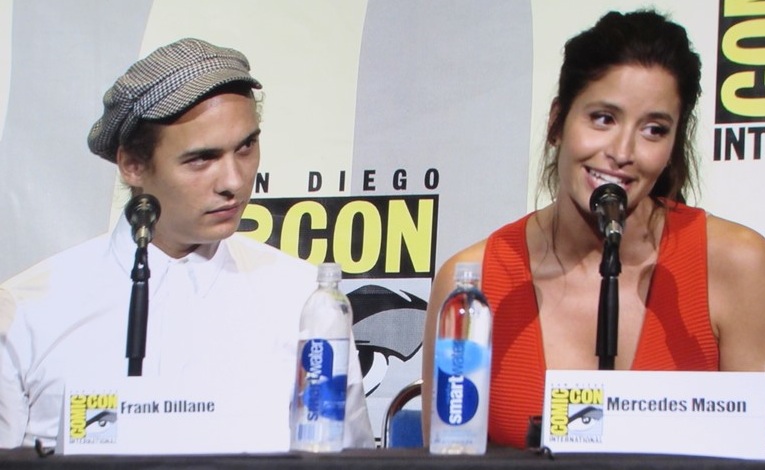 When Hardwick tried moving on to Mercedes Mason, she made a comment about there not being coffee on the table. Hardwick then explained that when Mason had come to appear on Talking Dead, he went to take a selfie with her, but in the process of doing so, spilled hot coffee all over her! He again apologized profusely. Hardwick then asked if Ofelia had a romantic connection with Nick or Chris. Mason said that she thought Ofelia and Nick had a connection, but that this separation may change them and determine whether they're going to be together or not. Regarding whether Ofelia is ready to accept what's happened, Mason said that she really doesn't have a choice at this point, and that she is essentially an orphan now — which makes her "really bad-ass" because she has nothing to lose. She said she will either crumble or become really strong. Mason also teased that when you have nothing left to lose, you can make "crazy, fatalistic decisions."
Hardwick then opened up the panel to audience questions. One audience member asked Frank Dillane what was the hardest scene that he's had to do so far in the series. He again talked about the technicalities of the blood being "quite horrible." Then he brought up his very first scene with Travis in the hospital.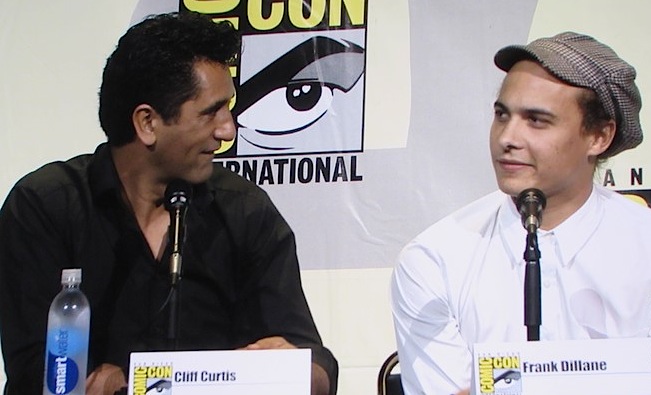 Another question was what the cast members want their characters to do more of. Alycia Debnam-Carey spoke about how the characters are now separated, so you'll get to see them more individually. Curtis thinks the most important thing to Travis is family, and that he wants Travis to get the family back together. Dickens said that she wants to explore Madison's past. At this point, Hardwick inserted his theory that one day Madison would call up Rick and say, "Yo Rick, it's your cousin, Madison Grimes!" Domingo would like to see Strand have more compassion — and find a weapon. Dickens and Hardwick insisted that Domingo should do a "Thriller" dance — maybe for Comic-Con next year?!
When an audience member asked the panelists how their characters are influencing their evolution as a person, Henrie went off on this heartfelt speech about how it made him more aware of bullying… except that it sounded to everyone (myself included) like he had said "bowling" and this wasn't clarified until Hardwick brought it up! Debnam-Carey revealed that she now knows how to use a switchblade, while Mason said she enjoyed the progress from such a weak, meek character, and that she loves strong women. She also told the producers that she wants her nickname to be something like "Hammerface," or another object "face" and then ruin people's faces with said object!
Erickson talked a little about the transition to shooting in Mexico, saying that he had wanted to hold onto the urban background, but now they are moving into a rural background, which he described as "beautiful" and said that the crew there has been great. The panelists then all chimed in that the food is great as well.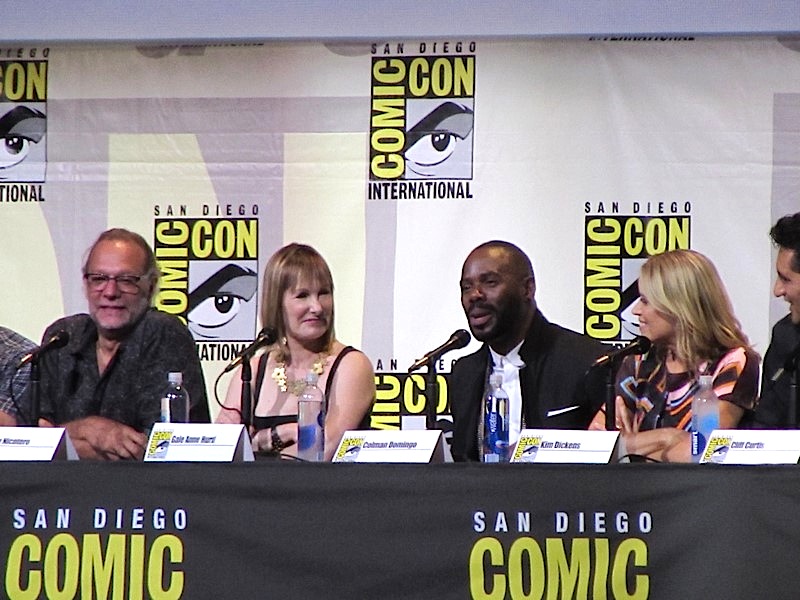 A random question from the audience was whether Burt from Tremors would have survived in Fear the Walking Dead, to which Gale Ann Hurd responded that she thinks he would have, and pointed out that Tremors was actually shot in the same place that they're shooting Fear the Walking Dead, and said that there might be a few props from Tremors still down there.
When it comes to the Dia de los Muertos imagery that we would see this half of the season, on a scale of 1 to 10, the producers answered between 7 and 8.
One person asked about Patricia Reyes Spindola, who played Griselda, to which Erickson responded that they would love to bring her back, and teased that there "may be a window to see her again."
A young girl asked the panelists how they would like for their characters to die on the show. Domingo said Strand would probably die of something ridiculous, like being stung by a bee. Dickens said Madison would probably drive the zodiac right into the Abigail. Curtis would like for Travis to die of old age. Dillane answered "slipping on a banana or something and hitting my head." Mason said Ofelia should "swallow a hand grenade and ruin everyone's clothes with all the brain matter." Debnam-Carey wants a West Side Story duel with Madison and Alicia — or a piano falling on her head. Henrie wants Chris to die riding on a horse and fighting. Hardwick pointed out that he should have said bowling! Finally, Garcia said she would like Luciana to die dancing Thriller.
The final question was for Robert Kirkman and Greg Nicotero regarding how doing Fear the Walking Dead is different from doing The Walking Dead. Kirkman talked about how doing Fear the Walking Dead has allowed them to go back and do things that they missed on The Walking Dead because they started the show after Rick had been in a coma for a few weeks, such as not knowing what a zombie is when you're being attacked by it. Nicotero brought up how they have a different palate on The Walking Dead because there's more decomposition due to already being a couple years in, and suggested that as they approach Season 3 of Fear the Walking Dead, they'll start expanding that palate as well.
With that, the Fear the Walking Dead panel wrapped up. Chris Hardwick said that The Walking Dead panel was supposed to start up right after the Fear the Walking Dead panel was over, but Hardwick said he had to pee! So there was a short break while he went and did that. Click here to continue to our recap and photos of The Walking Dead panel!
See below for more photos from the "Fear the Walking Dead" panel: