After spending most of the day (and all night) in line on Friday, it was finally time for the big day at San Diego Comic-Con – Saturday! The day started off with the Warner Bros. Presentation panel, featuring Man from U.N.C.L.E., Pan, a surprise appearance by director David Ayer and the cast of Suicide Squad, and Batman v. Superman!
If you missed our Friday recap, click here!
So Saturday had finally come, and it was time for what I consider the "Crown Jewel" of Comic-Con. I was up bright and early as if it were Christmas, showered and ready to go. The rest of our group got ready as well, and we headed down to the line. We got some breakfast burritos from the stand that had been set up outside our hotel (the Hilton Bayfront), and even got a couple for our new line friends Samantha and Bethany. They were in line and already moving towards the tents when we found them.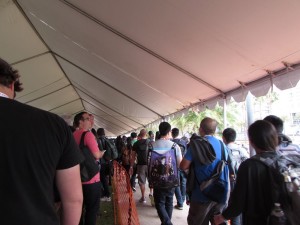 Unfortunately, the burritos were fairly "meh," but we all did our best eating them for the sustenance they provided. A couple of people in the group decided to get some smoothies from the yogurt shop also situated right by our hotel. After some waiting, and moving, then more waiting, and then finally being loaded into the chutes, we waited just a little bit longer, and finally began to file into the actual Hall H! We parted ways with our new friends at this point, as we had a section of specific seats we liked, and that allowed for good photos of the panel.
The somewhat disappointing thing was that people who got in line Saturday morning were able to get into the panel. This was a little frustrating because last year, we got in line at 10:15pm the night before, and we missed the small Batman V. Superman teaser. This year, apparently people were able to get in the morning of. Granted, there was little room still, but that is a far cry from how it went last year. I determined it wasn't worth dwelling on the past though, so I decided to move forward with happy thoughts and get ready for the excitement!
Warner Bros Presentation
Man from U.N.C.L.E.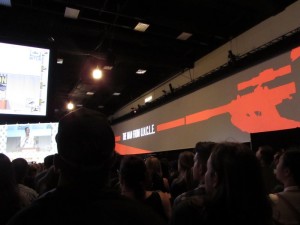 So the Warner Bros. panel finally began, and the first movie up was Man From U.N.C.L.E. Before getting into the movie, there was a great sizzle reel of a bunch of the best Warner Bros. films, which certainly did a great job of pumping up the room. Warner Bros. always uses these extended screens on the sides, which just make everything in their panel feel more immersive. It really gives the sense of sensory overload.
So the moderator for the panel is brought out, and it is Aisha Tyler. She has moderated a few DC/Warner Bros. panels before, so it made sense to see her come out and moderate this exciting panel. Aisha Tyler does a quick intro, and then fires up the intro video for Man From U.N.C.L.E. It is a very stylized intro, which is expected from a director like Guy Ritchie. Guy Ritchie couldn't make it to Comic-Con, but he provided a pretty funny clip that was shown on the screens of him botching his message several times, from the set of Man From U.N.C.L.E. Guy Ritchie introduces the Comic-Con trailer for the movie, and I have to say, this footage got me a little excited about the movie, more so than I was before. It is basically just an extended trailer from what we have already seen, but it was still a lot of fun to watch, with some stylization, humor and action that all looks like a Guy Ritchie film.
Here is the footage from Comic-Con, that Warner Bros has now released to the public:

After the footage, a few people from the movie are brought out, including Armie Hammer, Henry Cavill, Alicia Vikander, and Elizabeth Debicki. Aisha Tyler asks the panel a few questions, specifically about working with Guy Ritchie and about the time frame the movie was set in, which was around the mid 60s.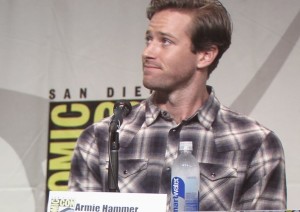 Armie Hammer talks about using a dialect coach on set, which helped him get the Russian accent down. One audience question is taken, and he asks about the fight scenes, and who got hurt. Armie jumps in and says that no one really got hurt, but he moves on to talking about the fight scenes and how there was a lot choreographed, and Ritchie basically had them just go at it.
There are a couple other audience questions, but the panel moves on quickly, as Warner Bros. has a lot to get through. The next movie up was Pan, the movie reimagining the story of Peter Pan.
Pan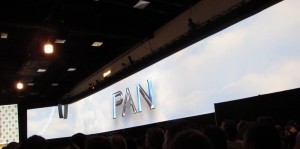 So the intro footage hits us for Pan, which also makes great use of the side screens in Hall H. It was a lot of fun to watch this all go down, despite not being overly excited about the film in the first place. Aisha welcomes the director to the panel, Joe Wright, and then some of the cast: Garrett Hedlund, Hugh Jackman, and Levi Miller. Joe Wright talks about the basis of his film, being an origin story for Pan, and taking a new perspective on the character.
Hugh Jackman seems particularly excited about this film, and reveals that as much as this film looks like it is all green screen, it actually had some massive sets, describing one being as 3 times the size of Hall H. Jackman's huge backing of this movie sure seemed exciting, as he really did seem pumped for it.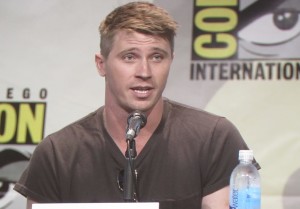 Joe Wright shows us some additional footage of Pan which provides a little more than what we saw in the last trailer. We see Peter Pan first making his way to Neverland, and meeting Blackbeard for the first time, and the worry that Blackbeard has about the prophecy about a boy who could fly. We also see Hook before he is the nemesis of Pan, and actually allied with Pan.
After the footage, Aisha asks about the sets used, and Joe Wright talks about the immersive experience practical sets provide, and reveals that he enjoys building these big sets. All of the actors seem to echo Joe's sentiment, and seemed to enjoy working with Joe Wright on the film. Garrett Hedlund seemed particularly excited for the film, as he has played mostly darker roles, and was happy to play a lighter role.
Jackman talks a little more about the practical effects and also talks about Wright having rehearsals for the film, which was a little unusual for the film.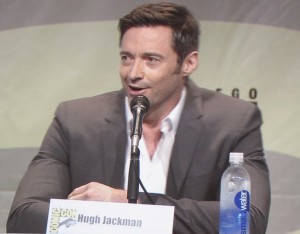 Joe Wright introduces a bit more footage, which is Blackbeard-centric, showing his introduction to the film, and his place as leader of Neverland, laying down the law with "new recruits." Hugh Jackman then talks about getting the part as Blackbeard, and talks about his sentiment that Blackbeard is portrayed as how children would see adults–as scary and weird looking at the same time.
An audience question asks what sources were used to make the movie, and Wright says that the original book, and the sense of strangeness the book has. One big reveal that Wright provides is that towards the end of the movie, Pan stabs Hook in the back. That is actually a very big story bit that I am excited to see in the film.
Suicide Squad
So after Pan ended, it was time to move to the comic book movies. An intro is shown about the various DC comic characters being made into movies, with snippets of various people involved with the films, along with more exciting footage from the films.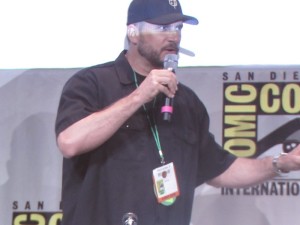 Aisha Tyler then introduces some footage for us–which was a slate of the upcoming DC Comic book movies. On the list were Batman V. Superman, Suicide Squad, Justice League Part 1 & 2, Wonder Woman, Aquaman, and Green Lantern Corps that I remember. It was a pretty amazing montage of films, and had a couple minor announcements, like Green Lantern Corps, as there hadn't been any news of that movie being official yet, that I am aware of.
After this footage, David Ayer takes the stage to talk about Suicide Squad. He said that the cast came down from Toronto to talk about the movie. Ayer was saying all the right things to pump up the crowd, and seemed to throw down the gauntlet saying that DC has the best villains compared to Marvel. Ayer then decided to provide some footage for the film, which shows a bit of what has been filmed so far. It is a pretty creepy trailer, which explains a little bit of how the Suicide Squad formed, and what its purpose will be. We saw many characters in the trailer–Harley Quinn, Killer Croc, Deadshot to name a few. The big reveal is the end, with Joker being shown, about to torture someone we can't see.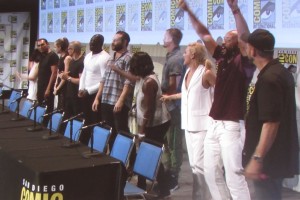 The audience seemed pretty receptive to the footage, giving a good round of applause, especially when Joker came out. I was pretty invested in the footage as well. I thought it looked really good. I wasn't blown away by it, but I certainly have high hopes that this film will provide a unique take on comic book movies.
After the footage, most of the cast from the film is trotted out on stage, including Karen Fukuhara (Katana), Adam Beach (Slipknot), Cara Delevigne (Enchantress), Jay Hernandez (El Diablo), Adewale Akinnuoye-Agbaje (Killer Croc), Jai Courtney (Captain Boomerang), Joel Kinnaman (Rick Flagg), Amanda Waller (Viola Davis), Margot Robbie (Harley Quinn), and Will Smith (Deadshot)! They don't say a whole lot though, with the exception of Will Smith who grabs a mic. Will Smith says that the group is "banging out" something great, and commends David Ayer on his work. This gets the crowd going pretty well. But the actors are trotted off stage as quickly as they came out.
Check out the footage for Suicide Squad which also has been released since Comic-Con:

Batman V. Superman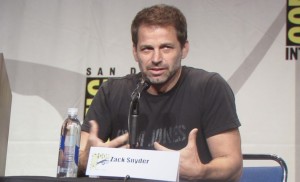 So the finale of Warner Bros. is finally here, what I have been waiting for since last Comic-Con. It is finally time for Batman V. Superman! The awesome intro is done, using the big screens which really ups the adrenaline in Hall H. When the intro ends, Aisha Tyler comes running back to the stage. I guess she was getting some photos with Suicide Squad before they fully left.
Aisha introduces Zack Snyder to the stage. Aisha asks Snyder about how excited he is for the film. Snyder says that he has always been into the big superheroes, and feels like Batman and Superman are about the biggest you can get. He also says how much he has enjoyed working with the cast he has. Holly Hunter, Gal Gadot, Jesse Eisenberg, Amy Adams, Henry Cavill and Ben Affleck were all brought to the stage at this point. Aisha almost forgot Jeremy Irons, who came wandering to the stage on his own.
Zack Snyder immediately shows the Hall H'ers some footage, which has since been released publicly, which you can view here:

I plan on doing a trailer review very soon on this footage, but I have to say that this was probably the most exciting trailer that I have seen in a very long time. The intensity it provided, along with the emotions it made me feel gave me chills. That along with the call-backs to Man of Steel that will right many of the wrongs people felt Man of Steel had, just made this trailer feel like a masterpiece. The crowd seemed to react well too, giving a very big round of applause for the movie.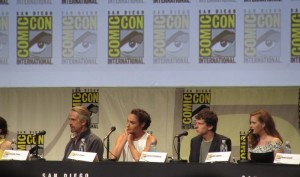 Back to the panel, Aisha asks Snyder about how canonical the movie is, and Zack Snyder takes a while to get to this point, but it can be summed up that there is inspiration from places such as the comic book The Dark Knight Returns, but the story is its own thing. He talks about how Man of Steel set up a conflict that made sense in Batman V. Superman. Some other interesting news is that Zack Snyder described Gotham and Metropolis as being sister cities, across a big bay, similar to San Francisco and Oakland.
Aisha goes down the line asking how it was for each of the actors to take on a role that has been portrayed in films before, and they all talk about their various inspirations for the roles.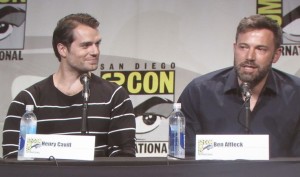 Ben Affleck talks about how he felt nervous about filling the role of Batman, but it turned out to work out great, he thought, following Zack Snyder's direction, describing his character as "at the end of his rope. He's older, he's like a burnout." Affleck has another funny story about shopping for a Batman costume for his kid, and bumping into Christian Bale who apparently was doing the same thing. Bale had some good advice for Affleck–to make sure he could "take a piss" in the suit.
One other tidbit I found interesting from the panel was Zack Snyder discussing Batman's armor in the movie. Zack Snyder describes it as a self preservation suit, more than a battle suit, which was interesting. From this, I gather that this suit is a part of Batman trying to last long enough for some trap to be sprung. If I speculate, I have to have a feeling this trap would involve Kryptonite…
So the panel wrapped up with one more viewing of the trailer, and I had all the same feelings I had seeing it the first time around. For me, this made my Comic-Con, as this trailer lived up to what I would hope it would be, and even surpassed my expectations. A lot of people would say that Deadpool won Comic-Con, or maybe Star Wars with their concert they provided, but for me, Batman V. Superman was the biggest success.
Click here for Part 2 of our Saturday Recap, featuring Screen Gems films Pride and Prejudice and Zombies and Patient Zero, followed by Quentin Tarantino's The Hateful Eight!