After the first panel in Hall H on Saturday wrapped up, the Warner Bros. presentation, next on the agenda was Screen Gems, featuring Pride and Prejudice and Zombies and Patient Zero, followed by Quentin Tarantino's film The Hateful Eight! Violet provides a recap for Screen Gems, then Josh recaps The Hateful Eight panel. Follow along as we take you through our Saturday at San Diego Comic-Con 2015!
If you missed Part 1 of our Saturday Recap, featuring the Warner Bros. panel, click here!
Screen Gems
Next up was the Screen Gems panel, featuring the movies Pride and Prejudice and Zombies and Patient Zero. Dalton Ross would be the moderator for this panel. First on the agenda was Pride and Prejudice and Zombies.
Pride and Prejudice and Zombies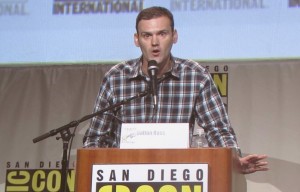 The movie Pride and Prejudice and Zombies is based on Seth Grahame-Smith's novel of the same name, which is based on the classic Jane Austen novel, Pride and Prejudice, except with zombies, as the title suggests. The panel consisted of author Seth Grahame-Smith, Director Burr Steeles, and actors Douglas Booth (Mr. Bingley), Jack Huston (Mr. Wickham), Bella Heathcote (Jane Bennet), Matt Smith (Mr. Collins), Sam Riley (Mr. Darcy), and Lily James (Elizabeth Bennet).
After the panelists were brought out, we got to watch some exclusive, never before seen footage, which still looks like it has not been released at this time. In the footage, we saw that the zombie hunters use flies to identify zombies who are trying to blend in. We also got to see a scene where Matt Smith's character is interested in Bella Heathcote's character, Jane, but Mrs. Bennet tells him she is taken, and tries to marry off Elizabeth to him instead. Of course, we do get to see some zombie fighting action, with the Bennet sisters being trained to kill zombies, with the use of swords and daggers, and even a scene where a zombie speaks to one of the sisters, but the zombie's head is soon blown off.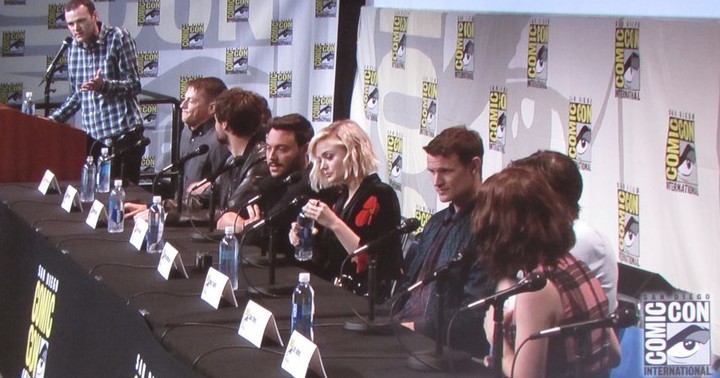 Lily James spoke about fighting while being dressed in the clothing of the time period, saying, "Nothing is easy to do in a corset." In costume fittings, they kicked walls and lunged to make sure they were able to do it. James said that we would see a "fierce" Elizabeth, and that her inner conflict and sexual frustration with Mr. Darcy comes out in decapitating zombies, which she's really good at.
The moderator, Dalton Ross, pointed out that we didn't see a lot of Mr. Wickham in the footage, and asked Jack Huston if there's some sort of twist. Huston said it stays very true to the novel, but at the same time, there are a lot of new twists, which he couldn't go into.
Dalton then asked Sam Riley about how much of a jerk Mr. Darcy is, but Riley answered that he's just misunderstood, that he's a snob and very proud. Riley said that he hadn't seen the movie yet, but that he hoped he's not too much of a jerk.
Bella Heathcote then talked about the training she went through: 4 months of kung fu, another month with all the sisters of more martial arts, choreography and weapons.
Dalton asked Douglas Booth about playing well known characters from classical literature, as well as an adapted version of those characters, and whether he goes back and looks at the source materials. He said he did look at both the original and Grahame-Smith's novel, and went in knowing who he wanted his character, Mr. Bingley, to be before he arrived on set. However, he commented, "You don't want to get too hung up on the guys that have gone before you, you just wanna do your own thing."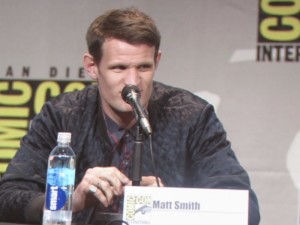 Matt Smith commented that the movie is the sort of film "that you can take your chick to" and that he thinks that "zombies are exactly what Pride and Prejudice needed."
Regarding a scene that he was excited to shoot, director Burr Steeles said he had been looking forward to filming the first battle scene with the sisters, and getting to reveal who they were and they way that they fought. Grahame-Smith said he was just excited that the film was even being made. He also liked the fact that Steeles understood the tone he was going for, saying that the only way to go about it was to do it "without ever once winking at the audience." He further elaborated that everyone is acting as earnestly as if they were in a normal Pride and Prejudice movie, "and then zombies show up and you're like, 'What the f*ck is going on?' " Steeles confirmed that the threat is played for real, not for laughs.
Dalton then went down the line, asking each cast member what their favorite weapon for fighting zombies was. Answers included daggers, a samurai sword, a machine gun, a bomb, and an Assassin's Creed weapon that shoots from the wrist. Matt Smith said that he didn't get to fight, he just ate, so he would bake some poisonous zombie muffins. But Grahame-Smith pointed out that everyone was forgetting that "the most dangerous weapon is the heart of a warrior," specifically the female warriors in this film, who were trained at Shaolin.
As for who among the panelists would be the first to go in a real zombie apocalypse, Matt Smith said he would probably go, he's the most useless.
The panel then moved on to audience questions. The first person asked if Matt Smith found himself similar to his character. He answered, "I hope not, because he keeps getting rejected." However, he said that his character is quite kind and likes muffins, and they're similar in that way. The next question was also addressed to Matt Smith, which was about his transition from TV to movies. He didn't seem to think it was a big change, saying, "There's just a camera there." However, he did say that he misses making Doctor Who.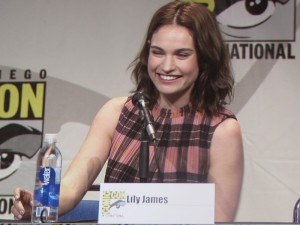 Another question was how each cast member's character differs from the original novel. Lily James said her character is "fiercer." Sam Riley commented that Grahame-Smith's book isn't really changing the characters from the original novel, that people are still trying to keep up appearances, and snobbery is still there.  Grahame-Smith jumped in, saying "You're not going to improve Jane Austen." So his intent was to "take all of her characters, take all of her themes, and turn them up to 11." He said it's taking the character traits from the original novel, and "playing them to a slightly ridiculous level." Matt Smith said that when he first met with Burr, Smith said he thought it would be cool if he played it as though Mr. Collins were in love with Mr. Darcy, and told us to see if we could see a flavor of that in the film. Huston seemed to suggest that his character might have the most changes of all the others, but it's "sort of the Wickham you know" but with his spin on it.
Lily James told a story about a memorable moment while filming. She stamped really hard on an extra's head in rehearsal, thinking it was a zombie, but it was a real life person! However, he was fine, and even stayed in character. She said it was a hazard because everywhere you looked, there were both fake and real zombies, dripping in blood.
Addressing the question of how to bring the elements of zombies and a period piece together, Douglas spoke about how it was more common to have plagues back then, so this was something that actually could have happened, and he didn't feel like he had to separate history.
An audience member asked Grahame-Smith whether we would get to see what happened to Charlotte Lucas and Mr. Collins, since we didn't get to in the book. He answered that that was once of the small differences, and went on to say that "The people who deserve to get their comeuppance in the movie probably get it."
Grahame-Smith went on to talk about how it was weird how seamless it was to add zombies to Pride and Prejudice, "it was like something was missing." To answer the audience member's question, though, he said that he hadn't really found any other books that were that inspirational or seemed that seamless to add zombies to. Steeles commented that in Pride and Prejudice, there's the Napoleonic War going on in the background, so to take out the Napoleonic War and replace it with zombies, there was actually a structural place to put it.
The final audience question was what Jane Austen's reaction would be. Grahame-Smith said that he was caught off guard that his book had become a success, and that was happy about that, but terrified because "The Janites are a legion." However, it turns out that people who love Jane Austen tend to love Pride and Prejudice and Zombies, as she had written some gothic material herself.
Patient Zero
The Screen Gems panel then moved on to Patient Zero, which is about the human survivors of a pandemic looking for a cure for a rabid-like species known as "The Infected." The key is locating patient zero.
The panel included Director Stefan Ruzowitzky, Screenwriter Mike Le, and cast members Clive Standen, John Bradley, Natalie Dormer, and (once again) Matt Smith.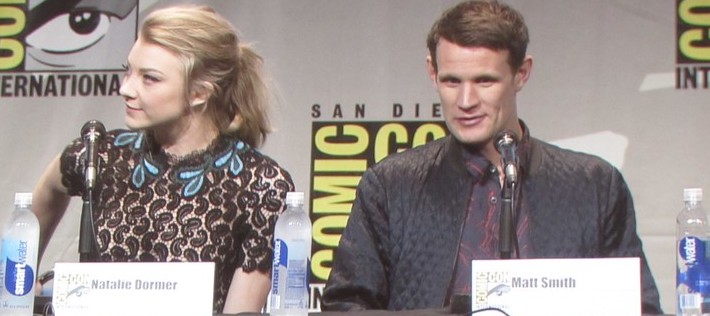 Ruzowitzky then introduced some footage he had cut together to show us, though warning it had no special effects yet, so it was raw – so raw, in fact, that he hadn't even shown the studio yet!
I felt like the footage gave away a little too much about the movie, so I'll leave out what I felt were the big spoilers. It seems like the majority of the human population has been infected, while the remaining humans are hiding out underground, looking for a cure. Matt Smith (who employs an American accent) is the only one that can communicate with the infected, as he has been bitten, but didn't turn. So we see a scene with him talking to Stanley Tucci, who has been infected. Tucci's character appears to be coherent and intelligent, and even asks for a cigarette and smokes, to the surprise of the other characters. For some reason, Matt Smith plays a record, which apparently usually bothers the other infected they have captured, but doesn't bother Tucci's character, who takes offense at the idea that they thought just because some of the infected were bothered by it, that all of them would be. Tucci's opinion is that the infected are actually the cure for humans. We also see hordes of the infected trying to break in to the underground facility. Another scene is of John Bradley, and we see what Natalie Dormer's character does to prevent him from becoming infected.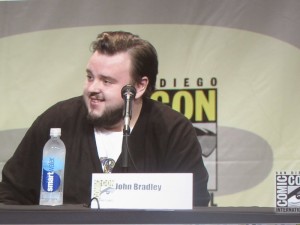 When the footage was done, John Bradley talked a little about what happened with him in the clip, where we learned that he's a lefty.
Matt Smith agreed that he and Stanley Tucci's character were sort of playing a game of "cat and mouse" as he tries to elicit some information from Tucci.
Natalie Dormer talks about how there's a love triangle in the movie, as they wrestle with the question of whether or not the wife of Matt Smith's character is still alive. But mostly her character is the virologist who has been designated to cure the world, and is working with him as a team to find the cure.
Clive Standen describes his character as the "last point of call in the U.S. military," while "babysitting these scientists" while they're trying to find Patient Zero, which is like trying to find a needle in a haystack. However, his character's way would be burning all the hay to do it. He has an attitude of "shoot first, ask questions later."
We then found out that just last year, the screenwriter, Mike Le, was camped out for Hall H like all of us. He also made sure to clarify that the Infected are definitely not zombies. However, his idea for the story came from when he saw a guy dressed up as a zombie at Comic-Con a couple years ago who was smoking a cigarette, and he thought, "Who was the zombie? Why was he smoking a cigarette? Does he have a personality?" and "What if [moaning and groaning] was actually a language that they were using to communicate with each other?"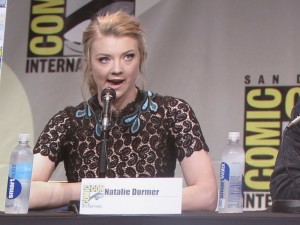 The panel was then opened up for audience Q&A. The first question was how the infected having a line of communication with humans affects the dynamic. Dormer answered that the Infected are "victims of a modern age" and explained that the rabies harnesses your adrenaline, and everything in our 21st century life has been used to enrage them. She also clarified that Matt Smith's character is the only character that can communicate with the infected.
Another audience member asked the cast members to choose between a White Walker, the Infected, or a Pride and Prejudice and Zombies zombie. Dormer quickly chose Infected, so she could hang out with Stanley Tucci, saying she didn't get to spend much time with him on The Hunger Games, and that she's in love with Stanley Tucci. Matt Smith mused that being a White Walker couldn't be that nice of a life, though John Bradley pointed out, "You'd get to spend a lot of time with me." Bradley then went on to say, "I'm not that far from an Infected anyway," joking that "I hate most music and most of the human race, so I think that I'm almost there."
As for how Patient Zero differs from a traditional zombie movie, Standen fielded this question, saying that the Infected have adrenaline pulsing through their veins at all times. They can think, they live, they breathe, and they could be the next evolution of mankind. "These are people that want to wipe out the human race and take over the planet."
Stefan Ruzowitzky speaks a little more about the movie taking place in an underground military compound, and torturing the Infected with music.
When questioned about what else is in the record collection, Smith said "lots," and commented that the record collection was one of the things that drew him to the movie, as he is a big music fan. He said that there's a lot of rock 'n' roll in the film, including The Who, Joe Cocker, and Moody Blues, and explained that his character owned a record store. Smith also revealed that he himself buys a lot of vinyl.
The final question was whether the Infected would have strategically planned attacks, being that they could communicate. Smith confirmed that they would, and that's a big part of the movie when they realize, "Oh no, they're hunting us, uh oh." Dormer elaborated, and said that they explore the intelligence levels of the Infected in the movie. Standen talked about how being underground is like a "boiler room, it's a pressure cooker" as the tension builds, then confirmed that the Infected do eventually get in, and "it's intense."
With that, the panel wrapped up. Up next was Quentin Tarantino and The Hateful Eight! Josh provides the recap for that panel.
The Hateful Eight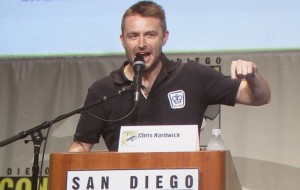 So Chris Hardwick came out to moderate the next panel, which was Quentin Tarantino's The Hateful Eight panel. So opening the panel, is some footage, featuring Samuel L. Jackson, who seems to be pushing 70mm film, which apparently was used in older films like Ben-Hur. This opening footage basically has Samuel L. Jackson advertising how great this 70mm format is, by Panavision. According to Sam Jackson and Tarantino, 70mm Ultra-Panavision is the widest format of film there is outside of a few specialty film formats. Apparently Tarantino found the original Ben-Hur 70mm lenses, and used them to film this movie. Now most theaters will be releasing this film digitally still, but certain locations will be providing an authentic 70mm experience. This would release on Christmas this year as part of a "roadshow."
So after the footage, Chris Hardwick brings out Quentin Tarantino. Tarantino talks about walking around Comic-Con with a mask, and how much he has actually enjoyed the expansion of the Con. He talks a little more about the lenses from Ben-Hur, and how they had to dig them up. He also talks about working with his camera department, and how much trust he had in them since they handled these antique lenses so well, even in harsh cold conditions where they could have cracked.
Tarantino then moves on to talking about his dislike of digital formats. He really doesn't like shooting in digital at all, and figured if he shot the film in 70mm, theaters might have to release it that way.
Tarantino also mentions that Hateful Eight will be similar to Reservoir Dogs in the sense that it will be primarily filmed in one location.
So the 7 minute footage rolls, and it seems to be just a big introduction to the "Hateful Eight" characters. The characters were one-by-one introduced with a stylistic approach, and all of them seemed to revolve around Jennifer Jason Leigh's character, who is in the custody of Sam Jackson's character. I wasn't really able to glean what the story actually is for the movie, but all of the characters seem like they could be really interesting, so the footage certainly peaked my interest. The audience in Hall H seemed pretty receptive of the footage too.
After the footage, much of the cast is brought out–Kurt Russell, Walton Goggins, Jennifer Jason Leigh, Tim Roth, Zoe Bell, Bruce Dern, Demian Bichir, and Michael Madsen. All of the cast seems very excited to be working with Tarantino, and much of them consider him to be one of the best directors of all time.
The panel moves pretty quickly to audience questions, with the first question asking about some animation in The Hateful Eight like Kill Bill had, and Tarantino confirms no. Another asks about the leaked screenplay, and they asked how hard it was to rewrite. Tarantino talked about how he didn't like having these early drafts out on the internet, but he worked forward as he always would have, working through rewrites as he went. The questioner also asked about a third Kill Bill being made and Tarantino essentially said "We'll see." Tarantino also said he would like to be called a "Western Director," to which he says can happen after he directs a third one, which he said he will indeed be making. Tarantino also talks about casting Demian Bichir, which was an interesting process. He said in the beginning of getting this movie going, he had a character but didn't have any idea who should play him. Tarantino said he called up Robert Rodriguez and Demian Bichir was the name that Rodriguez thought of.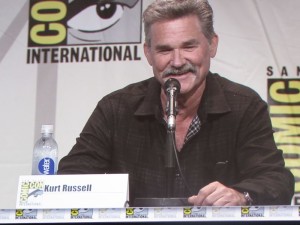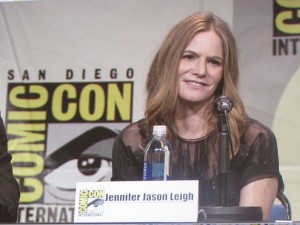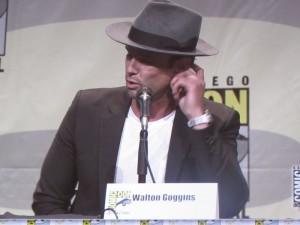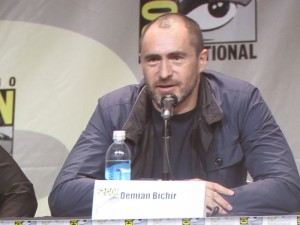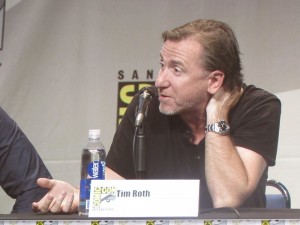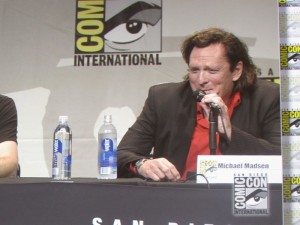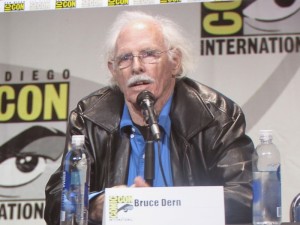 A couple other tidbits from Tarantino has him talking about his previous statements of doing 10 films and being done. He said he wasn't really sure how much he would be committing to this statement, but he does mention that digital isn't really his thing, because it feels like "HBO in public." He followed up saying that he might consider TV if he doesn't like the way the movie industry is going.
By the end of the panel, I certainly had an increased level of appreciation for this movie, and Tarantino's work. I did think the heavy handed push of 70mm Panavision seemed like a bit much. I don't think many people are really going to be that excited about this format, and the world is moving more digital by the day. So, while the movie seems like it will be really good, I kind of sell the idea of it being unique because of the format it is shot on. Either way though, I will be excited to see it!
The footage didn't come out from Comic-Con for The Hateful Eight, but here is the trailer that has been around for a while:

Click here for Part 3 of our Saturday recap, featuring the Legendary panel, which included Crimson Peak, Krampus, and Warcraft!