The Phoenix Comicon Kids Need to Read Charity Poker Tournament was held in the Regency Ballroom in the Hyatt on Friday, May 26, and registration was to begin at 7pm. We got there just after 7pm after finishing up our day at the con, and there was a pretty good size line going. But things worked out for us, and we purchased our seats. The buy in was $20. We would later learn that the 150 seats that were available sold out in 35 minutes.
The staff was handing out a card guard specific to this year's tournament, and a seat token, which would randomize the seats when we were let into the tournament room. The tournament would be starting a bit late though, as Phoenix Comicon kept the Exhibit Hall open a little later — until 8:30pm instead of 7pm. This meant that exhibitors who would be donating prizes and participating in the tournament wouldn't be getting to the Hyatt until later, so the Tournament was postponed starting till 9pm instead of 8pm.
Being still very tired, Violet and I decided that the best course of action was to take a nap while we waited. Or at least that is what I did while we waited in some comfy chairs in the lobby. Violet watched some videos, I think. Finally it was time to get set up though. We headed to the poker room, and took our seats. I was at table 6, and had been seated with a man who has donated a lot to the charity, named Chris Wood, who makes some really creepy horror based art drawings. You can view his work here. Meanwhile, Violet was over at table 15.
After some introductions, including introducing Chris Wood to the entire room, and a few other pleasantries out of the way, we proceed with getting under way. I was not doing so hot in the beginning of the game. I had made some bad calls, and chased a few hands I shouldn't have, which unfortunately ran me out of chips pretty quickly. After a couple more bad plays, I re-bought in, and decided to play it slower this time around. After playing a few hands when the opportunity arose, and folding just about every terrible hand, I managed to get a pretty good chip stack by the first break, which is when re-buys had finally ended. Luckily, I only needed the one re-buy.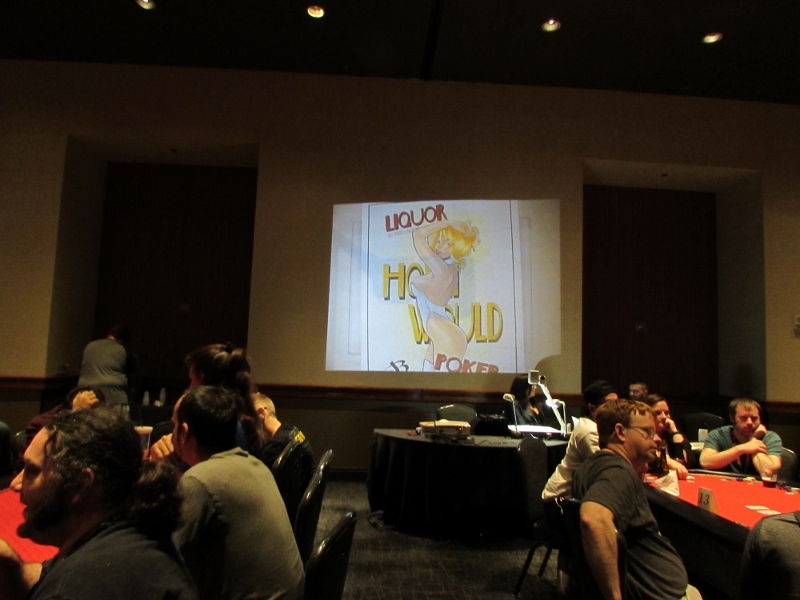 The break took quite a while.  There were several auctions to go through, as well as re-buys and add-ons to finish up.  It turned out that they did take credit cards. It was getting late fast, which worried me, as we had planned to be up fairly early the next morning.  But given the chip stack I had, I didn't want to give up yet.  As for the auctions, there were some interesting items up — a gold deck of cards, a drawing of Harley Quinn, and an Iron Man poster signed by Stan Lee himself. These went for a pretty penny, getting some big bucks for the kids, which is always good. There was one part of me, my competitive side, that was a little annoyed though. All of the items auctioned came with a significant chip boost of 5,000-10,000,which was quite a bit at this point in the game. But I had to tell myself — this is for charity, and I shouldn't care that much!
After what felt like eternity, the game resumed. Now we were playing "for real", as the re-buys were done. Pretty quickly, there were people being knocked out of the tournament. Violet went out a little while in, and had to unfortunately stick around and wait for me to finish. But I wasn't about to give up! The game was a bit of a roller coaster. I tried to remain calm and collected, only playing the really good hands. I often have a problem with "limping in" with a mediocre hand because I am big blind, and wind up dwindling slowly. But I resolved myself to folding hands that had a long shot at winning, and tried to do some minor calculations in my head to see what hands I should play.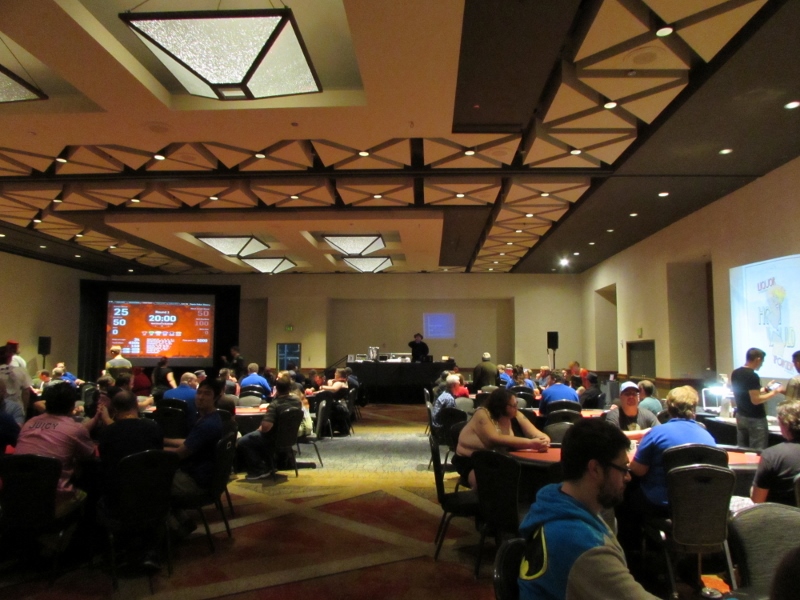 As for the crowd playing, there seemed to be a wide gamut of people playing. Some people were playing for the charity itself. Others seemed to just want to have a good time. Still others, who were seemingly wanting to win, came in all business with headphones, and sunglasses, playing the game as if it were the World Series of Poker. I am not quite sure where I put myself, I think somewhere between the competitive people and people having a good time, and also making myself feel a little bit better about giving money to a good cause.
But the game continued. For some reason, me and the Chris Wood person introduced at the beginning of the tournament seemed glued at the hip, as every time a table was broken up, we ended up at the same one again. My chip stack seemed to constantly vacillate from middle of the road, to low, and luckily, I would hit a few good hands which would put me at a chip lead for the table once in a while. It was getting more stressful the longer I lasted, as I really wanted to make it into the prize pool, which started at 14th place.
Finally, after a few breaks and table changes, we narrowed the game down to the final two tables. I had begun to fall to middle of the road though with chips, and was getting nervous about when I should make a move–figuring if I didn't, I would lose to the blinds which had gotten substantially big. I decided to make a move with Ace, King Suited, and unfortunately I was called by an Ace Ten suited. This would appear to be a good thing but unfortunately the All In call came down to the River card, which gave the flush to my opponent. I thankfully had him covered by a mere 13,000 (the blinds were now at 20,000/10,000), so I wasn't out of the running yet. But I was dangerously close to losing out. I would have made it into the prize pool at this point, but just barely at about 12th place or so.
The game proceeded, and luckily blinds were a good distance away. Unfortunately though, I was not catching a single hand worth playing. Big Blind was about to hit me, when the tables broke to form the final table. I had made if there, which I was pretty excited and bummed at the same time about.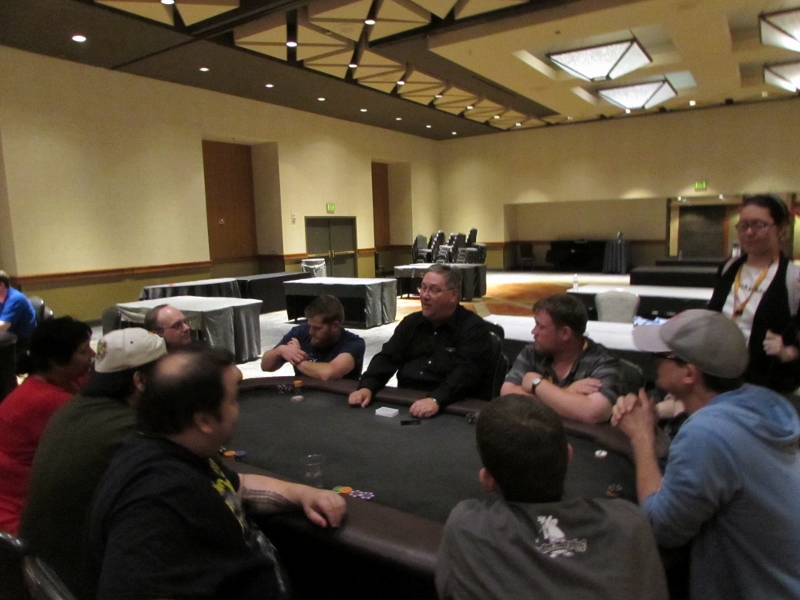 At this point in the game, it was getting close to 4am, and I was exhausted. I was still feeling some agitation though, as the blinds were going to be reassigned for the final table, which meant I would be able to get a few more hands to look at potentially. My dreams were crushed when Big Blind only fell one seat to my right though, meaning I had two hands to decide between before I would likely be out of chips. One piece of good news for me though, was the girl to my right who was the first big blind, also had a low chip count, and couldn't even cover a full big blind. She, unfortunately, did not win her hand, and she went out at 9th place. I felt bad for her, because she was really nice, but I was glad I would at least move up one place in the match.
The next hand was dealt though, and it was the one I had to play. Of course, I was unlucky enough to receive two, three. There were a few all-in calls in the game, so we were able to see three or 4 hands face up for the entire hand. More unfortunate luck put pocket threes in another person's hand, making my hand a very difficult one to win. Unfortunately, the best I got that hand was a pair of twos. Three people were knocked out during my hand, but since I was low chip stack, I was placed the lowest, at 8th place for the night.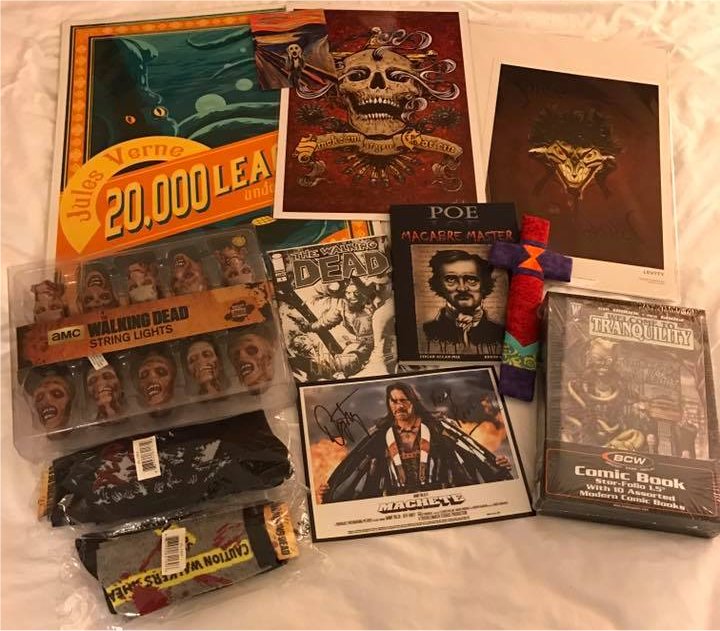 So, finally after a very long night, I collected my winnings with Violet's assistance, and we headed back to the parking structure to get some much needed rest. Violet and I were concerned that my car might be towed or ticketed due to the structure having some obscure rules for parking in the structure late, but luckily there were no issues. We loaded the prizes into the car, and headed back to the hotel room for much needed sleep.
I had a lot of fun with the poker tournament, and will seriously consider it next year. It seems to be for a good cause, and provides an activity I enjoy doing at the same time. I will seriously have to consider staying closer to the Hyatt though, so Violet can get some sleep if I am up late again. Additionally, I will want to make sure there is no early programming that I want to see Saturday, as we did not get up until close to 10 the next morning, and Violet and I were both exhausted that day!
For those curious, the event was put on by Lupine Entertainment and hosted by Randy DeVault.
Next up, we'll be taking you through our Saturday at Phoenix Comicon 2017, starting with the Neal McDonough panel!