Phoenix Comicon 2017 took place at the Phoenix Convention Center May 25-28, 2017. We had gotten into town on Friday, May 26, and had a long night after playing in the Kids Need to Read charity poker tournament. By the time we got back to the hotel and went to bed, it was about 4:30am. Needless to say, we got a bit of a late start on Saturday morning, May 27, not arriving to the Convention Center until about 11:00am.
We weren't sure how bad the lines would be after the line congestion we had heard about the day before, but it seemed that they had worked out the kinks. Even though the end of the line for the 3rd/Washington entrance stretched to the back of the Convention Center, it moved very quickly, taking less than 10 minutes to get through. They had several people checking bags, as well as a line for people with no bags. Additionally, each person entering was wanded with a metal detector.
The first thing I wanted to do was pick up my ticket for the Dick Van Dyke panel, so we figured out where to go for that, which was outside of West 301A, where there was a Ticket Redemption kiosk. They had a winding line set up for this, and when you got to the front, you showed the QR code you were sent, and in return you were given a wristband.
By the time I completed this process, it was about 11:30am, so we slipped into the Neal McDonough panel, since it was right there in 301A. We had been planning on attending this panel initially, but with our late night, which led to a late start to our day, we weren't sure if it would even be possible to make it in for his panel. So half of the panel was better than nothing. For those unaware, Neal McDonough is known for his roles as Damien Darhk in the DC TV universe, Dum Dum Dugan in the Marvel Cinematic Universe, Robert Quarles in Justified, and has appeared in several other TV shows and movies, including the Tin Man miniseries and Star Trek: First Contact.
When we went into the panel, we slipped into a couple of seats near the back. Unfortunately, it was difficult to hear was he was saying, as he did not have a microphone, plus there was a lot of noise bleeding in from outside the doors, where the Ticket Redemption was going on. Not too long after, he was given a working microphone, and we were finally able to hear what was going on.
Like most celebrity guest panels at Phoenix Comicon, Neal McDonough's panel was conducted in Q&A style, with audience members lining up to ask questions.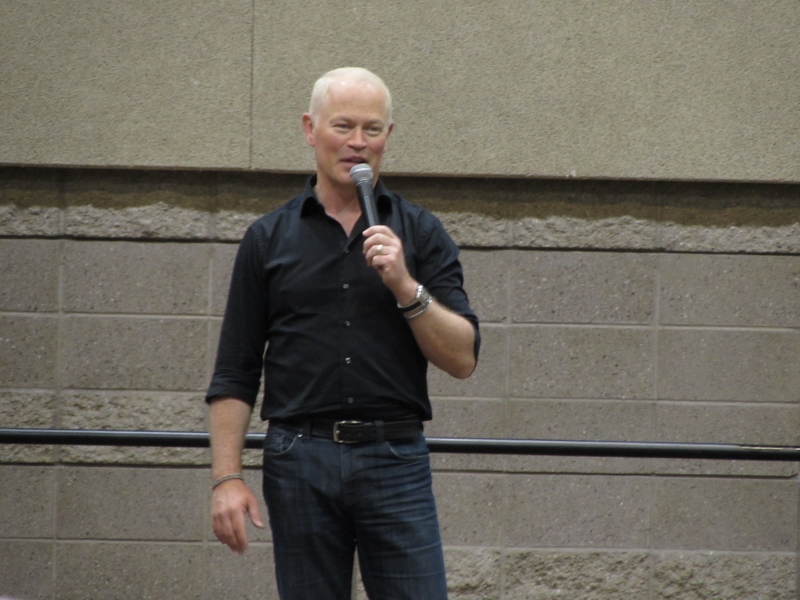 Neal talked about how he appeared at a Star Trek convention in the 90s, at which he decided to wear the flight suit, even though guests usually wear normal clothes. When he came out in the flight suit, the attendees rushed him, all wanting to touch it. This scared him so much that he avoided appearing at conventions until about a year and a half ago.
He spoke about the motto he lives by, which he got from his father: If someone pays you a dollar to work, give them $2 worth of work. This is what has led him to be successful. However, there was a period of time where he struggled to find work because he began to be seen as a religious nut due to his two rules, which are 1) he won't use the Lord's name in vain, and 2) he won't do sex scenes. He explained that is because he answers to two higher powers, one of which is upstairs, and the other is down here, his wife. In one show he was in, Boomtown, he played a womanizer. It was done so well that one day a woman came up to him and reprimanded him for kissing and sleeping with all those women — even though he had never been in a sex scene or kissed anyone.
Neal shared the story about how he was informed about the death of his Arrow character, Damien Darhk. Showrunner Mark Guggenheim called Neal up and told him he had good news and bad news for him. The good news was that he was coming back the next season. The bad news was that he was going to die at the end of the season. Neal wondered how he was coming back if he was dead, but this was made possible through the magic of time travel, as no one ever stays dead in the Berlanti-verse! We now know that he would go on to appear in the DC TV time travel show Legends of Tomorrow. Additionally, Neal announced he had signed on for another year of Legends of Tomorrow.
McDonough also talked about his other various projects, such as the movie Red 2, where he was starstruck by Anthony Hopkins, and the movie Timeline, giving much praise to Paul Walker, who was taken too soon.
As it approached noon, I decided to go ahead and head over next door to West 301BCD for the Dick Van Dyke panel, so I could avoid the crowd leaving when the panel was over. Stay tuned for a recap and photos of the Dick Van Dyke panel!
Check out more of our photos from the Neal McDonough panel below!