So, the time had come to finally make the annual journey to Phoenix Comicon, which took place May 25-28 this year. Friday morning, Violet and I woke up at about 6am, and decided to hit the road early in hopes to making it to Phoenix for the Anthony Michael Hall panel at 1:30pm. So we hit the road, and the traffic was pretty light for the most part.
The drive was pretty uneventful, thankfully. But unfortunately, some news of the Con started to break, and that was regarding the lines to get into the Con. We were still about an hour or more out, but we saw that the lines to get into the Con were several hours — and that was waiting in 90+ degree weather. For those who aren't familiar with the reason for the long waits, Phoenix Comicon and the Phoenix Police Department had to step up security to due to a man named Matthew Sterling, who, according to various news reports, thought he was the "Punisher" and was there to take out some police officers and Jason David Frank, who played the Green Ranger in the original Mighty, Morphin Power Rangers TV Series.
So, because of one man who seems to have some sort of delusional, mental health issues, unfortunately thousands of people were impacted, with the extended lines for security purposes. We were not on site to witness the chaos that happened, but many people said there were not enough staff to check the bags of the people trying to register and attend the con for the day. Because of this extended period, Violet and I decided to stop at Cracker Barrel which is just outside of Phoenix, rather than heading straight to the con. We had a good lunch, then went and took a nap at the hotel, since we had been up early that morning, and had a fairly late evening before hand. Our hotel was the Fairmont Marriott on Central, which was a pretty nice hotel, just a couple miles from the Convention Center.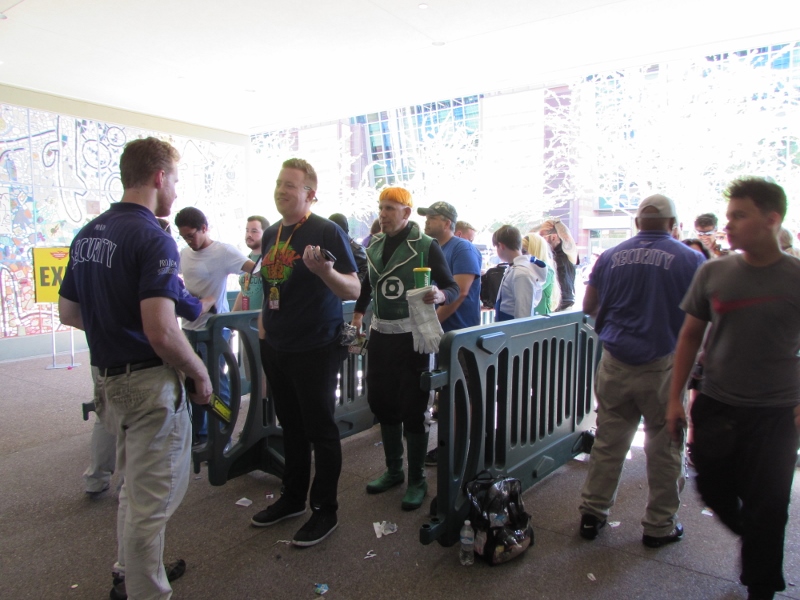 But once we woke up, at around 3pm, we decided to check the status of the Convention Center. Things seemed to be smoothing out now, with the wait times being significantly lower. So Violet and I decided to pack up, and make the trek to Phoenix Comicon. We parked in the same parking we usually do, which is right by stadium where the Diamondbacks play on 3rd and Jefferson. We walked to the Convention Center and soon discovered we had to make a long walk, all the way around the back of the Convention Center, as the place we tried to get in at required badges to get in. So we made the trek.
Luckily, on the other side, the line wasn't too bad. It only took a few minutes, and there were plenty of people to check bags. I am glad, as sitting in 90+ degree weather for a security check — which is already annoying — would not have been fun. When Violet and I were checked, we had to open all of our pouches to our bags, and empty our pockets for a metal detector, which was annoying. But I guess in the interest of safety, it was worth it. I still feel that no matter how good the security is though, the bad guys will get through if they so choose. The security guards didn't really even dig in to the bottom of the bags Violet and I brought in, so we could have put things at the very bottom without concern of getting caught. But this comes down to how it would take infinitely longer to check thoroughly, for a very small chance of finding anything. It is a terrible trade off that has to be made for large gatherings, and honestly, I am not sure how the Phoenix Comicon staff or any other staff can come to a conclusion that will make everyone happy, and feel safe at the same time. It is unfortunate that one person has the ability to dictate how thousands of people have to spend their time.
But I digress! Back to the fun! Since we had missed the Anthony Michael Hall panel, Violet and I didn't have any specific panels we wanted to attend. So we opted to walk the Exhibit Hall. The Hall was pretty big, taking up the entirety of the bottom floor of the North Hall, as well as a good portion of the Third floor. There was a lot of interesting stuff to see too. One thing I find myself always looking at is the Geek Chic tables, as I am aspiring to becoming a woodworker myself, and have done a few small projects so far. Their tables look great, but they are very pricey, and since I have the tools and hopefully the capabilities, hopefully I can finish one I am working on!
After walking the show floor, it was time for Violet and I to eat again. It was getting pretty late — we were at about 6pm once we finished walking the entirety of the bottom floor and 3rd floor Halls. Violet and I planned to do the annual poker tournament which was for charity, benefitting Kids Need to Read. So we decided to hit Tommy Pastrami. They have these in California, but neither Violet nor I had been to one before. But it looked pretty empty, and we needed something quick and easy. The food was good, and service was quick, so it worked out!
For the poker tournament, we weren't sure what the payment methods were, so we opted to get a little extra cash, as I figured I might have to re-buy. I mean, it has been a while since I have played poker, and I haven't played many big tournaments when I was in my poker obsession days. But we got some cash, and made our way to the downtown Hyatt, where the tournament was going to be held.
Click here to read about our experience at the Phoenix Comicon Kids Need to Read Charity Poker Tournament!
See below for more photos from Phoenix Comicon 2017 Registration and the Exhibit Halls: