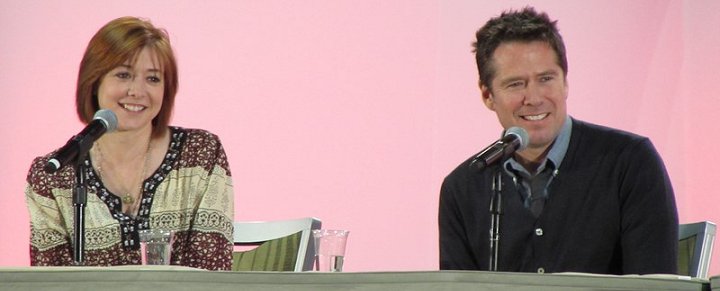 In Part 2 of our Phoenix Comicon Saturday Report, Violet recaps the David Morrissey panel (you know him better as The Governor on The Walking Dead), then Josh recaps the Alyson Hannigan and Alexis Denisof panel (that's Willow and Wesley from Buffy the Vampire Slayer), and finally, Violet finishes off the day with a recap of Katee Sackhoff's panel (Starbuck from Battlestar Galactica)!  
If you missed our Friday Report, click here!
If you missed Part 1 of our Saturday Report, click here!
David Morrissey, 1:30pm-2:30pm
Upon appearing on stage, it was announced that David Morrissey had just joined the cast of the TV show Extant, starring Halle Berry. He later commented that he would be fighting aliens this time, which were about the same as walkers.
Although the majority of his questions were about The Walking Dead, on which he played The Governor, there were also a few questions about being on the British TV musical Blackpool. (For those who don't know, he is British.) He enjoyed singing the Frank Sinatra song about being 17, and singing Kenny Rogers while people watched him walk down the streets of Blackpool, but his favorite song was "Ohh la la" by Faces, which is one of his favorite bands. His favorite songs to perform were "Ring of Fire" by Johnny Cash and "Viva Las Vegas" by Elvis. Someone asked about the tango that he danced with David Tennant on the show, and he said how David Tennant kept wanting to lead, but "I wasn't having that!" He said it was really hard work.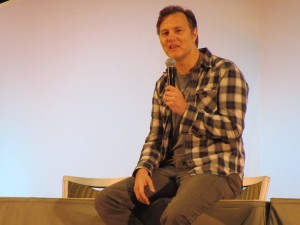 This led into a question about his experience on Doctor Who. He recalled that during a scene, he stumbled and fell, and the child who was playing his son yelled, "David!" which made him feel like he was really a part of the show. David also remembered the first thing he did when he got on set: he walked into the TARDIS. The crew was not surprised, as they knew how amazing it was to be able to work on Doctor Who.
When asked what actor he would like to work with, David said that he loved that he got to work with John Hurt, and regrets that he never got to work with Bob Hoskins. He was also asked who his favorite leading ladies are, but he didn't want to answer that, saying that would get him into trouble. However, he did end up naming Helen Mirren and Halle Barry. Speaking generally about what roles he likes to play, David said that he always wants his characters to be different the next time from the previous roles that he played.
Now on to The Walking Dead questions. An attendee asked what was the worst thing the Governor ever did. David said that he gets the most grief about his final scene in the series, especially when he cut off Hershel's head. He said that one time he was walking down the street, and someone drove by and yelled out, "You killed Christmas!" However, David said that he wouldn't have cast anyone else as the Governor, saying, "It's mine! I own it! I'm not giving it to anyone!" He then told us a story about his first year at San Diego Comic-Con, people were cheering loudly each time an actor was introduced on stage, but no one cheered for him. But then the next year when he walked out on stage, the entire room booed him. He said he'd never been happier.
Regarding his most embarrassing moment on The Walking Dead, he told us that when you wear an eye patch, a lot of things can go wrong, such as grabbing walkers in the wrong places. When asked about his favorite memory on The Walking Dead, he told us about his favorite kill, saying "You never forget your first kill." There was a helicopter crash, and a guy was buried in a hole up to his torso. David was supposed to stab the guy in the head and twist the knife. However, suddenly, the guy jumped out of the hole and was covered in ants! The man had to be sprayed down, but once that was resolved, he came right back and did the scene. David remembered that he felt like, "Once I put the knife in his head, then I could call myself a member of the cast."
Another question was if David could only watch Love Actually (which Andrew Lincoln is in) or Boondock Saints (starring Norman Reedus), which would he choose? David's answer was Love Actually because it was made by a friend of his, and that he has a lot of friends in it. When asked what it was like to work with Norman Reedus, David said, "It was great, we cuddled a lot." However, he said that Norman gets sent the weirdest things. One time he went into Norman's trailer and saw that a lady had sent him her silicon implants! David commented, "He's a wonderful man to work with, but his trailer is weird."
A child asked David why there aren't a lot of kid walkers. David explained that shooting is a long, hot, rough day that's not an easy job, and also he thinks it's because of the demographics of the show. He went on to tell us how the walkers never interact with the actors while on set, and told us a story about how he was walking around in Whole Foods one weekend, and a lady tapped him on the shoulder and said, "You chopped my head off yesterday!" He didn't recognize her without her walker makeup on.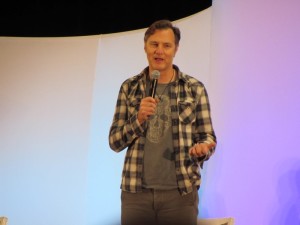 David was also asked about how he learned the accent for the Governor. He said he had a voice coach, with whom he had long Skype sessions. During the day, he and Andrew Lincoln would talk in accent to each other, plus the crew was all from Georgia, so it was helpful hearing the accent all day. David explained that you have to retrain your mouth muscles, so you're constantly doing crazy exercises. He also practices by reading bedtime stories to his kids in different accents. Additionally, he listened to Bill Clinton read his autobiography, not for the accent, but for the way he used his voice.
Before he watched The Walking Dead, David was a bit skeptical of the show, but then he got into it when he realized it's about survival and trying to exist, and he gets very angry about it when people think it's just a zombie show. Once he got the role of The Governor, he then read the comics. Apparently, the way Michonne kills the Governor in the comics is different than on the show. He had been worried about that, saying that there were "certain things I'd like to keep hold of."
As for things he had kept from the set of The Walking Dead, he said that he has a garage full of eye patches. He also said that he kept his leather jacket, as well as the long coat with the leather collar. Plus there are various bits of walkers around his garage. He also said that someone made him a model of Hershel's head!
An attendee asked David if he thought the Governor would have found Rick's group if he hadn't met Andrea and Michonne, and David said he didn't think so, because they are what drew him to Rick. He also said that he had done some research on the Black Plague before starting his role, and though that Woodbury was similar to medieval towns at the time, which put up walls to protect themselves. David said that when we first see Woodbury, it's a very successful place, but the Governor "drunk on power" and that power corrupted him, so he made a preemptive strike on Rick's group, before they could attack him.
He also spoke about his fight scene with Michonne in the room with the heads in fish tanks. David said that he's actually great friends with Danai Gurira, who plays Michonne. He said that a fight scene is like a dance, in that you have to know what you're going to do before you do it, and it's also about trust, plus you have to rehearse it a lot. David commented how losing Penny was the breaking point for the Governor, saying that "the most dangerous man in the world is a man who has nothing to live for," and that was him.
The final question was about the challenges of getting into a character like the Governor. David said that you don't know where you're going because you don't know what will happen in the upcoming scripts, so the most challenging thing was making sure you give yourself somewhere to go. This was a challenge for him coming from the theater and British TV, where you know the ending.
With that, the panel wrapped up. We had seen David Morrissey before, at San Diego Comic-Con, but of course he didn't get a chance to say as much, with so many other members of the cast there. He seems like a really pleasant fellow, and it was interesting seeing into the mind of the man who played the evil Governor.
Alyson Hannigan and Alexis Denisof, 3:00pm – 4:00pm
[Note: Josh takes over for this panel recap.]
So after David Morrissey was Alyson Hannigan and Alexis Denisof, who are married to each other. For those unfamiliar, Alyson played Willow on Buffy the Vampire Slayer and Lily on How I Met Your Mother, and Alexis is best known for his role as Wesley in both Buffy and Angel. Since I really enjoyed all of these shows, I was pretty excited to see this panel.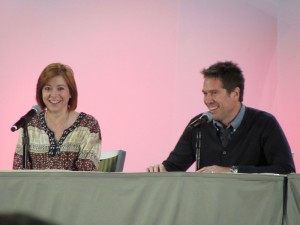 The panel opens up with the moderator for the panel asking them how they handled the fandom when they first started. Alyson talks about Buffy being the first series that changed her life, but because the first 12 episodes were shot before they aired, she didn't really know the show had "caught on" until their first convention. She also remarks that people that are very young are getting into the show now, even though it originally aired before they were alive. As for Alexis, he had a different experience he says, for a couple reasons, because he came in later, in Season 3, and also most people hated him given his character's beginning. Even when he moved to Angel, he wasn't specifically made a regular at first.
The panel then goes to audience questions. One question that had a great answer was asking what both of them took away from the show, and Alexis says, "my wife" which was pretty funny. Alyson talks about how she and Alexis first met and Alexis being brought onto the show, which was definitely not love at first sight. Oddly enough, I learned from this panel that Alexis is not actually British.
Alexis has another funny story about him on Angel where he could not stop laughing at a line that Angel had said, to the point he felt like he could be fired. Alyson has a funny story about being directed by a specific person–the director would say, "There is a big scary monster behind the door and action!" and that just made Alyson laugh, more than actually be scared. This reminds Alexis of another director who apparently would always say, "Woof!" when the take was good. Alexis remarks this confused him, because he thought it was a bad thing, so he tries to confirm with us the audience–and we are all confused as it seems no one had ever heard of this.
Another question Alexis gets asks about is Much Ado About Nothing and if there would be anymore Shakespeare films with Joss Whedon, but so far Alexis doesn't think so, and mentions Joss said that he would only do them if Whedon felt a connection to the play.
Both Alyson and Alexis get asked what their favorite part about their characters on Buffy, and Alyson says that it was a great part and great show, and a great journey for the character. Alexis says, "same answer."
They get the usual question of how to get into acting, and they are both very frank in their answer. They say to have a plan B, and not to take anything personal, and acting is both the best and worst job at the same time. I thought that answer is really honest, and not as cheesy as the actors who say anyone who can do it. Alyson talks about how she couldn't get an audition for Buffy at first, and only got in because the girl set to play Willow was being replaced. Alexis also adds that doing things he "wanted to do" helped him in a way, so that he could live his life.
Alyson gets another question, asking her how it was to play one of the first known lesbian characters on TV. Alyson seemed gracious about the honor of playing that part of the character. Another question for Alyson was what her favorite role is, and she is pretty quick on her answer–Willow. She says all over parts are great, but talks about aspects of her other parts, like American Pie being a blip on her radar because she only shot for it a couple weeks.
Alyson fields more questions–asking what was a memorable moment for her on How I Met Your Mother, and she has a specific example, on an episode where she is picked up at the airport and has a marching band there to greet her. She was pregnant at the time, and all that really made her emotional at the time. Apparently it wasn't just the pregnancy that made her emotional, as she is in tears just talking about it. She also said the last day the main cast worked together on the show was tough, since the show was ending. She also gets asked about doing a Buffy reunion, and she would be in if Joss Whedon was.
Alexis finally gets another question, asking how close Much Ado About Nothing was to a stage show. Alexis says it is pretty similar, as the filming of the movie used limited takes so that Joss could finish the movie as soon as possible. He brings up a funny story when he and another actor are wrestling in a scene and they knock over a toy, which belonged to Joss's daughter, and during the take, they pause, but then keep going, and that take was used in the movie.
Alyson gets asked about a How I Met Your Mother Reunion, and she says she would like to do one, but feels the show messed up in way, as it goes into the future quite a ways, but apparently the creators did have some ideas being tossed around. Even more questions for Alyson, had someone ask her how it was playing all the different versions of Willow, like evil Willow, Vampire Willow, etc. Alyson's favorite part of it was playing good Willow when she was trying to be Evil Willow.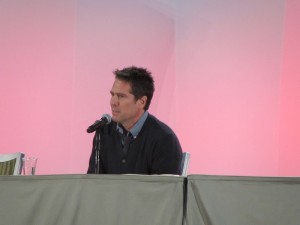 Even more questions for Alyson–a fan asks her if she would rather play Harley Quinn or Poison Ivy from the DC universe, but she says she is too old to play those characters now. She says she would do either though, but it would be in his backyard. Alexis realizes saying that is a bad idea to say as he says, "That will catch on."
Alexis finally gets a question! A fan asks about the big party for Much Ado About Nothing, and how real that party was. Alexis said that there is something about alcohol while work, so the drinking was done after the filming was done. Alexis says the film didn't feel "manufactured," and everyone had a rapport.
Alyson and Alexis talk about working with Joss, and he had a big hand in everything it seemed, at least to start for Buffy.
Alexis then talks about being a part of the Marvel Universe, which is an interesting tidbit. Apparently Alexis seemed a little hurt about the situation, as Joss himself didn't even ask Alexis to play the part. His part to play was originally called "Man 2," and Alexis decided to call his character Mandos, and speak with a Spanish accent. In the end, he and Joss talked about it, and Alexis turned out to be one of the leader Chitauris, which speaks with Thanos. I had no idea that he was in it when I first saw the movie! It was a pretty funny story to hear, and an interesting piece of trivia.
I have to say, I had a lot of fun on this panel, but I think it was a very different reason than normal. I like both of these actors very much, and the shows they were from, and was very interested in hearing their answers, but my favorite thing about this panel was the fact that they were married, and both seemed very happy. I have a jaded look of Hollywood, and these two people really made me feel that they were down to earth, and sort of removed a little of that jaded haze I have. I hope these two have a happy life together, and I respect both of them more now, for their ability to seem to connect in such a crazy cutthroat place such as Hollywood.
Katee Sackhoff, 4:30pm – 5:30pm
[Note: Violet takes back over for this panel.]
Katee Sackhoff is best known for playing Starbuck on Battlestar Galactica, so most of her questions were about that, although she did get a couple about the show that she is currently on, Longmire. When she first came out on stage, she commented that this was the first time she got to a con the night before and actually got to sleep, so she feels rested today for once. However, she confessed she was a little hungover, which she blamed on her boyfriend.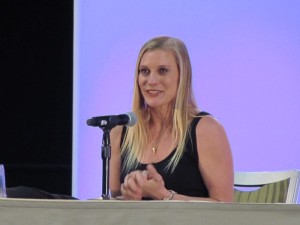 She started out by talking about how she first got into acting, which was when she was 14, at which time she looked 12. So then when she was 19, she played 14, and therefore played every stereotypical angsty blond teen. At age 21, when she read the script for Battlestar Galactica, she didn't know it was a remake, because she never saw the original. They were actually looking for someone around age 35 to play the part of Starbuck, but she went and auditioned anyway — in stiletto heels. They kept telling her that she was too young and not tough enough. Then when they were watching the audition videos in fast forward, looking for Starbuck, someone walked by and said, "You idiot, that's Starbuck right there!" And that's how she got cast. Ironically, 10 years later, now she's the girl that's "too tough," whereas back then, she was the girl who wasn't tough enough.
Katee also spoke about Starbuck's boxing scene with Apollo. She explained that as they were making the show, they were always questioning whether a particular thing could really happen. In real life, Apollo would have beat Starbuck, so she had to cheat. Katee also confessed that she gets so immersed in her character that she dreams as her character.
Katee told a few funny stories about things that happened on the set of Battlestar Galactica. She hardly got to work with Mary McDonnell, who played President Roslin, and she thinks it's because when they were shooting the airlock scene near the beginning of the series, for 4 hours they couldn't get through the scene because whenever they looked at each other, they couldn't help but start laughing! Katee said they never worked together again after that, unless she had a gun to her head. Katee also brought up the fact that she had a lot of sex scenes, saying, "I had so many sex scenes on the show that it kind of felt like a porn." She recalled one day when she was doing sex scenes with Jamie Bamber, who played Apollo, and James Callis, who played Gaius Baltar, on the same day. One particularly embarrassing part of that day was when they were moving from one scene to the other, and the director said, "Okay James, climb off of her. Jamie, get on." Another funny story she shared was about a day when she was wearing pasties, and had drawn smiley faces on them. Something they did on set was $5 Fridays, where everyone would write their name on a $5 bill, and if your name was drawn, you win $500. Well, she won that day, and they dumped all these coins and $5 bills onto her and she thought, "Oh my God, I am a hooker!" Usually the actors never kept the money if they won, instead letting a crew member win, but she kept it that day!
Although there were more light moments on set than heavy, Katee recalled when Michael Trucco, who played Sam Anders, was in a car accident between seasons. His injury was written into the show, and that's why he's laying in a pool, because they didn't know if he would be able to walk again.
Of course, she got the question that everyone always asks about: what happened to Starbuck at the end? Katee answered, "I have no idea," and commented that it's the only character she's ever played that she didn't question what happened. However, she did say that she sort of thought she was an angel, though she likes the ambiguity of it.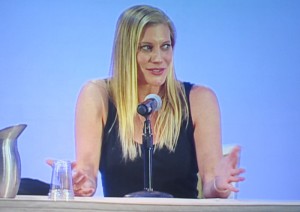 Going back to the sex scenes, she said that those scenes with Michael and Jamie were not sexy at all, they were more awkward because she knows both of their wives, and it was weird to think that she had made out with their husbands more in the past week than they had. She also talked about how she's actually really good friends with Michael in real life, and that they ride motorcycles together. When he first came on the show, and was left behind, the Starbuck's line was supposed to be that they will "try" to come back for him. However, Katee liked Michael so much that she changed the line to be that they "will" come back for him, because she wanted him to come back to the show.
One audience member asked if Ron Moore ever considered Starbuck as a cylon. Katee knew the answer to that one, saying that when they started the show, Ron Moore said that all he knew for sure was that Eddie [Edward James Olmos, who played Adama] is not a cylon, and neither is Starbuck. They didn't realize how important that information was at the time, since they didn't know about the Final Five yet.
Another audience member asked whether she really played the piano in the episode with Starbuck's dad. Katee said that she did, and that she had to learn to play the piano, but she had taken piano as a kid, so it sort of came back. She remembered that she hated piano as a kid, so much that there were bite marks in the piano. Her parents had a rule that if she quit piano, she would have to take up another instrument. So she quit and started playing trombone instead.
Okay, moving on to non-Battlestar Galactica subject matter, Katee also talked about Longmire. I must admit that I've never watched Longmire, so I apologize for the lack of detail, as I didn't follow what she was talking as much as I would have if I watched the show. Katee did mention that when you're the lead of a show, you don't sleep, so she was a bit relieved to find out she was 2nd lead of this show. She liked that it was shot in Santa Fe, so it was close to home, and that the character was not intimidated by men, and was a strong woman. However, she confessed that she actually doesn't like the character anymore, as she has become "morally bankrupt." But Katee pointed out, "You don't always play characters that you like." However, she thought that this character was the closest to herself that she would ever get to play. Katee revealed that Callum Keith Rennie, the guy who played Leoben on Battlestar Galactica, would appear in the upcoming season. As for details about the show, Katee said that this season is more serialized than it has been the past couple years, and that now that it's on Netflix, she gets to swear a lot more. However, she can't say anything about it, because then you'll find out who died in the first five minutes!
Katee also talked about her experience on Robot Chicken, and said that she is drawn to comedy, saying that it is harder to make people laugh than cry. She grew up watching a lot of sci-fi with her dad, and that she doesn't actually watch a lot of comedy. She briefly spoke about the series she is creating, Rain, and said that it is a dark, sci-fi/drama.
Another of Katee's roles that came up was the Power/Ranger video, which Katee thinks of as a really expensive fan video. She said that she grew up watching Power Rangers and confessed that she still watches it. She felt like this was a video for people who grew up watching the show and have matured since then.
She was also asked about working with Vin Diesel on Riddick, and she seemed like she had a great time, saying, "Me with a bunch of dudes? That's a girl's dream come true!" She said she was like their little sister, and spoke highly of Vin Diesel, saying that he always gives 150% and that she likes him a lot.
When asked why she acts, Katee joked, "Because if I didn't, I'd be in jail." She then told us that when she was a kid, she spent a lot of time alone in her room, just making stuff up. She remembers watching My Girl, and sobbing as a result, at which time she went to the mirror so that she could see what it looked like. She put that into her memory so that she could use that later to get out of something! Another story she shared was that she had just graduated, and the school had just figured out that all the notes to get her out of school were actually written by her, and not her parents! The principal told her, "You are going to be the best actress."
She's also really into motorcycles, and talked about the different motorcycles that she has. She likes riding motorcycles because she likes "putting on a helmet and making the world disappear." It quiets her mind, which doesn't really happen a lot. If she could play any woman from history, she would play one of the two women who rode their motorcycles across the country from New York to San Francisco to deliver mail in 1918, and made their deadline, but were still rejected from the mail delivery program just because they were women.
Katee did get asked whether she would consider playing Captain Marvel, to which she commented, "It would be like Starbuck on steroids." She confessed that she used to be worried about being typecast, but then realized she should be so luck to play strong women on a daily basis. Playing such a large role would be a big game changer for her, and right now she loves that she can walk down the street and people don't know who she is. Katee said she would have to be offered the role to be sure, but she probably wouldn't turn it down. For those of you wondering, Katee confirmed that it was true she had a meeting with Marvel. In fact, she revealed that she has turned a lot of Marvel stuff down because it just wasn't right for her.
That about wraps up the major points from this panel. Katee seems like a really cool, funny person that would be really fun to hang out with. I've seen her before on panels at San Diego Comic-Con, and I got the same impression of her there as well, so I was really excited to see her again, and she did not disappoint!
After that, we went down and looked at the cool cars that were parked outside the convention center, including Jurassic Park, Ghostbusters, and a Dolorean, which you can see in our photo gallery below. Then we left and got dinner and called it a day!
Stay tuned for our Sunday Report, featuring Doc Brown himself, Christopher Lloyd!
See our photo gallery below for more pictures of David Morrissey, Alyson Hannigan, Alexis Denisof, Katee Sackhoff, and other things in and around Phoenix Comicon!