Saturday at Phoenix Comicon 2015 was a day full of celebrity panels for us! We've split up the recap into 2 parts. Part 1 features Violet's recap of the Summer Glau panel, who is best known as River Tam on Firefly/Serenity, followed by Josh's recap of Jason Momoa's panel, better known as Khal Drogo on Game of Thrones! Part 2 will include David Morrisey, Alyson Hannigan, Alexis Denisof, and Katee Sackhoff.
Click here if you missed our Friday Report, featuring Jason Isaacs, Edward James Olmos, Mary McDonnell, and Charisma Carpenter!
Saturday Morning
Summer Glau was scheduled as the first panel in the main room, starting at 10:30am, so we figured we would get there about an hour early to get a good spot. So we got up at 8:00am, got ready, then went down for the free breakfast at our hotel. This time, the breakfast was much busier than it had been on Friday morning, as it was hard to find an empty table to sit at, and the buffet area was always crowded. You could tell by the T-shirts people were wearing that they were all about to head to out Phoenix Comicon as well.
We left our hotel shortly after 9am, and upon entering the parking garage, the same one as the day before that's located at 3rd and Jefferson, we could already see that the day was going to be much busier than the day before. Whereas on Friday, when we had arrived at 10am, we could drive right into the parking garage, when we arrived on Saturday around 9:30am, there were 2 lines of cars waiting to get in.
We knew where we were going, and walked straight to the West building, heading upstairs. Last year, we had also arrived one hour prior to the first panel, and were able to sit in the second row of the left middle section, as there weren't too many people who had gotten there early. However, this year upon arriving an hour early, the entire first section of seats were already about half full when we walked in. Not wanting to have someone's head in front of me, blocking my view (this often happens, as I am short), rather than finding a seat in the first section of seats, we instead opted to sit in the first row of the second section of seats. Although we would be further back, at least we would have an unobstructed view.
Summer Glau, 10:30am – 11:30am
As I mentioned, Summer Glau's panel was scheduled to begin at 10:30am, but when that time came around, the moderator came out and made an announcement that she was running a few minutes late, and pointed out that she has a newborn. The panel actually got started around 10:45am.
The moderator started things off, commenting how people often ask panelists what it's like to work with someone else, so he said he wanted to ask Summer what it is like to work with Summer. She shared with us a story about her first acting scene, which was a scene with David Boreanaz, and confessed that she had lied on her resume. So she was doing to scene with him, then David tells her, "You see that tape on the floor over there? That's your mark." The tape was about 2 feet away!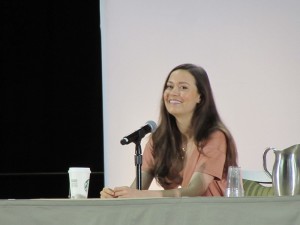 Then the panel was opened up for audience questions. Of course, the majority of the questions were about Firefly, but I'll cover some non-Firefly material first, and leave Firefly for last.
Summer spoke about her experience on the Knights of Badassdom LARPing movie, which she said was like a LARPing summer camp, and that they all came and learned together.
Another topic was her training as a ballerina, and how that has helped her in her more physical roles. Apparently, her whole life she had grown up dancing, and her entire focus was to be a ballerina. But then she broke her toe, which changed everything for her. If she could, she would go back and tell her younger self to get educated, to diversify her interests, and not to focus herself on something that can easily change. She emphasized that injuries can happen to anyone, so don't assume you're going to be the one who doesn't get injured.
Summer was also asked about her role on Arrow, as Isabel Rochev. She said that she was a little confused about her role, as they wanted her to play an elegant businesswoman. But then she read the Ravager script and thought, "YES!" She especially loved spending time with Emily Bett Rickards, who plays Felicity. As to whether she's coming back to Arrow, she said she has her fingers crossed!
Apparently, she was also on a Hallmark Christmas movie. She said she had grown up watching Hallmark Christmas movies, so it spoke to a childhood dream. Summer commented that it was her family's favorite job she has ever done, because they saw a lot of her in her character.
As to whether she prefers action or comedic roles, she said she likes both, although she is goofy in real life, so comedy suits her. She spoke about being on The Big Bang Theory, saying that she had so much fun doing it, and had to struggle to hold back laughter every take. However, she wants to keep doing both action and comedic roles, so that she can be challenged.
An attendee brought up the xkcd web comics, of which Summer was not aware (neither was I, until I just now looked them up), in which Summer appears as herself. The attendee explained that the premise is that she played these weird characters because she is weird herself. Summer said she was okay with that, saying, "I think that normal is so overrated." She offered some sage advice: don't try so hard to please people that don't want to be pleased by you.
Fans of The Sarah Connor Chronicles would have been interested in hearing what was planned for Season 3 had the show continued. Summer said they were going to go to the future, and keep going back and forth, with her playing both Allison and Cameron. She had been excited to play two different roles in the same show, so she was disappointed when it got canceled.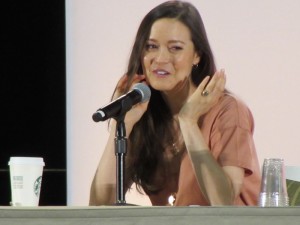 Another show Summer talked about was Dollhouse, including the mobility issues due to not being able to use her arm. However, Summer noted that limitations spark imagination, and that the wardrobe was very specific because of the arm. She also talked about working with Joss Whedon, which led to a question about her opinion about the accusations of Joss being sexist. However, Summer defended Joss, saying that she doesn't feel that way at all, and that anytime she has worked with Joss was an empowering experience.
When Summer was asked about if she would have wanted to be in The Avengers, Summer said she wanted to be in the background, like a secretary or something, but it didn't happen.
Okay, now I'll get to the Firefly/Serenity content. Regarding her Firefly experience, she remembers being told, "Remember this, kid, because it isn't always like this." At the time, she was so young, and acting was still brand new to her, so she didn't know what it was usually like on set, and didn't realize until later how lucky she was to have had that experience. It taught her how to behave on set, and how to love your job. If the show would have gone on, she would have liked for River to be able to put on shoes, be let off the ship voluntarily, ride a horse, get a job, craft, and find a boyfriend that really understood her.
Summer also shared with us a story about Nathan Fillion, and how one time she had forgotten her line, then she heard Nathan from across the ship yell, "Summer!" After that, he started blaming her for everything that went wrong on set, got other cast members to join in on the joke and also yell "Summer!" anytime something went wrong, and even took it to sets of other shows! Summer said that Nathan was like a big brother to her, and that when he did that, it made her feel loved, and that she hopes he still does it and thinks of her.
Although she is very grateful for every opportunity she has been given, Summer reluctantly admitted that her role on Firefly was her favorite because of the relationships she made, and how her experience shaped who she has become. Commenting on an audience question about her playing strong silent roles, Summer said that River worked for that time in her life, because she was a dancer, and had so much physical energy, and that she kind of grew up with her role of River. As for favorite moments, she said she really enjoyed working with Sean Maher, who played Simon, and that her favorite episode was "Objects in Space."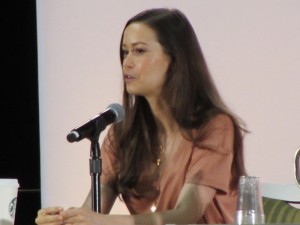 When asked what it was like going back and doing the voice of River for the Firefly video game, Summer said that she was a little worried at first, wondering how she would be able to get back into a character she had played so long ago, but then once she got going, it felt like no time had passed.
Another audience member asked what Wash's death was like for the cast members. Summer said they were somewhat prepared because Joss is known for ripping people's hearts out by killing off characters. However, it was still really emotional for all of them.
A little girl who had never seen Firefly asked Summer what she would tell people to expect when they watch it. Summer gave a great answer: "Don't watch them all in one sitting, because it goes by too fast."
The final question was regarding the difference in the Chinese spoken in Firefly versus in Serenity, and how it sounded different, with that spoken in Serenity sounding better. Summer said it was probably because that had a lot more time to practice it for the movie than they did for the TV show. She also commented that most people who spoke Chinese couldn't understand their Chinese. The audience member revealed that she herself speaks Chinese, and Summer apologized. Summer explained that they all had the same voice coach in both Firefly and Serenity, though with varying degrees of success. She joked that had the show lasted longer, they might be fluent by now!
Time ran out at that point, and the panel ended. I was pleasantly surprised by how much more I liked Summer Glau after this panel. Before this, the only other time I had seen her was at the Firefly 10th Reunion panel at San Diego Comic-Con in 2012, where she was mostly quiet, and didn't say all that much. But with this panel that put her alone in the spotlight, I felt like I got a much better sense of who she is, and I really liked her!
Jason Momoa, 12:00pm – 1:00pm
[Note: Josh takes over at this point.]
After Summer Glau's panel at Phoenix Comicon, Jason Momoa was up. He came out and received a massive welcome from the crowd, pretty eager to see him. Turns out among the audience was his mother, so the panel would be PG-13. I have to say–Momoa had a pretty awesome hat on. Of course, he greets the crowd started with some Dothraki, since he played Khal Drogo in Game of Thrones.
The moderator of the panel opens the panel asking him about getting his start, which apparently was a Baywatch spin off which he said he would rather forget, and considers Stargate Atlantis his actual start for acting. He then moves on to talking about Game of Thrones, how he would be covered in blood ripping out someone's tongue, then off camera would be talking with his daughter, and how it was a weird transition. He also mentions how tough it is for him to sit still for make-up, which involves 5 hours of getting ready.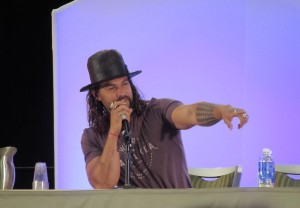 There were quite a few Stargate questions, which is a show I am not too familiar with. One asked why his character never hooked up with another. Apparently the ending of Stargate Atlantis was considered terrible, and Momoa says he would rather not go back there, and seems a bit bitter about it. Again, I have no context for this, since I didn't really see it. Another question he gets about Stargate Atlantis is his most memorable moments, which is when the father of his co-star died, and he remarks how tough his friend was, and finished his scene even after hearing the news. He also gets a question about how he got the part, which was him just auditioning for it. He tells a funny story that led up to the audition though, which basically involved him getting high as a kite from a gas leak that happened in the place he was staying, and how he couldn't really see the faces of people due to the "high." Momoa explains that no one in the audition could really understand him, but they seemed to like him. He says he was told to come back in, and give it another try. I guess it worked out in the end for him. Another question about Stargate Atlantis involved asking him about injuries he sustained on the set. Apparently during a scene with fireballs, plastic above the set melted and nearly burned his eye. He thanks his "Hawaiian visor" (big brow) for saving his eye. He remarks he is looking forward to using a stunt guy as soon as they can find someone "amazing."
For Game of Thrones, he talks about how he would have liked to have had more battles in the series, but seemed to appreciate George R.R. Martin's method of how ironic it was for Drogo to die from poison/suffocation, and wouldn't change how he died. He also talks about his audition for the part, where he had kind of went berserk, and seemed to freak out his audience. He also talks about trying to slow his heart down for a love scene he was supposed to act out next. Another question he gets for Game of Thrones asked what he would do if Khal Drogo lived. Simple answer from Momoa–train a dragon and kill everyone. The next season would be him just petting his dragon. He says it would be a pretty short series if Drogo lived, and he was in charge. He has a pretty good time with more Dothraki, and describes Drogo's accent as a cross between, "Jabba the Hutt and Fozzie Bear" or as "Chewbacca and Wakka Wakka." Pretty accurate. Another question he gets is how long it took him to learn Dothraki, which he says it took about a month. He gets another funny question–if Khal Drogo was in Hunger Games, would he win. Of course he would, Momoa says, unless there was a pillow in the area (referring to the way he died in GoT). He gets the usual question of Khal Drogo possibly coming back to the show, which doesn't sound likely, but Momoa leaves the door open saying, "anything is possible."
He talks about the movie Conan he was a part of, and how he trained–he did some samurai training, and had to eat chicken breasts every 2 hours. When he went to Bulgaria to film, he had to go in a cast because he was pretty beat up. He also talks about a groin injury, where a huge Bulgarian dude came in to "work" his groin, but Momoa says whatever the guy did seemed to work.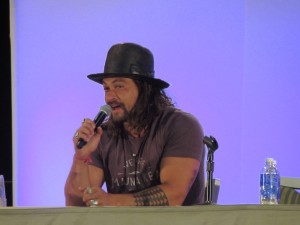 As expected, Aquaman came up, and a fan asks about his tattoo on his arm and how it influenced the costume. The tattoo is apparently his family crest, but it seems that most of the decisions are coming from Snyder. He also gets asked about what he can reveal about Aquaman, and whether Momoa/Aquaman is in Batman V. Superman. Momoa seems to shoot that down, saying it is a Batman/Superman movie, not Aquaman. He gets asked about what Aquaman comics he is reading, and so far is reading the New 52. He also talks about training for Aquaman, and will be training with his cousin because he is an "experienced water man." Fun fact–Momoa can hold his breath for about 3 minutes. That is a long time.
He also talks about his family life, how his mom came from Iowa to Hawaii, and he was born on the islands. He is also proud to represent "Brown skinned superheroes" since he will be Aquaman. He also talks about almost becoming a marine biologist, but ended up in acting instead. He gets more questions about this, and talks about going to a special school for biology after passing a test. He then talks about taking a year off of school, but then ended up heading to Hawaii after "some bad stuff happened," but then ended up on Baywatch: Hawaii.
He also talks about riding his Harley, and in the audience is a man named Jeremiah who rebuilt his bike, and Momoa used that bike in a movie called Road to Paloma. He seems pretty excited about seeing him, invites the man and his family to the front row of the convention. Pretty awesome for them. He gets another question asking him about moving away from acting, and Momoa says he enjoyed learning, and wants to tell more stories. He also says he would rather direct than act.
He also gets a question about how he chooses the roles he plays, and Momoa is pretty honest–he seems to be willing to take what he can get, but is very excited to be Aquaman. There is another pretty funny question that comes up, where basically a fan recalls another panelist a while ago who referred to Momoa as "Marmaduke" because he is big on the outside, but a big softy on the inside. This has Momoa put his tough-guy front on, and tosses a water bottle to prove it. It was pretty funny to see.
Jason Momoa is a pretty funny guy, and it was another entertaining panel to watch. He seems like a down to Earth guy, and I look forward to seeing what he does for Aquaman, and hope to see him direct some more stuff. He talked about making a "Hawaiian Braveheart" film after Justice League, which could be interesting.
Up next was Dave Morrissey, who played The Governor on The Walking Dead. Check out Violet's recap of the panel coming up, followed by my recap of the Alyson Hannigan/Alexis Denisof, and Violet's recap of Katee Sackhoff's panel in Part 2 of our Saturday Report — coming soon!
See below for our photo gallery of pictures from both Summer Glau's and Jason Momoa's panels: