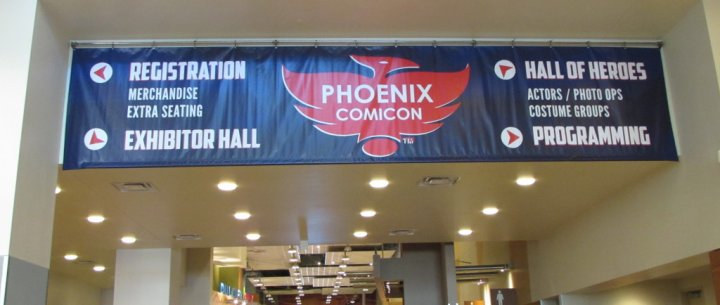 This year was our second year attending Phoenix Comicon, which took place Thursday, May 28 through Sunday, May 31, 2015! Josh takes you through our Thursday night journey to Phoenix, as well as our Friday morning at Phoenix Comicon, including the Experiencing Phoenix Comicon panel, and walking around the Exhibit Hall, plus attending the Jason Isaacs panel! Part 2 of our Friday Report features Edward James Olmos and Mary McDonnell, Charisma Carpenter, and the Sherlock Murder Mystery!
Click here to skip ahead to Part 2 of our Friday Report.
Thursday Night – The Journey Begins
It was time for Violet and I to make our journey to Phoenix for Phoenix Comicon!  Wednesday night we packed everything up, went to our "real life" jobs all day Thursday, then right after work, we came home, packed up the rest of the essentials, like deodorant, toothpaste, snacks and of course the most important stuff–the camera and laptops!  We packed it all in the car, and got in my Chevy Volt to make the 360-ish mile trek to Phoenix, Arizona.  We left right around 6:30 so our ETA was close to midnight.  Of course, we needed to get some dinner, so we stopped at Taco Bell (Violet's favorite) before hitting the freeway.
Surprisingly, the traffic was not too bad.  I guess at 6:30pm the Southern California rush hour traffic begins to die down.  There were a few slow parts, but for the most part it was easily going.  We had to stop for gas just before Blythe, the city which borders Arizona and California.  Since my car is an electric/gas hybrid, I only get about 340 miles on a full tank.  Our stop was at a pretty run down gas station, and it was pretty dark outside.  It certainly felt a little creepy at this stop.  Then Violet tells me about a giant hole in the wall in the women's restroom.   Even more creepy.  We got out of there without incident though.  Back on the road, we were driving through the desert in pitch black.  There weren't a ton of cars, but plenty of semi-trucks. Why some of these trucks drive in the fast lane of a two lane highway I will never know.  For the most part, people were good about getting over though.  One other thing to note about the drive though–apparently flying insects do not know to get out of the way.  Despite the dark,  I noticed a plethora of bug death sites on my windshield.  It even became a little distracting, so I used my wipers to try to clean it off.  It didn't do a whole lot, but oh well.
We arrived at the Wyndham hotel around 11:40pm. Getting out of the car, the first thing we noted was how hot it still was.  Even though California is technically a desert, where we're from certainly isn't 90 degrees at night.  At least it is dry heat though.  Not as bad as a humid heat.  That was a little ahead of schedule!  We planned to get up fairly early though, so it was off to bed we went.
Friday Morning – Arrival at the Con
It was "up and at 'em" around 8am Friday morning, for a long day at Phoenix Comicon.  Violet and I got ready, donning our appropriate attire–Me wearing an Avengers shirt, and Violet wearing her GB Reviews tank top.   We went down for the free breakfast Wyndham provided. Free breakfast at the hotel is such a convenient thing.  But then we returned to the room, and packed up for the Con.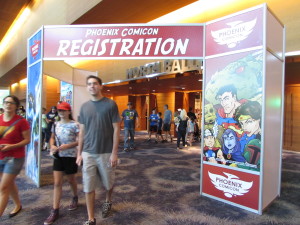 Heading to the car, we made the 15 minute drive from the hotel.  We headed to the parking garage.  The parking attendant was in a chipper mood.  He warned us though–"Darth Vader was spotted at the con, be careful," he said.  I felt confident we would run into Vader.  Probably more like 15 Vaders, not to mention the countless Stormtroopers we were bound to spot.  We headed out to the Phoenix Convention Center, in the close to 90 degree heat.  Man it is hot here.
We located registration, picked up our badges, then made our way to the first panel.  The con was already pretty crowded despite it being only Friday morning.  The first panel we headed to was "Experiencing Phoenix Comicon."  This panel was supposed to highlight the exciting things to do at Phoenix Comicon this year, note improvements made from last year, as well as go over some of the rules of Comicon.
The First Panel – Experiencing Phoenix Comimcon
We moseyed on up to Room 227 for the "Experiencing Phoenix Comicon" panel.  It was a fairly empty room, but we decided to stick around.  After all, there seemed to be numerous prizes on the panelists' table.  How could we resist?  We received a "Comicon 101" "limited edition" pin, as well as a raffle ticket.  Given the number our people in the room versus the number of prizes, I felt I was a shoe in for something!  The prizes were a few Star Wars model sets, some novels from a few previous authors that had panels at Comicon, as well as some other odds and ends.
So the panel gets started, and they discuss how much attendance has increased from the beginning.  In 2004, they had about 2500 attendees, and last year in 2014, they had over 75,000.  That is a pretty hefty increase!  They also talked about how Phoenix Comicon has basically taken over the entire convention center now.  Pretty impressive.  Us nerds are coming out in droves, even in the desert!
The panel continues discussing some helpful tips for the more new-ish crowd.  Where to find help if you need it, highlighting a few attractions, and going over the rules.  A cosplay girl went in depth over how to treat fellow cosplayers.  The cosplay rules seem fairly intuitive–basically treat them as you would treat any other human being.  It is a little sad that rules have to be "written down" in order to prevent cosplayers from being harassed.  It just seems silly that people can't figure this stuff out on their own.  But I digress.
Some of the improvements made included moving registration so that people weren't funneled back outside the con, only to have to line up to come back in.  That is pretty convenient.  The big panel room, now located in Room 301, was moved too, and allows for use of the "Sky Bridge" for exiting.  They were pretty sure this would help alleviate congestion.  They also made a "Hall of Heroes" which was where all of the autographs would be done.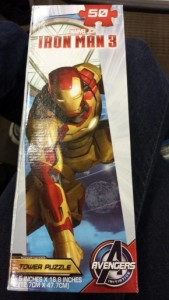 Sporadically through the panel, prizes were given away.  This was certainly the exciting part on the panel.  I am notoriously unlucky when it comes to winning any "luck" based thing.  But now, it was my time to shine.  I basically had like a 90% chance of winning something.  So the first round comes.  My number was 822776.  The first few missed by quite a bit.  But during the second or third round I thought for sure I would be in!  A panelist read, "8-2-2-7-7-7".  Dang.  One number off.  Still though, I had to have a good shot right?  The next round of prizes had another close call. "8-2-2-7-7-3″  Well the good news was Violet won!  She went to choose her prize and the spoils she came back with was an Iron Man puzzle.  Unfortunately, all of the Star Wars prizes were already gone.  A couple more rounds went by, and I finally heard 8-2-2-7…6-7"  Dang!  Two numbers inverted!  So close!  What was worse, the person wasn't even there!   A new ticket had to be redrawn!  The next number was nowhere near mine.  Bummer. So the drawings continue until the prizes were all gone.  My number was never called.  I was fairly certain that everyone else had won a prize.  So sad.  On the plus side, I finally convinced Violet with 100% certainty that the cosmos have it in for me when it comes to anything luck related.  Ah well, there is more to Comicon than prizes, right?
Oh, one final note about the panel.  They tried to make everyone in the room dance.  Violet and I were not amused.  One thing that Violet and I don't do (not even when we got married) is dance.  I am all for goofy dancing to random music on the radio, but you can't tell me to dance!
When this panel was over, we had a few hours to kill until the next panel we were planning to see. We headed for the floor to see what the exhibitors were up to in Phoenix!
Friday Morning – Exhibit Hall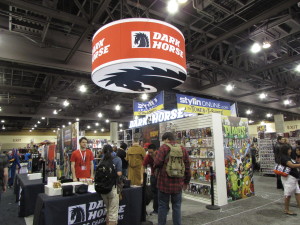 So, after our Phoenix Comicon introduction with the previous panel, we journeyed into the Exhibit Hall.  It took all 6 Halls, and was quite big.  Probably not quite the size of SDCC or WonderCon, but certainly a good size.  We journeyed up and down the halls and found some pretty cool finds.  I was very tempted to buy a Batman shirt that had a cartoon Batman in the armored suit we see in BvS, with the quote on it, "Do you bleed?  You Will." There was also  pretty awesome Lannister sweater from Game of Thrones, but it is really hard for me to buy a Lannister sweater. If it was a Targaryen or Stark sweater I would totally be in.  There was a lot of great art as usual of our favorite characters.  If you name any fantasy, sci-fi, or comic book character, there had to have been an artist with some artwork here.
There was a lot of great costuming as well.  My favorite was a Groot that was walking around (the plant character from Guardians of the Galaxy).  He had a great costume and was even walking around on stilts.
After wandering around the exhibition hall, then grabbing a burrito from the food court, we headed to our first celebrity panel, which was Jason Isaacs.
Jason Isaacs, 1:30pm-2:30pm
The first real celebrity panel Violet and I saw was Jason Isaacs. He is not someone I am extremely familiar with. His most notable work is probably playing Lucius Malfoy in the Harry Potter movies and Col. Tavington in The Patriot. I personally know him mostly from Armageddon as the scientist that comes up with the plan to save the world from the impending asteroid and as a cop from the short-lived show Awake where he lived in two "dream" worlds, and he didn't know which one was the real one.
He came out and kicked off the panel informing us that he didn't have a lot of sleep the night before. He seemed a bit tired, but he actually seemed pretty excited to be here. He also told us that this was only his second con, and his first was just a little bit ago.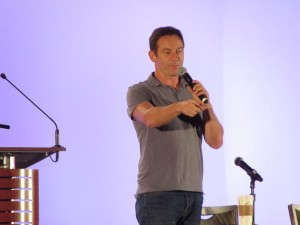 He decided to go over a couple commonly asked questions first so that he doesn't have audience members wasting their question on something he has already gone over a lot. Seemed like a nice thing to do. The first question he preemptively answers is, "Was it fun being in the Harry Potter films?" to which he of course answers yes. Seems pretty straight forward right? I can see why he doesn't need to be asked that again. Another question he discusses is whether he prefers playing a good guy or bad guy. It is another pretty obvious answer–he wants to play a character that he can get into and has depth, that is a "real person". Makes sense.
Another one he goes over is how he gets his jobs, and he says it is basically all the same, your agent gives you a call to try out for a part. He says that if anyone says otherwise, they are full of it. He does say that Harry Potter was a little different for him though–he auditioned for another part other than Lucius Malfoy, but he hasn't excited to play a bad guy again, since he was just coming off of playing Captain Hook in the Peter Pan movie. But his nephews and other children begged him to take the part, so he did.
He also talks about how he got into acting, which was him at college finding a part that asked for a person who can play a Northern accent, which is his accent, and it went from there basically he said. He also gave aspiring actors advice–using their smart phone to make their movies to get started, and marveled how this wasn't something available when he was younger.
One of the more interesting questions was about his new series Dig, and about shooting the film in Jerusalem. He was actually in the middle of the conflict with Gaza, and also talked about how historically rich the city is. Interestingly he did all of his own stunts but one–the one he didn't get to do involved a stunt double being naked, jumping into a pond. Apparently photos came out as that being his behind, even though it was his stunt double. He talked about all of the injuries he got and sounded like he might want to use a stunt double more.
He also talked about how he was a techie guy, and how he related to the logic of a computer and math, because those things can be figured out while people on the other hand tend to be more tricky.
Of course, there were plenty of Harry Potter questions. One was discussing working with child actors, and he seemed to appreciate working with them, as they seemed to be veterans when he came into the series, and they all seemed to turn out well in the end. He also told a pretty funny story about how he filmed a scene with Richard Harris who played Dumbledore. When he was told "action" he said he thought Richard Harris had forgot his line, but then while waiting for Harris to go, he wondered if he was the one who forgot his line. Turned out Harris was just giving him a hard time. The real funny part come up next, which involves the CGI for a character named "Doby" (I haven't seen Harry Potter. He basically talks about how me mimed actions which involved him kicking and knocking on the head this CGI creature named Doby. Chris Columbus was question his mimes, but Isaacs explained his actions and Chris Columbus seemed ok with it. While I haven't seen these scenes in the film, it sounds hilarious. Isaacs also talks about him creating his "exit line" where he said, "Harry Potter won't always be around to save the day" and Daniel retorted, "Don't worry, I will!"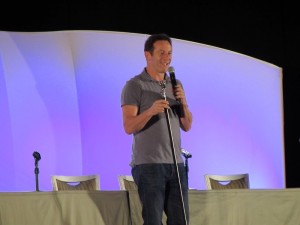 The next question Isaacs got was from a kid who asked how long it took to get his wig on. I guess in Harry Potter Lucius has long blond hair? Anyway, Isaacs decides to tell the story of him putting his spin on the character which ultimately Chris Columbus approved for the movie. Firstly, Isaacs questioned the lack of blond hair for his character as his kid had blond hair. He also felt his character didn't dress "aristocratically" enough, so he worked with the costume people and came up with an idea, which involved creating a wand that came out of a cane. Then a replica of the cane is given to him on stage. He also went so far as to figure out a voice for Lucius, but that took more time to convince Columbus to approve. In the end, he finally answered the question–1 hour. It took him 1 hour to put on the wig.
He does get asked about the show I really liked, Awake. He is asked if he would have liked to see any more episodes. Turns out Isaacs seemed to be happy the show ended. He thought it had its run and didn't think there was much more for that show to do. I guess that is fair enough. He also seemed to not really enjoy playing a role that was so serious. He talked about how he likes playing roles that have some jokes to them.
I have to say, even though I haven't seen any Harry Potter except the first one, and Isaacs wasn't in the first, and he primarily talked about his role in Harry Potter, I really had a great time during Isaacs panel. He was really engaging with his audience, and had a lot of funny stories he told. I kind of wanted to see them after listening to him just to see the scenes he talked about in his panel.
After Jason Isaacs's panel was Edward James Olmos and Mary McDonnell from Battlestar Galactica. Violet is up to talk about them next!
Click here for Part 2 of our Phoenix Comicon Friday Report, featuring Edward James Olmos, Mary McDonnell, Charisma Carpenter, and the Sherlock Murder Mystery!
See below for our photo gallery of Part 1 of our Friday Report: