This is Part 2 of our Saturday Report on Gallifrey One, which took place at the LAX Marriott February 13-15, 2015. In this post, Violet recaps John Barrowman's panel, and Josh recaps the "Memories of Torchwood" panel, which featured Eve Myles, Burn Gorman, and Naoko Mori!
Click here to go back to the Friday Report – Part 1!
Click here to go back to the Friday Report – Part 2!
Click here to go back to the Saturday Report – Part 1!
Click here to view our slideshow of photos from Friday and Saturday!
[Note: This section by Violet]
John Barrowman – Program A, 3:00pm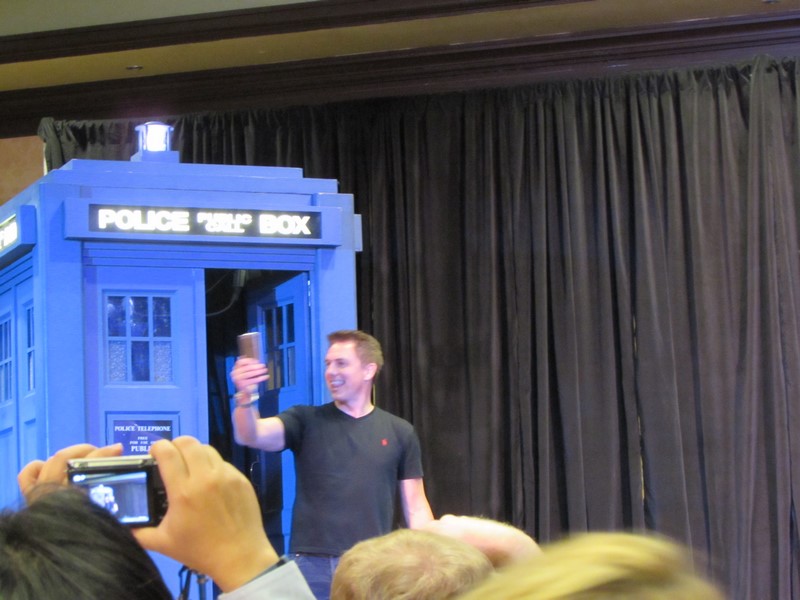 Then came the moment we had all been waiting for: John Barrowman, known in the Doctor Who world as Captain Jack Harkness on both Doctor Who and Torchwood.  The room quickly filled up, and there was standing room only. Luckily, we had secured our seats near the front a couple hours before. John entered the stage through the TARDIS, and was taking pictures of the audience on his phone. He was very excited to be there, this being his first ever Gallifrey One. Then he showed us his Gallifrey One badge that had a very long trail of ribbons, saying "mine is long, but I want it longer" and calling himself a "ribbon whore." He also warned the audience that this would be a PG-13 show.
Here's just one example of a quote that would set the tone for the rest of the panel: "Captain Jack done the world. Miracle Day? That crack in the wall? He done it."
For those who have never seen a John Barrowman panel, he doesn't need a moderator, he just runs the show himself. He also immediately opens it up to audience Q&A, which can lead him to go off into different tangents, so every John Barrowman panel you see is very unique.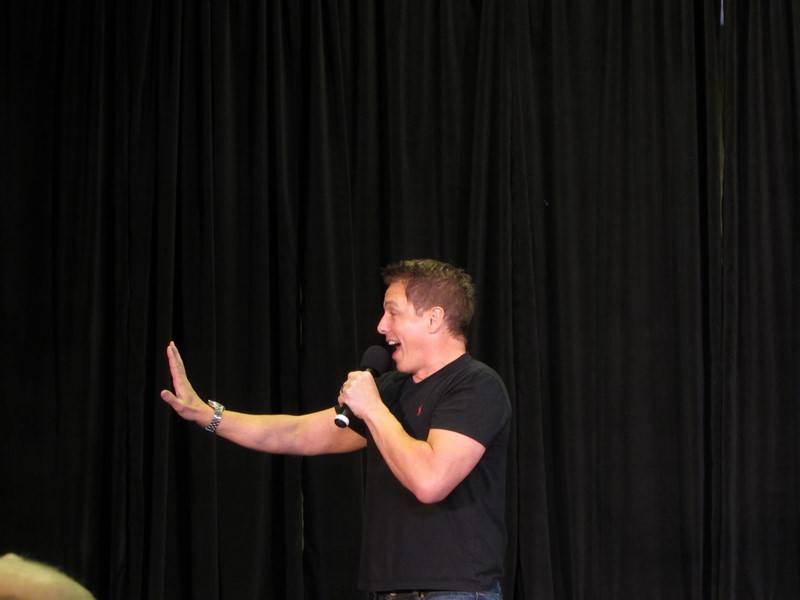 When the first audience member asked her question, he misunderstood her, thinking she accidentally said the word "world" rather than "role," and thought that she had flubbed the word out of excitement from talking to him. As a result, he launched into a story about meeting his idol George Lucas for the first time. He was at a party with his husband, Scott, and saw George Lucas there, and started freaking out. He finally got up the courage to go talk to him. He calmly walked over to him, but when John got to him, he started excitedly screaming Star Wars related words at him like, "Han Solo, Chewbacca, The Empire Strikes Back!", etc. He couldn't believe he'd done that, so he walked back to Scott, embarrassed. (Note that he's acting out this whole scene for us.) After awhile, he got up the nerve to go back over to Lucas and redeem himself. So he walked back over… and the same thing happened again! However, Mr. Lucas told him, "It's all right kid, it happens all the time."
John confessed that he's been a geek since he was a kid, and grew up watching Doctor Who. He recalled being a child and walking past a storefront window with mannequins on display, and he was terrified, thinking they were autons, so he hid in his mother's fur coat. He is a self-confessed hoarder. His 4-car garage is used to hold all of the stuff he's collected, including miscellaneous Doctor Who and Star Wars memorabilia, Funko Pops, and even a Dalek. In fact, it's the Dalek that shot him. "I control that b*tch now," he said. He told the audience "I am a geek and proud of it," and also advised us, "don't apologize for being a geek, because a**holes don't apologize for being a**holes."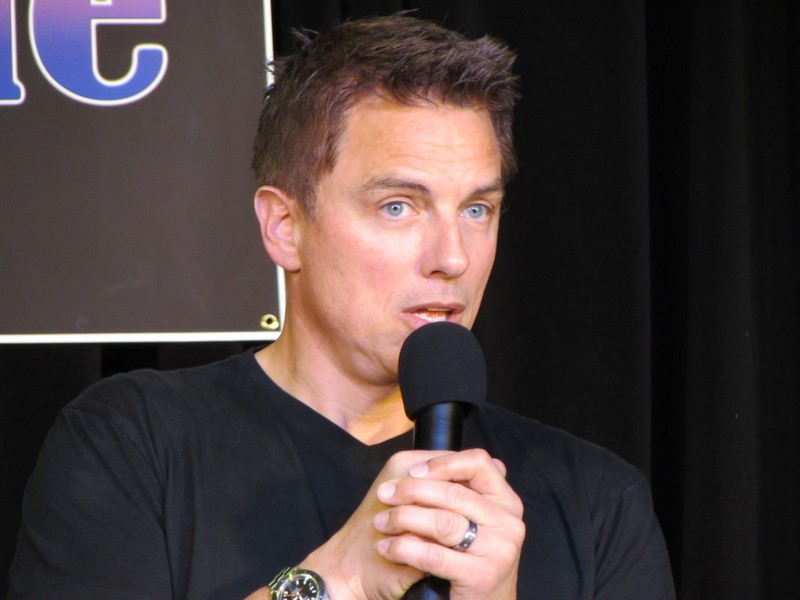 When an audience member asked John how Captain Jack would have gotten along with the characters if he was around the Eleventh Doctor's era, he said that his reaction to the Doctor would be: "Nice. Different… but nice," commenting that he could work with Eleven's "skinny chicken bones." He also said that he and River Song would have been competitive, and that he would have flirted with both Amy and Rory, and tried to get between the two.
Regarding the character he plays on Arrow, Malcolm Merlyn, John said that doesn't view Merlyn as a villain, and that in fact, he sees him as a hero.
John also shared with us a story about filming a Doctor Who scene with David Tennant. They were running along, with their long, flowing coats, and John was having a hard time with the boots he was wearing, while David was having no trouble at all, considering that he was wearing Converse shoes. So there John was, struggling to keep up (of course, he acts this out for us), while David is easily running along, and they keep doing take after take. Finally, David tells him, "We actually got the shot about 8 takes ago!" and had a good laugh about that.
Speaking about his time on Torchwood, John told us about the Torchwood car – that was actually a piece of crap. It was always falling apart. There was one scene where Eve Myles was driving it, and John told her to take a sharp turn, rather than driving along normally. So she did as he said – and the roof caved in! John said that after the show was over, they tried to sell it to him, but he refused. An audience member asked to hear John's version of a story he had heard his sister Carole tell about visiting Ianto's shrine in Cardiff. John obliged, and acted the whole scene out for us. He and his sister were walking in Cardiff Bay, and John wanted to go take a look at Ianto's shrine. Carole didn't think it was a good idea, but John insisted it would be okay, and that he would be quiet and discreet. So while Carole stood off to the side, he put pulled his hood up and strolled nonchalantly over to the shrine. Then he wailed, "Ianto! Oh my God, Ianto!" and feigned that he was in hysterics over Ianto's shrine. Meanwhile, Carole covered her face with her hands. The audience member said that that was pretty much the way Carole told the story as well.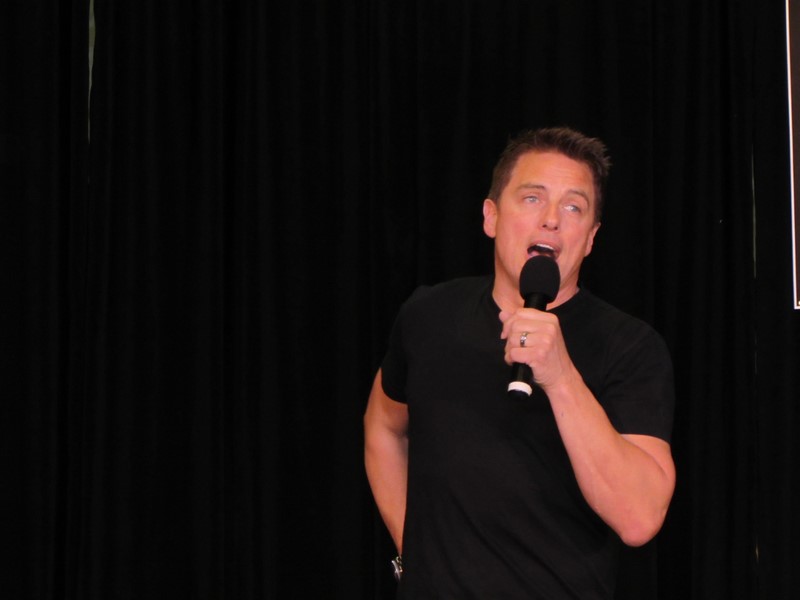 As John's panel approached the end, the three other cast members of Torchwood at Gallifrey One, Eve Myles, Burn Gorman, and Naoko Mori, not so discreetly crashed the stage by crawling across the back of it and hiding behind the couches. They had a little fun with that, as John and the others, mostly Eve, pretended like there was stuff going on behind the couches. Then he kicked them off stage.
When John got the 5 minute warning, and the signal that it was time for his panel to be over, he fought it, saying "I waited 8 years to get here!" However, he finally succumbed to the powers that be, and left the stage, but not before thanking everyone for being fans and helping him get to where he is today.
[Note: This section by Josh]
Memories of Torchwood – Program A, 4:00pm
Following John Barrowman, which is a difficult act to follow, was Eve Myles (Gwen from Torchwood), Burn Gorman (Owen), and Naoko Mori (Toshiko). Their panel was a journey through the four seasons of Torchwood. They talk about the pilot, and how well behaved they all were on the pilot, and it all changed pretty quickly…
Burn Gorman talks about meeting John Barrowman's "Little John" the first day they met. Gwen makes sure to let the audience know that "Little John" isn't so little. Eve tells a funny story about how much she fell in love with John Barrowman, and thought that he had fallen in love with her, until she found out he was gay, and her heart was broken.
Eve then tells of her first meeting with Kai Owen (who played Rhys on Torchwood), which involved him and her getting their faces painted as clowns, despite the rest of their group not.
They move on to talking about the second episode, which involved "sex gas"… I have to say it has been a while since I have seen this episode. I think I have to re-watch it.
Eve then talks about John Barrowman taking her out on the town, despite her protests, which turned into an all-nighter, and John ended up peeing in a wishing well. Apparently Burn tried to steal a two hundred pound bathtub.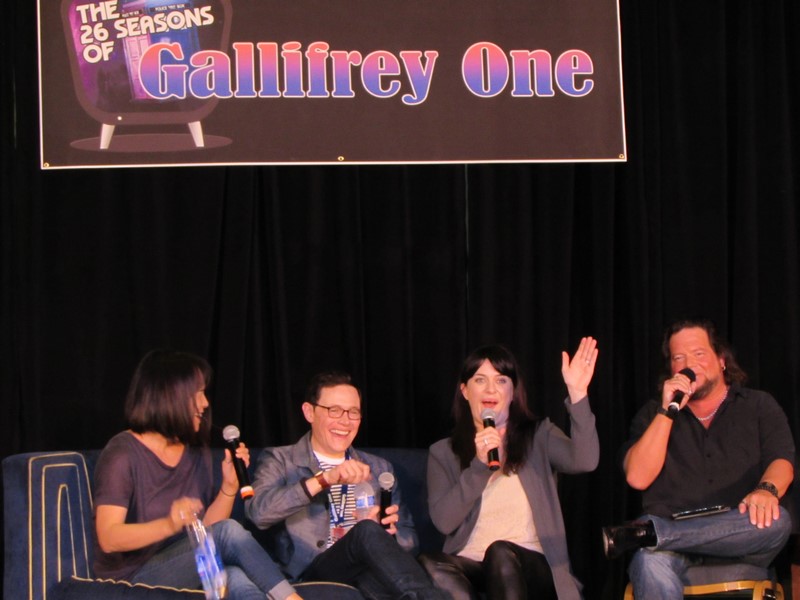 Eve talks about working with Alice Troughton on a couple of episodes, which she enjoyed. Burn and Naoko talk about the episode Countryside, which they describe as a very horror-esce episode. They all seemed to enjoy the episode. Eve has a pretty funny story about filming this episode. She says that it was very cold, and Eve says she was shaking in the cold. She explains John said he would warm her up. He decided to help her out by tapping her head. But it turns out it was a different part of his body that was tapping her on the end… All of the cast seemed to almost have withdrawals from not seeing Borrowman's junk, Naoko adds.
Naoko then talks about the relationship of Toshiko and Owen. She says she is happy the relationship didn't work with Owen, and Burn jumps in saying how Naoko didn't want to have to kiss him. Eve then tells a story of someone running into a tree during some shooting. The conversation drifts to how many times everyone fell and hurt themselves.
The panel continues through a few more episodes, and Eve Myles has another John Barrowman story. In the episode Random Shoes, John Barrowman tells Eve that the alien eye prop in the episode was lost. Eve says that John tells her he knows where it is….and apparently he turns around, and it's up his bum, which he shows Eve. She explains that she had to film with that eye all day, and was not happy about it. She also seems to have first hand information that John's rear end doesn't smell like roses as John may have claimed!
Moving on, Burn talks about his character Owen being a jerk, but the episode Out of Time shows more of Owen's human side. He talks about the sex scene in the episode, and how difficult it is to film as the crew watching them makes it really awkward. It's pretty funny, Burn makes a slip-up referring to a cigarette as the British term, which is offensive in America….Luckily, he catches the error pretty quickly.
Eve Myles talks about the death of Rhys, and the panel leader tells her how good she is at crying scenes. Eve says it wasn't over the death, but that the scene was running over on lunch time and she really wanted her fish and chips! Another pretty funny joke from Eve.
Eve Myles talks about working with James Marsters, who played Spike in Buffy, and she gushes about how great he was to work with. Toshiko jumps in and tells a story about being in one of James' songs. Apparently he used to walk around with an amp on his belt, and a guitar, writing songs.
Toshiko tells another story about how she was filming two different scenes, and it involved her making out with two different actors in the same day. She was pretty excited about it, it looks like.
Burn then talks about Owen's death and return to life. He also says that this bit was supposed to actually happen to Ianto, but Davies decided to have Owen be the victim, as it would make an interesting story for a doctor to be unable to help himself.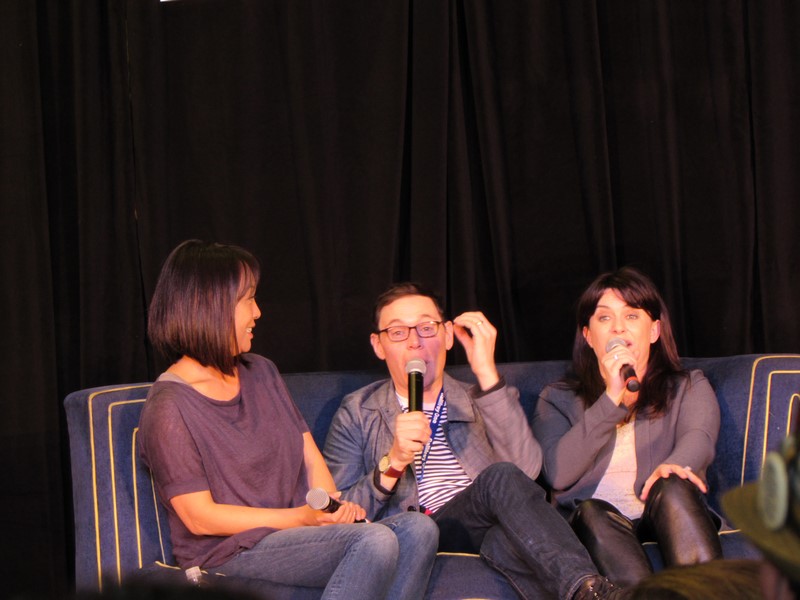 The panel continues breezing over a few more episodes, talking about how fun Series Two was to film. There wasn't anything overly exciting, although Burn does admit he didn't understand the story of the episode From Out of the Rain. They talk about the episode Fragments, and how it delved into the past of the characters. Burn jumps in, and explains that the writers tried to make the characters not good or bad, but as humans, that can move from good to bad, depending on the situation. The panel moves onto talking about Exit Wounds, which was the death of Owen and Toshiko. Apparently they filmed the deaths on different days, so they didn't see each other die. Burn compliments Naoko's performance on her death scene. They get into a discussion of who read each other's parts, and they seem to think that it was the same person that read each other's parts, probably an AD. Burn makes a joke that maybe Owen is floating around alive somewhere.
Eve and the panel modertor talk about the remaining seasons. She talks about working with several Americans in downtown LA, which she enjoyed. She thanks Starz for making season 4 as well.
The panel moves to audience questions. The first asks favorite parts that Burn and Naoko have played since Torchwood. Burn answers with Pacific Rim, and Naoko's is Everest, which comes out in September.
The next audience question talks about Burn's role in Forever, and asks if he voiced the character before he was there. I am not familiar with the show Forever, but Burn is excited about the fact that his character can't die, so he will be on the show for a while. The next one asks about Owen not interacting with the Doctor. Burn seems to think that Owen was a different tone than the other characters, so likely he didn't need an interaction, but he likes to think that Owen's final death might have the Doctor show up and save him as everything goes white.
Up next, the audience asks what roles the panelists would like to play. Naoko says maybe a period piece, but doesn't think it will happen since she is Asian. Burn seems to be willing to take any part, and Eve wants to be Wonder Woman.
They then talk about some of their things that they bought after getting a little money in the bank. Eve bought a beagle, which is funny because she calls her a "little sh*t," which Violet and I can relate to, also owning a beagle! She also says she is fat, which our beagle Link can relate to as well…
There are a few more questions that come up, and that was the final panel that we were able attend on Saturday.
As for my thoughts on this panel, I didn't find it that entertaining. I think it would have been a better panel if there was more Q&A in it, as fans usually come up with some great questions to ask. It seems like the three didn't have much to say about the episodes anyway, so it would have been more interesting to see what would come out of the Q&A. But anyway, we headed back home, had a nice Valentine's Day evening, and prepared to head to bed to get back Sunday!
Prizes
Oh, in case you were wondering if we won any prizes from Friday night's Time Bash, we did! Well, we didn't win anything from the raffle (we used all of our tickets to try for the Doctor Who Trivial Pursuit, which cost 25 carnival tickets per raffle ticket), we won another way. While at the Time Bash, there were flyers on the tables, and they kept making announcements, that if you tweeted pictures or posted them on Instagram using the hashtag #gally1gala, then you could win a prize for most creative. We ended up winning an honorable mention prize for that, which was a poster of the 12 Doctors, autographed by the artist. So that was pretty cool! Our friends Davey and Tamara put most of their tickets toward a micro-figures set of 11 Doctors (similar to Legos), and they ended up winning that! I believe that was the highest value door prize, costing 30 carnival tickets per raffle ticket. So we were all winners!
Click here to go back to the Friday Report – Part 1!
Click here to go back to the Friday Report – Part 2!
Click here to go back to the Saturday Report – Part 1!
Click here to view our slideshow of photos from Friday and Saturday!