In this first part of our Saturday Report of Gallifrey One, Violet recaps our day through the "Writing Doctor Who" panel, then Josh takes over with his coverage of the Miniature Effects panel with Mike Tucker, and the Derrick Sherwin panel.
Click here to go back to our Friday Report – Part 1!
Click here to go back to our Friday Report – Part 2!
Click here for our slideshow of photos from both Friday and Saturday!
Gallifrey One 2015: Saturday Report – Part 1
We have separated this article into sections, based on different topics, and on the various panels we attended. If you want to jump ahead to a particular section, just click on the corresponding link!
Commuting and Parking
We slept in a bit and got a late start on Saturday, being that the first panel we really wanted to see wasn't until 3pm: John Barrowman. But we figured we should get there kind of early to make sure we got a decent seat, so we left a little after 11:30am, not knowing what the traffic would be like.
Well, it turned out there was pretty much no traffic. However, when we got there around 12:15pm, the Marriott parking was full. No big deal, we thought, we'd just go over to and park at the Renaissance, like Josh did the night before. Oh wait, they were full too. So we ended up going over to Park Air Express parking garage, which is between the Marriott and the Hilton. However, after entering the garage, we saw a sign that said "Event Parking Full." Uh oh. But we decided to drive down anyway, just in case. Sure enough, an attendant directed us to a lower level that still had parking available. The walk was not bad at all, only being about a block away. It was almost 12:30pm when we entered the Marriott, and seeing that there was a panel about to start in Program A at that time, we figured might as well go to it.

Writing Doctor Who – Program A, 12:30pm
This panel was moderated by Deborah Stanish, who hosts Verity, a Doctor Who podcast that I listen to sometimes. The panelists included writer Paul Cornell, script editor Andrew Cartmel, writer Jamie Mathieson, and writer and producer Phil Ford. The last 10-15 minutes of the panel consisted of audience Q&A.
Jamie spoke about how they tried to hide the fact that Doctor Who was sci-fi, and tried to make it not look so sci-fi if someone was flipping through the channels, so that they might actually stop there and watch it. He recalled the first time that he pitched an episode to Steven Moffat, he was so excited – until Moffat asked, "Where's the monster?" Jamie had forgotten to include a monster in the storyline! Jamie went on to talk about one of the episodes that he wrote, Flatline, and mentioned that he often gets criticized for the characters Rigsy and Fenton not having character arcs. However, he explained that he did write character arcs for them, but unfortunately, they were cut. Jamie was actually writing episodes for Season 8 of Doctor Who before Peter Capaldi had performed as the Doctor, and he confessed that he wrote with Dr. House (from the TV show House) in mind!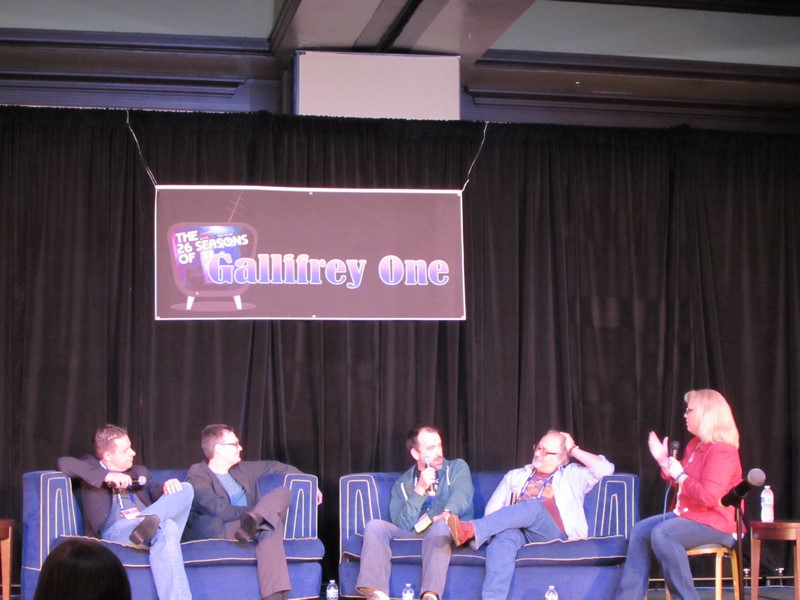 Regarding another episode Jamie wrote for this past season, Mummy on the Orient Express, he revealed that the stopwatch was not originally a part of the script, and that when Moffat decided to add the stop watch, he had to go home and frantically re-write the script. Some dialogue got cut because it did not fit into the 60 seconds. So he was at home, speaking the dialogue aloud, and timing himself. Jamie also revealed that when he originally wrote the script, this episode hadn't been intended to be a last hurrah for Clara, and that's something that developed later on, so he had to go back and add dialogue to make it so.
When an audience member asked what aspect of writing a Doctor Who script that he likes the most, Jamie said that he likes writing banter between the Doctor and Clara, and that he'll be home writing, and laughing at his own joke.
As for Phil, he was the head writer for The Sarah Jane Adventures, wrote for Doctor Who during Season 3 with Russell T. Davies, and also wrote a few episodes of Torchwood.  Phil addressed the difference between writing for a children's show versus an adult show, and he said it's merely a question of how you tell the story. Phil and Andrew discussed the different roles of writer versus script editor. Phil commented that a script editor's role is to make the writers "look better than we are." They talked about how script editors often need to encourage writers along. Phil also talked about how Doctor Who isn't written to cater to only to people who have been watching the show for years to understand, it's written for people to be able to become fans.
Paul recalled that when he first read Russell T. Davies' script for the new Doctor Who series, he didn't yet know who would be playing the Doctor, so although he didn't know it was Christopher Eccleston, he thought the dialogue sounded like him. Paul also said he never wanted to put a time paradox onto the whiteboard in the writer's room again, because it gets way too complicated, with Moffat saying, "Well if that happens, then this has to happen, and that means this has to change…", etc.
When asked what the perfect pitch to Moffat would be, Paul joked his would be, "Would you like a pint?" The panelists then discussed what is involved with delivering a pitch, and it seems like Moffat's bottom line is this: "What the playground game?" By that he meant, what game would children be playing on the playground on Monday after watching that weekend's episode of Doctor Who?

[Note: Josh takes over from here]
Miniature Effects – Program A, 1:30pm
After the "Writing Doctor Who" panel finished, the "Miniature Effects" panel was up next. The panelist was Mike Tucker, the special effects expert who has provided many of the miniatures for filming Doctor Who. He is one of the few special effects artists who has worked for both the original Doctor Who series, and was brought back for the new series.
Mike Tucker starts off talking about his work on the original series. He starts discussing his introduction to special effects, and his inspiration from older films. He says he was lucky to get into the business, and it only took a couple of courses in theater design, and he had his job at the BBC in 1985, working with Baker's final season.
His first job for Doctor Who was making a TARDIS miniature, which he says was a great introduction into the show. He also talks about the limited budget that Doctor Who had, and how the effects were either amazing or pretty terrible, but they always wanted to push the envelope. He also mentions working with producers and directors who were looking for amazing movie effects, but being a TV Show, he didn't have the money nor the time to be able to create those effects, so he had to use ingenuity and quick thinking to come up with ideas that would hopefully work. He talks about a specific example from the episode, "Dragon's Breath", where a face is melted, like in Raiders of the Lost Ark, and says he how and other people used a wax face with heat guns and just melted the face with the heat guns out of camera view.
Mike Tucker proceeds to talk about the advent of CGI versus practical graphics. He makes a really good point, saying that really good practical effects are hard to identify. His frustration with CGI is that a lot of people assume that model work is CGI work, and many producers/directors ask for a specific effect that they have assumed is CGI, but is actually a practical effect. He also talks about Christopher Nolan's Interstellar movie being all model work, but being incorrectly identified as CGI work.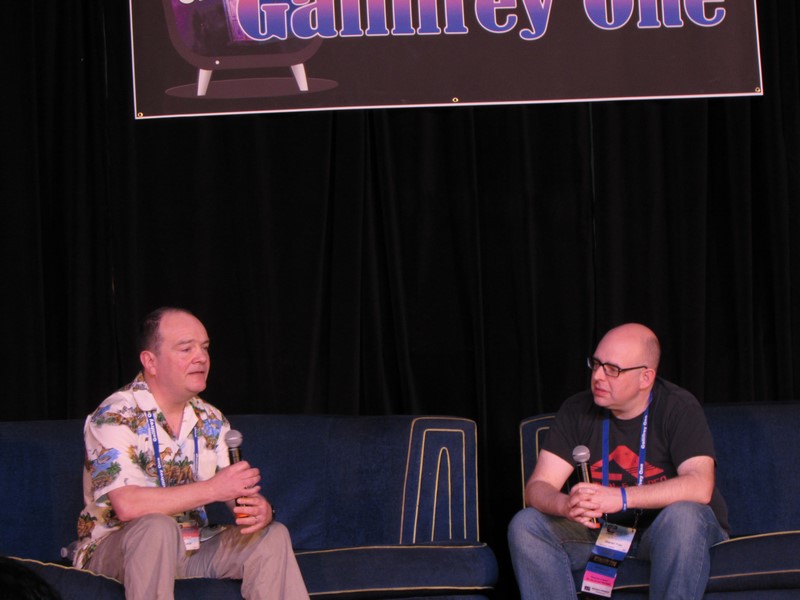 Mike Tucker then talks about CGI more, and says the best way to work with both practical and CGI effects is to blend them enough, to where the audience can't identify the difference. He brings up Star Wars as well, worried people will believe everything is CGI, despite J.J. Abrams saying he is going to use as much practical effects as he can.
Mike Tucker then talks about the revival of Doctor Who, and the terrible decision that the BBC made–to close the special effects part of the BBC down right when Doctor Who was brought back. But Tucker was brought back to work on the practical effects for the show. Tucker then talks about a decline in the use of practical effects, as Doctor Who moved to more CG effect. But a revival began to happen for the miniatures when a producer, Marcus Wilson, returned for Doctor Who in Matt Smith's era.
Mike Tucker then talks about Day of the Doctor, having three departments working together to create the battle: CGI, miniature effects, and full size effects. Mike Tucker then shows some behind the scenes footage of the episode Cold War, which shows how the Russian submarine was stuck in the ocean, and then eventually surfaced through the ice in the episode. It was really interesting seeing how that all worked. It was a smaller submarine, put onto a miniature rock scenery, and used fog and a goose-down pillow's feathers to create the water-looking environment.
Then, when the submarine surfaces, Mike Tucker describes the use of both CGI and his miniature models to create the effect of the submarine being pulled to the surface.
He then shows a scene from Time of the Doctor, and explains how different types of effects artists have to work together. The spaceship was a miniature space ship, which was made from numerous Japanese spaceship kits, while some of the other smaller ships are CGI effects, along with various other effects. Trenzalore, the city in Time of the Doctor, was also a miniature model, which was really amazing looking. Also, quite hilariously, the Daleks in the scene were radio controlled 1/4 scale Daleks.
After Mike Tucker's presentations, the audience gets a few minutes for questions. A good one asked was the scale Mike Tucker decides to use for the scenes, and Mike Tucker says typically 1/4 to 1/6 scale. The main reason for this is because of water droplets–and how they can look too big if the model is too small.
He also talks about the difference between CGI and practical effects, and how sometimes it is easier to make adjustments in practical effects, rather than having to wait for rendering CGI requires. He also talks about the difference in film versus digital filming, and how digital allows easy quickly reviewing of scenes rather than having to wait for the film to be ready. Mike Tucker also mentions how he has made the transition to digital over film, because how easily and quickly his work can be done now, with the ability to review filmed scenes immediately.
This panel actually turned out to be a lot more interesting than I thought it would be. I wasn't really sure if this would be an entertaining panel or not. But learning how a few of the scenes in Doctor Who were made was really fascinating, because like Mike Tucker mentions, I was thinking most of the effects were special effects. It is amazing how much is actually done with miniature models, and it is actually refreshing to know that not everything is done with CGI.
Mike Tucker certainly has done a lot of great work for Doctor Who, and I think I have a bit of a new appreciation for film and TV special effects in general. It looks like practical effects are still alive, and will be for some time!
Derrick Sherwin – Program A, 2:15pm
After Mike Tucker's panel about the miniature effects used in Doctor Who, Derrick Sherwin was up next. He was an older man (78 according to his Wikipedia), and is responsible for a lot of Doctor Who lore. This was his first foray into Gallifrey One.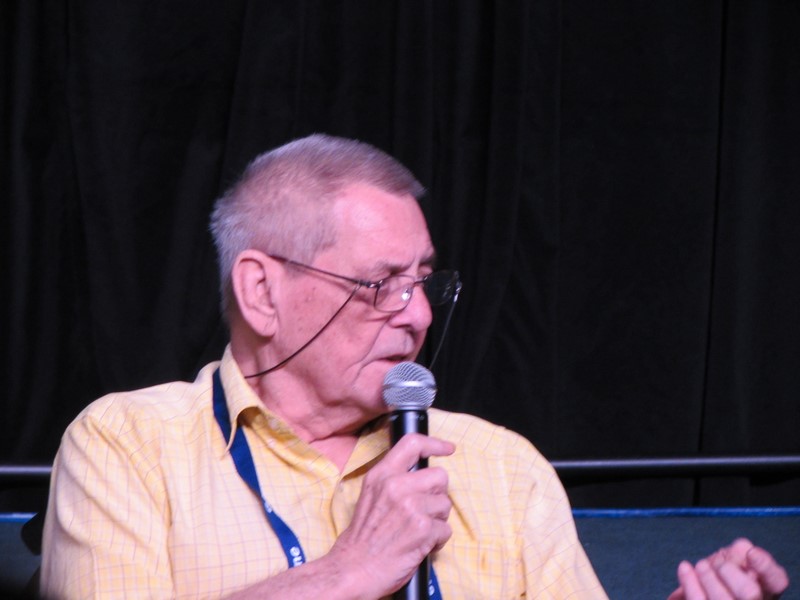 He begins the panel telling his early stories, of being a scene painter. He acted at the same time as well, as he said usually two jobs were required for people trying to be in theater. He tells the story that he was conscripted to the RAF for two years, and returned to scenery design after that.
He then moves onto talking about working in theater. It is a little foggy for him, but he said he did some theater in America, and seemed to be getting typecast as a young strapping man. One of the plays he was in was called Journey's End, where he winds up buried in "debris", and he tells the story of his mother thinking that he died on the show. She thought so much so, that she gave the BBC hell about it.
He tells about his story of getting behind the camera, which was because he was sick of being typecasted. He tells that he turned to writing after he re-wrote an episode of soap opera he was on. It continued on to writing several plays, and he finally got a call from the BBC to write for Doctor Who. He says it was about the time, "President Kennedy died", which was an interesting reference for an English man. He says he began his writing for Doctor Who, which required 42 episodes for the year.
He then talks about Patrick Troughton, who he says became cranky, and had to be written out of the show, and explains that he brought in Jon Pertwee. He also talks about inventing UNIT and Lethbridge Stewart.
Derrick also tells a story of two American tourists who were freaked out because they saw Cybermen coming out of the sewer during filming, which he found amusing.
He moves on to talking about moving into working with scripts, which he said the writers were turning in a lot of "rubbish scripts". He also talks about the firing/resigning of Patrick Troughton, which was a big argument between him and Peter Bryant.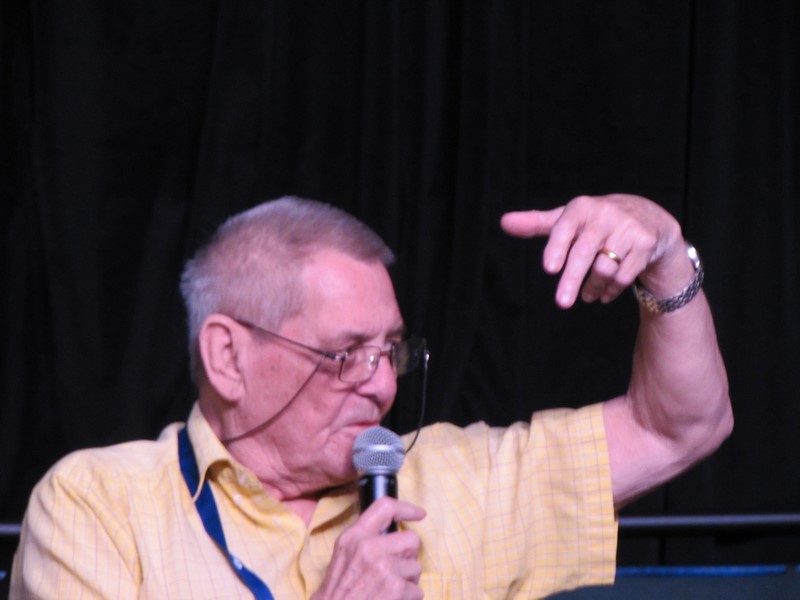 He also discusses the bringing on Jon Pertwee more, who was a radio comedian. Back when he was filming, editing was very difficult, because it required actually cutting film and rejoining pieces. Sherwin explains that BBC went on strike, and this actually worked out well for Pertwee. This allowed for editing of film because they had the time to wait. But Sherwin says that Pertwee did well anyway.
Mr. Sherwin tells another story where he returned to acting, which was for an extra part. The person cast apparently was terrible according to Sherwin, and he kicked the guy off the part, and put the uniform on himself and did the scene himself.
He then talks about the filming of the War Games for the old series, and how it turned into a 10 episode arch. He also speaks of inventing the Time Lords and The Master, and about the development of the Mind Robber, which was created from a children's story that was shaped into a Doctor Who story.
Another story he talks about is tying two episodes together to lead up to the Mind Robber, and he didn't have any budget.
A question from the audience is asked about a fall out of Henry Lincoln the making of the Dominators. Sherwin didn't really like him, you can tell, as he doesn't have any nice words for him.
Derrick Sherwin answers a few more questions before his time runs out. He had a lot of interesting stories about Doctor Who, probably the most interesting parts being the falling out of Patrick Troughton, and the writers that seemed to drop like flies. It was pretty interesting to hear the history of Doctor Who, and it would be nice to hear what other people say about the early days of the show.
Stay tuned for Part 2 of our Saturday Report!