The 26th Annual Doctor Who convention known as Gallifrey One took place this past weekend, Friday, February 13 through Sunday, February 15 at the LAX Marriott in Los Angeles! Read on for Violet's Part 1 report of our Friday at Gallifrey One!
Gallifrey One 2015
I have separated my post into sections, based on different topics, and on the various panels I attended. If you want to jump ahead to a particular section, just click on the corresponding link!
This was our first year attending Gallifrey One! Although I knew about LobbyCon, which takes place on the Thursday night before Gallifrey One begins, where early arriving attendees congregate in the lobby, we were unable to attend. However, I took the day off of work on Friday so that I could attend the entire day. Unfortunately, Josh had to work. But he was able to trade shifts so that he could work the earlier shift and get to the convention as soon as possible. Our friends Davey and Tamara had also managed to snag tickets to the coveted event, and both had the day off from work, so I carpooled with them. The welcome panel was scheduled to start at 10am, and being a first-timer, I wanted to make sure I was there for that. We were driving in from Fullerton, which is probably about a 45 minute drive without traffic. However, this was weekday rush hour traffic, and I'm sure you're all aware of how notoriously horrible LA traffic can be. So I figured we should leave around 8am to make sure we got there on time.

The Commute, Parking, and Registration
Well, we got going a few minutes late, and even stopped off at a drive-thru to grab some breakfast, and we arrived around 9:15am. I was amazed at how good traffic was! Parking was no problem. We pulled right into the Marriott parking lot and paid $13 to park in the parking garage. We saw that there was already a line outside. We thought it might be the registration line, but then we saw that everyone in line already had badges, and we soon learned that the line was for the Program A room, where the welcome panel would take place. We walked into the lobby, where there was no line for registration, and we were promptly given our badges. Then I picked up the T-shirts I had pre-ordered for Josh and myself. Again, no line. Then we went outside and waited in the Program A line until it was time to go in. Soon the line behind us got really long and they kept telling us to squish together because there wasn't really anywhere for the line to go. It probably wasn't until about 5 minutes to 10am before they let us in.

Good Morning Gallifrey One – Program A, 10:00am
The welcome panel, Good Morning Gallifrey One, started off with a slide show of pictures from past years of Gallifrey One. Then people in charge of departments such as Member Services and Facilities introduced themselves and explained what their role was and what to come to them for help about. We were also given a brief summary of what the programming for weekend would entail, including a reminder that Alex Kingston would not be able to make it due to a last minute change in filming commitments as a result of inclement weather, and were told not to get our hopes up that she would get on a plane at the last minute like Billie Piper did last year. Then they played a game with the audience, and asked for people to raise their hands to volunteer. They asked questions like "Who is your favorite Doctor and why?" and "What are you most looking forward to this weekend?" which the volunteer had to answer in 10 words or less to get a prize. The very first person selected a random number of a prize – which turned out to be a free ticket to next year's Gallifrey One! After that, tons of hands shot up to volunteer! However, the remainder of the prizes were $10 gift cards.

Do You Believe in Ghosts? – Program E, 11:00am
I had planned on staying after the welcome panel for the Radio Free Skaro podcast panel, since I listen to that podcast sometimes. However, I spotted another panel I was interested in: Do You Believe in Ghosts?, hosted by a psychic/medium. Tamara and I suddenly decided that we really wanted to go to that one, which was at 11am. The welcome panel ended at 10:30am, so that gave us a little time to wander and get our bearings before our next panel began. Along our way to Program E, we spotted a couple of full-sized talking Daleks, and even a talking K-9!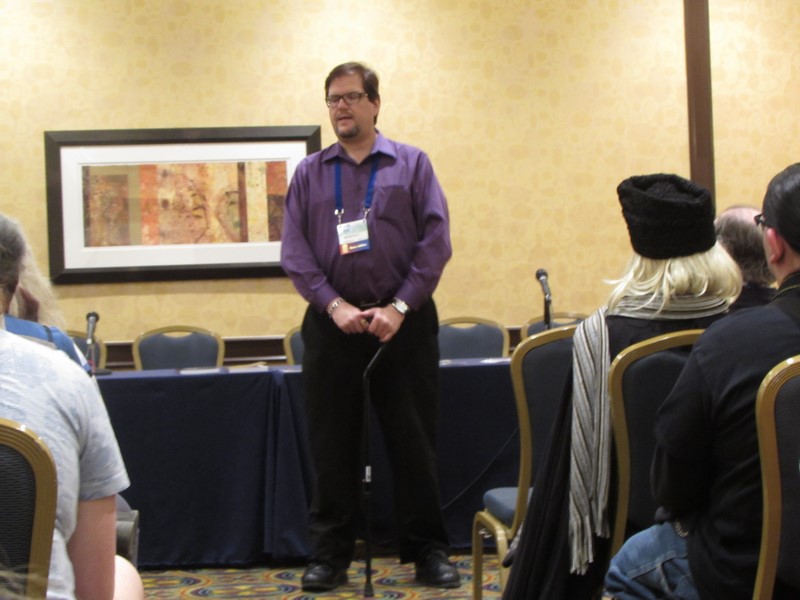 I was afraid we'd be one of only a few people who attended the panel, but it was almost full, though it was in a very small room. The panel was hosted by Michael Kouri, a renowned psychic/medium, who first asked us to raise our hands if we believe in ghosts, don't believe in ghosts, or are skeptics. He told us that he himself is a skeptic. He then shared with us his story of how he first began to see auras at age 8 when he was hit by a car, then went on to participate in the UCLA Psychic Youth program at age 14. Since then, he has helped investigate haunted places, and has worked as an adviser on numerous movies and TV shows, including Doctor Who. He shared with us stories of his investigations, such as his investigation of Meredith Viera's house, and his appearance on her show The View. However, he lamented the fact that often when he appears on TV, his investigations are supplemented by laugh tracks. He also told us that he will not investigate evil places, and because of his stance, he has lost out on several jobs.
Throughout the presentation, he took questions from and interacted with the audience, even informing one man that he could tell from his aura that he was very psychic. He informed another man that he was an "ancient" soul. At one point, he told the audience that he would read our auras for us, and that if we didn't want him to, we could say "pass." I was looking forward to this reading, however, he didn't even get a chance to get through his slide show of pictures from his investigations before time was called, and the panel was forced to end. I found this panel fascinating, and wish that it would have been allotted more time, perhaps an hour and a half rather than an hour.

Eve Myles – Program A, 12:00pm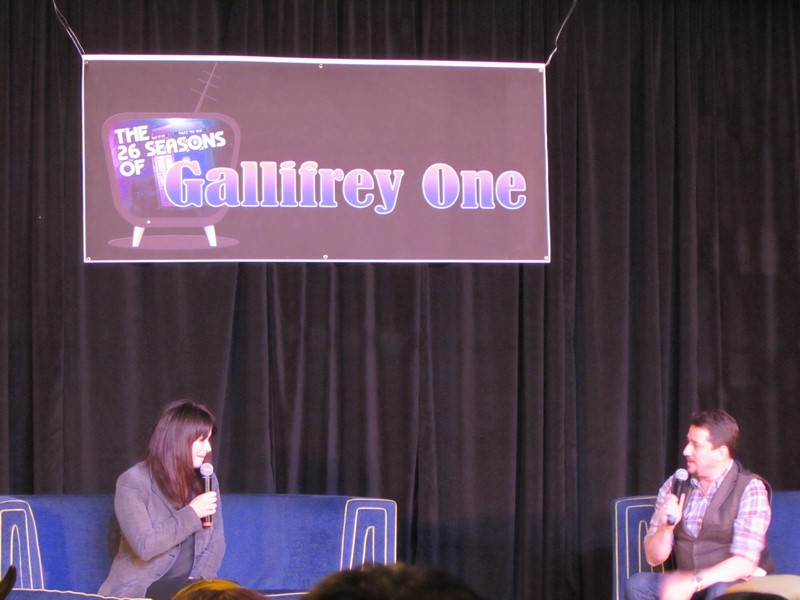 At that point, I headed back to Program A to see Eve Myles, who played Gwen Cooper on the Doctor Who spinoff series Torchwood. Davey and Tamara opted instead to take a look around the Dealers Room (Gallifrey One's version of the Exhibit Hall floor), so I was on my own, which worked out well, so that I could snag a closer seat at the last minute.
The moderator, Tony Lee, talked to Eve about how she has been acting since childhood, and asked how she chose acting as a career, but she said "it chose me." As a child, her first role was in front of a live audience, and she was terrified. While performing, she bit into a piece of chocolate – and broke her molar, causing blood to gush everywhere, which the audience found hilarious. She also told us a story about how she was into boxing growing up, but then she broke her hand.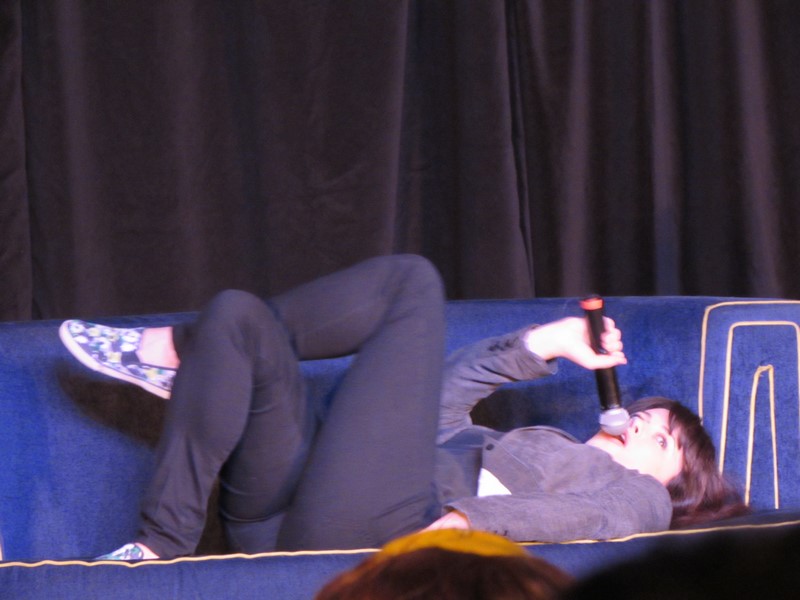 Regarding her role as Gwenyth on Doctor Who, she revealed that she didn't get the part at first, but later got a call back because they had to re-cast, due to the original actress being unable to play the part for some reason. Eve recounted a humorous story about her audition for that role, which she felt she did a good job at – this is, until she came home and her husband pointed out the shirt she was wearing. The shirt read "I love naked colonies" and featured two naked women making out.
When she was cast as Gwen Cooper in Torchwood, the part was written specifically for her by Russell T. Davies. However, after reading the script, her husband wasn't sure she would be up to the role, saying "She runs a lot." The first day she met John Barrowman, she thought that he had fallen in love with her, and even though she thought he was gorgeous and sort of fancied him, she felt this could be a problem. However, then she found out he was gay, and was devastated that he wasn't in love with her. The first Torchwood scene that she shot consisted of running around for 8 hours. She then spoke of John Barrowman's behavior during filming, saying "he'd always have his balls out." Upon an audience member asking Eve about her favorite prank, she recalled that she was wearing rollers in her hair, and was starting to fall asleep, when she was woken up – by a certain part of John Barrowman's anatomy poking through a hair roller and touching her cheek. "It had one eye," she said, adding, "It was a very pretty eye."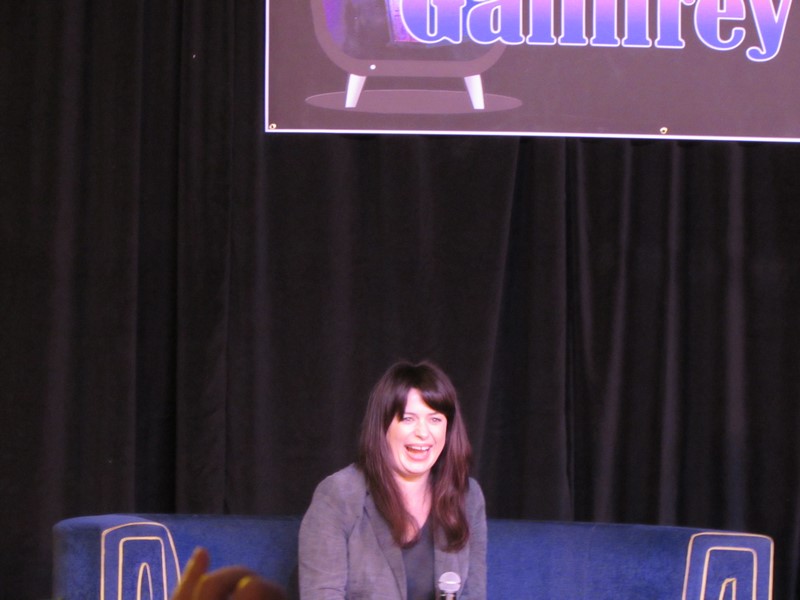 Eve also spoke about her time filming Torchwood: Miracle Day in Los Angeles. Her first day on the WB lot she was so overwhelmed with emotion from being there that she stayed after filming was done and cried out of happiness. Eve, her husband, and daughter lived in Los Angeles for a little while, and her daughter started developing an American accent. Eve said it was cute at first, but then it got annoying when she would do things like use the American word "cookie" rather than the British equivalent word "biscuit."  
During the Q&A session, an audience member tried to get her to share pranks or anecdotes about filming Broadchurch, but Eve said she couldn't say anything about it, and would only say "I like cats, dogs, and Mexican food."
I found Eve to be delightfully funny, and her hour was up in what felt like no time at all.

Ribbons and Lunch
After Eve's panel finished, I went and found Davey and Tamara, who had long finished walking through the Dealers Room. We then went and met up with some friends of Davey's that he hadn't seen in awhile, who had been coming to Gallifrey One for a few years now. They gave us some expert advice about their experience at the convention, and gave us our first ribbons! I was glad that my badge was no longer naked.
Then we headed up to get some lunch at one of the hotel restaurants. Champions had a big crowd around their door, so we went over to Latitude 33, where we only waited for a few minutes to be seated. It was pretty expensive though – $16 for a grilled chicken sandwich. By the time we finished lunch, it was time to head back over to Program A for Torchwood Interviews.

Naoko Mori – Program A, 3:00pm
First up was Naoki Mori, who played Toshiko ("Tosh") Sato on Torchwood. The moderator asked her about how she got the part of Tosh, and it turns out that Russell T. Davies liked what she did in her appearance on Doctor Who, and called her in for his new series. Naoko spoke about how she didn't grow up with Doctor Who, and that when she got the script for the episode she was on, there was a word that she didn't understand: "TARDIS." When she called and asked her agent about it, he was so offended that he put the phone down.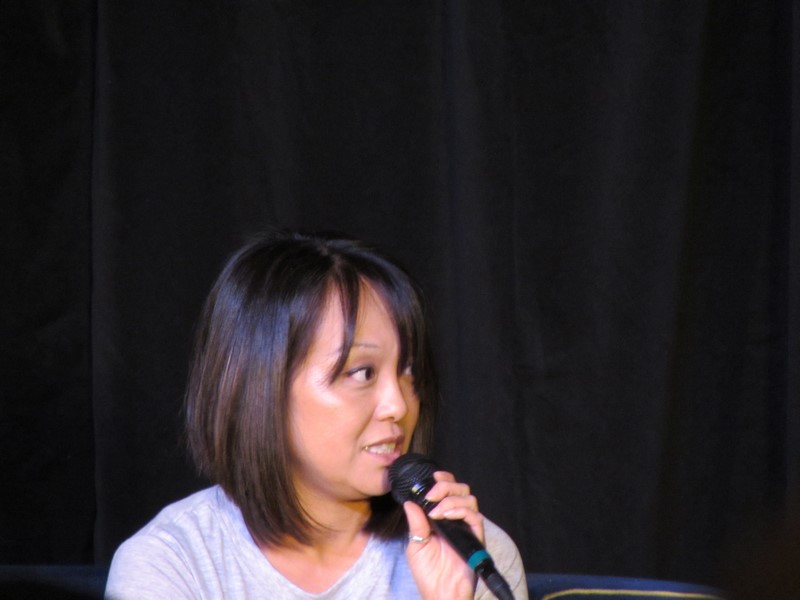 When the moderator asked if it was tough auditioning as a Japanese actress, and whether the parts were more limited, Naoko said that she thought so, but that she's actually played more non-Asian parts than Asian parts, and that usually when she auditions for Japanese parts, she doesn't get them. She said that she doesn't bring up her race when auditioning, because she wants the audience to forget, and that "it shouldn't matter." However, she joked that she wouldn't try to pop up on something like Downton Abbey. 
Reminiscing about the Torchwood cast's shenanigans while shooting, she said that she was one of the "good ones," in that if someone said to shut up, she would shut up. Naoko said that she didn't know how they got any work done with all the singing, dancing, and running around. She also recalled a fond memory in which they were filming both the Adam and To the Last Man episodes on the same day, where she was making out with one guy in the morning, and jumping into bed with a different guy later on that day, and then went back to "snogging" the first guy later on.  She said that it was the "highlight of my entire career. And I get paid for it?!"
The moderator brought up how Ianto got a shrine to him in Cardiff Bay after Children of Earth, and the audience seemed to support the idea of Tosh having a shrine as well. However, Naoko wasn't so sure, saying, "It's all about Ianto…" and thought that no one cared about her and Burn Gorman (who played Owen) anymore.
Naoko then spoke about her upcoming movie Everest that's coming out in September. It stars Jake Gyllenhaal, Josh Brolin, and Jason Clarke, in other words, "sexy men with beards," and Naoko confessed that she has a thing for men with beards. The film was shot in Nepal, and she was the only female cast member to go to Nepal. There were no bathrooms, which was unfortunate for Naoko, especially since she has the smallest bladder. They told her she would just "have to go behind a yak." She gave up coffee and tea, and bought a "she wee" urinating device to help her.  It was a moving set, and they would have to walk for hours between locations. Unfortunately, they did not make it to base camp to finish the Everest trip, due to bad weather. After Nepal, they spent some time in the Italian Alps in -20 degree weather, literally covered in snow.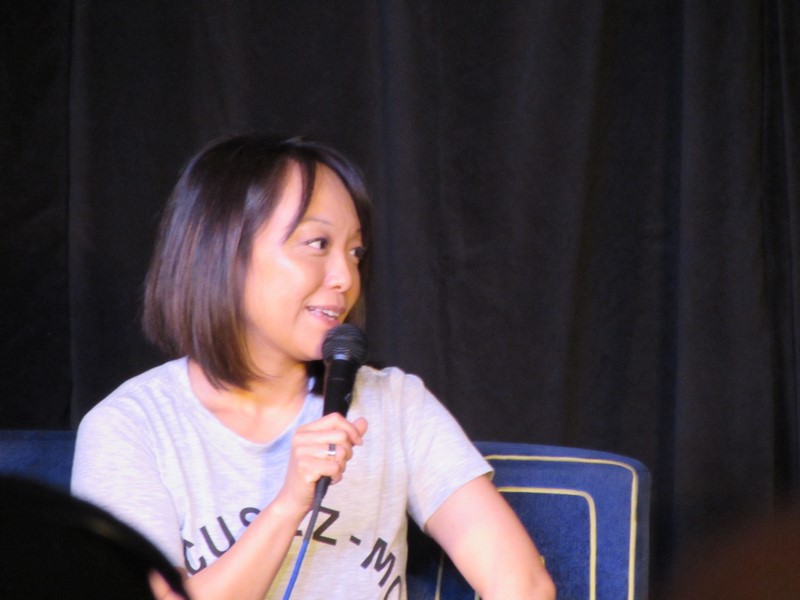 The moderator then pointed out that Naoko was in Spice World, and asked her who her favorite Spice Girl is. After a bit of deliberation, she settled on Victoria.
When it was opened to audience Q&A, the first audience member asked about John Barrowman doing unusual things with his anatomy. Naoko shared a story about someone tapping her on the shoulder to get her attention – and then when she turned, it wasn't someone's hand tapping her, it was Barrowman's anatomy. She said things like that happened pretty much on a daily basis, and that "it's amazing what you get used to." She said that she worked with him before Torchwood and he didn't used to be like this, and that "something must have happened to him!" She added that she's never working with him again, because "every time I work with him, I die!"
Another audience member confronted her about the fact that she hadn't read or seen any of the Harry Potter books or movies as of the Miracle Day convention last year, where she promised she would do so by May of this year – and Naoko confessed that she still hadn't done so. The audience gave her a hard time about it, and gave her a reprieve until next May to read all of the books and watch all of the movies. The audience agreed that she would be allowed to listen to the audio books.
An audience member asked if there was anything from Tosh's wardrobe that Naoko took. She confessed that she actually has a lot of Tosh's clothes, some of which she still wears, and that if she got invited to Gallifrey One again, she would donate some of Tosh's clothes to the charity auction.

Burn Gorman – Program A, 3:45pm
Immediately following Naoko Mori was Burn Gorman, who played Owen Harper on Torchwood. This was his first time at Gallifrey One. He informed us that he was actually born in Los Angeles and lived here until he was about 6, as his father was a professor at UCLA.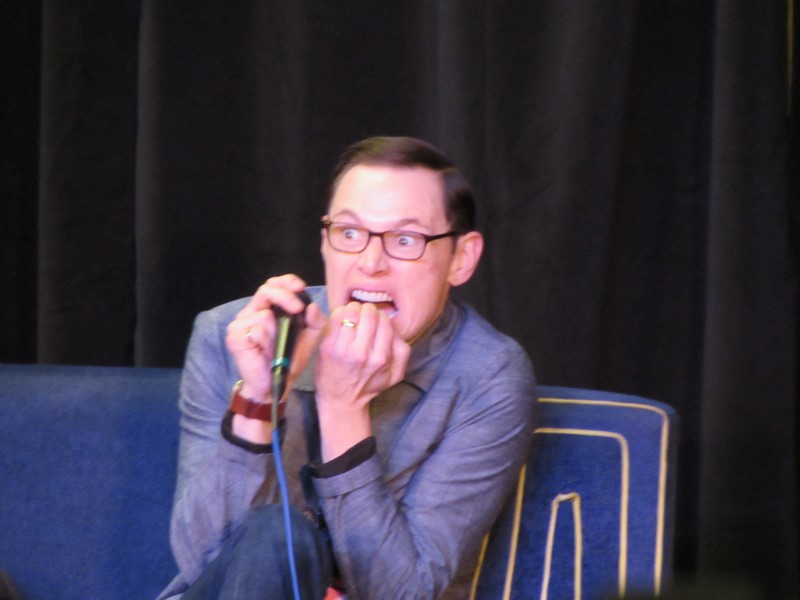 The moderator pointed out that Burn seemed to get typecast as "a bit of an asshole," and Burn laughed, saying that "you've gotta work with what God gives you, and I'm afraid I just look like an asshole!" However, he said he was very appreciative of any work he was able to be a part of. Regarding how he got involved in Torchwood, Burn said that Judy Gardner and Russell T. Davies saw him in the Dickens production of Bleak House, and that when he read the Torchwood script for them, he was reading all of Captain Jack's dialogue, so he was a little confused. But when he was cast as Owen, it all happened very fast, and he and the other cast members got to know each other very fast as well, all having a very dirty sense of humor. Burn recalled, "We had far more fun than perhaps we should have." He described Torchwood as a "sort of naughty younger brother of Doctor Who." Burn spoke of Owen as "a bit of an ass," and said that the character was a challenge to play. However, he said that Owen "wasn't good or bad, he was just a human." The moderator brought up the shrine he suggested for Naoko and Owen, but Burn joked that there probably wouldn't be very many people visiting Owen's shrine.
Burn then spoke about his time on Game of Thrones, recalling that they were in pig excrement up to their knees. He then told us that he was a huge Game of Thrones fan, and contacted them, almost stalking them, asking if he could be on the show, saying he would do whatever they wanted. The moderator also had Burn talk about his experience on The Hour, which was a BBC2 spy thriller set in the 1950s – where he played yet another creepy guy.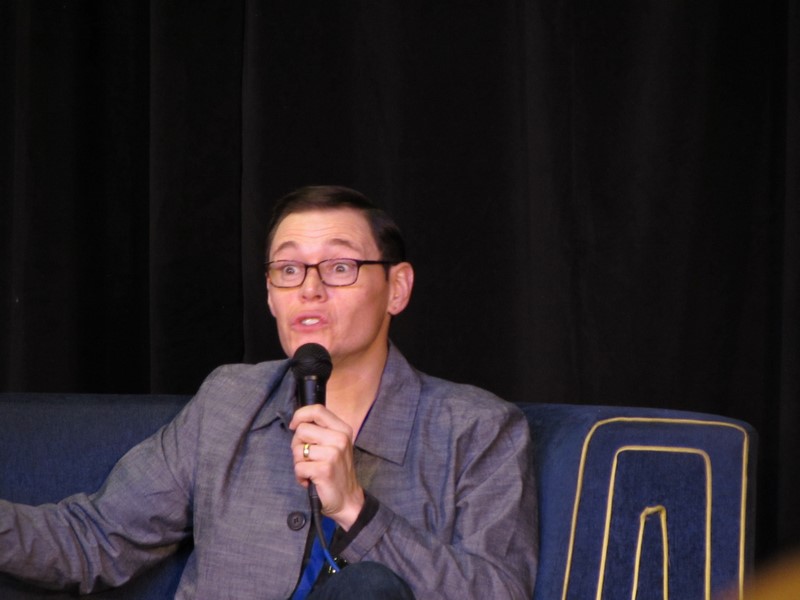 When it was opened up to Q&A, an audience member said he was pleased to see Burn show up on the TV show Forever, and inquired whether Burn would be on Season 2. Burn said that he was filming just yesterday, and that he was excited about playing a 2000 year old man who can't die. The audience member suggested that Burn is playing Captain Jack, and Burn quickly agreed, though added, "without the looks." The audience member wasn't sure if the character was evil or not, and Burn confirmed, "Yeah, he's pretty evil." Later, he was asked about his role on the TV show Turn, which he was surprised to hear that anyone watches.
Another audience member asked Burn what it was like to work with Guillermo del Toro, and he said it was an amazing experience. He praised del Toro for going into great detail on everything, and said that he's been lucky to be able to work with him again on Crimson Peak. Burn also said that he hopes he's in Pacific Rim 2. 
Regarding "Nerdy Owen," Burn said that he felt like he was actually more like Nerdy Owen than regular Owen. He lamented the fact that Owen and Tosh never had a chance to get together, and also commented that if that side of Owen showed through more, then maybe Owen and Tosh could have gotten together.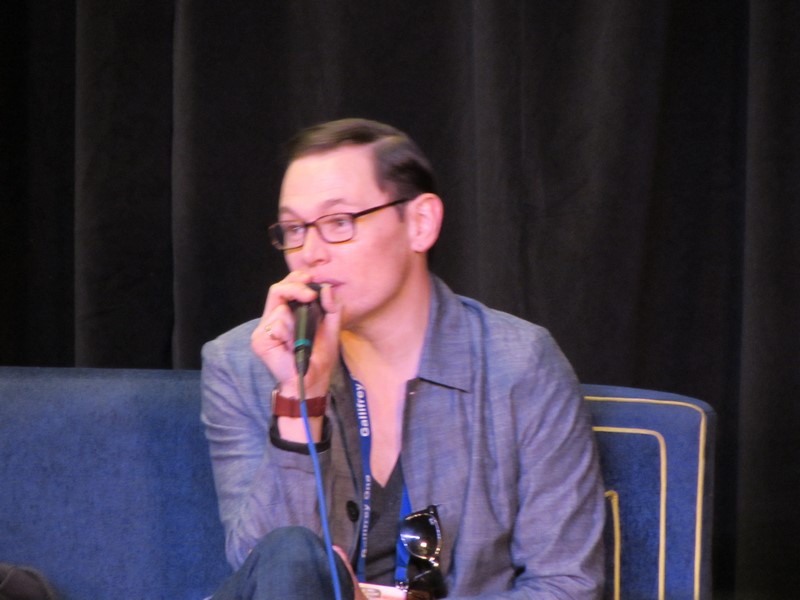 Another audience member brought up yet another creepy role that Burn played – on The Dark Knight Rises. Burn said that it was an honor to work with Christopher Nolan, who he said was a very sweet, kind, and lovely person. Regarding his experience working on the film, Burn said that it was very secretive, and that he didn't get to see the whole script, only his part, and that the part of the script he did get to look at, the dialogue of the other characters he was interacting with were blacked out. Burn thought it was better that way though, because it allowed him to "act in the moment." As for what it was like working with Tom Hardy and Christian Bale on the film, Burn said that when Tom Hardy was playing Bane, you didn't go near him, and that he never has actually met Christian Bale.
When asked what was his favorite episode of Torchwood, Burn said it was Countryside, because they got to get out of the city and go to a haunted castle. The cast got into many shenanigans while filming there, and Burn was accused of stealing a bathtub from his hotel room. However, he profusely denies having stolen it, saying it would have been too heavy for him to move. He thought Barrowman was probably behind stealing it. Speaking of Barrowman, an audience member asked if Burn was subjected to the same body part pranks that Eve and Naoko had spoken of earlier, and he replied with an emphatic "YES."
At one point during the panel, Burn got a phone call, and said he had to take it. So he answered the phone while on stage – it was his wife telling him that they got the house they were trying to buy! So congratulations to the Gorman family on their new home!

Hospitality Suite
At this point, it was around 4:30pm. We had heard about the Hospitality Suite with free food, so we went on a mission to find it. It wasn't too hard to find, thanks to some hotel workers and other con attendees pointing us in the right direction. It felt a little weird when we first went in, because it felt like we were just wandering into someone's hotel room, but we quickly got our bearings. There were large containers filled with lemonade, fruit punch, and iced tea, which were on a table with several bowls of different types of candy. Then in the next room, there were coolers filled with bottled water, bottled Arizona iced tea, and cans of various sodas, as well as a table with individual bags of chips. It's really generous of the convention to provide such amenities to attendees. I know of the existence of a Hospitality Suite at both WonderCon and San Diego Comic-Con, but have never checked it out, due to lack of downtime. So it was really awesome that we were able to do so at this con. Anyway, so we grabbed some food and drink and headed outside to sit by the pool, where it turned out Davey's friend from earlier was still hanging out. We met some more people, and were given more ribbons! Around 5pm, Josh texted me that he had arrived, so I went to go find him and help him get registered.
Click here to venture on to Friday part two of Gallifrey One covered by Josh >>