Violet wraps up the rest of our day at D23 Expo 2015 on Saturday, August 15, where we wandered around the Exhibit Hall floor after having attended the Live Action and Parks and Resorts panels.
The Parks and Resorts panel finished up around 4:15pm or so, but unlike the Live Action panel earlier, we were not given any free swag on the way out, sadly. We decided to head to the other side of the Anaheim Convention Center, starting at Hall A, and work our way back toward Hall C, so that we could end our day there, as it was closer to the parking garage where we were parked. So we did just that, winding our way up and down the aisles as we came back. Pretty much everything we passed had a long line to get in, of course. We didn't even attempt to go to any of the three Disney stores.
One attraction that didn't have a line was the Shanghai Disneyland pavilion, which you could just go into and walk around and see all the things the Imagineers have planned for the new park. Later, while walking down an aisle, it appeared that Baymax (from Big Hero 6) Funko Pop!s were just being handed out for free. We decided to investigate how long the line was, just out of curiosity. It actually wasn't very long, considering how fast the line was moving, so we headed toward the staff member holding up the "End of Line" sign. However, when we got about 5 feet away, she quickly changed the sign to read "Line Closed." Ah well. It was worth a try. That brought us over by the ABC Studios booth, which had a surprisingly short line, so we hopped in. This turned out to be a bad decision, as they only let a small number of people in at a time,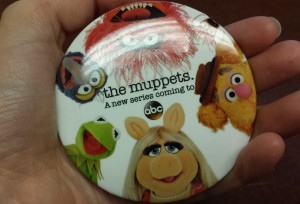 and although we were only about 5 people back from the front of the line, we ended up waiting about 30 minutes while the group ahead of us finished up. So what was inside this booth? It was a short preview of ABC's upcoming TV show, The Muppets. The interior was designed to look like the sound stage for The Muppets set. After the 2-3 minute preview of the new show, staff explained to us that we would take turns sitting in front of a camera and taking a picture, in which a random Muppet would appear. So this was why we had waited so long. We happened to be on the side of the room which would go last for this, so we opted just to exit, not wanting to wait around any longer. We did get some free The Muppets buttons on our way out though.
At that point, we had walked around all of the D23 Expo Exhibit Hall, except for the parts that required waiting in a line to enter it, and we were tired and hungry, so we decided to call it a day. It was around 6:00pm, leaving one more hour left of the show that evening, so we figured it was probably best to beat the crowd anyway. With that, we headed over to Roscoe's Chicken and Waffles down the street for dinner, then went home and crashed. Or at least I did. I was in severe need of a nap!
I don't think we mentioned it, but we had bought D23 Expo tickets for Saturday only, as it was quite expensive for a 3-day ticket, and our Press application had been denied. As you can see from our recap, one day is not enough to do everything, especially when you invest the time and effort to attend the large presentation panels, like we did for both the Live Action and the Parks and Resorts panel. I would have liked to have at least one more day so that we could more thoroughly explore those exhibits on the floor that required waiting in line. Maybe in 2017 we'll be able to spend more than just one day at D23 Expo.
Below are our photos from the D23 Expo 2015 Exhibit Hall floor: