Violet wraps up our coverage of the D23 Expo panel titled "Worlds, Galaxies, and Universes: Live Action at the Walt Disney Studios" that took place on Saturday, August 15, which ended with Lucasfilm.
Worlds, Galaxies, and Universes: Live Action at the Walt Disney Studios (continued)
After the Disney Live Action portion of the panel came the grand finale: Lucasfilm.
Lucasfilm
Alan Horn mentioned how at D23 Expo 2013, Lucasfilm had only been a part of the Disney family for 8 months, so they didn't have anything to share with us at that time. However, now two years later, Horn was pleased to talk about the record breaking numbers of the two trailers for Star Wars: The Force Awakens, and we viewed images of people's reactions to the trailer.
Horn went on to talk about the upcoming films in the Star Wars franchise. He confirmed that Rian Johnson (Looper) will be writing and directing Episode VIII, and announced that Colin Trevorrow (Jurassic Park) will be directing Episode IX.
Horn briefly mentioned the untitled "A Star Wars Story" stand alone film about a young Han Solo due out in 2018 that will be directed by Christopher Miller and Phil Lord (the team behind The LEGO Movie), and written by father and son team Lawrence Kasdan (The Empire Strikes Back and Return of the Jedi) and Jon Kasdan (In the Land of Women).
Next, we got a video message from Gareth Edwards from the set of Rogue One, the stand alone "Star Wars Story" due out in December 2016, on which production just started this past week. It was a very short message where Edwards looks to be in a desert area, and says that he has just finished shooting the first scene and is just about to go shoot the second scene. Then it ended. We didn't get to see any sort of footage. However, we did get to see an image which listed the cast members: Felicity Jones, Diego Luna, Ben Mendelsohn, Donnie Yen, Jiang Wen, Forrest Whitaker, Mads Mikkelsen, Alan Tudyk, and Riz Ahmed. We also got to see a set photo of the cast: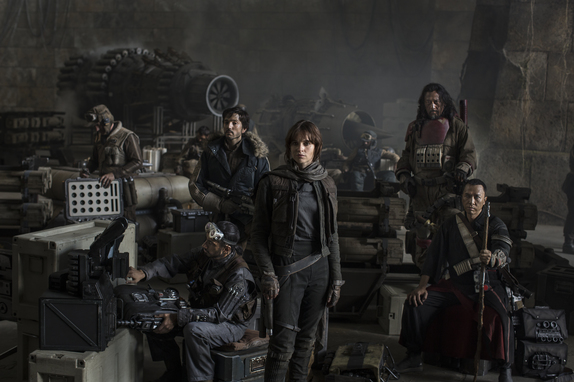 [Courtesy D23/Lucasfilm]
Before I move on, I have to mention something interesting we learned about Alan Tudyk's character. Being Firefly and Serenity fans, we were excited to hear the news that Tudyk would be in Rogue One, and joked that he would once again play the pilot, though we hoped what happened to him in Serenity would not happen to him in Rogue One. Later that day, being a supporter of Con Man, Alan Tudyk's upcoming crowdfunded web series that's in production, we watched a couple of videos posted on the Hang With live streaming service, one from Alan Tudyk himself, and one from PJ Haarsma, producer of Con Man, both of which appear to be available to the public. In Tudyk's video, he reveals that he is in London filming Rogue One, and that he couldn't say anything about being in the film until now. However, he says that he can't reveal any details about his character. In Haarsma's video, he talks about how Tudyk being in Star Wars has affected and will affect the production of Con Man going forward, including fulfillment of perks. But what he also mentions is Tudyk flying to London and Jordan to film the movie. We hadn't heard about Tudyk flying to Jordan before, a desert-like location, which suggests we might see Tudyk's character on Tatooine — though admittedly, it could be an entirely different desert location. Additionally, The Wrap reported that Tudyk would be playing a "performance-capture" character, which Haarsma confirmed, and Haarsma also said that Tudyk would be playing a "bad ass robot." So it sounds like Tudyk's character will be a droid! We hadn't heard this anywhere else, so this seemed like big news to us!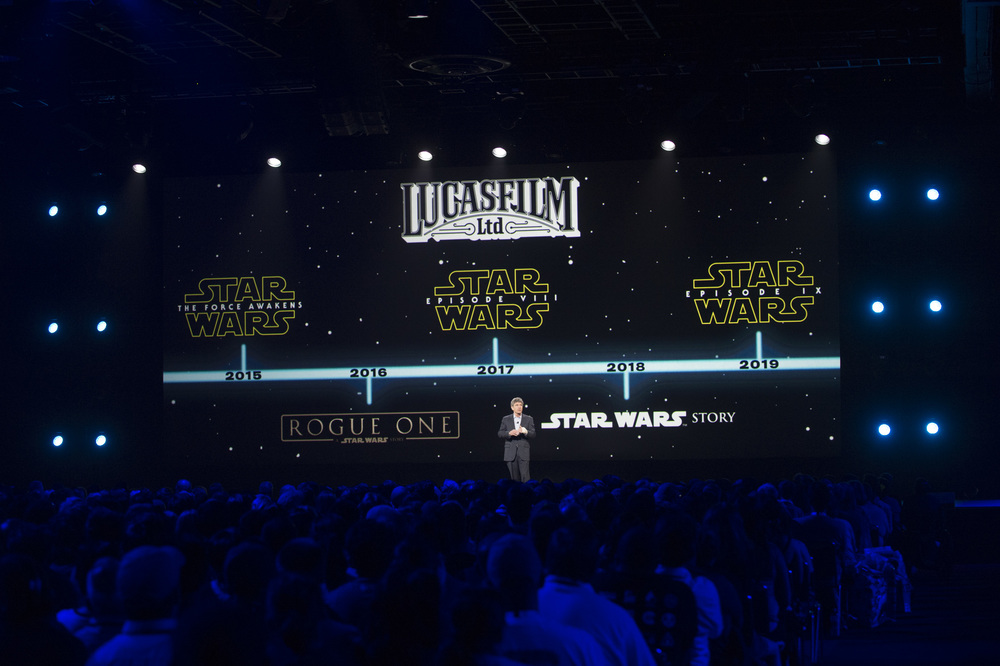 [www.d23press.com]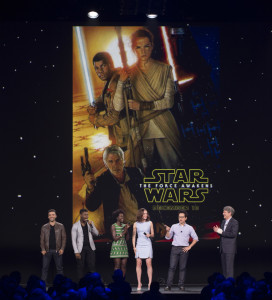 Okay, back to D23 Expo. Then a timeline image of the upcoming Star Wars films was put on screen. It was at that point it finally clicked for me: What is this "A Star Wars Story" business? Just 4 months ago, at Star Wars Celebration Anaheim, Kathleen Kennedy announced that the stand alone films would be referred to as "Star Wars Anthology" films, and that the first film would be titled Star Wars Anthology: Rogue One. However, the title cards for the stand alone films now have no mention of "Anthology," which has now been replaced with "A Star Wars Story." Odd that this change was not specifically mentioned.
Next, J.J. Abrams was brought on stage to talk about Star Wars Episode VII: The Force Awakens. Throughout this part of the presentation, we see a few production photos displayed as a slide show. Abrams talks about working on the film, and shares with us a story about how he went to composer John Williams's house and he played piano for him of the music for The Force Awakens! Abrams then brought the cast out on stage: Daisy Ridley, John Boyega, Oscar Isaac, and Lupita Nyong'o, the latter of whom Abrams joked is "apparently legally required to be in every Disney movie."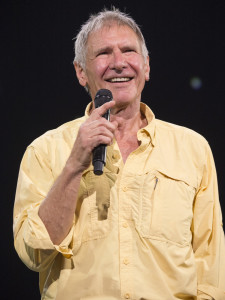 John Boyega introduced an image of a new movie poster for Star Wars: The Force Awakens, by artist Drew Struzan, which he announced each of us would be getting on our way out.  Considering that Boyega's character, Finn, is holding a lightsaber, which we haven't seen in previous trailers, the poster suggested that he could be a Jedi. Also appearing on the poster was Rey, Kylo Ren, and Han Solo. At that point, Abrams took the opportunity to bring Harrison Ford out on stage! The crowd went nuts with a standing ovation, and a girl near me screamed "Oh my God!!!!" Ford had to wait awhile for the cheers to die down, as he thanked the crowd, saying, "You guys have made my life," and commenting on how thrilled he was to be there. Bob Iger, Disney's Chairman and CEO, came out on stage, and spoke about the process of trying to figure out who would direct The Force Awakens, and praised Abrams, who he had worked with on Alias and Lost. Then without Ridley, Isaacs, or Nyong'o getting to say anything, the cast, Abrams, and Horn all waved their goodbyes and left the stage, leaving Bob Iger alone on stage to make one final announcement.
Star Wars Land
We were shown a short video of a vault opening up to a Star Wars looking world, with strange looking buildings and flying spacecraft. Iger then explained what we had just watched: Disney will be adding a Star Wars Land, which will be the largest single theme expansion ever. It will be a 14 acre land on a whole new planet, with humanoids, aliens, and droids, located on a remote port that's one of the last stops before wild space. We were shown some concept art of the new land, which was also shown later at the Parks and Resorts panel, for which we will soon provide a recap. In one of the Star Wars Land rides, you'll be able to take the controls of the Millennium Falcon on a customized secret mission, and in another attraction, you'll be in the middle of a cinematic battle between the First Order and the Resistance.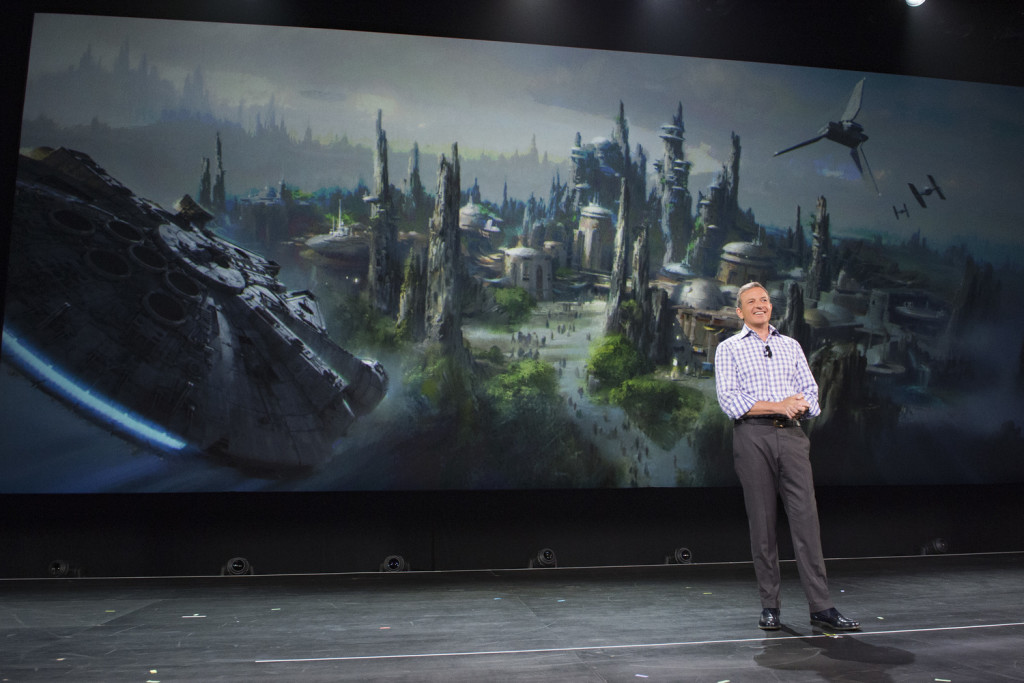 Disneyland is not just building one Star Wars Land, but two: one will be at Walt Disney World's Hollywood Studios, and the other will be at Disneyland, consisting of 14 acres. It was not mentioned when these projects were expected to be completed, though. With that, the panel ended, and we stood in the large crowd of people trying to exit while collecting our exclusive The Jungle Book and Star Wars: The Force Awakens posters.