Violet picks up where she left off at the end of the Live Action panel, and provides a recap of the Parks and Resorts panel at D23 Expo, which took place on Saturday, August 15.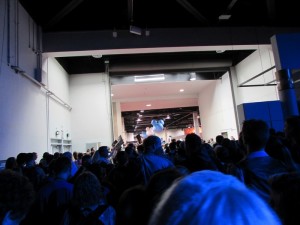 Upon finally getting through the crowd and collecting our exclusive The Jungle Book and Star Wars: The Force Awakens posters, we exited directly onto the D23 Expo Exhibit Hall floor. At that point, our objective was to return to our car so that we could store the posters there, since we didn't want to carry them around all day. Also, our friends David and Tamara needed to leave for a family event, so we figured we would all walk together back to the parking garage. Well, David and Tamara decided they wanted to see the Captain Phasma suit before they left, so we went and found that. There were also people handing out Alice Through the Looking Glass posters right by the Star Wars exhibit, so we added those to our little collection of posters as well. Then we got a little turned around about where to go to find the exit, because there's just so much stuff everywhere. It's not like WonderCon where it's just vertical and horizontal rows and you can easily find your way out. Anyway, so we finally got our bearings and found our way out, at which time it was around 1:00pm. Josh and I put our posters in the car, said goodbye to David and Tamara, and headed back towards D23 Expo, while discussing what our next plan of attack was: food, and where we should get it.
On our way back towards D23 Expo, we passed by a crowd of people in line for something. We quickly figured out that they were in line to get into Hall E, which was where the line would be located for the next Hall D23 presentation: Parks and Resorts, which was scheduled to begin at 3:00pm. I was interested in going to that so we could hear more about the newly announced Star Wars Land, but we decided to go find some food first. Yes, we had brought our own snacks, but sometimes you just need some real food. There were several food trucks, but it was 100 degrees, so we didn't really want to be waiting in a long line outside in the heat. We ended up going to the food court in the Hilton, where there were long lines for every restaurant, so long that you almost couldn't tell which line was for what. I had to walk around and in between the lines to figure it out. We had originally planned to go to Sbarro, but that was the longest line by far, so we settled on Baja Fresh.
Parks and Resorts
By the time we got through the food line, ate our food, and made our way down to Hall E to get in line for the Parks and Resorts panel, it was a little after 2:00pm. It looked like there was one chute left for Section A, Section B was full, but Section C still had 8 chutes open. We kind of needed to use the restroom, but we figured that they were probably going to be letting us into Hall D23 soon, so we would wait until we got in. Sure enough, a few minutes later, there was an announcement that they were going to start letting us in. However, a long time passed, and there was no movement. Probably around 2:40pm they announced that there had been a delay for letting us in, and they would start letting us in soon. Well, the loading was quite slow, and by the time our chute got in, the presentation had already started! And there were still several chutes behind us that still needed to get in. Luckily, I don't think we missed anything important, as it seemed like they were still doing introduction type things as we were seated. But very shortly after that, they started things off with what was already the major buzz of the day: Star Wars Land. This time around, we didn't have to seal away our phones and cameras into envelopes like we did for the Live Action panel, so we were able to take pictures.
Star Wars Land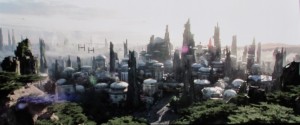 We watched the same video of the vault opening up to a Star Wars looking world that we had watched at the end of the Disney Live Action panel when Bob Iger first announced Star Wars Land. Then Bob Chapek, chairman of Disney Parks and Resorts, basically repeated what we had already been told: the 14 acre Star Wars Land would be built in both Anaheim and Orlando, it would be a world we had never seen before that is one of the last stops before wild space, and that there would be a Millennium Falcon ride, as well as an attraction that puts you in the middle of a climactic battle. Chapek then handed it over to Imagineer Scott Trowbridge to tell us more about the Star Wars experiences that Disney has in store while we wait for Star Wars Land to be completed.
First, he talked a little about Star Wars Land, where we will meet new characters and see familiar ones. Trowbridge emphasized the level of immersion that they're going for, even teasing blue milk!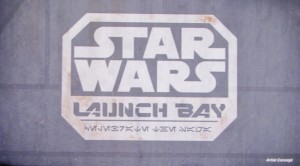 But then he moved on, telling us that Star Tours will be updated again later this year with a new destination and a chance to visit a new world from Episode VII, as well as new characters. Additionally, the Jedi Training Academy experience will be updated.
Trowbridge also announced Star Wars Launch Bay, an area where guests can experience "all things Star Wars." You'll be able to interact with characters, and explore exhibits consisting of costumes, props, and artwork from both the films and the animated series, plus play the latest Star Wars games.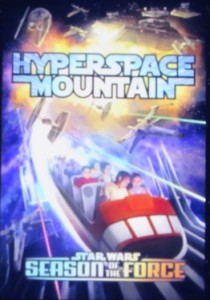 In early 2016, Disney will be launching a limited time seasonal event, both in Orlando and Anaheim, building on the success of Star Wars Weekends in Orlando, called Star Wars Season of the Force. There will be enhanced character experiences and limited time themed food and merchandise. Additionally, at Disneyland, Space Mountain will turn into Hyperspace Mountain, with new digital projections and a customized soundtrack, while Disney World's Hollywood Studios will get a special fireworks show set to the John Williams score. After talking a bit about the new music for these experiences being recorded at London's Abbey Road Studios recently, Trowbridge wrapped up the Star Wars portion of the panel, and handed things back over to Chapek.
Toy Story Land
The next big announcement was Toy Story Land, which will also be located at Walt Disney World's Hollywood Studios. Chapek explained how Disney is transforming Hollywood Studios from a park that took you behind the scenes to one that puts you in them. He brought out lead creator Kathy Mangum to tell us about Toy Story Land.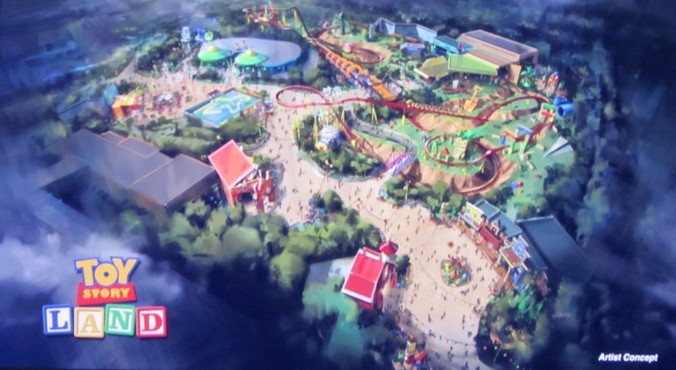 Magnum explained that the level of immersion they're aiming for with Toy Story Land can be compared to that of Cars Land. When you enter the new land, it will look like you're toy sized and walking through Andy's backyard. One of the rides will be a green alien flying saucer ride, complete with the Claw looming overhead. The other will be a family-friendly Slinky Dog coaster. We were shown a rough video of what the coaster would look like, from the perspectives of both watching the ride and also being on the ride. Additionally, a third track will be added to Toy Story Mania. Lastly, there will be a meet and greet with Toy Story characters.
Frozen Ever After
Magnum then gave us a brief update about the addition of the Frozen Ever After attraction to the Norway pavilion at Epcot, saying they are deep in construction and production. We saw a few concept art images, as well as a photo of an animatronic Sven. They will also be expanding the pavilion to include a Royal Summer House, a cabin where guests can meet Anna and Elsa.
Animal Kingdom and Pandora: The World of Avatar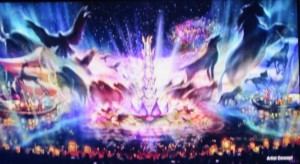 After that, Imagineer Joe Rohde talked about some new things in the works at Walt Disney World's Animal Kingdom. Chapek pointed out that these changes would represent the largest expansion in the park's history. Rohde informed us that they will be extending the Kilamanjaro Safari, as well as increasing the population of animals, including the addition of two new types of animals: wild dogs and hyenas. He went on to talk about the Rivers of Light show that will be taking place on the lake at night, and showed us some concept art of what that would look like, for which they will be using a combination of light, water, and fire, as well as live performers. Rhode spoke of the "must see" transformation from day to night.
He then went into the Avatar-specific aspects of the expansion, talking up floating mountains, a bioluminescent rainforest, and soaring on the backs of banshees. Rhode then brought out Avatar producer Jon Landau and Avatar director James Cameron, both of whom the team has been working with to make sure that the park stays true to "epic feel" of Pandora.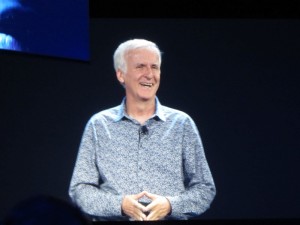 Cameron announced that this part of the park will be known as "Pandora: The World of Avatar." Rohde clarified that you wouldn't be re-visiting great moments from the movie, but visiting the world of Pandora and having your own personal adventure. Landau told us that there would be a flying ride called "The Flight of Passage," which will allow you to fly over Pandora, which is more of a thrill ride. There will also be a boat ride that goes through the bioluminescent forest, which is designed for the whole family to experience, and will include animals. We then watched a short behind the scenes/making of video which showed the team researching, and working on the world, as well as showed some concept art. Cameron talked about how the beauty was preserved, how immersive of an experience it will be, and that it will feel like humans are being welcomed into Pandora.
At the end of this portion of the presentation, it was brought up that James Cameron's birthday was the next day, so all of Hall D23 sang "Happy Birthday" to him!
Hong Kong Disneyland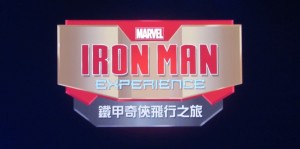 After quickly talking about some recent developments at Tokyo Disney Resort (Beauty and the Beast, Alice in Wonderland), Disney Tokyo Sea (a Frozen port), and Disneyland Paris (Ratatouille), Chapek started talking about Hong Kong Disneyland and how it will be celebrating its 10th anniversary next month. He also mentioned a new hotel being built there called Disney's Explorer Lodge.
Chapek then announced that Hong Kong Disneyland would soon be getting an Iron Man Experience, which will be the first Marvel experience in any Disney park. Imagineer Ted Robledo was brought out to talk about his work on this attraction. Robledo explained that it would start out at "Stark Expo" in Tomorrowland, showcasing new and exciting technologies coming from Stark Industries. Robledo then teased that Iron Man would come out… but he didn't, so Robledo kept going. He showed us some concept art for the ride, including the ride vehicle called the Iron Wing, which is intended to give you a sense of what it's like to be inside the armored Iron Man suit, though a really big one. You would then fly over Hong Kong tower, which contains the world's largest arc reactor at the top. However, you then begin fighting HYDRA, who has come to steal it. You will see both new and familiar faces of HYDRA. Then we got to see a short video clip from the ride.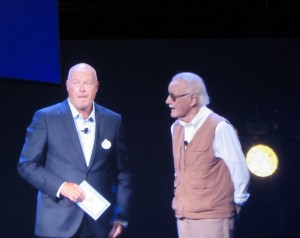 Robledo tried to introduce Iron Man again, but once again, no one came out. But just then, Chapek came back out and said that he just got a text from Pepper Potts that Tony was running late. However, while we waited, Chapek announced that they would give away a "grand prize" where the winner would get a trip to the Avengers headquarters in New York, transportation on Tony's private jet, dinner with Tony Stark, and a chance to try out the Mark 43 suit. (So it was obviously fake.) He then called out a seat number (we didn't have seat numbers), and the winner ran up on stage, all excited about winning — it was Stan Lee! Chapek pretended he didn't know who he was, and asked Stan Lee's name, and acted like he thought it was "Stanley." They had some banter, and eventually Stan Lee said, "Don't you know who I really am? I'm Stan Lee, the world's greatest cameo actor!" and we watched a clip of all of the various cameo appearances that Stan Lee has made in films. Finally, Iron Man came out. No, not Robert Downey, Jr., but someone dressed in an Iron Man costume, using recordings of Robert Downey Jr.'s voice, and Iron Man and Stan Lee had a brief exchange, where Stan Lee gave Iron Man some advice on identifying the bad guys.
Shanghai Disneyland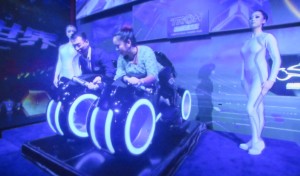 Next, Imagineer Bob Weis came out to tell us a little about the upcoming Shanghai Disneyland in China. The park will have 6 themed lands, such as Tomorrowland and Fantasyland, but some new, such as Adventure Isle and Gardens of Imagination, as well as a Pirates of the Caribbean themed land called Treasure Cove. Instead of a Main Street U.S.A. upon entering, it will have a Mickey Ave, with shops featuring Disney characters as the proprietors. The park will also have a Tron Lightcycle Power Run roller coaster, which will be one of the fastest rides in Disney. The castle at Shanghai Disney will be the biggest yet, with a restaurant inside of it, as well as a water attraction that goes underneath it, and an interactive attraction featuring Snow White.
Soarin' Around the World
The final announcement from Bob Chapek was that Soarin' Around the World will debut at both Disney California Adventure and Epcot next year, where guests will fly over landmarks such as Monument Valley and the Great Wall of China.
Kiss Goodnight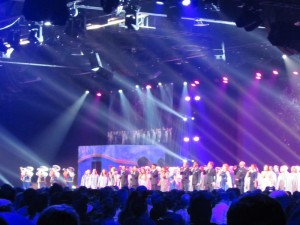 The panel ended with what Disney likes to call a "kiss goodnight," which is how Disney likes to thank their guests for spending the day with them, usually in the form of the nighttime spectaculars at the parks. However, in this case, the "kiss goodnight" was cast members singing a medley of songs about Disney magic, including "When You Wish Upon a Star," among other songs, while videos of the different nighttime shows were displayed on the screens. The "kiss goodnight" ended with a burst of real fireworks.
With that, the Parks and Resorts panel ended, and we were let back out into the Exhibit Hall. More on that, including pictures, coming up next!
Below is our collage of photos from the D23 Expo Parks and Resorts presentation!