Following the Captain America panel at Ace Comic Con Arizona on Saturday, January 13, 2018, was Stan Lee's panel, which was moderated by Todd McFarlane.
Still pretty spry for 95 years old, Stan Lee made his way to the stage. The panel was very much McFarlane asking Stan Lee questions about his career, which we had seen in the past (at Phoenix Comicon in 2014 and more recently at Los Angeles Comic Con this past October).
Todd McFarlane first began the panel discussing how Stan Lee first got into the business, and why Stan got into it. Stan talked about how he was big fan of comic strips—the ones you would read in a daily newspaper. He also read Superman and Batman since there were not a lot of comics when he first got into the business. Stan Lee first got started as a "stooge", meaning someone who did some proofreading, and simple tasks at what was called "Timely Comics" at the time. Lee then explained that some of the big guys at the company moved on, and Lee was told to take over the jobs, and was "forgotten" about for a while. While there are still a lot of blanks in the story, it sounds like Stan Lee made his way to the top of Timely Comics at that point.
Todd McFarlane also discussed naming of some of the characters that Stan Lee created that featured alliteration, such as Bruce Banner, Peter Parker, Reed Richards, and Sue Storm. Stan Lee's reasoning for these names was pretty simple—Stan admitted to having a terrible memory, so the alliteration helped him remember the characters' names easier.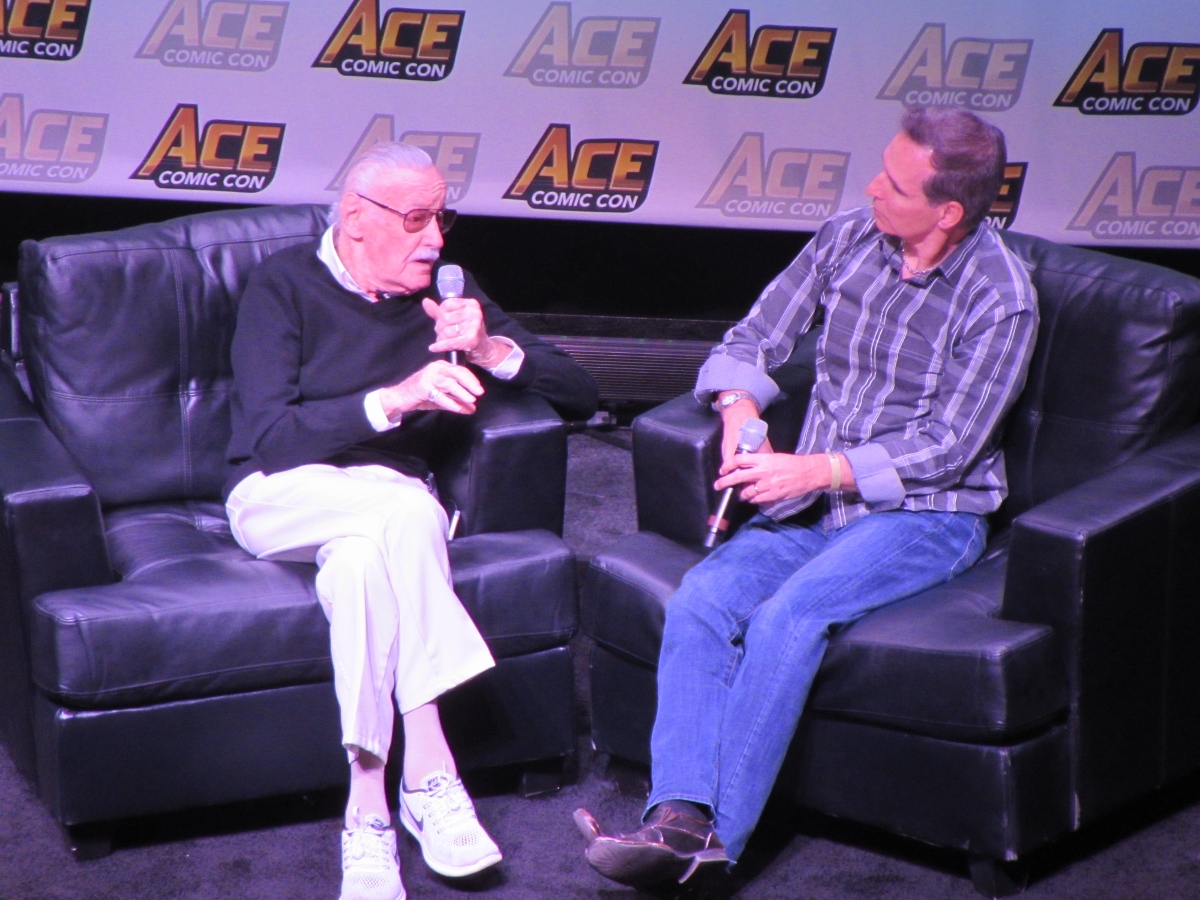 Another topic that came up was Stan Lee's move to Los Angeles. Todd McFarlane asked Stan how moving to Los Angeles came about and Lee explained rather matter-of-factly—that he went to the airline, bought a ticket to LA, decided that the area was not the worst place in the world, and decided to stay. McFarlane told Stan and the audience that this was a much bigger deal than Stan makes it sound like, though. Reason being, is that to make it in the comic industry, artists, writers, etc, had to live in New York to be successful. With Stan still being successful after moving to Los Angeles, that proved that New York was not a requirement to be successful. McFarlane noted that the development of FedEx also assisted the comic industry given that material could be moved around the nation a lot quicker and easier.
Also discussed was Stan Lee's move into TV/Animation. Stan Lee couldn't remember the first TV show that he worked on, but he discussed the animation studio that Marvel opened up in the Valley. Stan Lee remarked that Marvel made their own animation studio rather than relying on other animation companies to make their art. Stan Lee also remarked that making these animations were a lot of fun for him, when they began.
As is a usual topic for Stan Lee, Todd McFarlane discussed his cameos in detail. McFarlane was curious how the cameos came about, and whose idea they were. Stan Lee, in his usual banter, made it seem as though they were his ideas, of course, but he left it vague enough that it was really unclear whose idea it was. But Stan Lee did inform us that he is known as "One Take Stan" because he comes in, does his take, and gets his job done.
Stan Lee talked about his favorite cameo, which was the one in Age of Ultron, because he gets two scenes—one where he drinks of Thor's really potent alcoholic beverage, then in the second scene, we see Stan Lee being dragged out unconscious because the drink knocked him out. Stan Lee joked he hopes to get a three scene cameo down the road.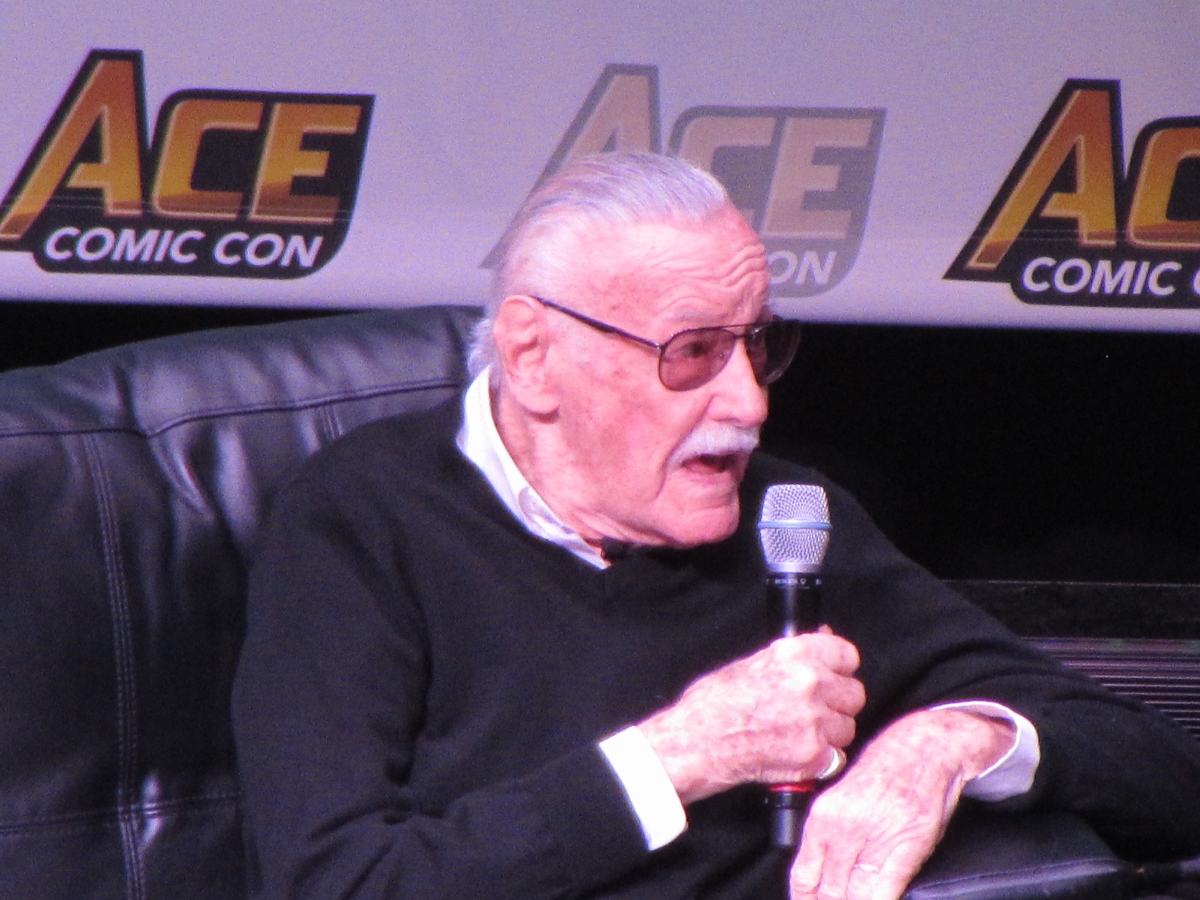 Also regarding his cameos, Stan Lee mentioned his Black Panther one, and he talked about how he wished he could have had an action scene where he fights to "a stand still" with Black Panther, but that didn't get through approval. What the real cameo is, is still a mystery.
One thing I noticed was Stan Lee seemed a lot more sentimental this interview than we had seen him in past panels. He still had his quick wit, and sarcastic nature, of course, but Stan Lee made it a point to tell Todd McFarlane that he is his favorite interviewer he has worked with. It was a pretty touching moment, especially for Stan Lee.
Todd McFarlane also discussed his first meeting with Stan Lee, which ironically was at a convention when he was 16. McFarlane said that he asked to sit next to Stan Lee at his table for a while, and that is what got McFarlane started in the industry.
I really enjoyed the Stan Lee panel this time around. I felt like it was a different side of Stan Lee than we've seen before. The sad thing is, that Stan Lee seemed a little more tired this time around, and his voice still seemed strained. When Violet and I saw him back in October at Los Angeles Comic Con, his voice was messed up then, and he hasn't seemed to have quite recovered from that. It will be a sad day when the legend Stan Lee is no longer with us.
Stay tuned for our report on the end of our Saturday at Ace Comic Con, including photos of the show floor!
You can view more photos from Stan Lee's panel at Ace Comic Con Arizona below: