The Captain America panel kicked off the first day of Ace Comic Con Arizona, which took place at the Gila River Arena in Glendale January 13-15, 2018. (Click here if you missed our article about getting there and getting in.) The panel, which started at 12:30pm on Saturday, January 13, featured Sebastian Stan (Bucky Barnes/Winter Soldier), Anthony Mackie (Sam Wilson/Falcon), and Chris Evans (Steve Rogers/Captain America).
The moderator pointed out that the upcoming Infinity War movie will be Chris Evans's eighth movie as Captain America. Chris said that the pressure is still there to make sure that the fans are happy. As for playing a villain, Sebastian Stan said that it's always a guessing game for him as to whether he's going to "go left or right" but that his character becoming a villain was a big part of the comic books, so it needed to be explored. Anthony Mackie spoke about how he is proud of the fact that Falcon is a military vet.
The moderator also brought up how Chris Evans has starred in 14 different movies as various superheroes, which is more than anyone else. One of those was voicing Casey Jones in 2007's TMNT, to which Anthony seemed like he was going to give him a hard time about now that he had learned this fact!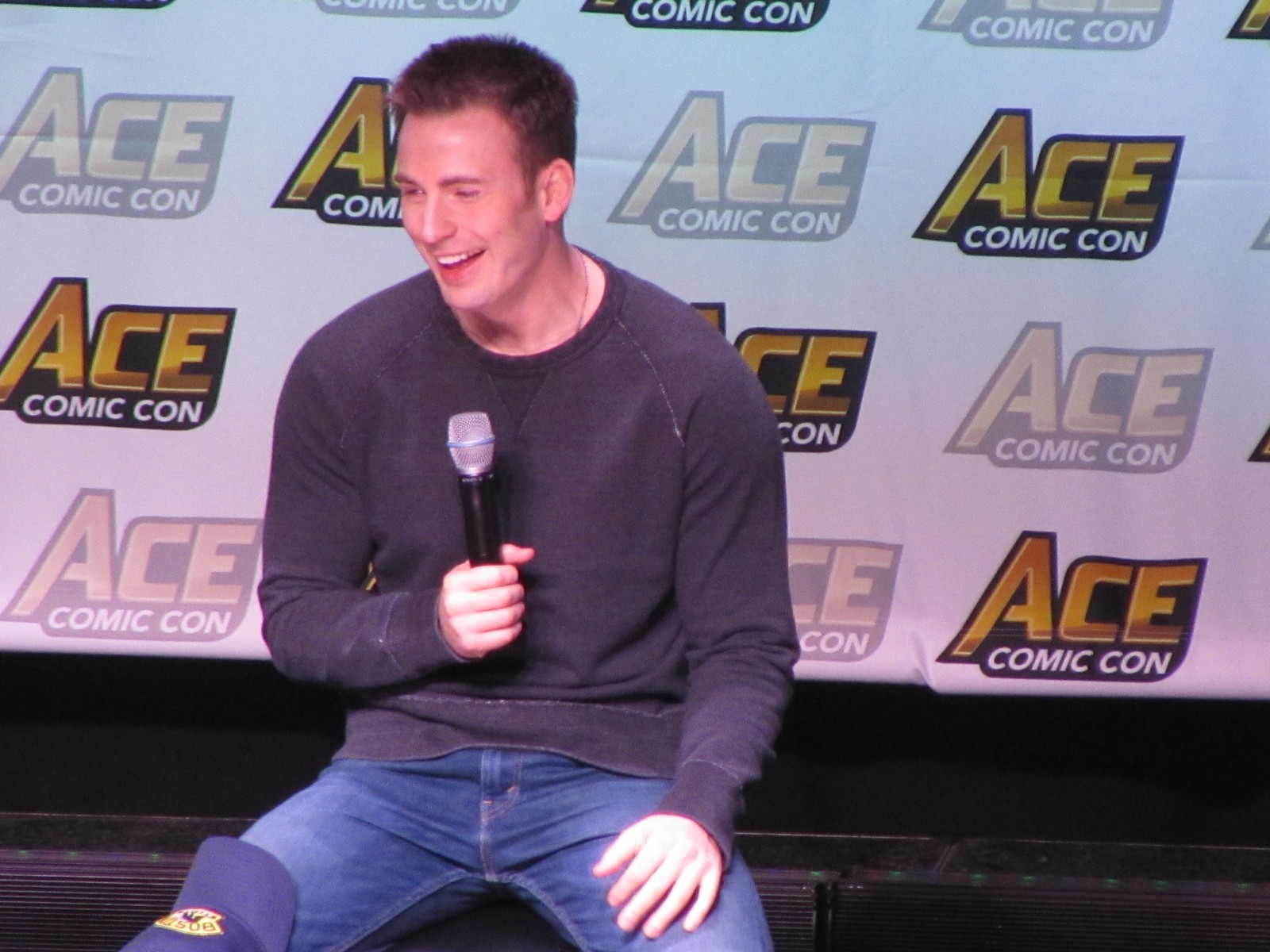 Chris Evans talked a little about his directing experience (Before We Go), saying that it's tough to be in the movie and directing, and that in the editing room, you see a lot of your bad habits.  However, he had a fun experience, and is eager to do it again. He said that he'll be in a play in New York in a couple months (Lobby Hero), but after that, he's going to start looking for another directing opportunity.
Anthony Mackie spoke about how his biggest problem with starring in Marvel movies is that he's no longer considered for the smaller indie roles that he had previously been in, because people think he wouldn't be interested in those roles.
As for working with Ridley Scott on The Martian, Sebastian said, "It was like walking in the desert in the dark." He further explained that Ridley Scott doesn't give you any direction, so you don't know if you're doing well or not, which keeps you on your toes.
The moderator asked about working with green screen, which Chris Evans commented that the best thing to get through those days is to have a vivid imagination, like a child.
The moderator also talked about the recent deal of Disney acquiring Fox, and how it's a possibility to see the Avengers vs. X-Men — or even the Fantastic Four, and Chris Evans could play two characters! Chris commented, "I would love that actually!" but added "I doubt they'd ever let me do that." Sebastian Stan interjected with a very interesting story. He recently was sitting next to Hugh Jackman at an event and asked him, "Am I going to see you soon?" Sebastian then told us that Hugh Jackman "said a couple things" but Sebastian didn't want to say exactly what, because he didn't want to get him into trouble! However, Sebastian went on to say that Hugh had been asked a lot whether Logan was his last appearance as Wolverine, and said Hugh had already publicly said that he had "been thinking about it a lot, and it's on his mind."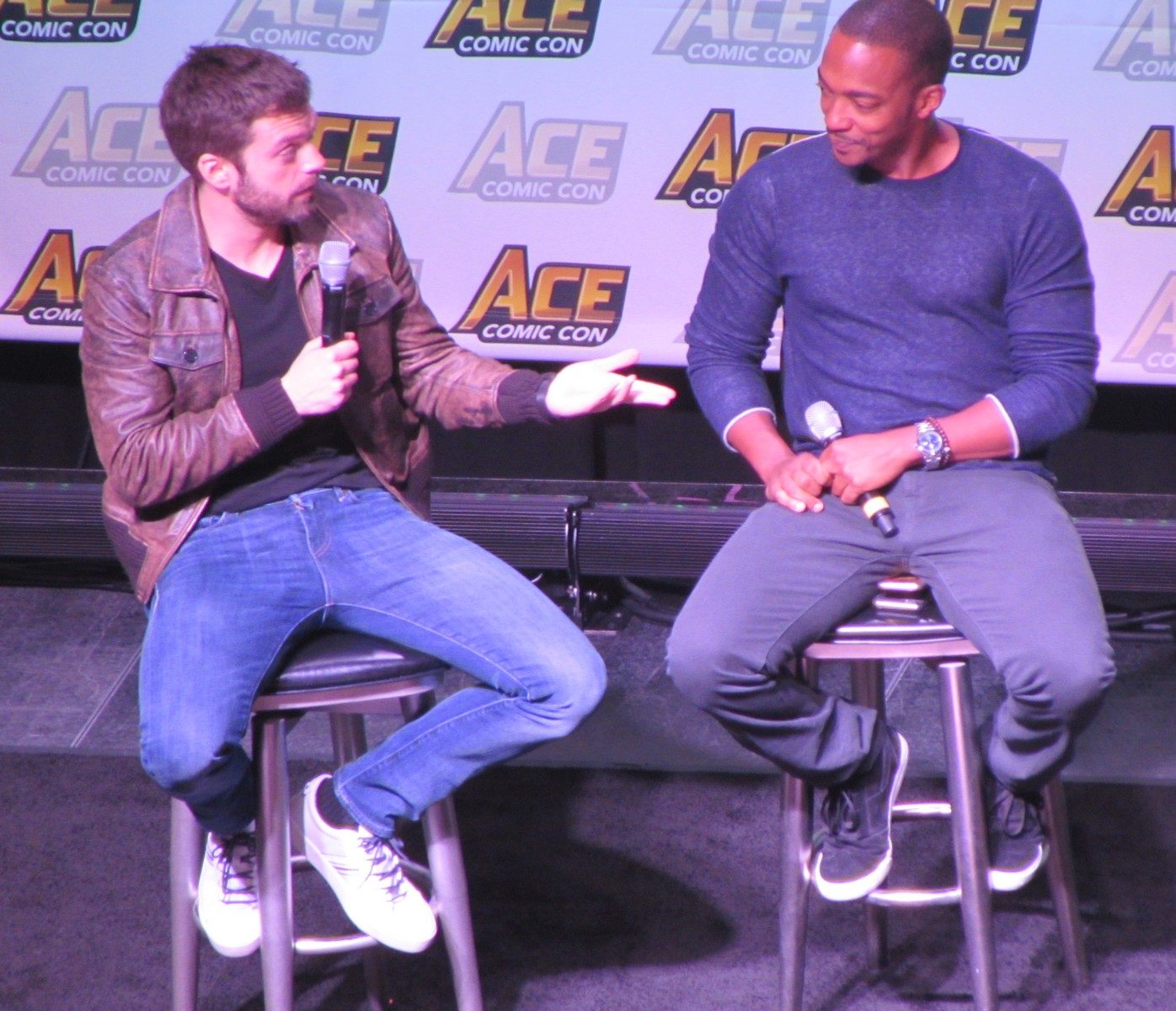 The moderator asked, "How about you fight the Justice League?" to which Sebastian jokingly replied, "Who is that?"
The three went on to talk about their mentors within the Marvel Universe. Chris said that his was Robert Downey Jr., who has always been in his corner. Chris explained that Robert always makes sure that everyone feels welcome. He also said that nobody can ever be Iron Man, and that Robert Downey Jr. is irreplaceable. Apparently, Robert has his own separate catering, and he always makes sure everyone comes over for what they call the "Downey Lunch" and that he makes it feel like a family.
Sebastian Stan didn't have a specific answer, but said that he likes coming back, because every time he does, even if it's a year or so later, it's like they haven't missed a step. As for Anthony Mackie, he pointed to Sebastian Stan and Chris Evans, "and not just because they're here" but because he talks to the two of them almost every day. "These are the two cats that if they call me and say they needed bail money, I got them."
Chris Evans spoke about how Captain America's good values influence him in everyday life, to which Anthony joked, "So you walk around thinking you're Captain America? Everyone heard that, right?" to which Chris explained it was more like comparing himself to Cap, like while grocery shopping he might ask himself, "What would Cap buy? Don't get the ice cream, get the broccoli!"
Sebastian said that the young kids never take him as a villain when he's walking down the street, but sometimes they ask him about Anthony.
The moderator tried to see what the three could talk about in regards to Infinity War, to which Anthony Mackie replied, "It's a war of infinite proportions." Chris Evans, going back to what had been said about Sebastian being a villain, jumped in to defend him, saying, "He's not a villain, he's a victim! He was brainwashed!" to which the crowd cheered. Chris added, "I have a soft spot."
Getting back to the subject of Infinity War, the moderator asked if they got to hang out with the Guardians of the Galaxy. Chris was hesitant to answer, looking at the others and asking, "What can we say?" but then he realized, "Oh yeah, the trailer's out!" Anthony confirmed that they did get to hang out, and Chris commented how that was a great part of this movie, everyone all coming together. He said that for the first time, now seeing all these franchises come together, it was like he had a "seat at the table" and he felt like, "Oh man, I belong here!" Chris went on to say, "Marvel doesn't miss. They are batting .1000." Chris emphasized that "there is not one bad apple" among them, and they all get along very well.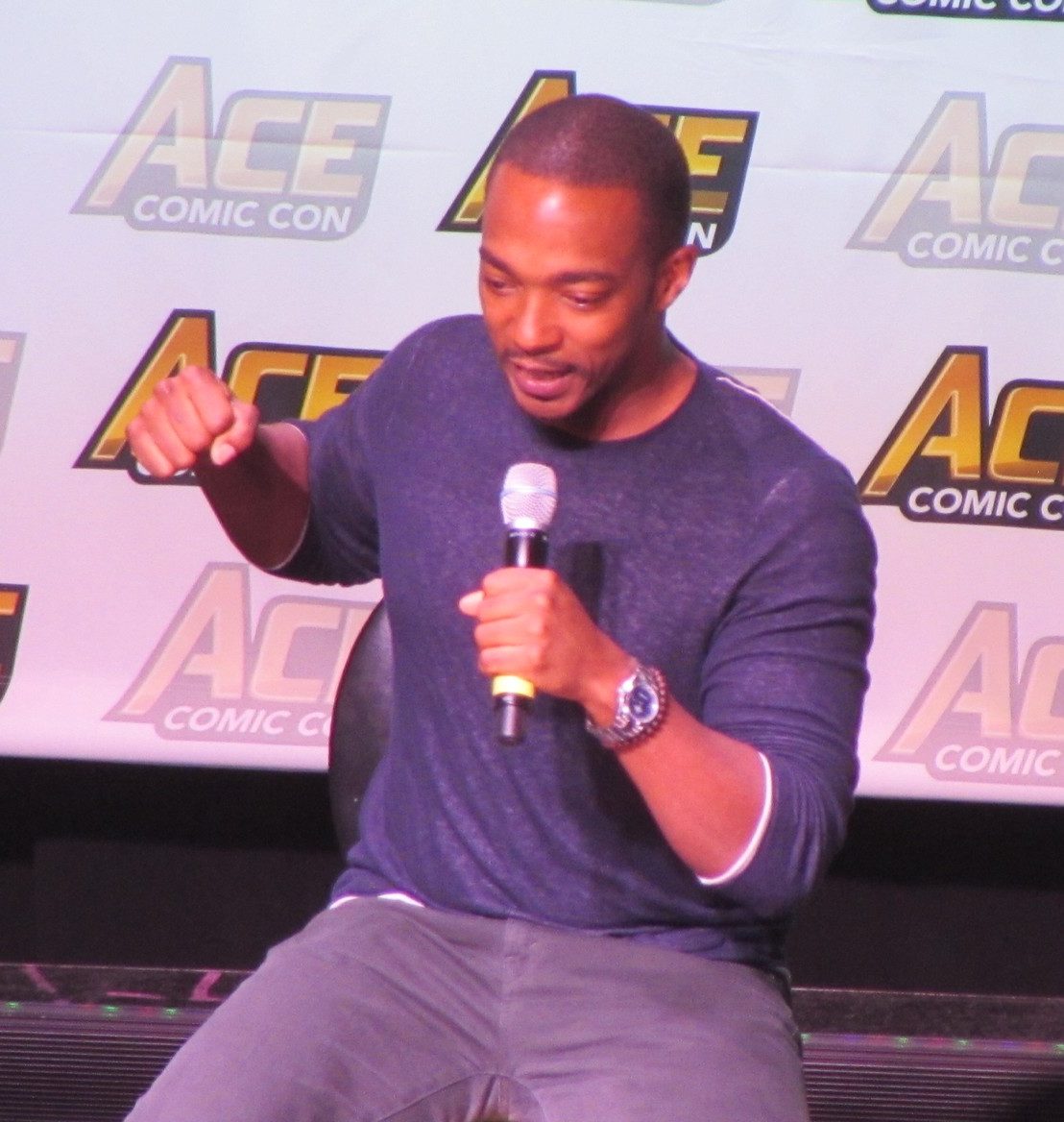 Anthony talked about being on set with 40 superheroes, and one day he looked over to see Tom Holland and Dave Bautista together, and "Tom is literally the size of Dave's leg." Bautista jumped up and did a "kick punch move" — he was trying to teach Tom how to do a "scissorman punch." Anthony ran over to see what was going on, thinking Dave was about to kill Tom! Then Tom tried to do it, and Anthony imitated what that looked like. Anthony said there were a lot of moments like that on set, where you feel like a voyeur, seeing what is going on around you. He also brought up a moment where "Chris was over in the corner, doing… stuff…" to which Chris jumped in saying he knew what day he was talking about, and that it was a really fun day. Chris said, "That was a great day, with a lot of great people, and it was overwhelming, and a little humbling."
They talked about Black Panther coming out, and Chris Evans gushed about how good the trailer looks. Sebastian attributed Marvel's success to understanding the tone for each movie. Anthony said that when they're "old and doing soap operas," he wants IMAX to show all the movies in sequence over a weekend. As for the Black Panther soundtrack, Anthony Mackie admired how they were able to get Kendrick Lamar to do a title cut, and said, "I just want to be in the video." Then he went on to instruct the audience to tweet "Anthony Mackie wants to be in a video with Kendrick Lamar." He also said that he met Kendrick last week and they were at the national championship together — and again said to tweet that!
Moving on to the subject of Captain America shields, Chris Evans said that recently one of the prop guys told him that the average life of the shields on set is 4 days. He was astonished to hear that it was so short, but it's because they don't want any scratches or dings on them. He called the metal shields "the nice ones" and said they are a nightmare to deal with. However, he uses a rubber shield when he has to hit someone.
As for flying, Anthony said that it's very difficult, and he has requested not to land anymore, saying "Brothers don't land well." Every time he's about to land, they put him down softly, then put the stuntman in for the landing, otherwise, he's in "concussion protocol" every week.
Regarding the Winter Soldier arm, Sebastian Stan said his favorite thing to ask is, "Is that a new arm?" because he never knows how many there are. Anthony urged Sebastian to tell the audience about his "arm process" but Sebastian knew what Anthony wanted him to say: that he uses KY Jelly. Anthony and Chris then jokingly peppered him with questions like, "How much KY Jelly do you use?" and "Do you bring your own KY Jelly from home?" Sebastian explained that he has 4 people who help him with his arm. He said that it used to be two different pieces, but they found a way to make it into one.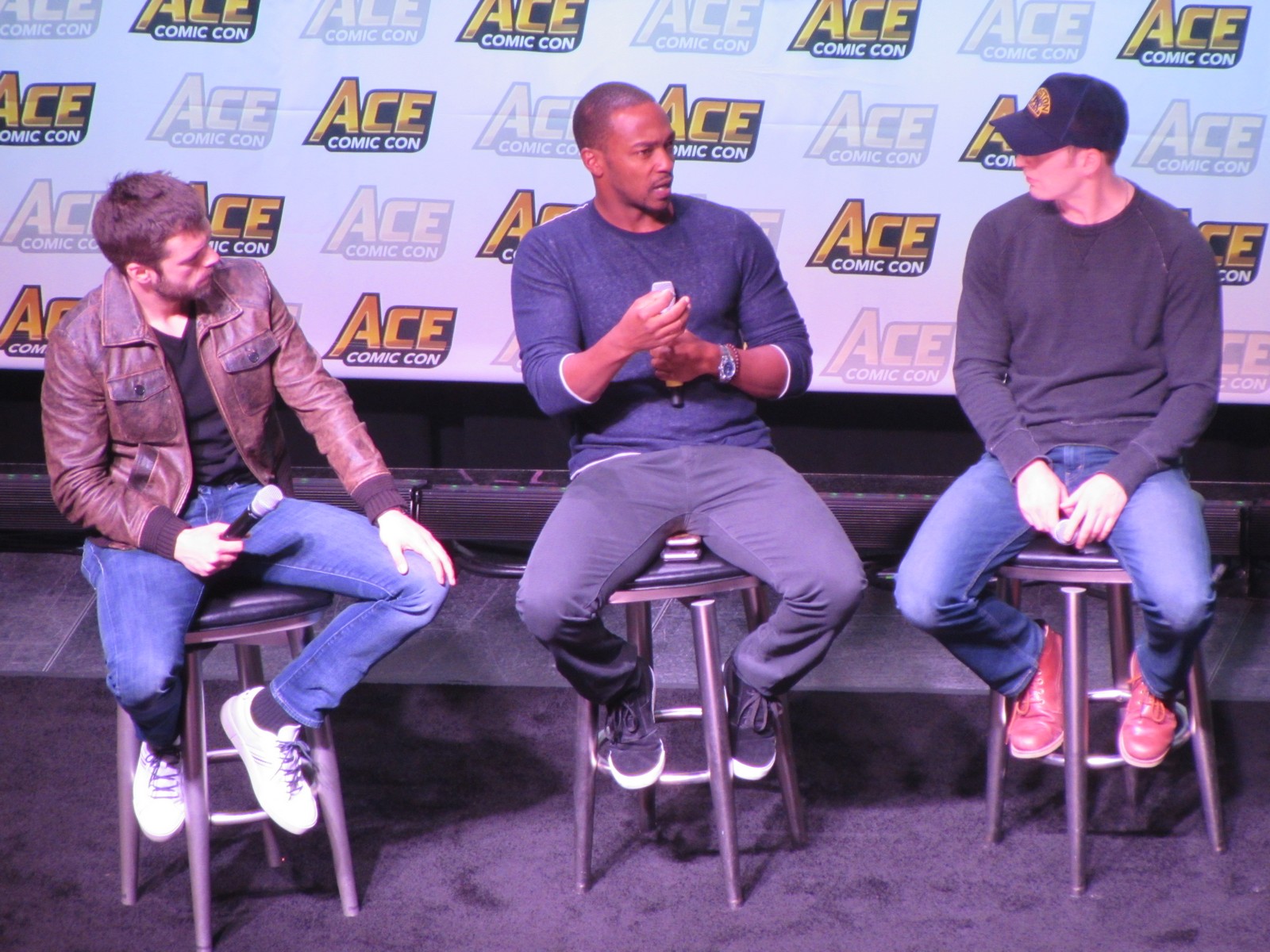 Chris then talked about how happy he was to have a beard in Infinity War. He acknowledged that it's tricky because the purists want Cap to look a certain way, even when it comes to the colors of the suit. Chris mentioned that he loved the navy stealth suit in Winter Soldier, while The First Avenger suit was not one of his favorites. They had had some discussions about how much they wanted to let his look in Infinity War deviate from the origin, but Chris said that it "lends itself to the arc and to what he is going through." He stopped himself there, not wanting to give too much away, but added that it was nice to not only have a different look, but also a different "head space." Chris commented that the conflict with Tony really "took its toll" on Cap, and that Cap had really valued the friendship, adding that Cap has always had to cope with loss.
Sebastian said that for his character, Infinity War is about winning people's trust and figuring out who his allies are. Anthony commented that in Infinity War everyone is trying to find their footing and figure out how they'll be accepted by not only the rest of the world, but the other superheroes. He also mentioned that he's been pushing for the red and white Falcon suit from the comics, and that he's been asking for spandex for eight years, but they won't give it to him!
Chris admitted that he hadn't grown up reading comic books, but that he's pretty sure they've all done their homework and read their respective characters' comic books. Anthony told everyone that they should go out and buy comic books.
The topic of discussion then moved on to their action figures. Anthony said that he has a whole curio that he's autographed for himself. He also revealed that at first, his action figures looked like Billy Dee Williams! But he was able to tell them to stop, and they fixed it. Chris said that his mom collects all of his, and has a whole attic full.
One thing Chris wishes they could have explored more was Cap in his element in the 40s, with Bucky and the Howling Commandos. He admitted that it's kind of impossible to do now, but that it would have been cool.
They also talked about cosplayers and how honored they are by seeing people of all ages and backgrounds dress up as their characters. "Nothing makes me happier than a fat Iron Man," said Anthony Mackie. Sebastian Stan pointed out that there are quite a few female Winter Soldier cosplayers that sometimes look better than the Winter Soldier.
The panel wrapped up with Chris Evans, Anthony Mackie, and Sebastian Stan thanking the audience for their support, and ended with the three taking a selfie with the audience in the background.
Up next on the Main Stage was Stan Lee! Click here for our recap and photos of his panel.
See below for more photos from the Captain America panel at Ace Comic Con Arizona: