Sunday, October 29 at Stan Lee's Los Angeles Comic Con 2017 kicked off with a Stan Lee panel on the Hot Topic Main Stage. Comic creator Todd McFarlane would be interviewing Stan.
When Stan Lee came out on stage, upon seeing Todd McFarlane, he exclaimed, "You again?!" as the two have a history of appearing at conventions together.
Todd talked about what an honor it was to have been on stage more than once with Stan Lee, who he called a "living legend." Stan Lee complained that Todd always makes that speech to introduce him, and get the crowd all excited, so that when it comes time for him to speak, it's just, "Hello, I'm Stan Lee." Todd pointed out that Stan was putting on a "sexy, gravelly voice," but Stan said, "Some sexy voice, I had a cold and can't lose this thing!"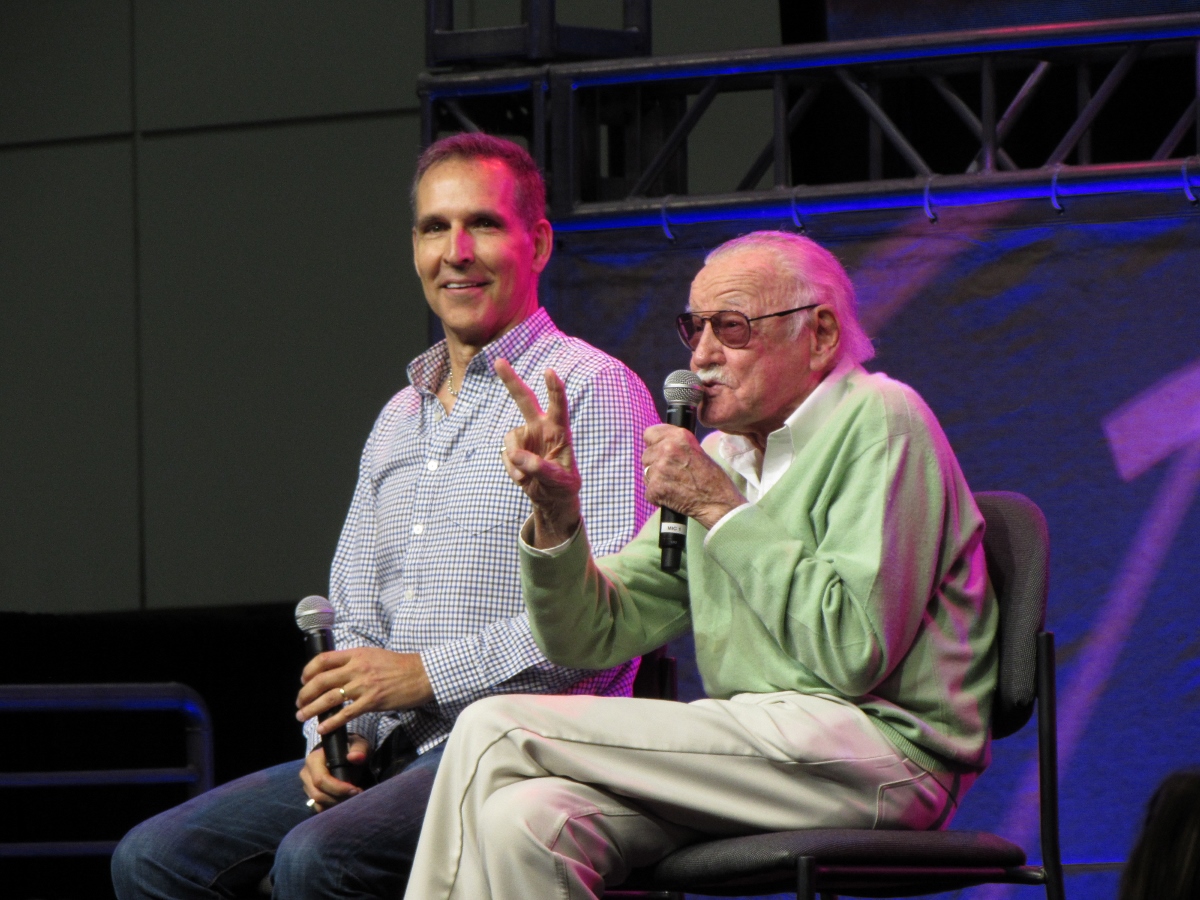 Todd asked the audience how many people have seen Stan Lee do a cameo, and thought he should get an award for his cameos. The crowd cheered. Stan Lee told us that his favorite cameo was when he was drinking at a bar with Thor, and then in the next scene they're carrying him out. The reason why it's his favorite? It's two scenes! All the other cameos are one scene. He said that next time he's going to tell them he wants three scenes.
Todd McFarlane announced that he would be directing a new Spawn movie, and that he had convinced Stan Lee to do a cameo in the movie. He then revealed what the cameo would be. It would take place during the climax of the movie, where there was a lot of fighting going on, and someone would kick open the door to Stan Lee's apartment, where Stan would be sitting in his La-Z-Boy, with a cigar in one hand and malt beer in the other, wearing a wifebeater, watching an Alfred Hitchcock movie on an old TV with rabbit ears. 5 days will have passed without him shaving, to which Stan commented, "I'll look just like Clint Eastwood!" He would be upset about being busted in on, and once they left would say something like, "What the hell was that?!" Then, referring to the fact that Alfred Hitchcock had made a cameo in each of his movies, Stan Lee would comment, "And what kind of an ego needs to be in all his movies anyway?!"
But then Stan Lee said he didn't want Todd to make fun of Alfred Hitchcock, saying that Alfred Hitchcock was a great man. Stan Lee also didn't want Todd to make fun of him, either. Todd then joked he would do it after Stan died, which made the audience boo. Stan told Todd, "They don't want you do it when I'm dead," to which Todd replied, "They don't want you to die!" Stan Lee then said, "Neither do I!"
Todd asked Stan about his process of making comic books at Marvel back in the 60s, and how long it took him to do the outlines that he gave to artists. Stan Lee answered, "Two hours," to which Todd replied, "So it only took you two hours to write Fantastic Four?" Stan then said that it was actually only one hour, "but if I had said that, he wouldn't have believed me!"
Going back to cameos, Todd said that he and Stan had reenacted Stan Lee's cameo in Thor: Ragnarok in the RV, and that he would be posting it once the movie came out. Click here to watch that reenactment! Then Todd asked Stan why he thought people who do cameos should win awards. However, Stan replied, "They shouldn't win awards, I should!" So Todd asked why should Stan Lee win awards for cameos. Stan answered, "Because my cameos are great! These questions are so simple." Stan Lee then explained that the reason the movies make so much money is because of his cameos being missed. For example, if someone happens to be looking down to get some popcorn when his cameo is on screen, they might miss it, and then they'll want to buy another ticket to see the movie again so that they can make sure to see his cameo!
Todd tried to turn the conversation back to comic books, which Stan Lee pointed out that it should always be spelled as one word, "comicbook" because two separate words mean funny books. Then Todd asked what Stan Lee was thinking of when he created his various comic book characters. Starting with Iron Man, Stan said, "I was thinking of me!" He said he was brilliant and handsome like him, though he wasn't rich. As for Thor, Stan said he had wished he had long hair.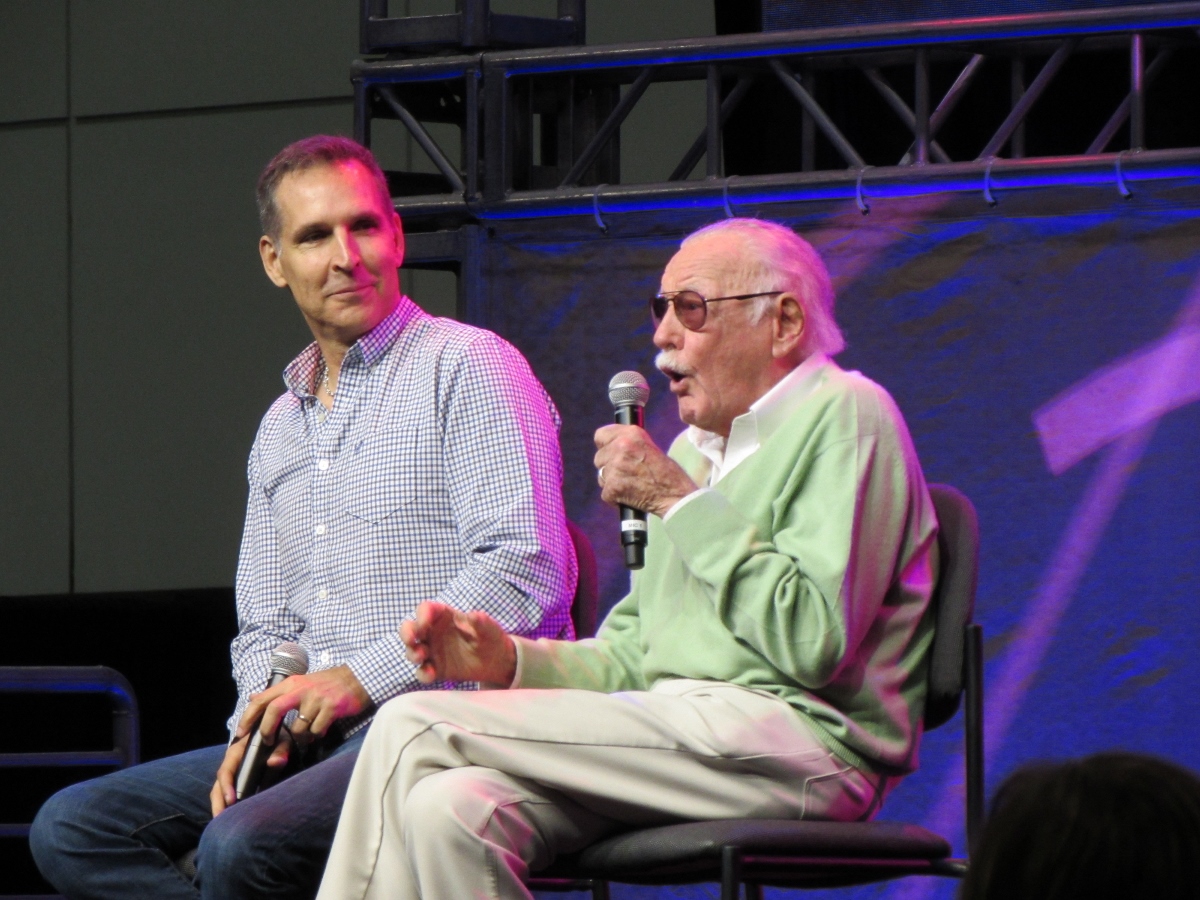 How did Stan break into the comic book business? Accidentally. There was a publishing company that needed an assistant to help with the comic books. He wandered up fresh out of high school, and they gave him the job. Then he became a comic book man. Stan said that he didn't write right away though. Todd asked Stan if he ever had any artistic abilities and if he ever drew. Stan said that he drew since he was a little kid. He drew stick figures punching each other, and then made up stories to go with his drawings.
Todd then talked about how by the 70s, all the comic books had Stan Lee's name at the top, reading "Stan Lee presents" and asked how that came about. Stan replied, "Because I presented them." At first, everyone who worked on the comic books had to work in New York City — because Stan Lee lived in New York City. But eventually, Stan Lee ended up in California. This is because Hollywood had been producing animated cartoons of Marvel characters, and Stan thought they could do better, so he called a meeting saying that Marvel should produce their own cartoons instead of letting other people do it for them. At the meeting, he said he was even willing to move his entire family to California, making it sound like he would be making a sacrifice to do so, when secretly that's what he wanted all along! So he moved out to California, and that was the beginning of Marvel Studios.
It was then opened up to audience questions. One question was what Stan thought was the most influential thing he'd ever done and why. Stan answered Spider-Man because "he changed superheroes forever." Stan explained that Spider-Man was a teenager who started out not very strong and had a lot of problems. He then pointed out that after Spider-Man, people started writing better superhero stories, "and I should have been given a royalty!"
Stan Lee enjoyed writing all of his characters. He liked that he could change between his many characters, who were so different that he never got bored. However, Spider-Man is his favorite. As for Stan's favorite Fantastic Four character, it's The Thing.
Stan went on to point out that Marvel is real life, taking place in real cities and with people driving real cars, unlike "the competition" where everything is made up.
The final audience question asked Stan what is the most important message that he wants to send to people who read his comics? At first, Stan Lee gave a joking answer, saying, "Buy Marvel comics!" However, then he gave a more serious answer: "You can be a good guy or a bad guy. Be a good guy! It's more fun, and pays off in the end. Nobody likes the bad guys."
But Stan Lee ended the panel with what he said was the most important message of all, and invited the audience to join him in saying, "Excelsior!"
After Stan Lee's panel, we spent our final day at LA Comic Con walking around the show floor in our cosplay. Click here to read more about our Sunday experience!
You can view more of our photos of Stan Lee and Todd McFarlane at LA Comic Con 2017 in the photo gallery below.